When I first started blogging, I had no idea if I would make money blogging or if I would stick with it!
But, I did!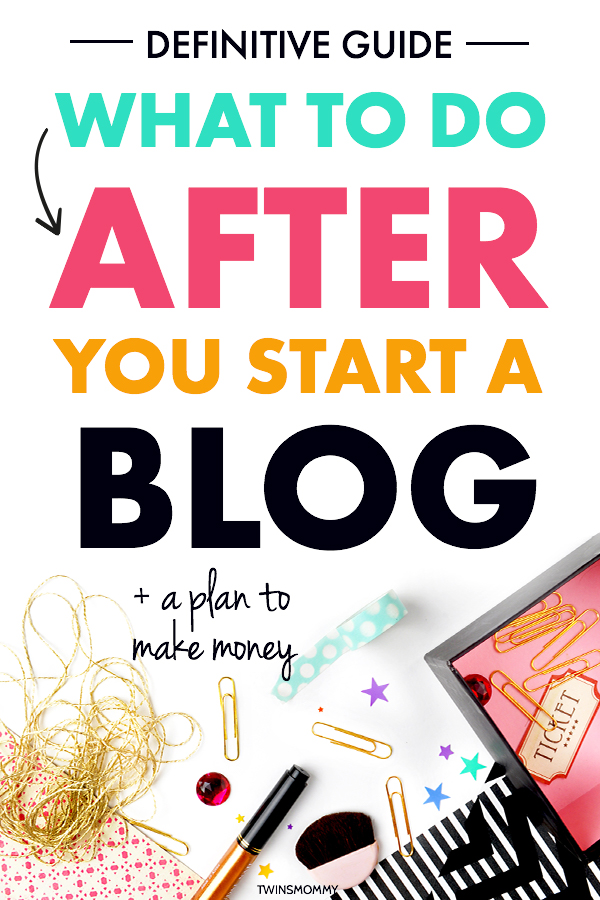 I replaced my full-time income only blogging part-time – and with twin toddlers to boot!
Learning how to start a blog was one of the best decisions I made for my family.
Now both my husband and I stay home, hustle together and create the life we want for our twins.
My twins are eight years old now, and I'm doing this full-time!
If you want to quit your job for good, then I encourage you to start a blog. And if you already started a blog but haven't done anything with it, then let me help you set up your blog so that it will become a success!
How to Start A Blog
Okay! If you haven't yet started a blog, but really want to, it doesn't have to be that hard. The signing up to hosting is the easy part. It's what you do after you start a blog that is a challenge for many moms.
I have a super simple tutorial on how to start a blog! Check it out and then come back her to get your blog ready!
But, not anymore! 🙂
If you're confused about blogging let me break this down for you:
To start a blog, you need hosting. Bluehost is a blog host that is a safe and popular hosting company that I've used. Their hosting plan provides a free domain (this is your blog name). Think of your hosting as the land. You need land to build a home.
Your blog is your home. This is where you can decorate it (your theme) and remodel it and try new things (your blog posts and products).
Your domain is your blog's address. This is your blog name that you put in your browser.
WordPress is the content management system where all your content lives. It's the structure of your home.
There are many blog hosting companies to use, but Bluehost is much more affordable for the new blogger, and you get your domain address free. This isn't offered with other hosting companies (you would have to pay separately for a domain address which could run up to $15 extra dollars).
If you need help signing up to hosting, check out my quick video tutorial! Just click on over to Bluehost and follow along with me!
One thing that will help you save more money is if you pay for the full three years instead of yearly. By doing this, you can essentially start your blog for under $120!
You can't beat that mama! To start a brick and mortar business costs much more than that. And since your blog is online, it has the potential to reach customers and clients from all over the world – something your brick and mortar business can't!
Congrats! You started a blog with Bluehost. I want to now walk you through what to do after you start your blog.
If you need a more breakdown tutorial on how to start a blog, check out my tutorial here.
Choose a Free WordPress Theme
When you start a blog, WordPress gives all new bloggers the default theme for the year. It's a good idea to switch that theme to another free theme as a way to stand out and start growing your brand.
So go ahead and choose a free WordPress theme. This is what I did when I began Twins Mommy.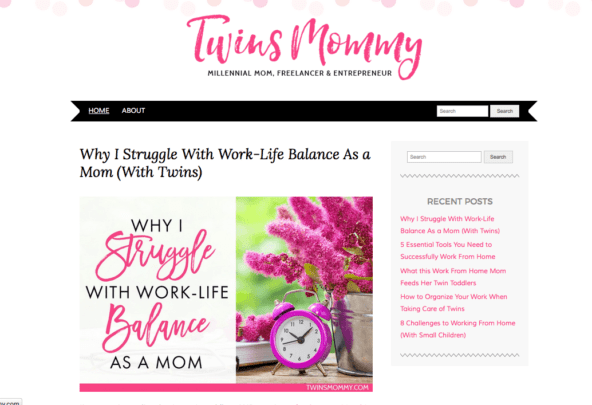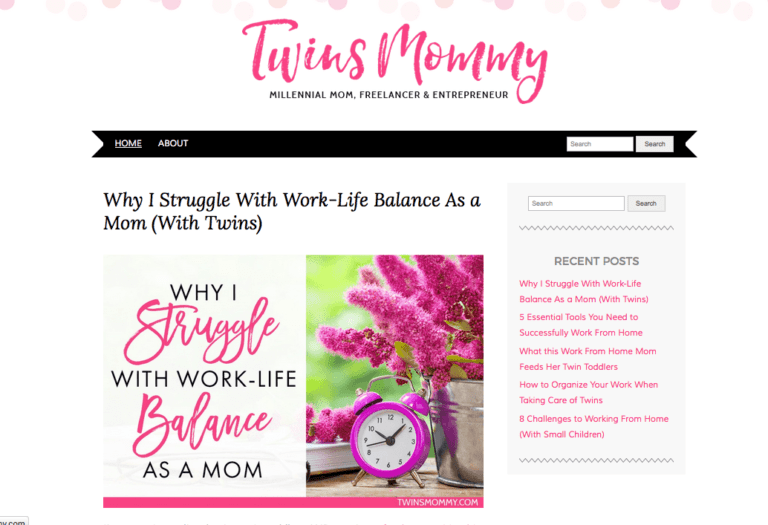 When choosing a theme, try to find one that is:
Not boxed – this means the background is or can be a different color than the blog posts. Instead, you want everything in the background to be white, and there's no need to box in your blog posts. Having colored backgrounds is hard to read and takes away from your wonderful writing! Let your content shine
Easy to read – some themes have hard to read fonts while other themes you can customize the font. Make sure to pick an easy to read font – nothing fancy or scripted. This makes it hard to read and will make your visitors skim your posts! You don't want that!
Has a menu – some themes use a hamburger icon for the menu. You see this on mobile displays. For desktop make sure you have a menu instead of a hamburger icon.
Is mobile responsive – most new WordPress themes are mobile responsive but always make sure by checking the theme on mobile!
The best type of WordPress theme you should use is one that you can customize easily. I like to use two free WordPress themes – Unwind and Astra.
This is what the Unwind and Astra themes look like on mock blogs I have:
As you can see, both are very similar!
To help you choose and customize your WordPress theme, check out my video!
Set Your Menu
Your menu is a way to help your readers find your content. Most of my menus have the topics I blog about, freebies I offer, a contact page, privacy and policy pages and an About page.
But, how do you create this menu in WordPress?
There are a couple of ways to do this, but I like making categories to make my menu. Check out this quick video to show you how to set your menu for your new blog.
Make Your Logo
Your logo is the beginning of your brand when you start a blog. How will you visually represent yourself on your blog? Will you be vibrant and bubbly or more natural and calm? The colors and shapes, as well as your blog name, can determine how you want to portray yourself online.
For me, I like bright and bold colors. I also like black and white. So I may use this color pallet on my blogs.
So, before you make your logo, decide on the colors you will use for your blog. You can use Color Wheel to find complementary colors. Just move the cursor to a color and pick your options for combinations.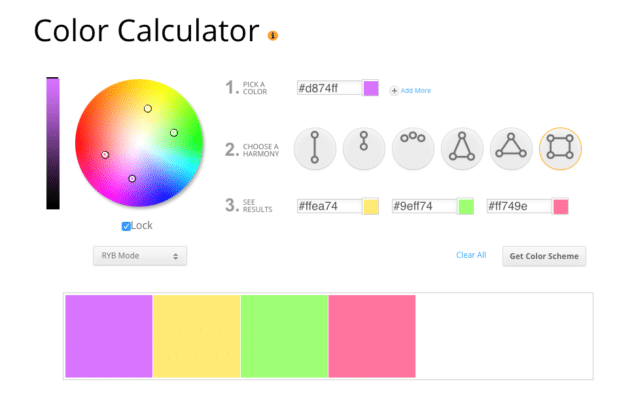 To find the right color you can find a Google web friendly color from the Material Design palette. This is how I found my signature pink color.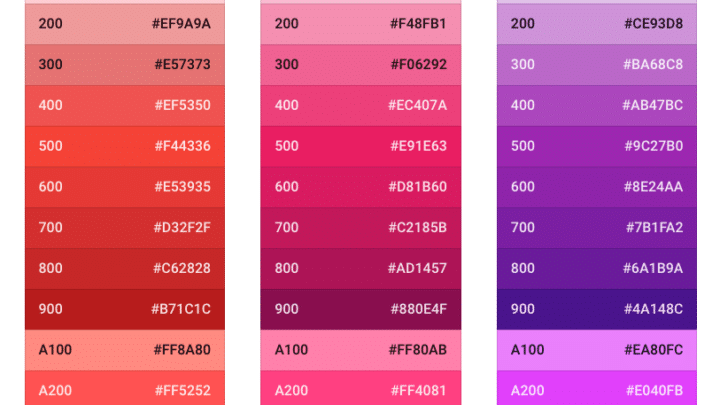 To help you make your logo, check out my video on using Canva to make a simple logo for your new blog.
Get Social Sharing and Follow Me Buttons
When you start a blog no one will come to your blog!
But, that's okay mama!
This is a great time to focus on learning how to blog! Once you are comfortable writing blog posts you can start thinking about promoting your content.
You want people to share your content, right? To do that you will need to have social sharing buttons displayed on your content. These make it easy for others to share your content on your preferred social sharing platforms.
A popular social sharing button WordPress plugin is by the one from Grow by Mediavine. Other popular ones are:
If you want to customize your "Pin it" or save it button that shows up when you hover over a pin image, use this WordPress plugin.
You will also need Follow Me buttons to help grow your social media followings. These are usually displayed on the sidebar!
A simple way to add Follow me buttons is to create your own social media follow buttons. You can do this easily using Canva and a free font like Font Awesome or what Canva provides.
In Canva, set your canvas to 40×40 pixels. Add your social media follower icon: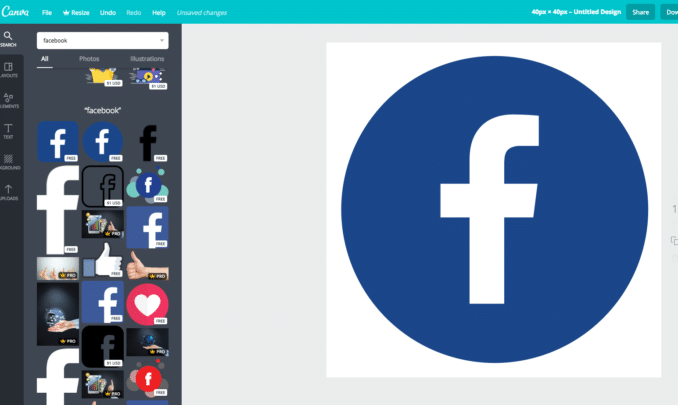 Download your design, and in the backend of your WordPress blog, you can customize your sidebar by adding a Text widget: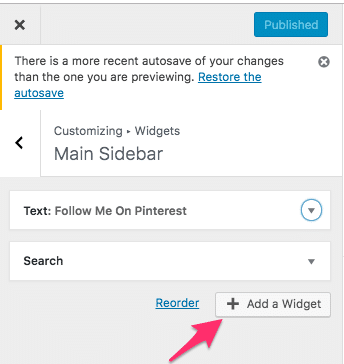 Click on + Widget and add a title like Follow me. From there you can upload your image and add a link to your social media profile. Leave space around each icon when you are adding it to your sidebar.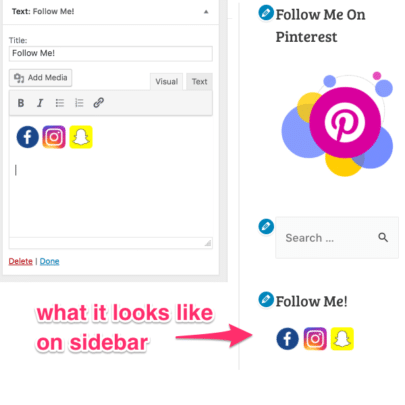 Add a Pinterest Board Widget
Why do you need Pinterest when learning how to start a blog?
Because this is your primary method to gaining readership on your new blog. And you want to grow your Pinterest profile so that you have an audience that looks forward to your new blog posts and pins.
A great way to get some more Pinterest followers is to add a Pinterest board widget. I did this when I first started Twins Mommy, and it really helped me gain hundreds of followers a week!
Just add the Pinterest Widget by Angie Makers, and when you do, you get a lot of different Pinterest widget options to show on your sidebar.
Pick the board widget and add your favorite Pinterest board or your brand board for your blog. From there pick Custom, and you can set the size of your Pinterest board widget.

Write Your About Page
When you start a blog the way to grow it is with your brand. This starts with your About page and what you share with your audience.
So far we have worked on the look of your blog from the logo to your blog's theme and sidebar. Now we need to make the pages on your blog.
Your blog has pages and posts.
Pages are the places people land on your blog such as your Home page, About page, Contact page and category pages you set for your menu. Pages on your site can also act as a landing page.
This is where people usually promote a product, service or a new email incentive to get people to sign up to their list as a list building tactic.
Your posts on your blog are your blog posts.
These are what will make up your content marketing plan to grow your blog traffic.
One of the most important pages on your blog is your About page. Your About page is one of the most visited pages on any blog.
People don't follow blogs; they follow people!
So, your About page can really help readers connect with you on a more personal level. You want to develop this relationship with your readers because when someone knows you, they trust you more. And when readers trust you, they listen to what you say or teach. From there they are more willing to try out what you recommend (products or services).
That is the first step to monetizing your blog – connecting with your audience.
So, what do you include in your About page?
Your name and who you are
Your story
What your blog is about
Popular blog posts (once you have them)
An optin form to help you grow your email list (later on once you start an email list)
Things you like or enjoy
Feel free to visit my About page to see what I wrote!
Write Your Contact Page
One thing you will learn on how to start a blog is that you are not doing this alone! You will start to grow a tribe of followers. And they may contact you!
Your contact page can help you connect with your audience or open the doors for collaborations. It's up to you how much information you want to provide in your contact page:
Your social media profiles
Your email address
Your Skype address
If you want brands and people to reach out to you for collaboration opportunities, you can put the right information on your page for that.
One thing all Contact pages should have is a contact form. The simplest is Contact form 7 plugin.
First, create a new page. Call it Contact and publish it.
Go to the backend of your WordPress blog and then go to Plugins > add new. Search for "contact." Pick the Contact 7 one.

Install and activate it.
Then go to the Contact form settings in the list of plugins. From there they give you a shortcode. Copy that and paste that on your Contact form page you created.

On your Contact page just paste the code in a content block, update it and preview the new contact page you have!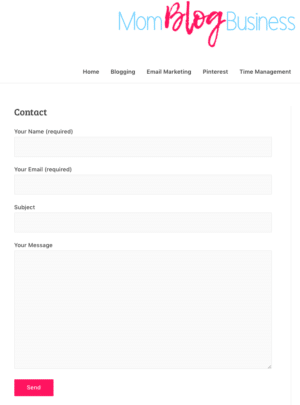 Yay! You did it!
Make a Privacy and Disclaimer Page
If you decide to do email marketing and affiliate marketing or other types of monetization when you start a blog, you need to disclose all of this. This means you need a privacy and disclaimer page.
These pages are important legal pages for your blog. In saying that, it's best to get a Privacy and Disclaimer template from a certified lawyer.
Mariam Tsaturyan has created legal templates for bloggers.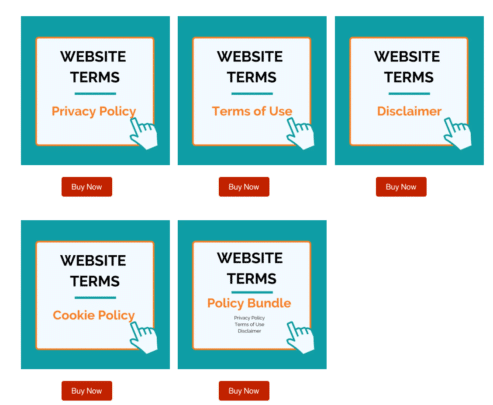 Don't try to grab free templates or write one yourself. Be safe and legal by getting templates from an accredited lawyer.
Create a Content Plan of Flagship Content
Okay! With all the "tech" and brand building out of the way, you really need to sit down and think about the type of content you will have when you start a blog.
You also want to start thinking about your blog niche and audience.
One thing that can help you form your plan is by looking at your audience and figuring out their problems and challenges. You essentially want your blog to provide help.
So, if you decide you want to start a blog about families with pets, what would be their problems:
Lots of pet hair all over my furniture
Pet used to new baby because I'm pregnant and worried
Pet toys to keep them busy while I work long hours
Best pet supplies to make sure I provide the best for my pet
Pet behavior problems I don't want any more
How to train my pet because I'm struggling
These are only a handful of challenges pet owners may have. From here you can start thinking of the types of blog posts you can have.
This can also help you decide on an incentive – freebie idea – to grow your email list once you launch that.
Once you have some blog post ideas and incentive ideas for growing your email list, you can start thinking about where you want to promote your blog posts.
The best place I suggest for new bloggers is to use Pinterest.
Pinterest is one of the best platforms to speed up your blog traffic growth.
It's also a search platform which means Pinterest uses keywords to help them figure out what your pins are about and what your board topics are about.
When you sign up to Pinterest, sign up for a business account. This is free.
By having a business account, you get Pinterest analytics, and you can link to your website, which helps you see how well Pinterest is helping you grow your blog.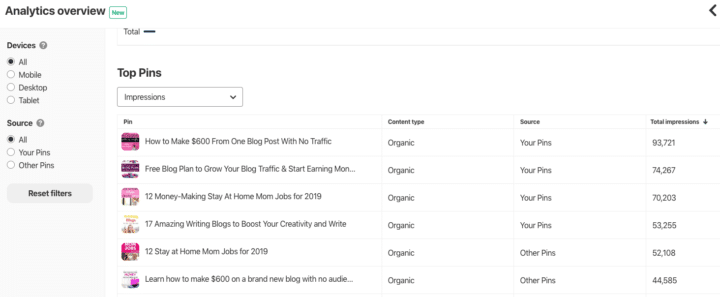 From here you need to set up your bio description and your title.
I suggest you use keywords related to your niche. You can search for your blog niche on Pinterest and use those words for your description and bio.
If I plug in pet care in Pinterest, Pinterest gives me tiles of more keywords I can use for my blog title and bio description.

For example, your title can be:
Pet Care and Tips for Families
Your bio description might be:
Janes Pet Home helps large families learn how to have fun with pet care. Learn the best pet care tips for dogs and cats.
By doing this Pinterest learns what your Pinterest profile is about. From here you can use keywords for the name of your boards. Boards are where you save your pins and other people's pins.
From there, you can start pinning great pins to those boards to help Pinterest understand what your boards are about! Over time, you'll gain followers, and you'll start pinning your own content to Pinterest!
Write Your First Blog Post
You learned how to start a blog.
Now, it's time to write your first blog post! Yay!
Here are some tips to help you write a viral blog post that can help you boost blog traffic!
1. Have a Clickable Headline
People on social media have short attention spans. They only want to dive into content that can benefit them. So, if your headline speaks to them, they will click on it.
You can use some copywriting tactics to get people to click over to your blog posts from social media. For example, you can use "I" in your title. Something like:
How I Doubled My Milk Supply in 2 Days
People who are breastfeeding or new moms will click on this post if they see it on Facebook or Pinterest. They want to know how this mom was able to boost milk supply.
Another tactic is to use curiosity in your titles. Using words like Secrets, Hacks, Unbelievable, Ridiculous etc.. can help people click on your post.
Two other ways to drive clicks to your blog is to write List posts and How to posts.
List Posts are a highly resource type of post. An example – there's a post on 170 indoor and outdoor toddler activities on one of my blogs.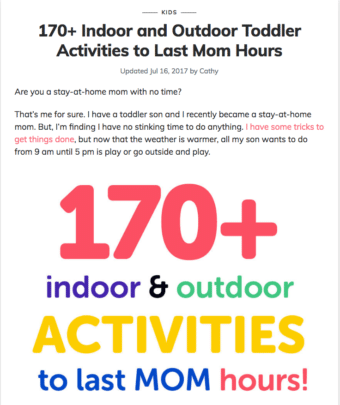 This became a very popular pin on Pinterest because it rounds up lots of activities that someone can bookmark for future.
How to posts are also great posts people love to save. If you can walk through a process or a product/service, you'll get people to click over to see what it's all about.
2. Have a Hook
Remember that people on social media have short attention spans and they only invest in posts that can help them! So your first sentence really needs to speak to them.
This is your hook to hook that reader to keep on reading your blog post.
An easy way to hook your readers is to add a question. This makes the reader think about the question and nod in agreement. You can also write your first sentence as a thought your reader is having.
As an example – You know now is a great time to lose weight, but you can't pull the trigger.
Readers in this position will nod their head and want to read more.
3. Use Subheadings
One thing to help readers stay on your blog longer is to use subheadings. This breaks up your post and helps your reader see if it's something for them.
They can quickly skim the subheadings, and if the content is interesting, they will read it. If it's something that isn't new to them, they won't.
You can jazz up subheadings using keywords, images and bullet lists.
4. Make Your Post Long
Look – every year blog posts get longer and longer. For blog traffic and growth when you start a blog, people want ultimate guides and long form content. As a freelance writer, this is the type of content I provide to my clients.
Now, I know some niches may not allow long form content. Blogs about DIY, crafts, recipes etc.. use video and pictures to extend their content. That's fine! No one wants to read a 2,000 word blog post on how to make kale chips, right?!
So, if your blog niche allows, you can start creating longer form content. Each blog posts doesn't have to be long, but try to incorporate more longer ones on your blog.
Twins Mommy's blog posts are all over 1,000 words, but I also have some posts 6,000+ word blog posts. Play around with writing longer blog posts over time!
5. Have a Plan
As a new blogger, it's okay to pump out blog posts like A Day In the Life of a Stay at Home Mom or Why I Started this Blog.
That's fine! But, eventually, you want to have a blog plan that hits some of your blogging goals. These generally are:
So think of your blog topics as ways to grow one of your blog metrics.
To help you with how to write viral blog post, I created an infographic for you! I would love it if you pinned it! Thanks so much!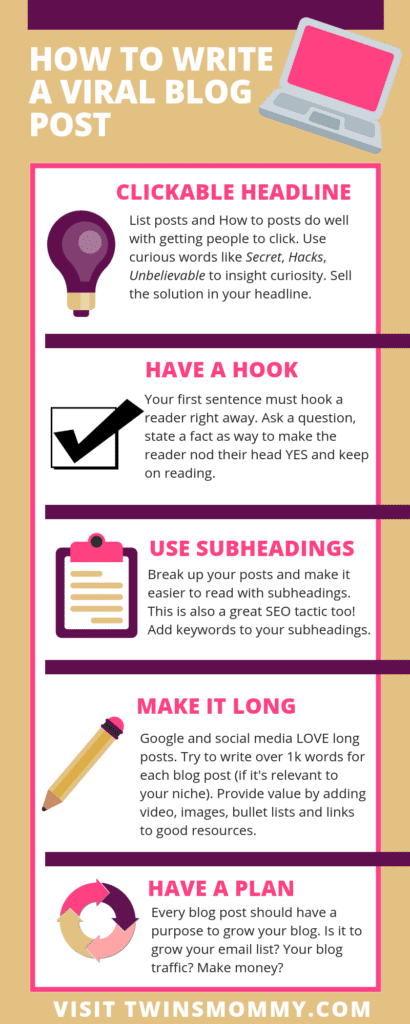 Create Your Pin Image
If you decide to use Pinterest to share your blog content (which is a great way!) then you need to create awesome pin images.
You will learn after you start a blog that you'll focus on Pinterest or a social media platform. For me, I spend a good time each day marketing my blog on Pinterest. I do this by creating pins.
These are images that are bright, use warm colors, aren't cluttered and can be read easily.
To help you create a pin image, check out my video on using Canva!
An Easy Traffic Building Recipe
Okay, mama! You start a blog and now it's officially up and running.
Some bloggers wonder how many blog posts do you need to launch. Just one! That's all you need! But, if you want, up to three is fine!
I suggest not to write too many posts in advance because you don't know what type of audience you will attract (even though YOU have an idea of your blog audience).
Now comes the traffic building part. Because a blog without traffic, is just a diary right?
You need readers on your blog, and you want to help people with your blog content. This means you need a blog traffic recipe. And that involves writing valuable content and sharing it on the best social media platforms.
This might look like:
Sunday – come up with blog topics + Family time
Monday – write blog post and create an image for the post
Wednesday – create a pin for an old blog post and share it on Pinterest/ share new blog post on Facebook and Pinterest
Thursday – Write an email
Friday – Do some blogging education and help others in Facebook groups
Saturday – Family time
This is a loose schedule, but you get the idea. You have to do something every day for your blog to succeed.
A Simple Way to Make Money With Your Blog
In the beginning, you will definitely hear all about how bloggers can make insane money with their blog. What you don't hear that is the majority of these bloggers are doing this on their second, third or fourth failed blog attempt.
These bloggers also have more than one blog and are trying multiple ways to diversify their income stream.
So, what does a brand new blogger that is a beginner blogger, use this information for themselves?
Let's break it down.
Blogging is a long term strategy, but it's well worth it if you put the time and effort in it.
Out of the ways to make money with your blog, some are quicker than others while others are short term strategies.
It is suggested that brand new bloggers focus on affiliate marketing, displaying ads and offering a service.
The top tier to making money is creating your own products and that is usually reserved for more experienced bloggers.
Okay! So, now that we know what to focus on, let's form a plan to make money after you start a blog.
1. Sign Up to Targeted Affiliate Programs
Affiliate marketing is promoting – by using a special link – someone else's products and getting a kickback when they use that link and buy from your link. Each affiliate program has their own rules and regulations.
For the beginner blogger, I suggest you become an affiliate for more targeted products like courses, classes and printables.
For example, if you want to blog about pregnancy, there are online birthing classes that you can check out, see if they have an affiliate program and sign up to be an affiliate.
You will usually get an email with your special link to use.
Here's a post I wrote about online birthing classes. When describing these classes I use:
My special link
Branding material like photos
Subheadings to break up my post and make sure readers see the classes I'm talking about
There are many ways to promote your affiliate links but usually How To posts and tutorials do well for promoting affiliate products.
Another great affiliate for beginner bloggers is the Ultimate Bundles. This is a business where they gather up courses, eBook and other digital products in certain niches and run several launches throughout the year.
For example, they may offer a bundle of over 200 resources for $97.
Here is their affiliate sign up page.
If there is a bundle that relates to your blog niche, then it would be a good idea to became an affiliate for Ultimate Bundles.
2. Offer a Service
Offering a service is the method I used when I first started blogging. I created a writer website and promoted my freelance writing services.
You can promote whatever service you want. Some people offer their printable service or Pinterest management service or maybe you want to do coaching.
The sky's the limit.
When offering a service, you want to position your blog for that service. This makes it highly convertible and more credible when you promote your service in Facebook groups or on social media.
The pages to have on your service based blog are:
About
Services page
Testimonials
Contact
Blog
Testimonials is optional but it's handy to have that social proof. You can also streamline this set up to have the testimonials on your services page.
Make sure you also create a business Pay Pal account and find a method for invoicing your clients. You may want to structure your on-boarding process by having a proposal template for your clients.
This proposal might have:
Who you are and a bit about your service
Your rates
The process of hiring your
Expectations
Follow up
Payment method
3. Display Ads
Out of the ways I'm sharing to make money with your blog, displaying ads is the most passive way and easiest way to generate income. The only thing is that you do need blog traffic.
The more traffic you have, the more money you can make with display ads.
These are ads shown on your blog. For example, Mediavine uses impressions as their metric for payment. I use Mediavine for one of my blogs and it generates a healthy income every month.
I've only used display ads for my pregnancy and mom blogs and don't know if you decide to use display ads in another niche if it will be profitable. I suspect the lifestyle niches like food, beauty, parenting, crafts etc will do fine with Mediavine ads.
Successful Blogging Tips for the Long Run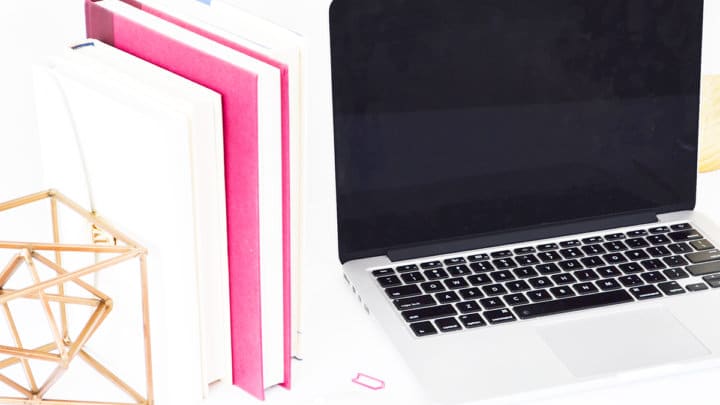 I've mentioned a lot of the successful tips in this tutorial, but it doesn't hurt to repeat and expand!
All new bloggers should try to incorporate these tips over time!
1. Start an Email List
Now, this doesn't mean you start an email list right when you start a blog. I suggest you wait three months before starting. This allows you time to see which posts are resonating with your audience, figure out more how to blog, network with other bloggers and figure out what a good freebie idea would be.
So, when the times come to start an email list, you'll already have a readership and a freebie idea!
With your new email list, you want to start nurturing your list for high engagement. This can help you in the long run when you decide to create a product or service for your audience.
For more help, check out my email marketing strategy.
2. Focus on Up to Two Social Media Platforms
In this post, I stressed using Pinterest. But, I also mentioned Facebook. I feel these are the two best platforms for bloggers. But, you may find that Instagram and Facebook are your best platforms.
Figure out where your audience hangs out and go there.
I wouldn't focus on getting on getting on all the social media platforms like YouTube, Twitter, LinkedIn, Snapchat, etc. in the first six months of blogging!
While it's okay to have more than one social media profile when you start a blog, don't do it in the beginning or you'll feel overwhelmed and burn out quickly!
Plus, this is a great strategy to focus all your energy on a social media platform inside and out. You get to learn how to use that platform the best way!
3. Create a Resource Page
A resource page on your blog is a helpful page filled with resources for your audience. When I first started blogging, I never had a Resource page.
Twins Mommy didn't have one the first year either!
But, it's a great page because you can promote your affiliate products. For example, if you use blogging tools like your blog host, ConvertKit, Grammarly, etc. you can put your affiliate links on your resource page.
I also have links to the blogging equipment I use and my bullet journal!
As a new blogger, you can start monetizing your blog with your resource page!
4. Write Income Generating Posts
I mentioned this briefly during my topic of writing a viral blog post.
You can use your blog posts to help you make money blogging by talking about your affiliate products. These are your income generating blog posts.
Spend a good chunk of time creating ultimate guides, tutorials, or review blog posts about specific topics when you start a blog. For example, I have a blog post on how to do a Facebook Live, and in that post, I link to the products I use to have a successful Live.
5. Guest Post
Networking with other bloggers is key to the longevity of your blog's success. You can't blog alone; you need other fellow bloggers next to you!
And one easy way when you start a blog – even if you are an introvert like me! – is to guest post. This is when your blog post is on someone else's blog.
This guest post will have an author bio, and in that bio, you can link to your blog, social media profiles, and email freebie.
Start a Blog, Grow Your Blog and Make Money Blogging
Learning how to start a blog is more than just getting your hosting up and running.
It has a lot to do with your goals for blogging, your audience and how you will create content to help your audience. Oh, and don't forget all the tech you need to learn about blogging!
I hope this tutorial on starting a blog helps you with gaining confidence that you can really do this mama!
I am here to hold your hand!
Over to you – have you started your blog yet? Tell me in the comments!
Remember to pin me!