Want to start a blog and eventually work at home?
You can do it, mama!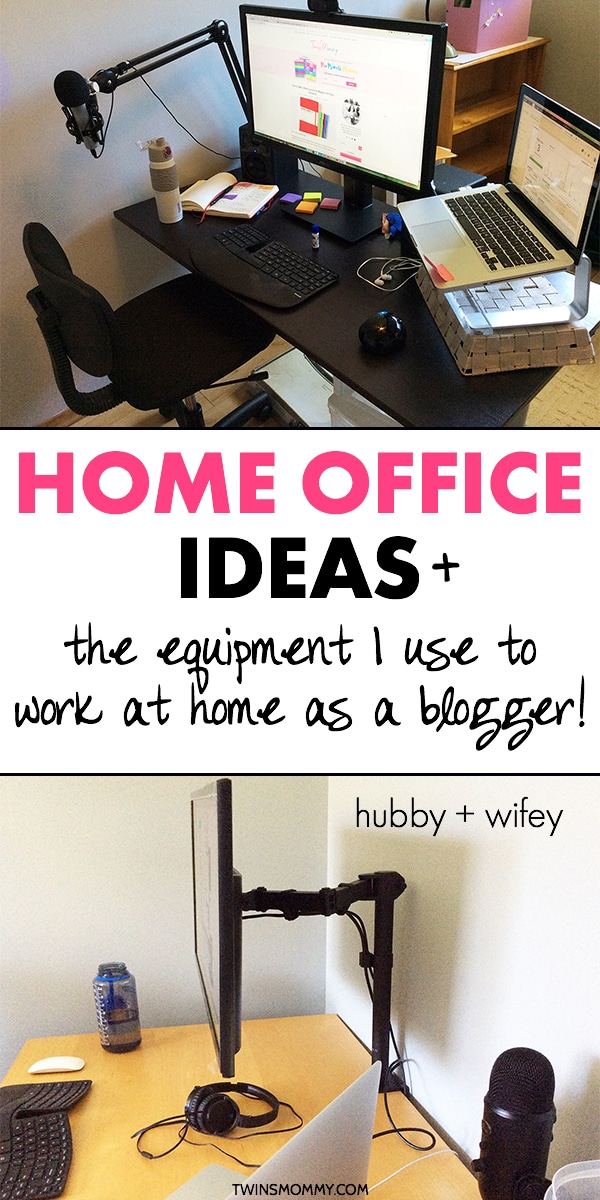 I'm Elna, and I've been working at home for a while now. I started when my twins weren't even two years old, and now they are in school.
This will be my first year as a full-time blogger!
I'm excited by the possibilities to grow my blog traffic, my sales, and my email list. This is also the first time I have my own home office.
Before we moved, I had my office in our master bedroom while my husband had his downstairs.
When we moved, we decided I should have the office room since I need the room for my office equipment. My husband now is using the master bedroom for his office.
We are also talking about conjoining our offices so we are in one big room, but that may come later!
Right now, I'm happy with the setup and thought if you want to work at home, I can inspire you with my office set up and give you some home office ideas!
My Home Office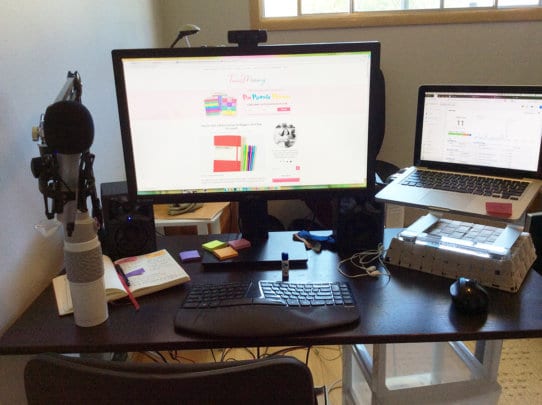 My office desk holds my entire business 🙂 I use two screens to monitor my blogs and behind me is a dresser that has my other laptop. What I like about this set up is that I'm in front of natural light. It also helps with doing Facebook Live's during the day and to wake me up in the morning!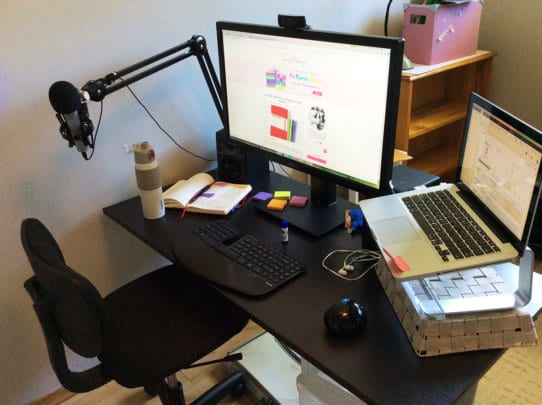 The room I'm in is big and behind my desk is an empty bookcase and on the other side is a printer and art station for my twins. While this room is primarily my home office, I do have my daughters dresser in here and some activities for my twins when mama has to work!
When I first started working at home, I did not have half of the equipment I use now.
You can definitely get started blogging with just a laptop and your couch or at your kitchen table. For me, since I started out as a freelance writer, I needed a proper chair and desk to work from.
The Office Equipment I Use
1. AmazonBasics Mid-Back Mesh Chair
I just got this chair since the chair I currently am using is over three years old (and my twins like to use it for "airplane rides").
We have a mini office station set up in the living room, and I have this chair there.
Personally, I need time to adjust to new equipment as I get RSI and headaches quite easily if I'm misaligned, or the height of my equipment is different.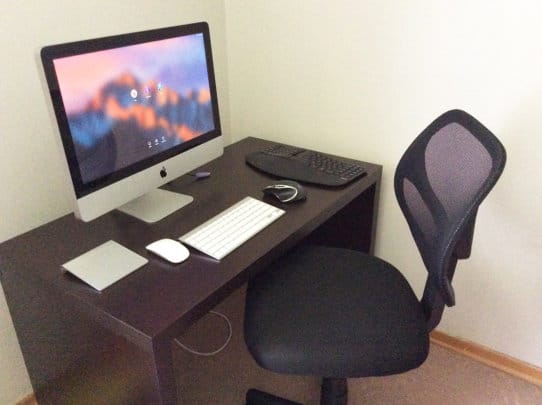 2. Microsoft Sculpt Ergonomic Keyboard for Business
Since I'm a professional writer and blogger and I get RSI, I need the strong support of an ergonomic keyboard.
I've been using this keyboard for over three years, and it has not let me down! At first, you have to get used to the position of the keys, but in no time you can be typing on this keyboard.
This design helps with aligning your body when you sit and type.
It reduces headaches for me and any pain associated with typing.
3. ASUS PB278Q 27″ Monitor
I've had a couple of different monitors for working at home. Currently, it's this monitor which I'm really loving. The view is crystal clear and it's flicker free for less eye fatigue.
Since I'm looking at a screen all day, I want to ensure that I don't get headaches or eye pain as these hinder my work!
I'm also using a MacBook Pro laptop. This runs my business as it has a lot of memory and it's a powerful computer (even though it's old)! We've always been a Mac family, and I like the safety it gives me since my entire online work is on it!
I use this to stand the laptop on this so that I'm not always looking down when I work.
4. Leuchtturm1917 Hardcover Medium Dotted
I recently wrote about how bloggers can use a bullet journal to boost their productivity, and it's part of my home office equipment too!
This bullet journal is always open on my desk as a reference. What I like about that is I no longer have multiple notebooks open on my desk or post-it notes cluttering my desk. One notebook for all of my blogs and my business!
I can customize each page, and I can track whatever I want to like my water intake, my income, my chore list or my weekly list.
5. Audio-Technica ATR 2100-USB Cardioid Dynamic Microphone
For over a year I used the Yeti microphone for my course lessons, and Facebook Lives. I love the Yeti, and it's easy to use.
But, I started noticing some sound issues. It would pick up little noises like my feet shuffling under the desk. And when I typed (during a live video tutorial) that sound would overpower my voice.
So this year I picked up the Audio-Technica microphone and so far it's great! The sound quality is perfect, and I updated my Ready Set Blog for Traffic course with this microphone and had no issues.
Right now, my husband is using the Yeti, and even my twins have fun recording YouTube videos of them playing or unwrapping toys!
6. RODE PSA1 Swivel Mount Studio Microphone Boom Arm
This mic boom arm is awesome. I just got it, and it makes it super easy to do a Live or record a lesson. With the Yeti I would have to use a box to balance it so that it was at the right height, but with this boom arm, I just move it to my mouth, and I'm good to go!
I also use this shock mount for my microphone.
7. M-Audio AV32 | 10-Watt Compact Studio Monitor Speakers
My hubby picked these up last month since I love listening to music when I work.
I don't know about you, but music calms me and helps me focus on my work. While I do have headphones to listen to my music, it's not the best for your hearing to listen to that sound all day every day. To diffuse the sound, these speakers are small enough to hide behind the monitor and not take up much space.
8. VIVO Single LCD Monitor Desk Mount Stand
My husband got this for his desk and recently bought me one.
What's great is that you can free up more room on your desk by removing the base of your monitor and raising it with this mount stand!
This mount also helps move your monitor screen up or down, closer or farther or even angle it up or down.
It's great for positioning the screen for when I do Lives!
9. Logitech HD Pro Webcam C920
I'm really loving this camera for video lessons and Facebook Lives.
Before this, I was just using the camera that came with my iPad. This was fine, but it lacked clarity, and the lighting wasn't always great.
But, with the Logitech webcam, it's perfect. I can adjust the lighting to make it brighter, warmer or cooler and it's compatible with any tool I use like eCamm or Quicktime.
Here's what I look like on the left with my iPad camera. And on the right, how I look with the Logitech webcam!

I'm also going to pick up this ring light and softbox diffuser for when fall and winter roll around. Right now, since my desk is facing the window, I get great natural light. But once the seasons change, it will be darker earlier so hopefully, a ring light can help brighten up my videos.
Since I wear glasses, I will have to play around with it so that it's not deflecting when I do videos!
Home Office Ideas
Need help with organizing and designing your home office? Here are some home office ideas to get you started so you can work at home too!
Kitchen Home Office Ideas
If all you have is a countertop in the corner of your kitchen, set up your laptop and maybe have a file folder system for your notes and you're good to go.
If you have an apartment or small space in the kitchen, you can totally rock that corner mama! I love how this person used the wall to organize the little things like envelopes, notes, keys and more!
Home Office On a Budget
I love DIY projects. Right now my husband is refinishing our kitchen table. It's going to be a farmhouse table, and I can't wait! Why not make your own desk for your home business? This DIY project looks fun!
Oo! A door for a desktop and painted file cabinets! I'm in mama! I love upcycling, and a door is perfect. The hole where the handle was? Perfect to shove all your computer wires in! Love it!
Home Office Ideas for Two
These ideas are for me! Since hubby wants to work outside the master bedroom, we need to find a system for two desks in my home office, and this set up looks like we can do!
This may work also! Having one wall for one home office can help with being more focussed and have fewer distractions for sure!
Home Office Desk Set Up
I'm learning that I will need a bigger desk pretty soon. I love this type of desk that's angled.
I like the depth of this desk. That's also important when you work at home as you will need the space for your water and notes and mouse and things like that. My husband has a great big deep desk, and he loves it!
What's Your Home Office Setup?
There ya go! The equipment I use for my home office and my home office set up. I also share with your some inspirational home office ideas for you!
Now it's your turn – what's your home office like? What are the important things you need for your office? Tell me in the comments! And tell me if you are a work at home mom blogger!
Remember to pin me!