You don't need any old traffic, mama...
Nope!
What you need is the right kind of traffic…and lots of it.
✓ Traffic that shares
✓ Traffic that engages
✓ Traffic that converts to subscribers
✓ Traffic that buys
So, what do most people do?
They get on social media. They pour their heart into writing blog posts.
Then they spend hours trying to figure out how to attract any traffic. Because at this point, anything is better than crickets, right?
But, no, nothing. No pageviews, no email sign ups, no notifications that someone bought through your affiliate link.
You're doing everything, but nothing is working.
You keep hearing from top bloggers how much income they are earning from their blog, but no matter how hard you try at blogging, you see nothing.
You're failing and you know it.
I've been blogging for fun and blogging for money for several years and during this time I learned the exact recipe to having a successful blog.
You need targeted traffic. This is the base of your blog. Without it, your blog won't soar.
You need a fan base. This is your loyal audience that's got your back.

You need an engaging blog that's sticky and oh-so-sweet to read.

But, what are the steps to getting that type of blog?
It's time to get your blog noticed. This is the path you want someone to take:
✓ They find your pin on Pinterest
✓ They click to read your post
✓ They leave a comment and share the post
✓ They sign up to your email list
✓ They open every email, trust you and says yes to anything you recommend
That's the reason you need the right traffic.
👎 Not traffic that bounces.
👎 Not traffic that skims your post and never comes back.
👍 Not traffic that reads your money-making posts and doesn't buy.
You need the right people coming to your blog, find it so valuable that they subscribe to your blog, and trust you enough to buy whatever you recommend.
"I just finished your course and I LOVED it! I honestly felt like your course was the most interactive one I have ever taken. After spending months struggling to get traffic to my blog and failing miserably, I just wanted someone to show me their secrets to success. And that's exactly what you do in your course. The amazing videos that are throughout the course made me feel like you were there with me the entire time. I highly recommend this course if you want to optimize your blog and social media accounts for success."

UPDATE: "This course has helped me quadruple my blog traffic!!!"
But, you're doing it all wrong!
Let me ask you this:
After you started your blog, learned from every guru out there, what's the main take away you gathered about blogging?
Can I guess it was SEO?
Search Engine Optimization.
While most new bloggers are concerned about SEO and getting the right keywords for Google, I was focused on an entirely different strategy to get blog traffic.
I was building a trusted site.
Don't get me wrong. I love SEO, but I do it in a slightly different (and very effective) way
Because if you don't already know, your blog is for your audience, not for Google.
Brooke grew to 10k pageviews in 3 weeks...
"I have just finished your course "Ready Set Blog for Traffic" and I absolutely loved it! This course was a fantastic course for a beginner blogger like me (I've only been working on my blog for a few months) so there was a ton of new information in there for me. The level of detail that you went into on making great pins and images for Pinterest for more blog traffic is going to be blog-life changing for me. Also, I felt that the length and amount of information was great for the price of the course. Thank you for all of your help!"
As a freelance writer who gets paid to write traffic-generating content, my clients don't tell me to use SEO or certain keywords.
They give me a topic and I write an engaging blog post for them, because they know the secret.
They know that if you put out valuable posts that talk about products, tools or topics in a natural way, Google will learn that your blog is a trusted site.
This helps with ranking in Google and getting on the top of the search engine results page.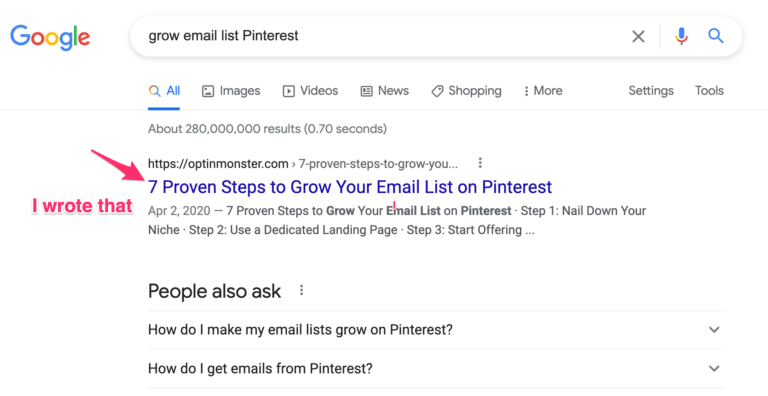 My clients' posts rank on Google, and my blog posts rank too.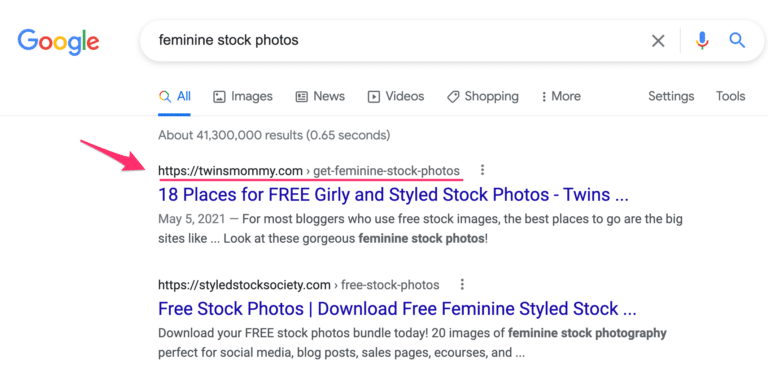 The key isn't trying to find the right keyword or long tail keyword for your blog post so that Google recognizes it; it's the other way around.
The key is to find the right blog topics, write an engaging and shareable post and earn the trust from your audience.
But, what if you have no idea where to find your audience?
"I have finished your course and I loved it! REALLY. I could watch your videos without feeling overpowered by your voice. Like we were having a conversation over coffee. I'm going to be honest I have went through a few courses on blogging. And, yours really was by far the best for me at this point. I've watched the videos many times and took tons of notes. Now I have a long list of things to do for my blog! I loved the case study it really helps me relate to where my numbers should be and how to make it happen. I have seen an increase in my Pinterest followers and clicks over to my blog in the past week and it's from a few things I have implemented from your course. I don't have a lot of time to work on my blog with the season of motherhood I'm in right now but I'm excited to take a few steps at a time. I have set 5 hours each week as a goal. I have a lot of work to do but you made everything so I could understand and get passionate about it, because you seemed so passionate about your blog."
"I took your Ready, Set, Blog for Traffic course and loved it! As a new blogger, the information was so easy to understand and practical! I particularly liked the in-depth and pro tips for how to use Pinterest to grow traffic and how to make sure I am writing quality content for my audience. I know I will keep referring back to it as I look to grow my blog's traffic. Congratulations on a great course!"
"I wanted to tell you thanks for putting together such an awesome course. I went through your course material twice (some parts 3 times) and I am seeing results already even though some of your strategies are more for long term growth. I completed your course last month and began implementing all of your strategies. Half way through the month, I checked my analytics and I already had the number of page views I had collectively for the previous month! I am super excited and I am grateful for you and the information you shared."
"I almost passed up the chance to do Elna's Ready Set Blog for Traffic course as I've been blogging for over 10 years and thought it was really for new bloggers. I decided to do it because I am a beginner at Pinterest and it felt like an accessible way to learn more about that. I'm so glad I decided to work through all the course. I learned some strategies that I have put into practice for immediate results, and I've implemented some tactics that I know will help me grow my readership over the long term. I did spend more time on the Pinterest lessons than the other sessions but I'm glad I didn't miss out the lesson on blog commenting – genius!"
Can I tell you another secret?
You think YOU need to find your audience, but really, it's your audience that needs to find YOU.
Why chase traffic when you can attract traffic?
I was just like you.
I started Twins Mommy in an over-saturated niche: mom blogging and making money.
I started out without an audience, without a social media presence in this niche and without many blog posts (I started Twins Mommy with only one blog post).
Within the first three months of starting my blog, I grew my blog by 310%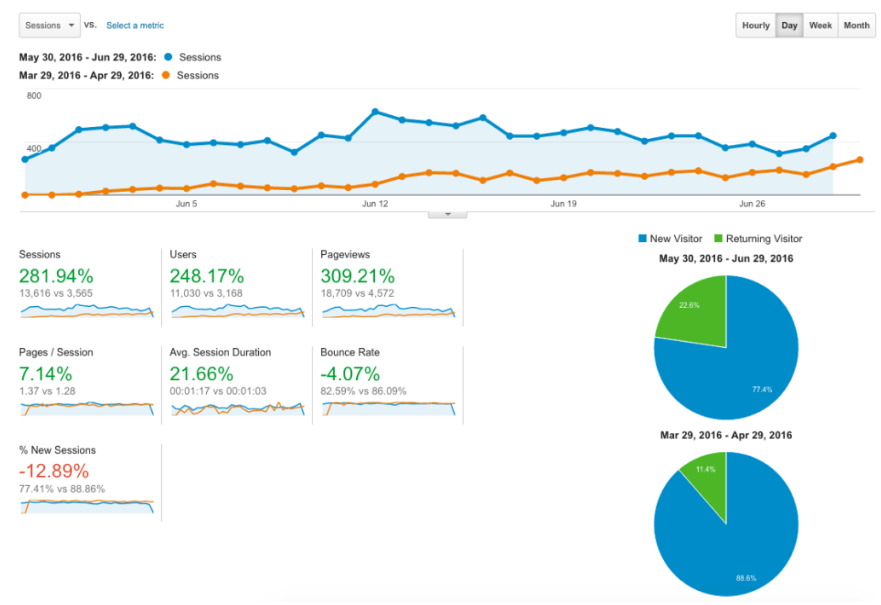 And I continued to grow my pageviews by 60% in one month to generating 10k pageviews in one month.

That's not all.
Because I built a solid foundation of attracting traffic and a fan base with my audience, I was able to convert my traffic from readers to buyers.
In one month the blog went from $200/month profit to $2k/month profit.
And then a consistent $6k/month profit!
On a new blog that was barely a year old.
But, I bet I know what you're thinking,
Elna, you've been blogging for years, you've made money as a freelance writer. I'm brand new to blogging. How can I get that much traffic to my new blog?
I get you.
I would be asking the same question.
So, I wanted to see if my methods for bringing targeted traffic could work again.
I decided to conduct a little experiment
This time: no social media presence, no social media friends, and with a brand new blog.
And, guess what?
It totally worked!
I collaborated with another blogger on a new blog in another oversaturated niche – the parenting/lifestyle niche. This blog is barely a few months old and it already has multiple viral pins.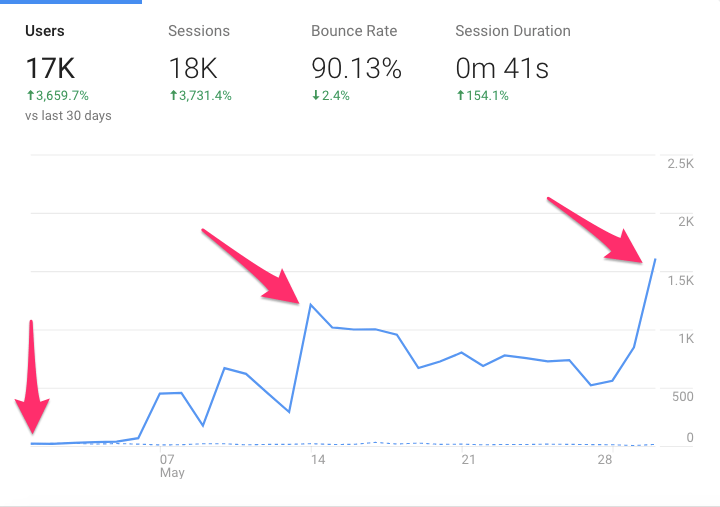 This new blog only has a handful of posts and it's already generating income.
And I did it again just a couple months later!
I took a new blog from 400 pageviews to 40,000 pageviews in just one month!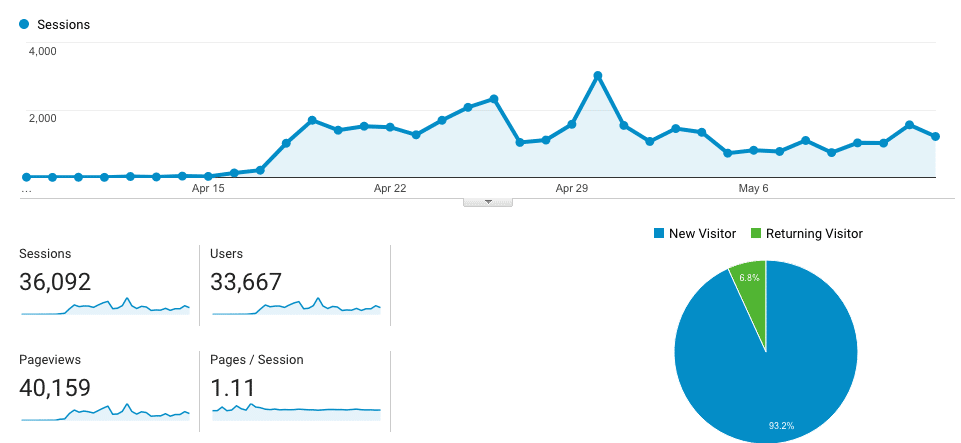 What changed?
I developed a blog recipe to explode my blog traffic and income. I used my experience, learned from my mistakes, and figured out the right ingredients and the right amounts for traffic.
And you know what? This blueprint works for almost any niche and for almost any new blog.
Lindsey doubled her traffic in a few short months...
Introducing Ready Set Blog for Traffic
The only plan to skyrocket your blog traffic and earn some blog-mazing cash.
Hold up. Do you see the connection?
To reach the income that you want from your blog, you need traffic.
That's the beginning step and the focus you have to do if you have a new blog.
There're two ways to start getting traffic to your blog
👎 Do it alone. You spend hours learning everything there is about Twitter, Facebook, Pinterest, YouTube and Instagram, but then end up investing your money in the wrong tools and courses, get overwhelmed real fast and start to doubt if making money from blogging really works.
👍 Take a proven shortcut that pinpoints the exact strategies you need to focus on. Ready Set Blog for Traffic gives you a step-by-step plan on what you need to set up your blog for targeted traffic, how to market your posts on Pinterest and how to write those damn good posts to attract and convert bloggers.
With the right traffic and the right strategy, it's possible to rank in Google – without even trying.
I rank #2 for "freelance writer" – without doing ANY traditional SEO
I ignored the traditional SEO advice that everyone preaches for my freelance writing blog.
Now, after two years of having my freelance writing blog, a good portion of topics in my niche ranks on the first page of Google.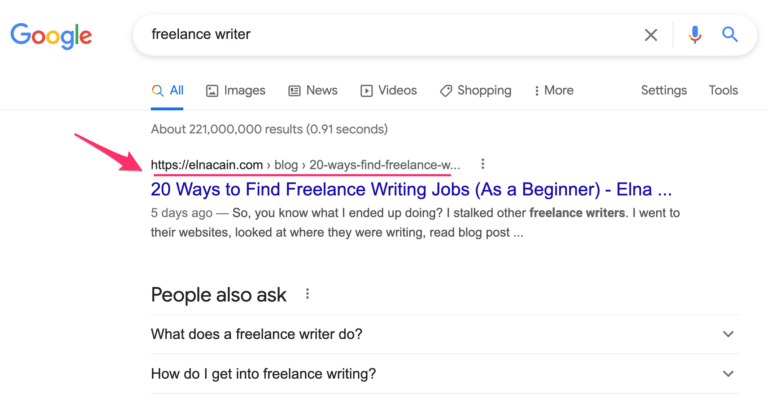 And the secret to using SEO the right way?
Is to lay that strong foundation with your blog content and then dive deep into SEO strategies like keywords and backlinks.
That new blog experiment I did with viral pins? It is now ranking for "homeschool desk" on page 1 – with a result page full of huge brands.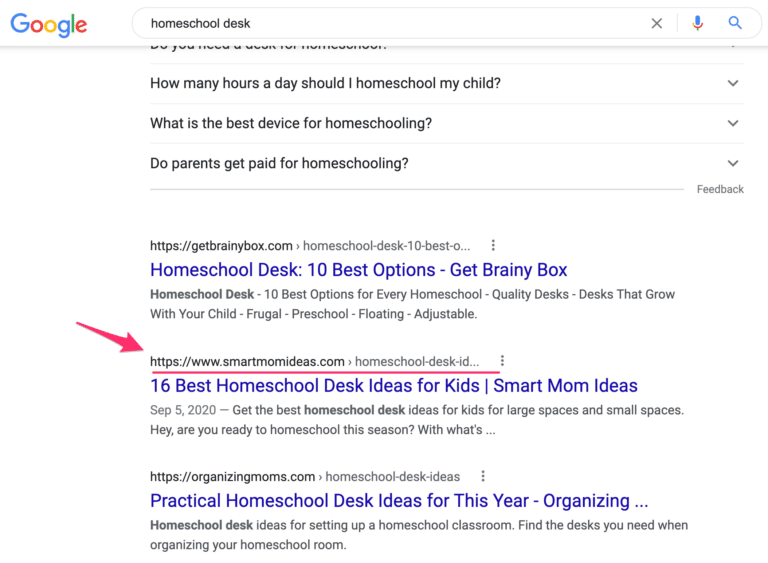 This parenting lifestyle blog is ranking for a popular keyword and this happened because of the blog traffic recipe I use for all my blogs.
Instead of having pageviews you have headaches
Your blog gets no comments, no readers and no shares.
You know the end result you desire, but have no idea how to get there.
It's been six months and you're tired. You haven't earned more than $2 from blogging and you're beyond frustrated. If no one comes to your blog, how do you earn an income?
You might as well give up.
Not today.
This course gives you exactly what you need to start getting traffic to your blog.
When you sign up to Ready Set Blog for Traffic here's what you get:
✓

Lifetime access with all updates for free

✓

5 modules (40+ video lessons, 5+ text-based lessons)

✓

Video tech training on popular tools

✓

Ready-to-use templates + swipe copy

✓

Guest blogging guide

✓

3 key marketing training video

✓

Pinterest Promotion cheatsheet

✓

The exact blog recipe I use to boost blog traffic quickly

✓

And much more
Module 1: Start Your Blog for Traffic
✓

Start Your Blog

✓

Have a Targeted About Page

✓

Have a Way to Share and Comment on Your Posts

✓

Start Your SEO Foundation

✓

Have a Clear Message Online

✓

New

How to Niche Down a Lifestyle Blog
Module 2: Foundational Elements for Increasing Traffic
✓

Case study: Boosting Pageviews by 10k in 1 Month

✓

New

Bonus: Gain 10k Pageviews in 1 Month Challenge

✓

Case Study: Growing 40k Pageviews in 1 Month

✓

Connections and Networking

✓

Case Study: Networking to Grow Your Audience

✓

Powerful Ways to Have More Time to Blog
Module 3: SEO Strategy for Long Term Traffic
✓

New

SEO 2021: Web Core Vitals - Page Experience Update

✓

Updated

Building Your SEO Foundation

✓

How I Do SEO : The Two Main Metrics for Ranking

✓

Updated

Why E-A-Ting is Important

✓

New

Finding Your TRUE Ranking And In Other Countries

✓

Updated

Quick SEO Strategies You Can Use Right Now

✓

New

Building Topical Authority to Help Rank in Google

✓

Backlink Strategy: Guest Blogging and Podcasting

✓

Bonus: Guest Posting Guide for New Bloggers (+Places to Guest Post)

✓

Backlink Strategy: Using a Resource Post to Drive Blog Traffic

✓

New

Blacklink Strategy: Being Featured on High Domain Sites

✓

Backlink Strategy: For a Brand New Blog

✓

Understanding Keywords

✓

SEO Help for You

✓

Updated

The Best SEO Tools You Can Use

✓

How to Get Thousands of Keyword Ideas for Free

✓

New

Case Study: How I'm Ranking a Site Using Longtail Keywords

✓

New

Keyword Strategy: Coming Up with the Perfect SEO Blog Post Idea

✓

New

Advanced Keyword Strategy: Optimizing Your Title & Introduction

✓

New

Advanced Keyword Strategy: Using AI (Artificial Intelligence) to Rank Higher in Google

✓

New

On Keyword Cannibalization + Things that Hurt SEO

✓

New

DoFollow vs NoFollow: Is One Better?

✓

New

What to Do When a Post Loses Ranking
Module 4: Making Pinterest Your #1 Growth Strategy
✓

New

The Goal of Pinterest - My Thoughts

✓

New

Grab the Twins Mommy Pin Analytics GA Dashboard

✓

Updated

How to Increase Your Authority in Pinterest's Eyes

✓

Updated

Pinterest Now in 2021

✓

An Easy Way to Enable Rich Pins

✓

New

How to Optimize Your Pinterest Title & Bio

✓

Updated

How to Create a Highly Optimized Pin for Clicks

✓

New

A Fast Way to Create Multiple Pins

✓

New

Case Study: Getting 50% More Website Traffic with Idea Pins

✓

New

How to Create an Idea Pin to Gain Clicks

✓

New

How to See What Keywords Pinterest Attributed to Your Pins

✓

Updated

Pinterest SEO Tactics

✓

New

How to Name Your Boards in 2021

✓

New

How to Write a Blog Post for Pinterest SEO

✓

Updated

The Foundation of Your Pinning Strategy

✓

New

How Often Should You Pin?

✓

New

Group Boards: Are They Still Relevant in 2021?

✓

New

Tailwind Communities Strategy (replaces group board strategy)

✓

New

My Effective Pin Strategy for Immediate Results

✓

How to Use Tailwind to Create Your Pinning Schedule

✓

New

Fresh Pin Strategy Using Tailwind - (replaces the Pinterest board strategy)

✓

What to Do If Your Pins Are Stolen
Module 5: Creating Income Generating Content
✓

The Secret to Generating Traffic and Comments With Your Posts

✓

A Quick Way to Make Old Blog Posts New Again

✓

Elements of an Optimized Blog Post

✓

How to Craft the Perfect Headline for Maximum Engagement

✓

Blog Posts That Grow Your Traffic

✓

How to Create a Money-Generating Resource Post

✓

How to Create Blog Posts for Amazon Marketing

✓

New

Putting Everything Together: Writing a Post for Ranking and Pinterest
Bonus Section
✓

Guest Posting Guide for New Bloggers (+ Places to Guest Post)

✓

Swipe File (Email Templates & Scripts)

✓

Pinterest Promotion Process Cheatsheet
"I have bought literally dozens of 'blogging' courses in the past and yours is one of the very few I'm actually finding myself taking action with."
There are three main ingredients to my "blog traffic recipe":
The Core Elements
Successful blogs put in place a strong foundation of certain elements that help them get on the map, collaborate with influencers and get noticed quickly. The course gives you those elements and shows you how to use them strategically.
The Promotion Strategy
I don't know about you, but Pinterest is my BFF. This is the platform that's visual, makes "eye candy" out of your pins and gets pinners excited about coming to your blog.
The course breaks everything down so that your Pinterest profile gets the authority it deserves, followers it needs and the traffic for your blog.
Psst...the Pinterest module might as well be its own course as it's filled with 4 powerful pinning strategies that any blogger can adopt today!
The Sticky and Yummy Content
Sticky content is what holds readers to your blog (and earns you income). They bookmark your blog and spend hours reading your blog.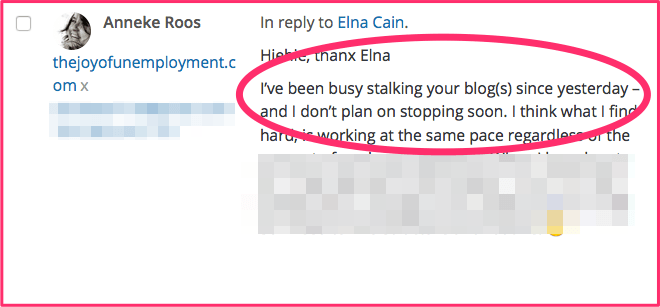 Your blog posts are valuable, informational, engaging and personable.
This hooks your readers and creates noise about your blog and turns into traffic and income.
This course gives you insider copywriting secrets to help you write traffic-generating content that turns into income for you!
It's your time!
"Truly the best blogging course I have taken!"
Enroll in Ready Set Blog for Traffic Today
No risk, no questions asked 30-day money back guarantee ❓
5 core modules
40+ video lessons
5+ text lessons
Video tech training
Lifetime access
Guest blogging guide
Templates + swipe
3 key marketing videos
"I feel like this was written for me! I always learn so much from your content so of course I had to sign up for your course! I have really been struggling to grow my traffic. Can't wait to get started with this."
Frequently Asked Questions
What if I'm new to blogging?
This course is a great learning tool and can help set the foundation to getting traffic for your blog. I do go over some intermediate concepts such as scheduling tools and tech tutorials.
But, there are video lessons that make it easy to follow and implement. By taking the course, you'll grow your traffic faster than others who are starting out fresh.
What's your refund policy?
I can't guarantee you success or income. I can just teach you what I've learned along the way. But I stand behind this course with a full 30-day, 100% money-back guarantee. No questions asked. Just contact me and I'll refund you ASAP!
How long do I get access to the course materials?
Once you enroll in the course, you have access for life. So, for every new or revamped module, lesson, video or other piece of content, you will receive access to it for free. In the unlikely event I take down the online copy of the course, you will be provided with a downloadable copy. I don't leave anyone hanging!
What if I've been blogging for a while?
Intermediate bloggers can benefit from this course as well. If you've been blogging for a few months or years and haven't seen the growth you've wanted in terms of traffic and building an audience, then this course will give you the steps you need to take.Plus, with the bonus materials including over 240+ quality Pinterest group boards and a guest posting guide with a resource of places to guest post on, your blog will take off quickly.
Do I need to purchase tools or services to make this course work?
My course does mention Tailwind (only $15/month) and other scheduling tools, but you can implement these strategies without using those tools in the beginning. This may mean it will take more time to grow your blog, but you'll still grow your traffic.
How is the course content delivered?
Ready Set Blog for Traffic is primarily an online video-based course with some text-based lessons, guides and templates. When you register you will receive an email with your unique login information. You will also receive a welcome email and updates on how your progress is going.
What niche is this course good for?
The lessons in Ready Set Blog for Traffic can work for any niche and for any new blogger. Whether you are in finance or crafts or want to market your service-based business, this course will help your blog become more visible online.
Does this course work for international bloggers?
If you're blogging in English and targeting an English-speaking audience, these strategies in this course will apply to you and your blog. I only have experience dealing with English and English-speaking industries, but these strategies are geared for online marketing and should give you the tools to grow your blog traffic – no matter the niche or language.
Can I take this course if I don't have a blog yet?
Yes you can! This course has support to help you get started with your blog host. I also go over certain elements of your blog like your About page, sharing buttons and a clear message for your brand. The course, however, doesn't go through setting up your blog.
So, Who's Teaching This Course?
Real advice. Real mom. Real blogger.
Hey new blogger! I'm Elna and I was just like you not too long ago.
Once I found the exact strategies I needed to create a successful blog with traffic and a loyal following, I tripled my blog's traffic, grew my list to 7000 subscribers and boosted my blog's profits to $6000 a month passively.
I've helped thousands of new bloggers figure out their niche, get their voice out there and grow their blog, traffic and income.
And now, I want to help you grow a successful blog!
"I'm only half way through with the course & have been taking baby steps to improve my blog. Even though I have not finished your course, I can already see how helpful it is to me. I'm beginning to understand better and be more confident in my approach. The best part is many of my doubts are answered as I'm going through the course. How awesome is that! You really understand the challenges a newbie face & you are addressing us so well and making it easy to follow. A big thank you to you Elna, for being really helpful and generous in sharing your knowledge. This is just what a newbie like me is looking for. Million thanks!"
"Even though I'm making a nice income from passive income products and coaching, I'm always looking for smart ways to grow my blog traffic. This course was a true no-brainer."
"Loving this course! Seriously fantastic...also – weird comment – but you have a super calming voice! Must be all practice with your twins!"
"I'm about halfway through your course, and so far LOVE it and have suggested it to a few blogging friends! Thank you!"
"I revamped all my old blog posts, per your tips Elna and have been getting great traffic from them! Thank you!"
"Bought your course in 4 minutes flat! I love all your work Elna and excited to start watching!"