Do you get photo envy when you go to a creative website or mompreneur website and think, wow! those images are beautiful?
I do! And you know what? I also think, hey, how come I can't find those on Pixabay or Pexels?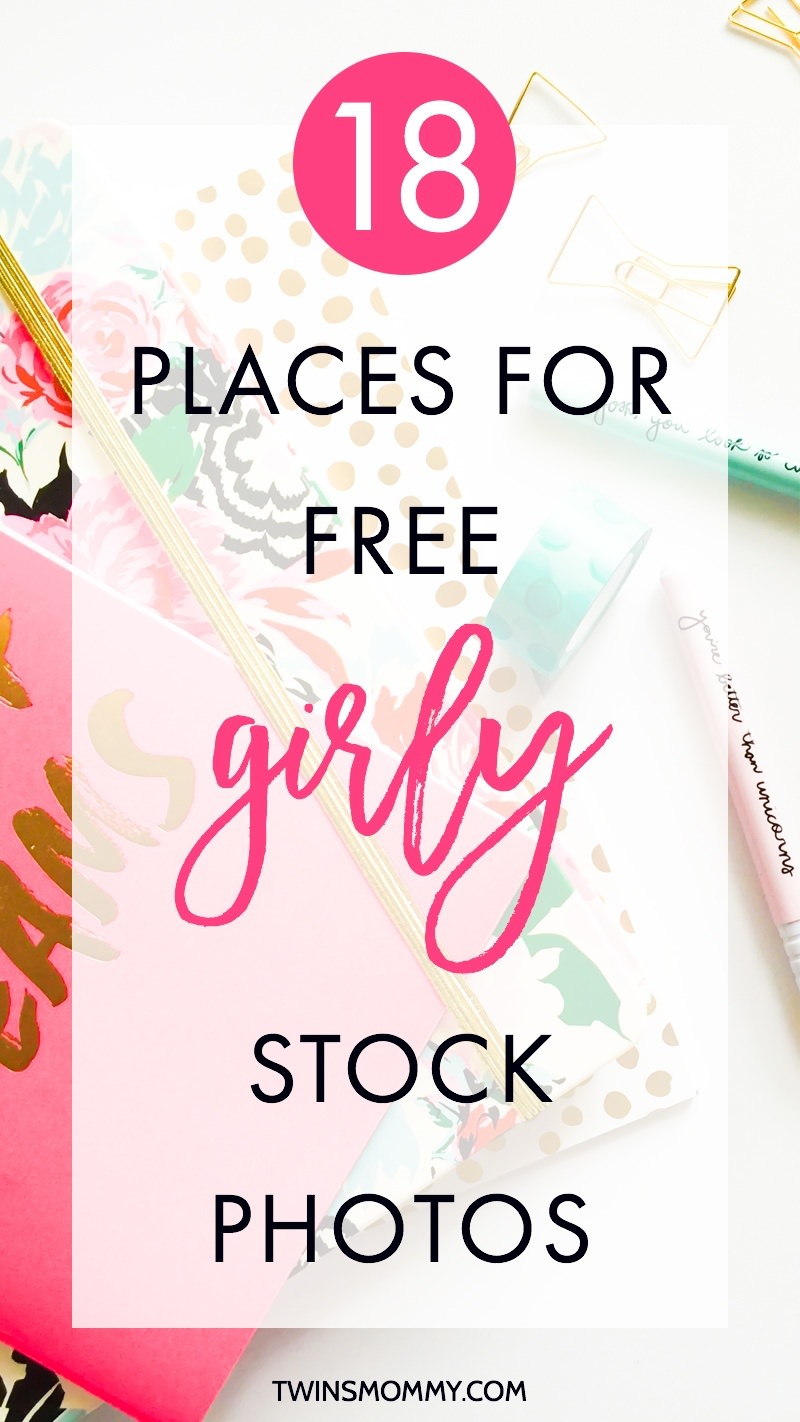 For most bloggers who use free stock images, the best places to go are the big sites like Pixabay, but now that EVERYONE and their neighbor knows about these sites, your images are no longer unique, funky and can't really represent your brand – because everyone else is using them!
So, thus begins the quest to find stock photos that not everyone is using.
Since I started this blog not even a month ago, I wanted to create a creative brand that was pretty, feminine and girly.
I've found some great paid ones and a few free ones, but I still couldn't find the "look" until just recently.
If you are a creative entrepreneur, mompreneur, blogger or freelancer, here are 18 sites that have free – yes I mean free to use on your blog – girly stock photos.
If you don't yet have a blog, now is the time to get one! These amazing free stock photos will help you get more traffic to your blog 🙂 If you're not technical (just because I have glasses doesn't mean I'm a techie!), check out my super simple step-by-step tutorial on how to start a blog!
You won't find these free images on Pixabay.
Before we get started, I have another amazing post of 17 *More* Places for Free Styled and Chic Stock Photos so be sure to check out those too!
Okay, let's get started on these amazing free stock photos!
1. Haute Stock
I just can't get enough of Haute Stock! I mentioned them already this week in my post about freelance services and I'm doing it again for this post!
Their design and images are simply elegant, chic, stylish and feminine. They are perfect for mompreneurs, freelancers and creatives.
Click here and sign up to get your first free 2 stock photos. Then, every month you'll get a few more – I received three new ones for April.
2. Elle Drouin
For some more pretty and stylish photos, get on the Elle's email list. Once you sign up you get instant access to 10 beautiful and feminine free images for your blog.
Click here and sign up to her list for access to 10 free stock photos.
3.Katie Harp
Look at these gorgeous feminine stock photos! They will look great on your blog for free! Sign up to Katie's email list and get 50 downloadable free stock photos!
4. Pixi Stock
I love Alicia's photos. They are perfect for my blog brand! I even have a subscription too! Can't get enough of these gorgeous stock photos.
Sign up to her list and get free posh photos!
5. Creative Market
Can I just say I LOVE Creative Market! I have bought several workbook templates and eBook templates as well as many many fonts!
But, did you know they have free photos as well as other juicy free things? Sign up to their list and grab some free stock photos for you blog.
6. Color U Bold
Jasmine has amazing colorful photos for free!!!! Go grab 20 free beautiful and colorful stock photos! I love Jasmine's free images so much I bought a membership and am so happy with it 🙂 (pst..you get more free photos each month too!)
7. Create Her Stock
Create Her Stock has a great message for lady bosses. The images are girly, fun, bright and creative.
When you sign up to her list you'll receive a photo pack of awesome and girly photos to use for your blog posts.
8. A Prettier Web
I've mentioned Mel in my freelance service post and can't get enough of her. She is so helpful providing tutorials on WordPress and now is offering free photos!
They're beautiful, girly and I can't get enough of them.
Click here to get 7 free and styled stock images.
9. Stock Shop by Shay Cochrane
Shay has a gorgeous site I'm envious of 🙂 Her style and brand oozes chicness. When you sign up to her list you receive 20 stock photos for free!
I just signed up and not only does she provide free images, but also great business advice for mompreneurs!
Click here to sign up to her list and receive photos every month.
10. Kaboom Pics
Kaboom Pics has gorgeous and professional photos. Many are feminine photos too!
11. Ivory Mix
Ivory Mix is the site to grab globs and globs of free stock photos for your site (one pack has 54 photos). There are girly photos, chic photos and great object -type photos.
Click here and download all their photo packs.
12. City Girl Searching
City Girl Searching is a great site to help you grow your business. Roxy has beautiful and girly images and when you sign up you get access to her library of great resources for you business.
Click here to get on her list and access to her library of photos and resources.
13. Dabbles & Babbles
Dabbles & Babbles has some cute and darling photos for you! Grab 8 free stock images for your blog today!
14. Oh Tilly!
Oh Tilly has gorgeous desktop stock photos for bloggers! I absolutely love these photos!
Sign up to her list and get amazing stock photos.
15. Helene in Between
Helene in Between has great resources to help you grow your blog. In addition, she's giving access to her free girly and feminine stock photos.
If you want your 15 free photo pack from Helene in Between, click here for access.
16. Solopreneur Sidekick
I love coffee and apparently Louise of the Solopreneur Sidekick does too! You can download 10 free stock photos she created for bloggers, freelancers and mompreneurs.
Click here and download 10 free stock photos.
17. Styled Stock
Styled Stock not only has gorgeous free images for beauty and lifestyle niches.
Just download the photos you want!
18. Canva
Who doesn't like Canva? I use Canva a lot for my multiple pins I create and for infographics! They are a free editing tool for social media graphics and other things like eBook covers, PDF guides and more!
They have free stock photos too!
There You Go!
Aren't these the best girly photos you've ever seen! I'm bubbling inside and can't believe I found all these wonderful entrepreneurs and momprenuers!
Remember to read the Terms and Conditions for each free images photo pack you download. Some require attribution, while others don't want you to profit from their images (i.e. using them in your sales page or eBook).
Have fun designing 🙂 Oh, and if you know of any other places to grab free girly and styled photos, please let me know in the comments and please Pin me!