Hey everyone!
Welcome to my new series on growing my blog.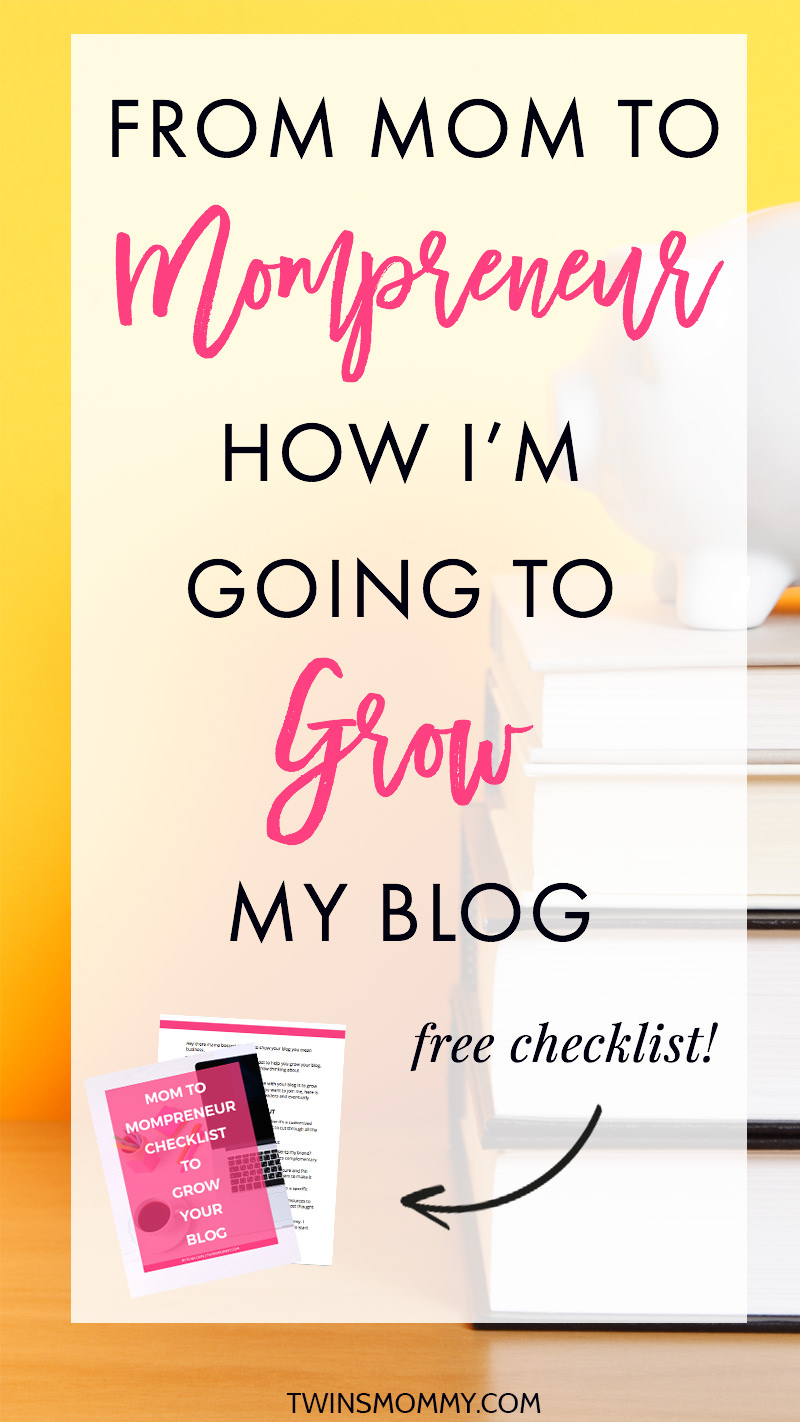 Twins Mommy is a new blog of mine and I want to chronicle how I'm going to grow my traffic, email list and my income.
I'll be sharing with you the behind the scenes of running Twins Mommy, gaining readers and eventually making money.
Here's a little backstory on my blogging experience.
Twins Mommy isn't my only blog. My first blog is ElnaCain – a freelance writing site.
Over there I dish out tips on freelance writing and getting started with freelance writing. In addition, I have a course out for new writers.
I also own and manage two other blogs, but I'm not positioning them for passive income yet. My goal for those blogs is to increase traffic, but I'm not putting all my effort into that because I want to focus on this blog.
So, I'm not new to blogging, but I'm new to growing my blog and earning a passive income from my blog via the traditional methods like affiliate marketing, ads and sponsored posts.
I started Twins Mommy because I wanted to talk more about the work-at-home mom role.
I have twin toddlers and I also manage my home, the cooking and cleaning.
I want to share my experiences in growing my business and blog while taking care of little ones and I also want to help others do the same.
So whether you have twins, multiples or just one child, Twins Mommy can help you out 🙂
Starting Twins Mommy – How It Came Together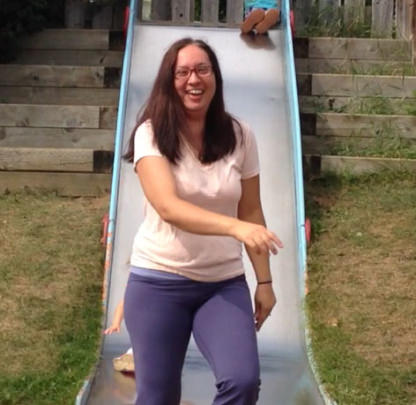 Twins Mommy was "born" with the idea of sharing my life as a work at home mom. On my other site, I couldn't really talk about this since a I have men, college students, grandparents, working ladies and moms as my audience.
So, Twins Mommy felt like a perfect new blog to start.
I was lucky enough to secure an aged domain.
I was deciding on names for this blog and found out that Twins Mommy was going to expire the next day. I knew this was the perfect name for my site since I wanted to talk more about my role as a mom to twins and trying to run a business.
I was able to register it without any problems.
For hosting I wanted to try something new.
Most of my other blogs are on a cloud server – don't ask me what that is since my husband set that all up – but since I intended to monetize Twins Mommy when I registered it, I went with a shared hosting – SiteGround (so I can eventually do some affiliate marketing).
My freelance writing blog uses Bluehost and this is also another self-hosting plan I highly recommend to new bloggers and freelancers.
If you want to start a blog with me, I have a step-by-step tutorial on how to start a blog!
So far, I'm happy with my hosting and I haven't had any glitches or slow response times.
Next, I picked a free theme – Adelle for WordPress.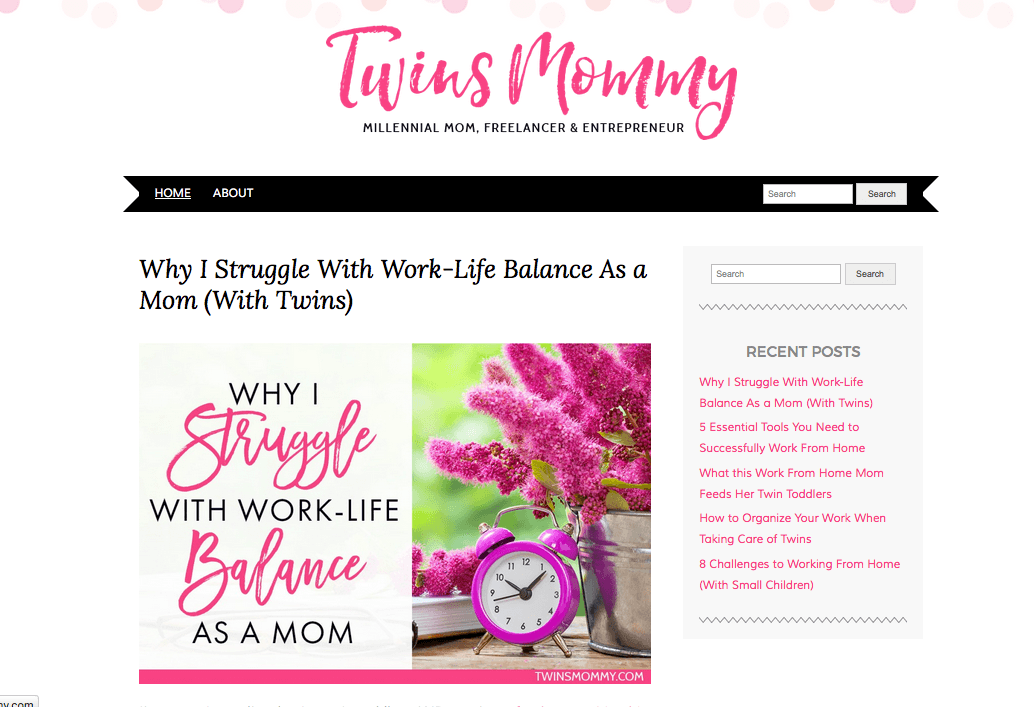 I liked the free theme, but I wanted to do something a bit more modern, yet inviting for this blog.
My husband is a web developer so he designed the current theme, which is much more what I had envisioned for Twins Mommy. I'm still debating about the homepage design and color, but overall I'm super happy about it.
If you want help on what to do after you start a blog, make sure to check out my guide where I show you step-by-step how to set up your WordPress site with video tutorials.
Okay.
So, let's get started on how I'm going to grow my traffic.
1. On My Site
My site is pretty new. Not even a month old. Here's a snapshot of my analytics: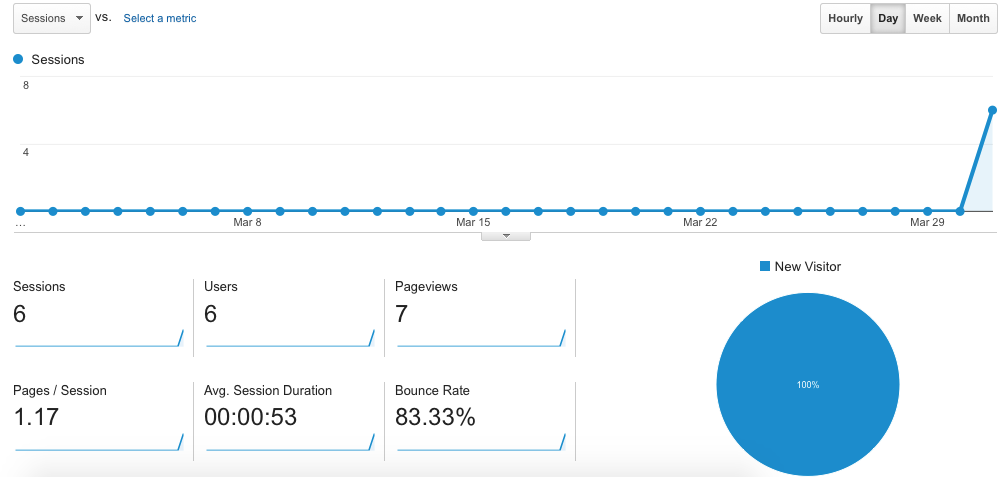 As you can see, not much is happening. I only have five posts up and I've told my subscribers on my ElnaCain site about this new blog only once.
So, nobody really knows this blog exists.
I also noticed my bounce rate is high! Either my content isn't very engaging or I don't have a lot of content for people to go through. I'm hoping it's the latter.
Here's some of the first steps I took to start generating more traffic:
Decrease my bounce rate by putting in a related posts plugin. Hopefully readers will want to continue reading more posts on Twins Mommy.
Optimize my sharing buttons. Originally, I had too many sharing buttons. Now I just have the main three: Pinterest, Twitter and Facebook. Right now those platforms seem to yield the most engagement.
Put in Comment Luv. This gives a little incentive for other bloggers to leave a comment on my blog and I hope this will generate more readers.
2. Develop a Pinterest Strategy
Okay.
Let's get real here. I'm in LOVE with Pinterest. I've been a Pinner for a while but stopped after having twins and had NO time to pin.
But, then I found you can use Pinterest for your business. Then I started watching webinars on how to effectively use Pinterest and my mind was blown 🙂
There are a lot of bloggers, freelancers and work-from-home moms pinning away and growing their traffic.
So, I've concentrated my efforts on Pinterest rather than Twitter or Facebook.
Here's my big plan to use Pinterest to grow my traffic:
1. Grow My Pinterest Following
I noticed that the blogs with lots of traffic also have lots of followers on Pinterest. Like over 1k followers. Here's how many I have:

616. Not bad, but I can definitely do better. My goal is to have at least a thousand followers by next month.
This is totally possible because I'm pinning more pins and pinning more often.
I know that the number of followers doesn't reflect the number of people actually seeing my pins. So, I'll be keeping an eye on my Pinterest analytics. Currently these are my stats: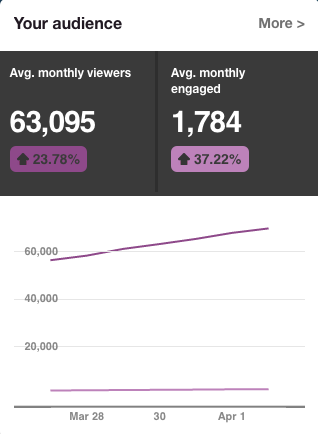 It's on the up and up and that's a good thing.
2. Optimize My Pinterest Bio
From the webinars I watched about Pinterest I worked on optimizing my Pinterest bio with keywords.

I changed my title and added Entrepreneur, freelance writer + mom to twins.
Then in my bio I also mentioned where I blog and to grab my free course over on my ElnaCain blog.
Since I'm selling a course over on my ElnaCain site, I want to direct people to my free course as this ties in to my complete course.
So far, though, my Pinterest bio now has keywords in it making it easier for others to find me.
3. Brand My Pinterest Boards
I thought it would look nicer if I branded my business related boards. It adds a bit of cohesiveness and, well it just looks pretty 🙂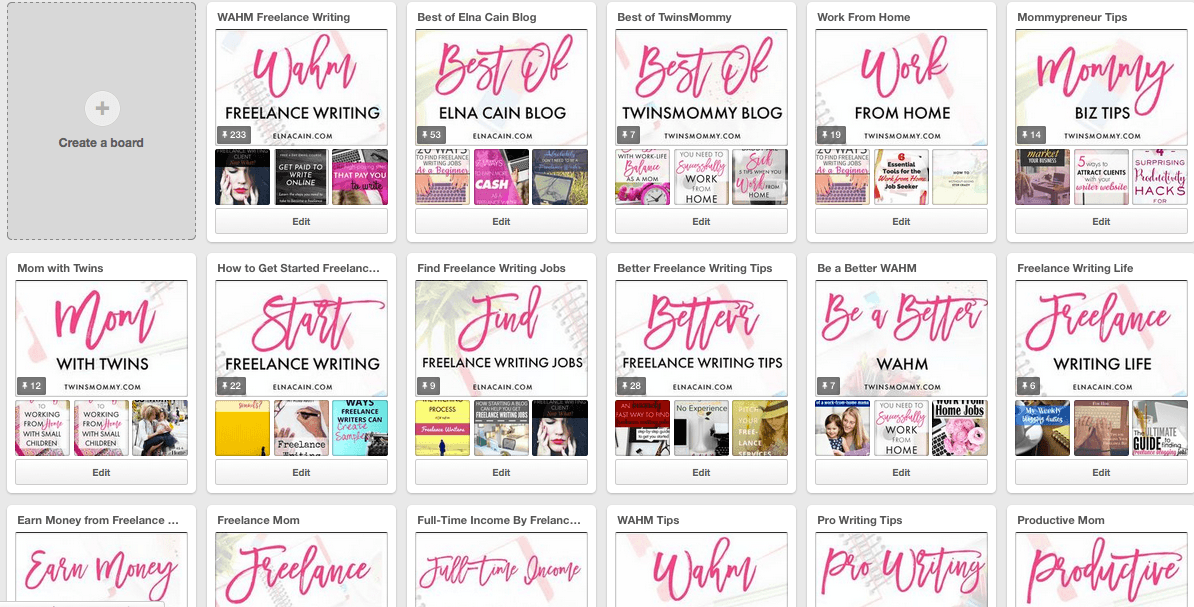 I have four rows of branded Pin boards. Another thing I did was add more business related boards so that I can pin more often.
I have a mix of work-at-home mom boards (like WAHM, Mom with twins, Taking care of twins and Work from home) and freelance writing boards.
I also have a group board, which, I think, is helping get my pins noticed more.
4. Automate My Pinning
I'm a busy work-at-home mom. I really don't have time to pin. That's why I decided to automate my pinning using Tailwind.
What's nice is that it sets up a schedule to pin during optimum times, which turn out to be the most busiest times for me!
I'm using their free version and will monitor my following, repins and traffic back to my blog to see if I'll go for a subscription. So far, it's working and I'm happy.
But, I'm not leaving my strategy on auto-pilot. I'm also manually pinning and repinning other people's content on a daily basis.
5. Be Pin-Centric on My Blog
Another thing I noticed with other blogs in this niche is how much they promote their Pinterest account or make their blog Pin-friendly.
I've definitely worked on my images for this blog. I'm branding them by creating a signature look – I hope you like! – and making sure to have my URL in every image.
I'm also putting my Pin image as the feature image on my post to let everybody know, hey, you can Pin me!
A new thing I added was a "follow me on Pinterest" widget on my homepage to encourage more people to follow me.
4. Grow My Email List
If you notice, I don't have a sign up form on my blog yet. But, I plan to!
Since I want more traffic, a great way to do this is to make an email list. Right now, people come to my blog, read my post and then leave.
I have no way of connecting with them or reaching them. They may forget about my blog or remember my blog, but forget the URL.
I have mailing lists on some of my other blogs and I know how valuable a list can be. So, I want to start another list for this blog.
There will be two ways I'm going to promote my list:
Create a free incentive called a lead magnet –I'm not quite sure what this will be. Either a guide book to starting your own online business or something else related to working from home and being a mom.
Content upgrades – these are freebies you place in your blog post that relates to the blog post. I have my first content upgrade for Twins Mommy on this post!
I'll be using OptinMonster for my lead magnet and content upgrades. I'm excited as I'm a writer for them and am really liking what I'm learning about their product.
I may promote my lead magnet on social media, but not sure how since my social media accounts are for my ElnaCain site and freelance writing business.
As for an email provider, I'm currently using MailChimp, but I'm growing out of that and need to switch to another provider that can accommodate my needs.
I'm debating on two providers – ActiveCampaign or Convert Kit. If you use one of these providers, please tell me in the comments what you like or don't like about them.
My goal is to have 10,000 subscribers by the end of the year. It's a big lofty goal for a brand new site, but you know the saying – go big or go home!
Currently I have 0 subscribers (because I haven't started a list yet!).
5. Invest in Blogger Outreach
I've learned from over one year of active blogging that it's the connections and networking you do that can really put your bog on the map.
Since this blog is brand new, I need to do a bit of legwork to let other work-at-home mom blogs or mommy blogs know I exist.
So, to do that I will share their content on Pinterest, comment on their blogs and follow them. I'll also feature them or link to them in my blog posts, so I'm super excited to get to know all the other fabulous work-at-home mamas out there!
6. Monetize Twins Mommy
So, my end goal in all this is to earn some passive income and I'm excited for this to happen.
But, the first step is to grow my blog's traffic and then I can start really working hard at monetizing it. For now, I plan to use affiliate marketing. So, I'll recommend products I personally use – or have used – to my audience.
I don't have a monetary goal for Twins Mommy since I can't gauge how much traffic I'll have month-to-month, but I plan to do income reports so that you can follow my blogging journey!
There You Have It
This is my grand plan to go from mom to mompreneur and now it's in the works. But, don't forget, that if you are doing the same, we are doing this together!
Let's support each other in this! Leave a comment telling me your plan and if you support me, I'll do the same.
I'll be sharing my plan to grow my blog every month so keep a lookout for my progress:

Please Remember to Pin me!