Are you a mom looking to make some extra money?
Whether you want to contribute to the family income or simply earn some cash for personal expenses, selling items can be a fantastic way to achieve your financial goals!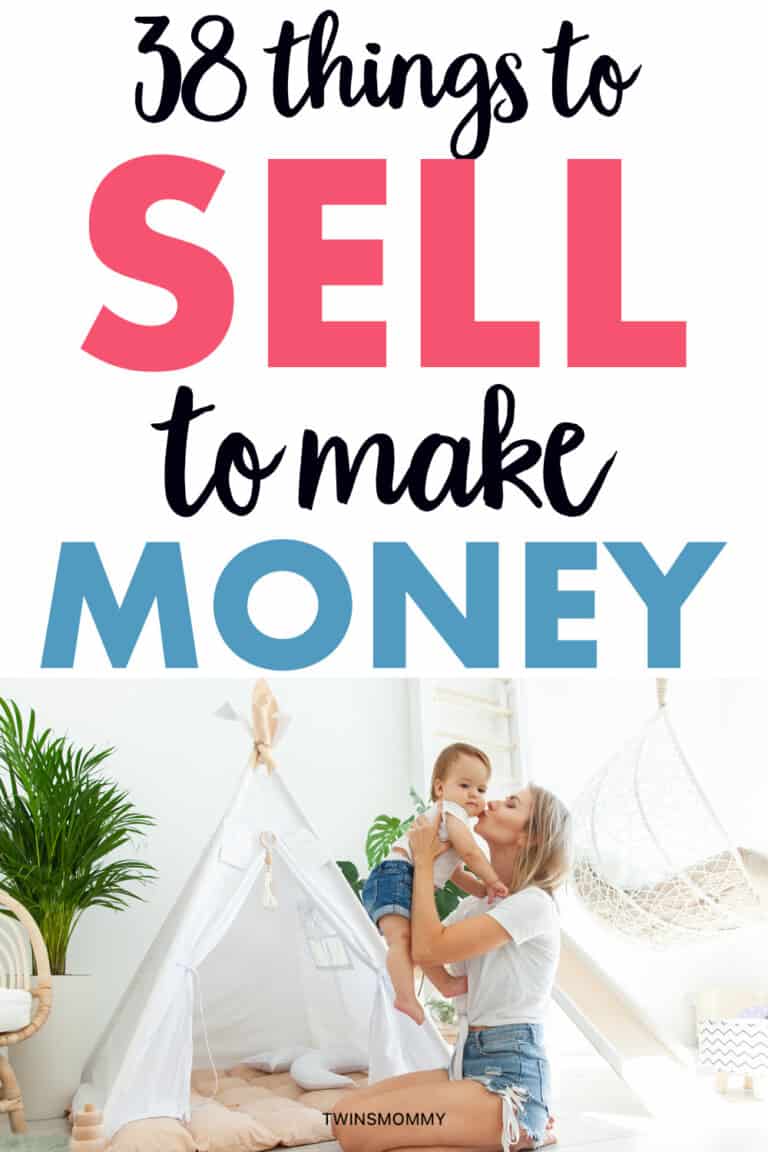 I know for me, while I was pregnant with twins, I was seriously thinking about opening up a daycare in my home or selling my knitting crafts online.
But, then I had my twins and life hit me!
It wasn't until they were bigger that I was able to start making money from home.
So if you're wondering, "What can I sell to make money?"
I've got you covered!
Let's take a look at some different options to help you find the right fit for your lifestyle and interests!
What Can I Sell to Make Money Fast?
When you're in need of quick cash, there are several things you can make and sell fast to boost your income.
I mean who doesn't want some extra cash each month to help contribute to the finances?
*raises hand
Whether you're decluttering your home or tapping into the digital landscape, these ideas can help you make money fast.
Let's explore a few avenues where speed is of the essence.
1. Preloved Clothing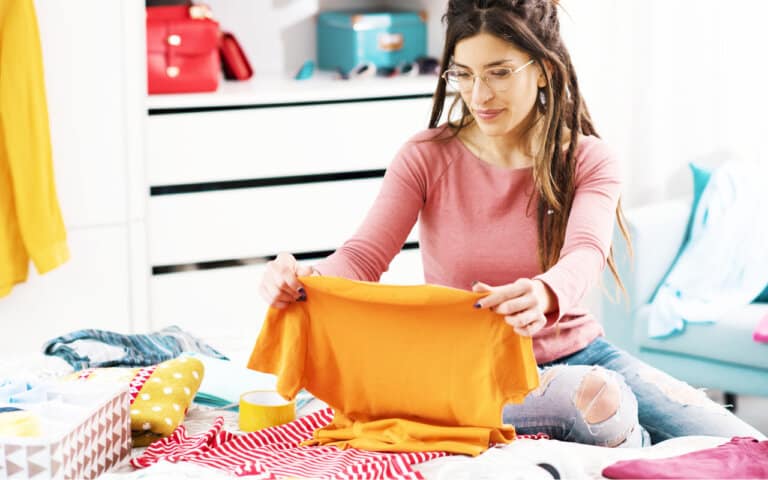 Sort through your closet and gather gently used clothes, shoes, and accessories that no longer serve you.
You can sell them at local consignment stores, online marketplaces, or organize a yard sale.
To get started, take high-quality photos of your clothing and write detailed descriptions, highlighting any unique features or designer labels.
Then, choose a platform to sell on.
Options range from online marketplaces like Poshmark and Depop to consignment stores in your area.
Don't forget to price your items competitively and be patient with the selling process.
With a little effort, you can turn your preloved clothes into extra cash and declutter your closet in the process.
2. Electronics
If you have old smartphones, tablets, or gaming consoles lying around, they can be valuable assets.
Start by researching market prices to ensure you're getting a fair deal.
Don't forget to wipe your personal information off the device before selling to protect your privacy.
Look for online platforms that specialize in buying used electronics.
My favoriate places are:
With a little effort and research, selling electronics can be a lucrative side hustle or a way to declutter your space.
So dig into your storage closet and turn those electronics into cash.
3. Complete Online Surveys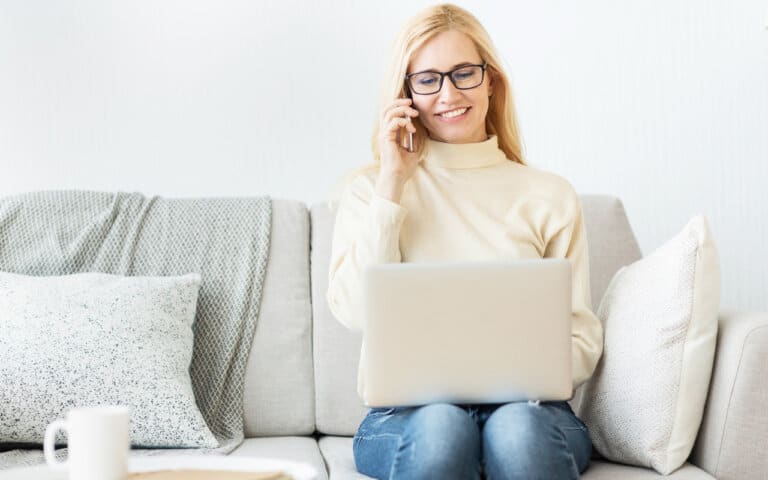 Selling complete online surveys is not a new concept, but it's a game changer if you want to earn some extra cash.
Companies pay consumers for their opinions and feedback on various products and services.
There are also different survey websites that will pay you for answering questions, playing games, watching videos, and more.
It's an easy gig, all you have to do is find a website that offers genuine survey opportunities and start completing them.
You'll earn points, which can then be exchanged for cash or gift cards.
Just make sure to be honest and answer all questions truthfully.
Plus, it's the perfect side hustle for those who want to work from home.
Check out Survey Junkie and Toluna to get started!
4. Rent Out Space in Your Home
If you have some extra space in your home, you can rent it out through Airbnb.
With the rise of short-term rental platforms like Airbnb, it's becoming easier than ever to connect with travelers looking for a cozy place to stay.
But before you start accepting guests, it's important to do it right to prepare your space.
First, make sure your space is clean and tidy with fresh linens and towels for your guests.
You'll also want to set clear expectations and house rules, like whether or not smoking or pets are allowed.
Lastly, be sure to price your rental appropriately based on the size, location, and amenities of your space.
So, if you're going to be away, you can rent out your entire home and make some fast cash.
5. Homemade Food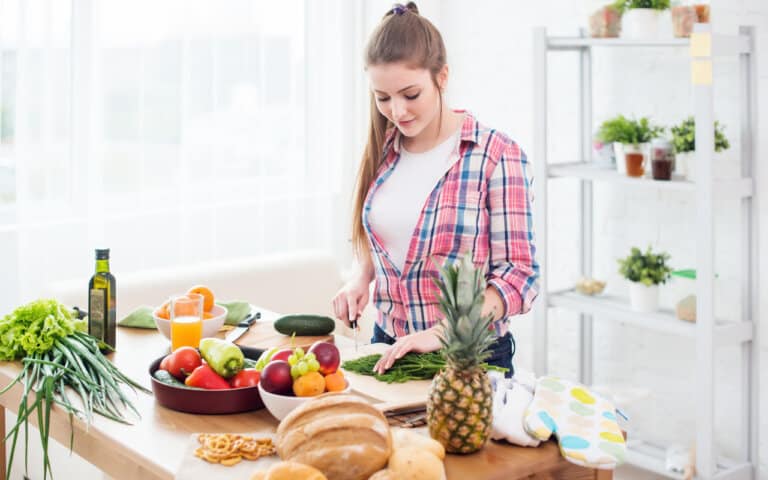 If you enjoy cooking or baking, you can make homemade food items like cookies, cakes, jams, or sauces to sell locally or online.
Just make sure you follow local guidelines when it comes to selling food from your home.
You can start small by experimenting with a few signature dishes that you're confident people would love to try.
As you gain experience and confidence, you can expand your menu and eventually grow into a full-fledged small business.
With social media, online platforms, and local events, there are plenty of ways to reach customers and showcase your culinary talent.
Just make sure to do your research, comply with legal requirements, and put your heart and soul into your creations.
After all, food is not just about satisfying hunger, it's about creating memories and bringing people together.
6. Photography
If you have photography skills, you can sell your photos as prints or digital downloads through stock photography websites or your own online store.
Or, you can sell your services as a photographer for weddings, parties, and other special occasions.
All you need to figure out is your niche and target audience.
Are you good at nature photography, portrait photography, or street photography?
Once you've determined your specialty, start building a portfolio of your best shots.
Platforms like Etsy, Shutterstock, and iStock are great places to start selling your images online.
You can also try networking with local businesses or art galleries to display your work.
As with any business, marketing yourself is key.
Use social media to showcase your work and reach potential customers.
Remember, it takes time and effort to build a successful photography business, but with dedication and determination, you can turn your dreams into a reality.
Get ready to capture some amazing shots, and get paid for it!
What Can I Sell Online to Make Money
In today's digital age, the internet offers so many opportunities for entrepreneurial moms looking to make money from the comfort of their homes.
One avenue that provides huge potential is selling products online.
By tapping into your creativity and expertise, you can create a digital product that can make you a consistent income.
Let's explore the exciting world of digital products and discover how you rock this profitable market.
7. Dropshipping
Partner with suppliers who handle inventory and shipping.
You can set up an online store and sell products without physically stocking them.
Research trending products and collaborate with reliable suppliers.
8. Printable Products
From printable planners to worksheets, you can easily design a printable product on a program like Canva and sell it through a platform like Etsy.
Pick a niche that excites you and create designs that align with it. You can look at your blog audience and your email list to figure out their challenges and problems.
Consider selling digital prints, planners, calendars, or even stationary templates.
Then, choose a platform to sell your designs.
Etsy and Shopify are great options, or you could create your own website.
Make sure to showcase your designs in a visually pleasing way and promote your products through social media.
Once you start making sales, don't forget to analyze the data to see which designs are the most popular.
Selling printable products is a low-overhead and rewarding way to make money – so why not give it a try?
9. Digital Products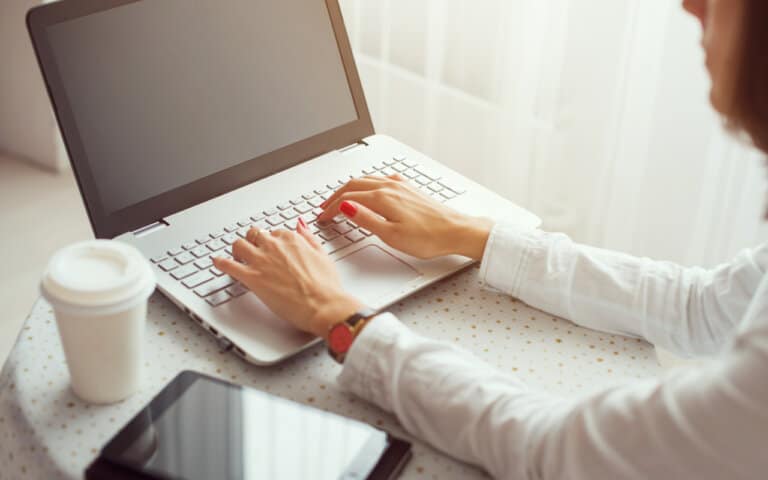 You can also sell completely digital and online products like courses and eBooks.
This is what I did to help me make six figures as a mom blogger!
Platforms like Teachable allow you to publish online courses, and on Amazon, you can easily upload and sell an eBook.
10. Templates
If you're handy with graphics, you can create tons of visual templates such as website themes, Pinterest pin templates, business card templates, and more.
Whether it's website layouts, social media graphics, or digital resumes, there's a market for pre-made designs that save time and effort for buyers.
Of course, the challenge is creating something that stands out from the crowd and appeals to potential customers.
Don't be afraid to get creative with your templates and experiment with different styles, colors, and formats.
With a little bit of hustle and ingenuity, you could be well on your way to turning your artistic talents into cold, hard cash.
11. Subscription-Based Services
Offer subscription-based services such as digital marketing consultations, graphic design services, content writing, social media management, or virtual assistance.
Clients pay a monthly fee for ongoing services.
12. Language Learning Materials
If you know a second language, you can create and sell language learning resources such as online courses, e-books, flashcards, or pronunciation guides.
Focus on popular languages or target specific language learner demographics.
13. DIY Craft Supplies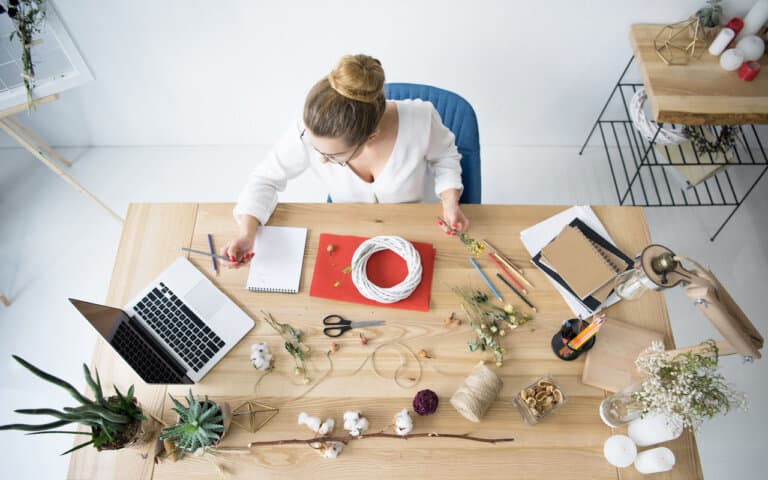 Sell craft supplies and materials for popular DIY projects such as jewelry making, scrapbooking, knitting, or candle making.
Offer kits or bundles that include all the necessary materials for specific projects.
But before you get started, you'll need to find the right supplies.
Cue the DIY craft supply hunt!
Don't worry, it's not as daunting as it seems.
Start by identifying your niche.
Is it paper crafts, sewing, or jewelry-making?
Once you've found your focus, start sourcing your materials.
Look for wholesalers online or in-person, and compare prices to get the best deals.
Another great way to save money is by re-purposing items from around your house.
Upcycling is not only eco-friendly, but it's also budget-friendly.
So get creative and start turning your crafty dreams into a lucrative reality!
14. Virtual Services
If you have a specific skill or expertise, offer virtual services such as coaching, consulting, graphic design, social media management, or content writing.
Market your services through a professional website and utilize social media platforms to reach potential clients.
What Can I Sell to Make Money from Home?
If you're a mom looking to earn some extra cash without leaving the comfort of your home, selling various items can be a convenient and profitable option.
By tapping into your household resources, you can find potential money-making opportunities right at your fingertips.
So let's delve into the possibilities and discover how you can transform your home into a hub for financial gain.
15. Sell Your Furniture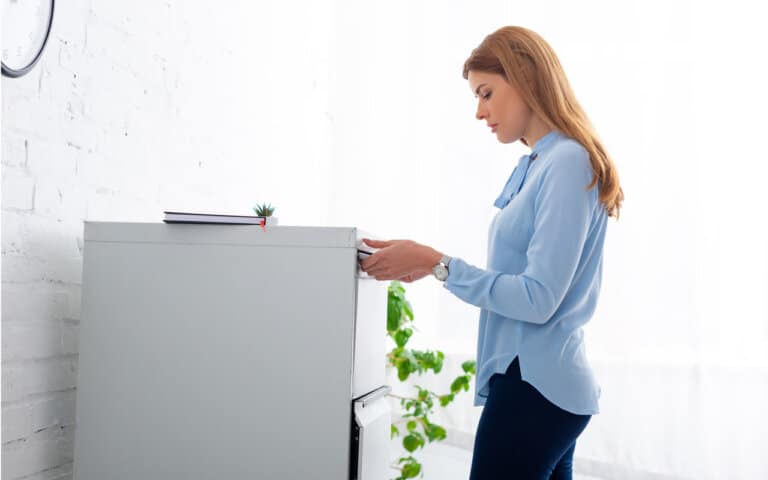 If you have any desks, chairs, or couches that aren't being used and taking up space, list them online to make some money.
Especially if you have solid wood pieces like dressers – people will pay top dollar for these items!
16. Unused Gift Cards
Gift cards are awesome gifts to give to families or loved ones, but how many are you holding on to for a "rainy day" or because they aren't for places you frequent?
Selling gift cards is a great way to declutter your space and fatten your wallet.
So, how do you do it?
Make sure to compare rates and fees to ensure you're getting the best deal.
So what are you waiting for?
Dig out those unwanted gift cards and start cashing in.
Your wallet (and Marie Kondo) will thank you.
If they still have a balance, onload them and make some money!
There are sites that will help you, like CardCash, Raise, and Card Sale.
17. Kitchen Items
When is the last time you used that blender? Or deep fryer?
Instead of letting appliances collect dust in your kitchen, declutter unused items and sell them online.
18. Christmas Decorations
If you're anything like me, you've amassed quite a collection of Christmas decorations over the years.
If you find you have more decor than space to put it, consider selling it to earn some extra cash.
19. Exercise Equipment
Stationary bikes make great drying racks for your clothes, but your old exercise equipment would serve you better if you sold it for some money.
Selling your used exercise equipment can not only help you make some extra cash, but it can also help someone else on their fitness journey.
The first step is to be honest about the condition of the equipment and price it accordingly.
Using online marketplaces like Facebook Marketplace, Craigslist, or Letgo can help reach a wider audience.
Don't forget to snap some eye-catching photos of the equipment in use to give potential buyers a better idea of what they're getting.
Plus, you'll also have some extra space in your home gym to try out that new kettlebell routine you've been eyeing. Time to bring on the gains and the cash flow!
20. Direct Sales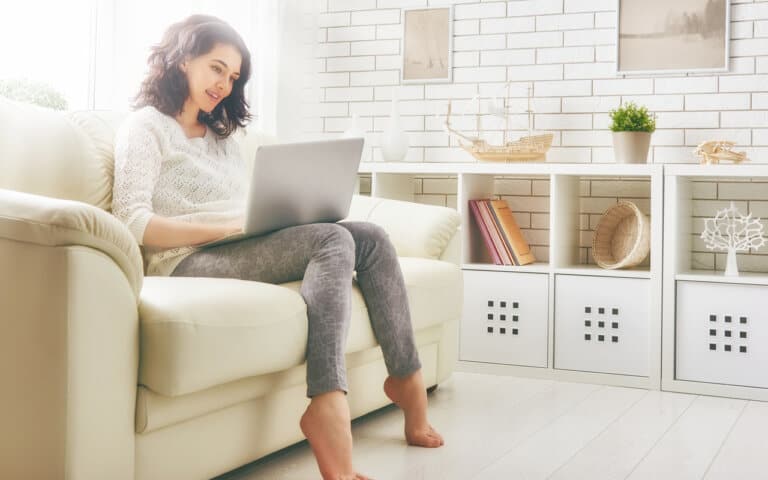 Direct sales companies offer opportunities to make money from home.
Representatives sell products directly to customers through personal connections or online platforms.
It's a flexible and accessible way to start a business without major investments. Joining a reputable company allows individuals to earn income while working from home.
What Can I Make to Sell for Money?
If you have a creative spirit and a knack for crafting, the world of handmade products opens up a world of opportunities!
Making things you can sell not only allows you to express your artistic side but also presents a fantastic chance to generate income.
Here is a range of handmade items that can be transformed into a profit:
21. Handmade Jewelry
Design and create necklaces, bracelets, or earrings using various materials such as beads, wire, or polymer clay.
Online marketplaces and local boutiques are excellent avenues to sell your jewelry.
22. Custom Artwork
If you have a talent for painting, drawing, or calligraphy, create personalized art pieces.
Sell them online, at art exhibitions, or approach interior designers for potential collaborations.
23. Hand-knit or Crocheted Items
Make scarves, hats, or baby blankets with cozy yarn.
These items are always in demand, and you can sell them at local markets or through online platforms.
24. Mason Jar Crafts
Mason jars can be used to make so many awesome crafts that you can sell online, from candles to gift jars and home storage ideas!
25. Custom Vinyl Products
If you have a Cricut or any vinyl-cutting machine, you can easily make and sell custom products like water bottles, coffee mugs, tumblers, wooden signs, and so much more.
26. Gift Baskets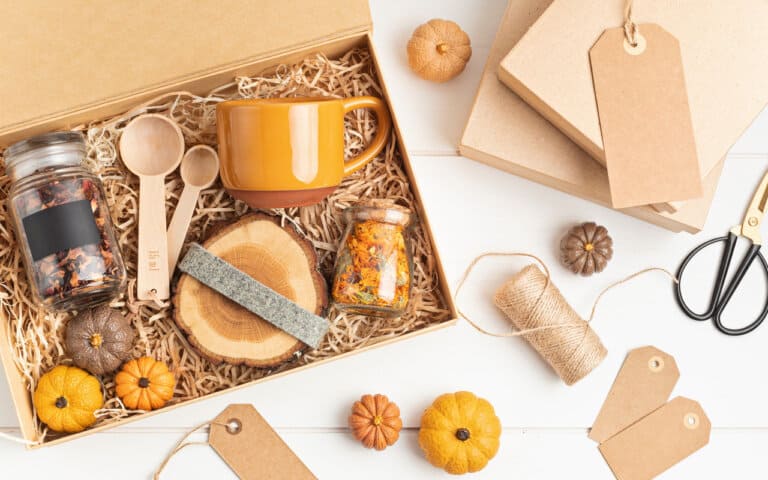 People love buying curated gift baskets – it takes the legwork out of putting a gift together! You can make and sell gift baskets for Mother's Day, Father's Day, baby showers, and any holiday you can think of.
What Can I Buy and Sell to Make Money?
When it comes to making money, sometimes the key lies in finding hidden treasures and turning them into profitable investments.
If you have an eye for spotting valuable items and enjoy the thrill of the hunt, buying and selling can be an exciting venture.
Let's take a look at how you can turn your knack for finding treasures into a lucrative source of income:
27. Thrift Store Finds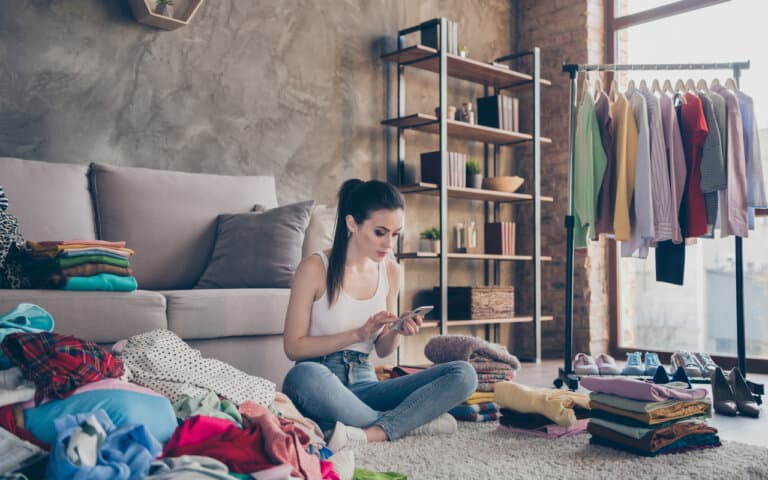 Visit thrift stores, garage sales, or estate sales to discover hidden gems at bargain prices.
Look for items like vintage clothing, collectibles, or furniture that can be resold online or at local consignment stores.
28. Antiques and Collectibles
Research and identify valuable antiques or collectible items that have a niche market.
Attend auctions, visit antique fairs, or connect with local collectors to buy and sell these items for a profit.
29. Wholesale Products
Consider purchasing products in bulk from wholesalers and selling them at a higher price.
Popular wholesale items include cosmetics, home goods, and electronics.
30. Secondhand Books
Attention bookworms!
If you love books, you can buy used books from thrift stores, yard sales, or online marketplaces and then resell them on platforms like Amazon, AbeBooks, or BookFinder.
Alternatively, you could set up a small online bookstore specializing in used books!
31. Vintage Vinyl Records
Source and sell vintage vinyl records through online marketplaces or by setting up an online record store.
Cater to collectors and music enthusiasts by offering a diverse selection of genres and rare finds.
What Can I Sell to Make A Lot of Money?
If you're looking to take your selling game to the next level and aim for substantial profits, you may be wondering, "What can I sell to make extra money?"
From specialty food products to niche handmade items, high-end electronics, subscription boxes, and home organization solutions, here are some exciting possibilities that can lead to making a lot of money:
32. Specialty Food Products
Explore the world of gourmet food items, such as artisanal chocolates, specialty teas, or rare spices.
Selling these high-quality, unique food products can attract customers willing to pay a premium price.
33. Niche Handmade Products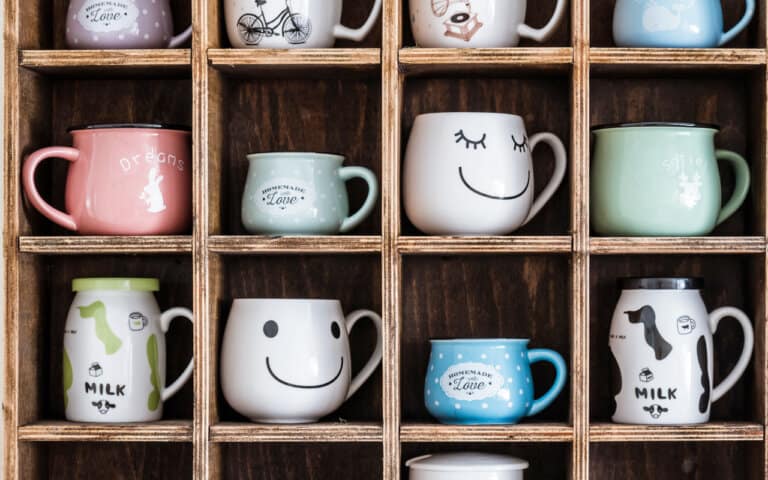 Identify a niche market with high demand but limited supply.
Create and sell specialized handmade items like customized baby products, eco-friendly pet accessories, or personalized home decor.
Targeting a specific audience can lead to higher profit margins.
34. High-End Electronics
Focus on selling high-end electronics like high-performance laptops, professional-grade cameras, or home theater systems.
Stay updated on the latest technology trends and offer products that cater to tech-savvy consumers willing to invest in top-of-the-line gadgets.
35. Subscription Boxes
Create curated subscription boxes catering to specific niches, such as gourmet snacks, beauty products, or hobby-related items.
Subscription boxes offer recurring revenue and the opportunity to build a loyal customer base.
36. Home Organization Solutions
Help individuals declutter and organize their living spaces by selling home organization products.
Offer items like storage containers, closet organizers, or space-saving solutions.
Market your products to busy moms and individuals seeking an organized lifestyle.
37. 3D Printed Items
If you have a 3D printer, you can utilize this technology to produce and sell custom-made phone cases, figurines, home decor, or innovative gadgets.
People love custom-made products that express their unique personalities, so this is a great way to make a lot of money from home!
38. Unique Experiences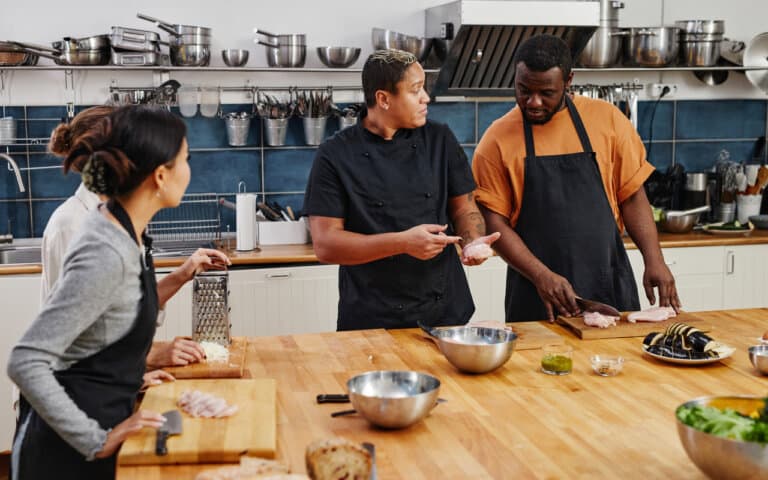 Sell exclusive experiences like adventure trips, guided tours, cooking classes, or personalized workshops in popular or unique locations.
A big thing nowadays is local artists setting up "Sip and Paint" nights and teaching people how to paint.
You can put your skills to use, too!
What Can I Sell to Make Money? The Sky is the Limit!
As a mom seeking opportunities to make money, there are numerous options available to you.
From selling items online to creating unique crafts or flipping valuable goods, finding the right path that aligns with your interests and lifestyle is key.
Remember, as a mom, you have unique skills, experiences, and resources that can contribute to your success in the selling world!
Embrace your creativity, tap into your network, and leverage the power of online platforms to reach a wide audience.
With determination, perseverance, and a dash of entrepreneurial spirit, you can turn your selling venture into a fulfilling and lucrative endeavor.
Now it's your turn – Have you sold anything from home to make money?
How did it go?
Let me know in the comments!
And best of luck on your selling journey!