Are you ready to start a business at home as a stay at home mama?
Having a home-based business is a great way to earn extra income while being at home with your little ones.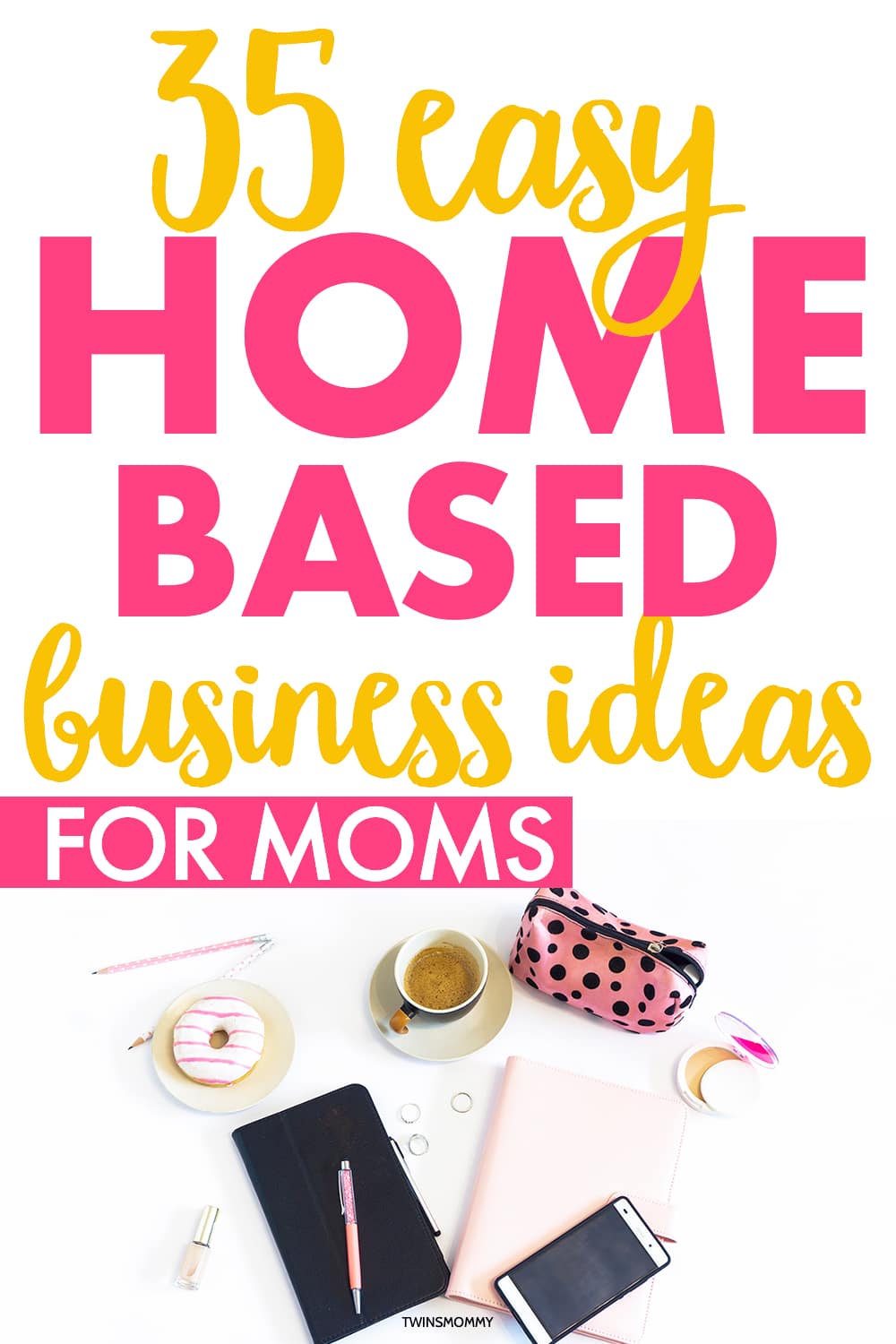 I should know this!
After having my twins over seven years ago, I was determined to stay home with them.
I couldn't stand the thought of going back to work and leaving them.
I also couldn't stand the thought of the daycare costs. Yikes!
Where I live it's thousands per month for twins and there was a year waiting list too!
So I started looking for home business opportunities that would provide an extra income while keeping me at home with my twins.
Eventually, I got into blogging and freelance writing, but in my journey I learned that there are many, many, many opportunities out there for moms to work at home and begin their own businesses.
Because isn't that what you want?
The freedom and choice to stay home for good and even help your husband stay home for good?
You can make that happen with these easy and awesome home-based business ideas for moms!
Here are 35 ideas to get you started on your own business at home.
Home-Based Service Jobs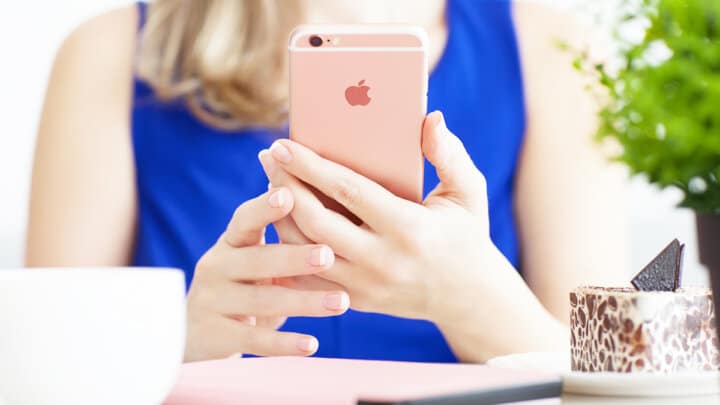 1. Childcare
Perhaps one of the best home business opportunities for moms who have little ones is to offer childcare services.
Not only can you make money at home, but you won't have to worry about paying daycare costs for your own children!
Just be sure to look into local laws and regulations before starting a childcare business at home. You may need certification, licensing and/or specialized training such as first aid and CPR.
This was actually something I was seriously thinking when I was pregnant with twins. During my time I would develop themes and activities for each week and each month would be a theme.
Little did I know the lack I sleep I got for the first year as a mom to twins and what stopped me from this business idea.
But, if you have a better handle than I did, this would be an amazing home business to start.
2. Grocery Shopping
Grocery shopping can seem like a tedious chore– so why not make some extra money while doing it?
You can become a personal shopper for those who don't have time to shop or have physical restrictions that prevent them from doing so.
Get started by drumming up your own clientele or check out Instacart which hires both full-service and in-store shoppers!
When I was in University I actually created the "Grocery Girl Express" to help with seniors and busy parents in my neighborhood. I didn't do it for long but it did help me with paying my bills at the time!
3. Housecleaning
Starting a business as a housecleaner requires little in terms of startup costs and allows you to create your own schedule.
While you may loathe cleaning your own home, there's something rewarding from cleaning someone else's home – and making money from it!
Just make sure you have essential cleaning supplies such as a mop, bucket, broom, cleaning solutions and clothes.
This is a great service for new moms. My sister actually hired a maid for the first year after I had my twins. Using this angle can help you land several clients early.
4. Laundry Service
If you have your own washer and dryer, why not make some money at home by doing other peoples' laundry?
Make sure you have at least a couple of detergents to choose from, including ones that are designed for people with allergies.
You'll also have to decide if you will pick and deliver laundry or have your clients drop it off to you. If they do, you can enjoy running a home-based business without leaving your home!
5. Bookkeeping
There are many individuals, not just moms, who are starting their own home-based businesses and may need help with the financial side of things.
Why not market your financial skills to these entrepreneurs? Many new bloggers and entrepreneurs will be needing your service!
If you are not familiar with modern bookkeeping tools and software, you can always learn how to use them!
6. Party Planning
Are you the type of mom who can throw an amazing party without a hitch?
Other people need your help! Between birthday parties, baby showers, wedding showers, bridal showers, and any type of party you can think of, most people can't handle the pressure of organization and executing a party.
So if you enjoy planning parties, and can handle the finer details, this could be a lucrative home-based business idea for you!
7. Home Organizing
A lot of people live in a constant state of chaos and have no idea how to start organizing their homes.
If you are savvy in the ways of organizing – finances, possessions, paperwork – you could offer your services to those who need some help straightening out their households.
8. Hairstylist/Nail Technician
Having a college certificate as a hairstylist or nail technician creates a wonderful home business opportunity to work from home while making an income!
With the right tools and space, you can easily offer these services in your home.
Or, to expand your clientele, you can travel to their homes to cut their hair or do their nails.
9. AirBNB
Have some extra space in your home? Why not rent it out to travelers?
People looking to take a vacation, or need to travel for work, maybe seeking smaller and homier accommodations than a hotel or motel room.
10. Fix Broken Toys and Dolls
Has your child ever been devastated when their favorite toy or doll has broken? What if there was a place you could take them to have them fixed up?
If you have a knack for sewing up stuffies, fixing electronic toys or even detangling doll hair, you could start a service for fixing up dolls and toys!
Selling From Home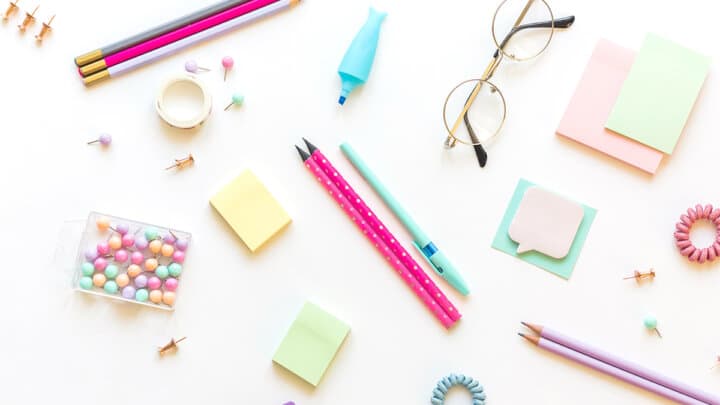 11. Direct Sales
Before you scream, "Pyramid Scheme!" hear me out:
There are lots of companies that are willing to pay you to sell their products that aren't trying to scam you – you just have to do your homework.
And there are lots of moms out there making good money with companies such as Stella&Dot, Scentsy and Avon.
So if you have a knack for sales, you should definitely check out direct sales!
12. Photography
Handy with a camera? You can start your own photography business!
You can do portraits in your own home or travel to meet with individuals and families to do sessions in outdoor or special locations.
Bonus? If you're more into still life and landscapes, you can sell your photography online to stock photo sites!
13. Upcycled Items
They say that one person's trash is another person's treasure. Perhaps you have an eye for potential when it comes to used and older items.
Refinished furniture, and even upcycled clothing, are super popular right now with many people willing to pay for unique and custom pieces.
You can sell your creations locally or open up an Etsy store and sell them online!
14. Baked Goods
Do you know how many times I've not "nailed it" when it comes to baking birthday cakes for my kiddos?
I'm not going to tell you.
But if you bake and decorate, you can easily sell your creations from your own home.
You can also expand your menu to include all kinds of baked goods for parties, holidays and gifts!
15. Personalized Products
Own a Cricut? These handy little machines allow you to create custom vinyl designs that you can stick on mugs, tumblers, t-shirts – anything you can think of!
What about a 3D printer? You can create custom bobbleheads, ornaments and so much more.
People go nuts for personalized products so if you can deliver something that is custom and unique, you can definitely run a successful home-based business!
16. Produce and Plants
This home-based business idea is perfect for all of you gardeners! If you have a green thumb, you can grow your own produce and sell it to your local community.
You can even seed plants such as succulents, annuals and perennials and sell those too!
Many people love fresh produce and beautiful gardens but do not have the time or skills to grow them on their own.
17. Art and Prints
From traditional paint and canvas to digital art, people love buying unique pieces to decorate their homes.
If you have some artistic skills, you can sell your art and prints – both online and offline.
You can even offer commissions and charge a premium rate for custom art.
18. Candles and Soaps
With so many additives and chemicals invading personal products on the market, people have no issue buying handmade items that are made with clean and organic ingredients.
You can start a home-based business by selling handmade candles and soaps. Expand your horizons by offering other beauty products such as facemasks and lotions. And if you want you can encase those soaps and candles in lovely mason jars!
Just keep in mind that some products made with fresh ingredients have a shelf life!
19. Jewelry
Did you know that you can make beautiful jewelry out of old spoons? Or earrings out of origami?
There are so many ways to create unique and beautiful jewelry at home! If you're crafty, you should try this home-based business idea.
20. Handmade Clothes
If you're handy with a sewing machine, knitting needles or crochet hook, you can make and sell clothing from your home.
Plus, if you are handy with a sewing machine, you can also offer your services as a tailor and make money altering clothing for your clients.
Home Business Opportunities for Teaching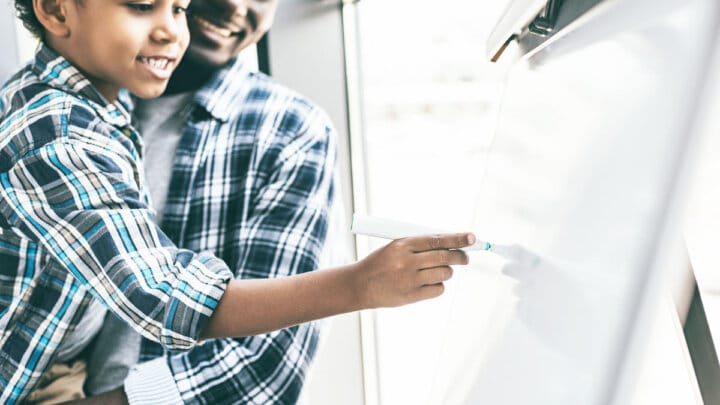 21. Music
If you know how to play a musical instrument, such as a guitar, piano or flute, you can offer to teach people how to play right in your home.
And, like any of the ideas I've listed for teaching at home, you can offer your services online as well.
22. Yoga
While we can all throw a yoga video on YouTube and try our best, there's something about having personalized instruction that makes the experience more effective and meaningful.
If you're trained in the ways of yoga, you can teach others how to do the moves properly. Teach in your home, online, at other peoples' homes to take your lessons to outdoor public spaces.
23. Personal Training
Exercising seems like a straightforward concept but many people don't know what to do or where to start.
If you're a fitness buff, you can offer to teach others who to workout, use gym equipment and even create personalized plans to help them reach their fitness goals.
24. Tutor
If you're interested in helping youngsters excel on their academic path, you can offer your services as a tutor.
Again, you can do this locally in-home or online! Check out Tutor, Wyzant and Elevate K-12 for online tutoring opportunities.
25. Dance
Are you trained in dance? Whether you know ballet, tap, jazz, or even hip-hop, you can teach people how to dance as a home-based business.
You can offer group lessons in your home, private lessons or post your lessons online.
26. Coaching
When I say coaching, I don't necessarily mean sports coaching. Coaches can exist in all aspects of life, from financial coaches to fitness coaches to life coaches.
If you have the skills to help individuals meet their goals, whatever they are, you can offer your services as a coach.
Simply pool your skills, experiences and knowledge into a program that you can use to help clients reach their dreams.
Before I created courses I did coaching for new online writers. I had a fun time helping on a 1:1 bases and creating a strategy and little curriculum for new writers.
27. Cooking
If you can make magic in the kitchen, you can make money teaching others your culinary skills!
Invite clients to your home to learn how to create a magnificent meal or offer your tutorials online.
You can easily set up online workshops where individuals simply need to gather their ingredients and tools before following along.
28. Online Courses
All in all, if you are passionate and knowledgeable about a skill, you can design an online course to teach others what you know with this home-based business idea.
While this focuses a bit less on one-on-one instruction, it certainly provides a great opportunity to share your expertise while earning a passive income.
This is what I gravitated towards as a way to make passive income. I was mommying, freelance writing and blogging and coaching and I new that I was strapped for time. So I turned what I was teaching as a coach to a course.
Online Home-Based Business Ideas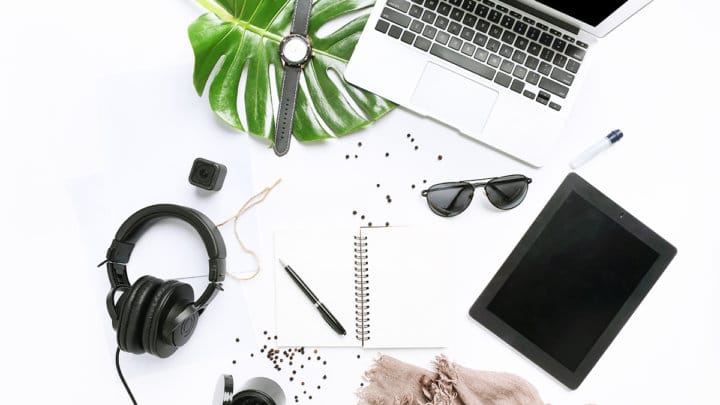 29. Blogging
They say to write what you know, so I'm going to tell you that you can make money at home by blogging!
This is not a get-rich-quick scheme so you do have to expect to put time and effort into making money from a blog – but it can be so lucrative in the end.
You can use a blog to make money through affiliate marketing, ads or by offering products/services/courses for sale.
You can start here if you're interested in creating a profitable blog!
30. FBA– Fulfilled by Amazon
Did you know that you can source products to sell without worrying about storing your own inventory?
FBA provides you with access to millions of potential customers for your goods while packing, labeling and shipping your product for you!
All you have to do is sent your inventory to Amazon and they'll do the rest.
To learn more about the process, check out this guide on starting an Amazon business.
31. Freelance Writing
Another great way to make money online is to get paid to write.
In fact, when I decided to become a stay-at-home mom, I started offering my services as a writer to make an extra income while I stayed home with my twins.
Businesses need long, informative and fresh content on their sites in order to rank on Google search results – and they're willing to pay writers to create it!
For more information on how to get started, check out my article here on how to become a freelance writer and make a living.
32. Editing and Proofreading
You can always expand your freelance home-based business to include editing and proofreading as part of your services.
Instead of writing content, you can get paid to review and correct the work of others.
This doesn't necessarily have to be related to web content either – you can edit whitepapers, essays, cover letters and books.
Check out more services you can offer at home in this post.
33. Subscription Box Services
Ever heard of Hello Fresh? FabFitFun? Birchbox?
These are all subscription box services that curate niche-specific products and deliver them to customers – usually on a monthly basis.
This service isn't reserved only for big companies – you can create and sell your own subscription box and what you can sell is endless!
Plus, if you have a blog, you can tie a subscription box into your niche and monetize your site.
34. Printables and Digital Products
If you're handy with programs such as Photoshop, Canva or Venngage, you can create and sell digital and printable products.
When it comes to what you can create, the possibilities are endless! Think educational worksheets, budgeting planners, family planners, checklists and even wall art!
Head to my post here about the types of printables you can sell and how to get started.
35. Graphic Design
Also, if you're handy with the programs mentioned above, you can offer your services for graphic design.
Instead of printables, you can design and sell logos and other graphics for home business opportunities – such as social media images, fonts, eBook covers and so much more.
You can offer your services on platforms such as Fiverr, Etsy or Creative Market.
Ready to Work From Home?
Now that you have an idea of the many ways you can make money at home as a mom, it's time to get out there and get started!
For more help to help you stay home and work from home for good check out these guides:
Remember that most of the time the money doesn't start rolling in overnight. However, with perseverance and passion, you will be able to make an income working from home.
Good luck!
Now it's your turn – Do you have a unique home-based business? I'd love to hear about it in the comments!