Hey mamas!
Are you tired of spending your days feeling like the only thing you do is clean and argue with your toddler about why they can't eat your candy stash?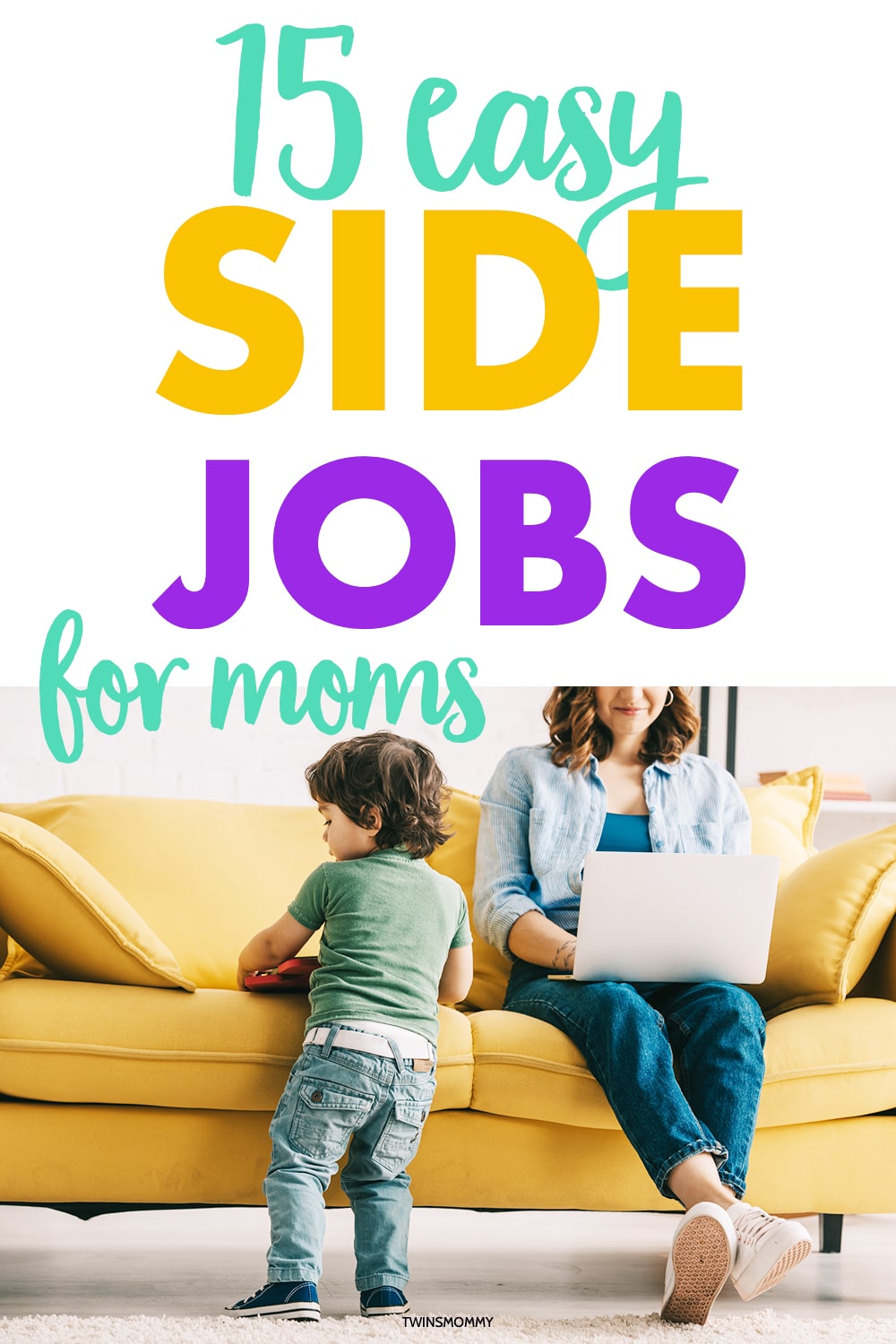 Before I did what I'm doing now (blogging) I was a mom machine changing 20 diapers a day, feeding twins around the clock and oh, not sleeping a wink because each twin would wake up at night at completely different times (I have no idea how one twin can sleep through crying when the other woke up!).
I knew after a while, I needed to do more than sing Baa Baa black sheep and only talk about the twins to my husband.
And this blogging side job entered my life and I haven't looked back!
And now, more and more moms are looking for ways to create income from home with easy and simple side jobs.
But how do all those other mamas do it?
Staying home with your little angels and being able to financially contribute to your household's bottom line doesn't just have to be a dream.
Even if you don't think you have the time or the talent to make money at home with a side hustle while tending to your little ones, I'm here to tell you, YOU DO!
I have been working from home for over 6 years now and started while my twins were still in diapers. And if this sleep-deprived mama of twins can do it, so can you!
So I'll get right down to it!
Here are 15 side jobs for moms that you can do at home, even during nap time!
15 Side Jobs for Moms
Once you really start looking into it, there are TONS of side jobs that you can do from home.
From blogging (my personal favorite) to making fun and easy crafts to sell. Whether you are a mom to toddlers or teens (or both) there are many different side jobs that you can take on.
1. Blogging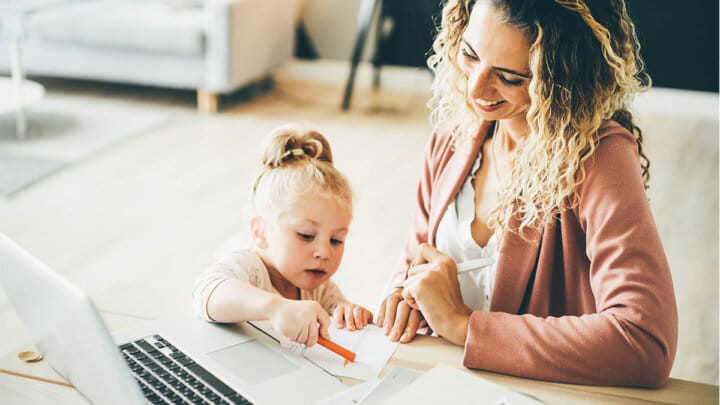 Of course I had to make blogging #1! I love blogging so much that I have created and purchased multiple blogs since I officially started my journey years ago. Blogging is great for so many reasons.
You can start a personal blog and write about things you are passionate about or share your funny mom stories.
Or you can blog for business. I know many moms who make a good living from blogging full or part time, myself included.
While it can take some time to gain some traction and actually start to make money, there is the potential to turn a simple side job blogging into a money making machine that can replace or surpass your current income.
Whatever you choose to write about, just make sure you are passionate about it. You don't want to get stuck with another chore that you can't stand doing.
I can tell you that mom blogs are very popular and there are many different ways to make money from them.
2. Virtual Assistant
As more and more people start to work from home, there has been a rise in the need for virtual assistants.
A VA helps business owners with a large variety of tasks. The big difference between a VA and a freelancer is that for the most part, freelancers focus on one type of task, like writing.
A VA, on the other hand, works with one or several clients on a wider variety of tasks. An assistant could be scheduling pins, answering customer emails, and collecting data all in the same day. VAs can also work for many different types of solopreneurs and small businesses.
These could include bloggers, ecommerce stores, coaches, consultants, or even authors.
For help with becoming a virtual assistant, check out the Virtual Savvy.
3. Photography (Stock Photos)
If you love to take photos, even if it's with your phone, you can sell your photos. You can sell them online as digital art prints or through stock photography sites.
If you are looking to sell photos as digital art prints, then you should certainly start with Etsy!
If you are wanting to sell your photos as stock photos, here is a quick list of places to start with:
The really awesome thing about selling photos or digital art prints online is that this is a fairly easy way to set up a passive income stream.
4. Teach English online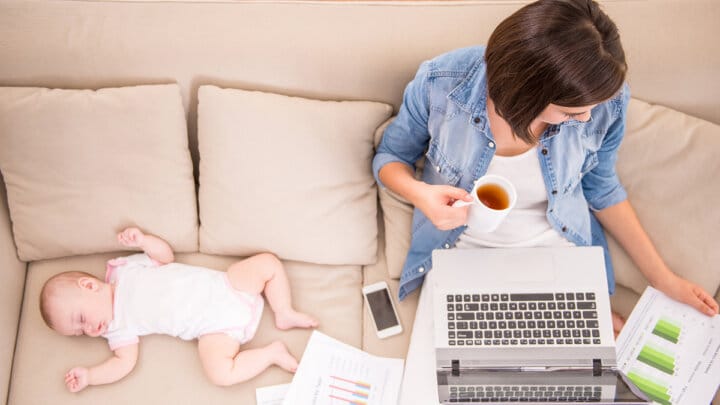 If you haven't already seen this side job for moms, it is really a great opportunity.
There are several popular sites that you can sign up with to tutor children in China how to speak and write English.
Teachers with VIPKid (one of the most well known platforms) can earn $14-22/hour from the comfort of their own home while choosing their own schedules. Each lesson is taught in 25 minute increments, one on one with the child.
This is a great position if you are a night owl or early riser as you have to consider the difference in time zones. General hours are early morning during the week or through the night on weekends.
5. YouTube channel
If you enjoy being on camera, there are many different topics that you can create a YouTube channel around.
Moms have created channels as vlogs, baking, cooking, organization tips, meal planning and prepping, fitness, crafts, and so on.
While, just like blogging, it can take some time to build up an audience and start making money, YouTube can really pay well. Blogs and YouTube channels also compliment each other well!
I started a Youtube channel for my freelance writing business and in two years I was able to monetize that channel (I reached the threshold of watch time and subscribers to monetize).
6. Make and Sell Crafts
If you are the type of mom that could spend all day crafting, then you could certainly start a side job based on that.
From mason jar crafts, baby blankets, to jewelry, there are plenty of things that you can make and sell online.
To learn more about how to make and sell crafts, make sure to check out my guide on crafts to make money.
7. Create Digital Products
Creating and selling digital products is a great way to start a side job at home.
Digital products are also another way to generate passive income. Digital products could be anything from ebooks to printable coloring pages.
You can easily list digital products for sale on many different platforms. Etsy, for example, is popular for many types of printables.
If you want to do more eBooks and courses, Teachable is a great course platform. They even have a coaching platform too!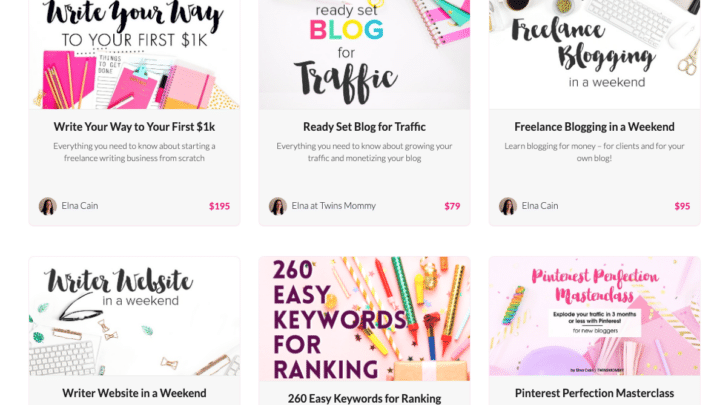 8. Freelance Services
Freelancing is a great way for moms to start a side job.
I tend to focus on freelance writing a lot, because that is my area of expertise, but there many types of services that you can freelance. Here are just a few ideas to get you started:
Copywriting
Social media management
Graphic design
Voiceover acting
Branding consulting
Public relations
Photography
Illustrator
Artist
Admin support
Translation
Transcription
Proofreading
Customer service
For more ideas, check out my post on side business ideas for stay at home moms!
9. Bookkeeping
If you are a stickler for numbers, then bookkeeping can be a great side job!
You don't need a fancy financial degree to become a bookkeeper, just a desire to help other business owners keep their finances in order.
There are many free and paid resources online to help get set up for success as a bookkeeper.
10. Editing/Proofreading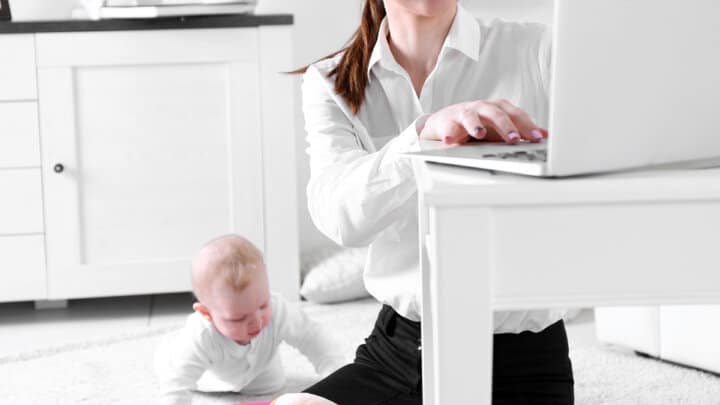 Are you a grammar guru?
Could you spend hours reading? If so, then you would be great at editing and proofreading others' work.
You don't need a degree for this or any superhero skills, just a keen eye for writing mistakes and the ability to suggest improvements.
11. Print On Demand
Similar to digital products, setting up a print on demand store is pretty darn easy!
Here are just a few things (other than t-shirts) that you can put in your print on demand store:
Mugs
Art prints
Totes
Leggings
Onesies
Socks
Shoes
Hoodies
Sweatshirts
Shower curtains
Water bottles
Dresses
Phone cases
You don't even need to be a stellar designer either to create some awesome products!
You can find a ton of SVG commercial use files for just about anything you could ever think of online. Simply upload your image to your products, list it in your store, do some promotion, and wait for sales!
Again, Etsy is a great place to start this easy side job.
12. Coaching
Coaching can be a very lucrative side job! Coaching people one on one or in a group setting to meet their goals is a passion project for many.
Whether you are coaching moms to help lose those last few pounds or helping couples reignite the spark of their marriage, you can coach people online in just about any area!
Before I created courses, I did coaching for new freelance writers! This was actually the reason I created a course in the first place!
I had a lot of coaching clients and realized it was very time consuming mentioning the same things over and over again.
So that got me the idea to write down my plan for them since it was very similar across the board and that helped me create my popular freelance writing course!
13. Upcycle and Sell Items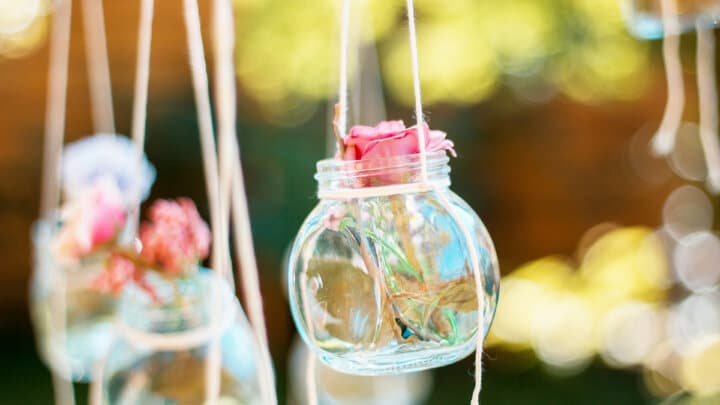 This is a little different than making crafts to sell. There are a lot of well-loved items in the world that can be redone to create a whole new item!
Upcycled furniture is a big one. From reupholstering antique chairs to giving new life to old coffee tables, upcycled items can make a pretty good side job.
Here's my post on things you can sell this minute!
14. Natural Beauty Products
Think about the products that you use every day.
From deodorant to lip balm to exfoliating scrubs, there are many different natural beauty products that you can make and sell online. They don't even have to be overly complicated or use crazy expensive ingredients.
Like this simple coffee scrub that sells for $18 for 4 ounces.
15. Food Items
Do you love to bake?
Perhaps you could take your baking abilities and make them into a side job. Create custom cookies for corporate events or fun fondant cakes for fiestas. People love getting baked goods as gifts and they are always something nice to give.
You can sell your creations at local markets or online (again with Etsy!). Like these chocolate oatmeal cookies that sell for $17 per dozen! Now that's a sweet deal 😉
There You Have It!
There are so many easy and simple side jobs that moms can start at home, even with the little time we do have! Get creative and get started!
Tell me in the comments what side job you want to start!