Are you a stay at home mom or a working mom that suddenly is doing some remote work at home?
And your kids are home too?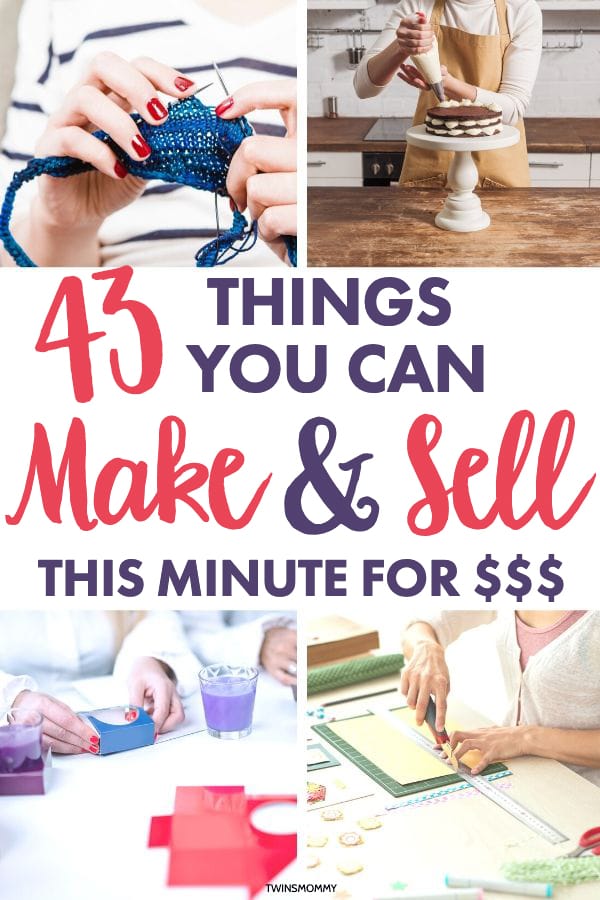 I've been working from home for the last five years and my twins are seven years old. I've been fortunate to make a living working from home and I want that for you too!
I was amazed when I learned that there are soo many things you can sell from home! If you're crafty, have an eye for design or just love working with your hands, why not try your hand at making things to sell?
Whether you choose to sell online or in your community, these are quick and easy ways to make that extra money you're looking for.
When you're looking through this list, think about what your talents and interests are. This can make it easy to decide on what things you can sell.
Crafts and Sewing Things You Can Sell
If you're handy with a sewing machine, some knitting needles or a glue gun, you can always make handmade items to sell from home to make money.
When I was pregnant with twins, I had a fun time making baby hats and scarves for my family members.

If I had known I could sell my knitting creations I probably would've tried to in local Facebook groups. Check out these crafts and sewing projects you can create and sell.
1. Mason Jar Crafts
Mason jars are so versatile and can be used to make many products you can sell from home such as candles, gifts and home storage ideas.
Here is a post I wrote called 65 Mason Jar Crafts to Sell at Home where you can find plenty of ideas!
2. Handmade Greeting Cards
If you have a knack for scrap booking, you can turn that skill into making handmade greeting cards.
People love giving unique cards for birthdays and holidays.
3. Holiday Decorations
Rustic looks are becoming more and more popular when it comes to holiday decorating. This is a perfect opportunity to sell some handmade holiday decorations.
4. Knitted or Crocheted Items
Knitting and crocheting is not just limited to hats and scarves. Nowadays, people are looking for crocheted dish clothes, children's toys and novel items such as freezie holders and pot scrubbers.
Here are some free knitting and crochet patterns:
5. Infinity Scarves
Infinity scarves are a classic and versatile addition to any wardrobe and can be made from a variety of unique fabrics and patterns.
Here are easy DIY infinity scarf patterns:
6. Tote/Hand Bags
Fabric totes and hand bags are easy to make and, like infinity scarves, can be made from many unique fabrics, textures and patterns.
Here are 14 tote bag patterns you can sew in one day!
7. Toys and Stuffies
If you know how to sew, you can create cute toys and stuffies for little ones.
You can use a pattern or create something totally unique!
8. Baby Blankets
Baby blankets are another easy product to sell from home if you know how to sew. New mothers are always looking for a memorable blanket to keep their newborns warm.
9. Vinyl Decals
If you own a Cricut, or similar piece of equipment, you can make money selling a variety of products from home! You can even use the Cricut to make wooden signs or personalize stuffies for kids.
Used and Upcycled Things You Can Sell
If you're looking for things to sell in order to make money, you can always grab up some thrift store finds and turn them into something exciting and new!
10. Picture Frame Chalkboards
This craft is super easy and would make an amazing piece of home décor! Simply paint the glass portion of a picture frame with chalkboard paint.
11. Tea Cup and Saucer Bird Feeders
You can grab up some cheap tea cups from your local thrift store and glue the cup on its side to the saucer.
Attach a hook and it can be hung as a beautiful and unique bird feeder!
12. Used Kids' Toys and Clothes
Kids grow at an amazing rate and leave lots of clothes and toys behind. Gather them up and post them on your local online marketplace. Kids' items in good condition sell like hotcakes!
13. Refinished Furniture
You may have an old table lying around or perhaps you found a retro stool at a yard sale. With some sanding, painting and reupholstering, you can turn old furniture into something new that people are willing to buy.
14. Upcycled Clothes
You may love to sit at your sewing machine but hate sewing from pattern. If that's the case, you can invest in some used clothes and cut, sew and embellish to make something beautiful and special to sell.
15. Wine Bottle Drinking Glasses
If you have some wine bottles, or any glass bottle, laying around you can turn them into drinking glasses.
Just be careful if you attempt this since you will be working with glass!
16. Picture Frame Serving Trays
Picture frames are so versatile! Replace the picture with some fun fabric and screw some cabinet handles onto the sides. Voila! Serving tray!
Gifts and Decor Things You Can Sell
People are always looking for handmade items to give to others or adorn their homes with. You can easily make any of these items to sell from home:
17. Gift Baskets
Gift baskets can easily be put together and sold for numerous occasions!
You can focus your baskets on holidays and special days like Mother's Day or you can go with a theme like a basket for coffee lovers or sports fans.
Here are gift basket ideas:
18. Tea Cup Candles
With some candle wax, wicks and an old tea cup, you can sell adorable tea cup candles.
19. Terrariums
Terrariums are small indoor gardens that are as decorative as they are easy to take care of. You can use a variety of glass containers to create these tiny green areas.
20. Wind Chimes
Wind chimes can be used from a variety of new and used materials. Check out these DIY wind chimes that range from using old keys to drift wood and stained glass.
21. Hand Decorated Mugs
You can grab up some plain mugs and create some unique and special designs. Glass mugs are great for glitter designs and etching while ceramic is perfect to decorate with paint or sharpie.
Here are some DIY decorated mug ideas:
22. Rope Wrapped Bowls and Vases
Rope wrapped items such as bowls and vases have a beautiful nautical and rustic feel. They make for great home decorations as well as center pieces for weddings!
Check out these instructions on how to make a rope vase.
23. String Art
This retro craft requires very few materials and simple patterns or more elaborate designs. The more creative you get, the more people will want to buy your pieces and add them to their décor!
Beauty Products & Things You Can Sell
You can use many natural ingredients to create beauty products to make from home.
However, you need to consider two things:
One, naturally made products have a short shelf life. You'll have to clearly indicate this to buyers.
Two, there may be rules or regulations in your area pertaining to selling beauty products. For information in Canada, click here. For information in the United States, click here.
24. Bath Salts and Bombs
So many store-bought bath products contain unnecessary chemicals. People are gravitating toward homemade salts and bombs with natural ingredients.
Here are some DIY bath salts and bomb ideas:
25. Body Scrubs
Luxurious and natural body scrubs are easy to make and appealing to moms who favor chemical-free products!
Check out these body scrub recipes:
26. Beard Oil
It's not just moms getting in on homemade beauty products. Men with beards are always looking for ways to keep their facial hair smooth – which is why beard oils are growing in popularity.
Try this homemade recipe!
27. Body Lotion
Making basic body lotions is easy and can be customized to create many different products! Here's how to create a base lotion and customize it.
28. Bar Soap
Bar soap can be a process but the better you get at it the more quickly you can produce it – and people love homemade soap! Especially if you concoct unique scent combinations.
Here are some instructions on making your own bar soap.
29. Shower Vapor Disks
Shower vapor disks are small disks you throw in your shower to help with stuffy heads and common colds. They are super easy to make and can be packaged in bundles to appeal to customers.
Food Recipes & Things You Can Sell
There's something to be said about home cooked meals – and people are willing to pay for them!
As with beauty products, there may be restrictions or regulations for selling food out of your home. Here is a Cottage Food Law guide for the United States as well as some information for selling food in Canada.
Make sure to review the appropriate guide when making these things you can sell.
30. Freezer Meals
Also known as "dump meals," these meals are popular among busy moms because they can simply be thrown into a slow cooker or oven straight from the freezer!
Check out these easy crock pot freezer meals from Smart Mom Ideas!
31. Baked Goods
While store-bought bread does the trick, there's something to be said about baked goods made at home. Whip up some bread, cookies, muffins and other tasty baked treats to sell from your home!
Here are some easy baked goods recipes you can try.
32. Homemade Dog Treats
More people are opting to feed their dogs homemade and nutritious foods as opposed to those crunchy lumps that come out of a bag.
Sell your own gourmet dog treats from home! Check out these recipes for some ideas.
33. Catering Services
If you're a master in the kitchen, and good at organization and time management, then you could offer your services to cater dinners and small events.
Here is a great quick guide for starting a home-based catering service.
34. Canned Goods
Moms are still gravitating toward preservatives made at home. Buy in season vegetables and put together some canned delights such as pickled beets, mustard pickles or get creative with some spicy beans.
35. Homemade Spice Blends
Some moms have no idea what spices to put into what dishes (and how much). You can create meal-specific spice blends such as a blend for beef stew or one for spaghetti sauce.
Take a look at these 9 do-it-yourself spice blend recipes that you can easily sell from home.
36. Frozen Smoothie Packs
Buy fresh produce in bulk or when it on sale and put together some frozen smoothie packs. Moms will love that all they have to do is pop the ingredients in their blender and they have an insta-smoothie! No prep needed!
Here are some yummy smoothie recipes you can make and freeze.
Online Services You Can Sell
The things you can sell from home to make money don't always have to be physical products. You can use your talents and know-how to sell online services and digital products.
37. Online Course/eBook
Make money from your knowledge, experience and expertise by putting together an online course or writing an eBook. Moms are always look for a one-stop-shop of information instead of scouring Google for answers.
Check out this article on how to create an online course.
38. Photography
If you're good with a camera, there is an opportunity to sell your photos online either directly to clients or to stock images sites that are always looking for some fresh content.
Here are some instructions on how to sell your photos online.
39. Freelance Writing
Freelance writing can be a very lucrative career but it can also be a great source of extra income. Clients pay writers to create content for their businesses and blog – so if you have a way with words, this may be a great service for you to offer.
Check out my guide on how to get started as a freelance writer!
40. Freelance Graphic Design
Most business owners do not have a knack for visual and graphic design. If you do, you can sell your designs, or take custom orders, online to make some money from home.
Not sure how to start? Here's a quick guide you should check out.
41. Blog Templates and Themes
Many businesses owners, and bloggers too, also do not know how to customize templates and layouts for their sites. This is a great opportunity for you to sell templates and themes if you have a knack for design and code.
Find out how you can sell web templates here.
42. Meal Prep/Nutrition Plans
Moms are always perusing the internet to find ways to easily feed their families healthy meals without over-spending or slaving in the kitchen.
You can design meal and nutrition plans to help moms streamline their meal preparations.
43. Workout/Fitness Plans
Just as moms don't have the time to search the 'net for meal plans, they are even less likely to form their own workout or fitness plan.
Chances are they'll buy one up if someone made it for them. Consider putting together and selling workout and fitness plans!
Things You Can Sell This Minute to Make Money from Home
Whether you're crafty, wordy, knowledgeable or a whiz in the kitchen, I hope I have given you some ideas of some sort of product or service you can sell this minute to make money at home!
A lot of online businesses take a large amount of effort and time to get the ball rolling. These products and services, however, can get you making money quickly.
Which product or service are you most likely to try?
Let me know in the comments!
Don't forget to pin me!