Elna! I want to start a business but have no ideas!
I hear you!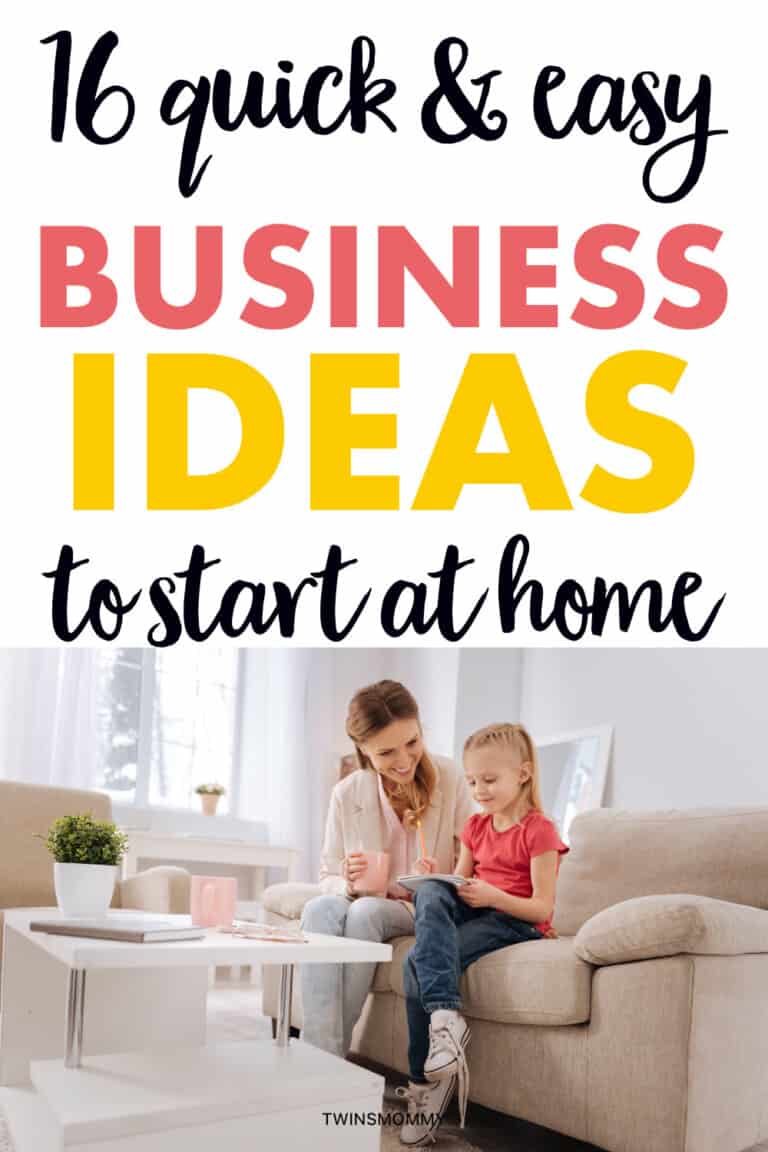 Before I was set to go back to work after my twins were born, I had this burning desire to not return to work and make money from home – but I had no idea how!
I really dreaded the thought of going back to work and leaving them all day.
So I started looking at home business opportunities to make an extra income so I could stay at home with my twins.
What I never imagined was that blogging and freelance writing would explode into a profitable and successful business!
But if freelance writing and blogging aren't necessarily your cup of tea, don't worry!
I have some good business ideas that will get you started on your journey to becoming a business owner.
Also, I'll give you some tips on how to start a small business with no money.
That's right!
You can start a business without investing a dime.
Ready to get started?
What Are the Most Profitable Businesses?
The most profitable businesses are the ones that are well-planned, marketed, and executed. That's the right way to learning how to start a buisness the right way.
Which means that you can easily create a profitable business plan!
The first step is coming up with some good business ideas and then choosing the right one.
Which one is the right one? That all depends on your interest, skills, and passion.
Just because certain types of businesses are profitable for other people doesn't mean they are the right fit for you. You need to think about what excites you!
But to give you examples of what types of businesses are working for others, here are some successful startups that were founded by moms:
Julep: Started by Jane Park after she had her second child and gave up her position at Starbucks. Julep sells non-toxic nail polishes and other beauty products.
HopSkipDrive: The three co-founders, who have eight kids between them, started this "Uber for kids" service to help parents organize carpooling schedules.
Stella & Dot: After having her first child, co-founder Jessica Harrin turned her weekend hobby of creating jewelry into a full-blown business!
Houzz: Adi Tatarko started this blog as a pet project while renovating her home with her husband. Now, their site has over 40 million visitors a month!
This just goes to show that there are no limits to the types of businesses you can start and grow into something amazing and profitable!
Types of Business You Can Start
Even if you say to yourself, "I want to start my own business but don't know what to do," know that I'm here to help.
Start your small business plan with these ideas for sure!
1. Handmade Products
If you love to craft and create, you can sell to your potential customers your handmade products and start a business from home!
For example, you can make and sell candles, beauty products, toys, and more.
Check out my post on crafts that make money for more product ideas and how you can get started.
2. Freelance Writing
While freelance writing may seem like more of a side hustle, you can easily grow this service into a full-fledged business.
Instead of writing for clients here and there, put together content packages that include things like blog posts, marketing services, landing pages, newsletters, etc.
When you increase your values as a writer, clients are more likely to keep coming back to you for more – and suddenly you'll find yourself running a business!
For more help check out my post on different types of writing gigs just for moms!
3. Online Store
One of the best small businesses to start with is creating an online store to sell products to potential customers and clients – and they don't have to be all handmade!
Think Etsy or even using Teachable to set up a shop page on your blog.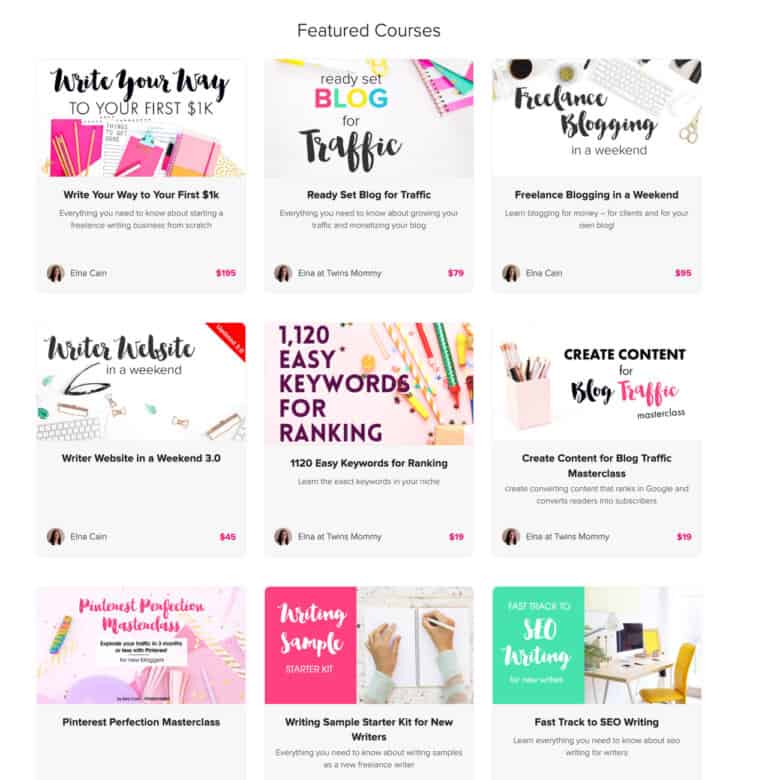 You can sell digital products such as printables and art prints or physical products like the ones I mentioned above.
Heck, you can sell old clothes and flipped thrift finds.
The possibilities are endless!
You can even source products from suppliers and sell them in your store.
4. Digital Products
Speaking of digital products, this is a great way for an entrepreneur to earn money from home and start their own business.
This business model known as "passive income," which means that you create the product once and can continually sell it!
Digital products can range from printable schedules to Canva templates.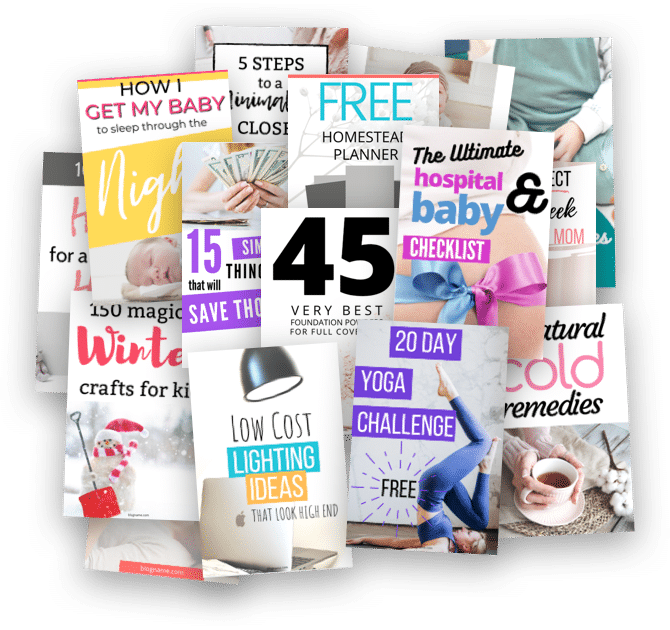 Here's a step-by-step guide I wrote about selling digital products as well as some product ideas.
5. Virtual Assistant Services
Virtual assistants help businesses manage their online presence by taking on tasks the business owners don't have time for.
This can include answering emails, managing an online store, graphic design work, or running social media sites.
To become a virtual assistant and start your own business from home, think about your online skills and how you can package and market them to small businesses.
6. Coaching
If you have experience doing something that achieved a result, you can start a business as a coach.
This can include life coaching, fitness coaching, parenting coaching, business coaching, and more!
As long as you can lay out an actionable plan and walk people through it, you can become a coach for anything.
Don't forget to keep track of your appointments!
7. Online Courses
As an entrepreneur, if you want to help and teach people, you can also create your own online course.
This is another way to earn a passive income and can be really easy to do!
Using documents, slideshows, videos, and more, you can put together a course that can help people make changes in their lives or teach them new skills.
I use teachable to design and launch my courses and have managed to grow them into a healthy income!
8. Web Designer
If you know the ins and outs of blogging platforms as well as design and coding, you can start a business as a web designer.
Small businesses know how important an online presence is but many have no start up idea how to set up a webpage.
You can start up a web design business to make money from home!
For more design and coding help, check out Chelsy's blog, Mama Needs Coffee.
9. Childcare
Not all good small business ideas have to be online! If you love children and have the space in your home, you can start your own childcare business.
Just be mindful to follow your local laws and regulations when it comes to safety, policies, and licensing as a small business owner.
This is one of the best small businesses to start when you're a stay-at-home mom.
10. Meal Prep Services
In today's busy world, many people don't have the time to prepare and cook healthy and nutritious meals. Why do you think services like Hello Good are so popular?
If you want to start a business but have no ideas then why not try this service?
You can start your own meal prep service by preparing healthy meals for people in your area.
Look at purchasing ingredients in bulk and prepping a variety of dishes.
You can also check out the book Meal Prep on a Budget to get started!
11. Mobile Services
If you already have education and experience providing a service, why not hit the road with this business model?
For example, if you are a hairdresser or massage therapist, you can offer your services in your client's home. The same goes for nail technicians, makeup artists, and more.
Or, alternatively, you can offer your services in your home.
Make sure to leverage social media marketing for this service.
Start a Twitter profile to share your deals and ideas and try Tik Tok for some viral videos for your service!
Either way, this is a good business start up idea that put your skills to work!
12. Home Organization
Are you an organized person?
If you are, you can start an online business helping others organize their homes!
And if you have an eye for interior design, you can network with local real estate agents to stage homes before they are put on the market.
This is perfect you want to learn how to be an entrepreneur without an idea. I mean organizing is built in your life!
My favorite Youtube for organizing ideas is Cas from Clutterbug!
13. House Cleaning
When it comes to starting a house cleaning business, you get to set your hours and rate depending on the scope of the job!
You can start out small by purchasing a few cleaning supplies and tools as well as getting the word out that you are offering house cleaning services.
Here's a great book that can help get you started.
And when you start your house cleaning blog, you can do some affiliate marketing to make some extra money.
Recommend cleaning products like a swifter or specific home decor items like long runners to your audience.
14. Delivery Driver
As long as you have a valid driver's license, you can work as a delivery driver in your area.
This is a flexible business idea that allows you to choose your own schedule.
Even though you are delivering for other companies, you are considered to be your own business so you can grow and scale it depending on your time and lifestyle.
15. Subscription Box Services
Subscription box services curate niche-specific products and ship them to customers on a regular basis (usually monthly).
You can start your own online business by creating and selling your own subscription box!
This is a legit way starting a business with no money.
As your marketing strategy, you would probably start a subscription website and get onto podcasts or rent space for people to talk about your service
Search the web for products you can buy in bulk or reach out to local producers for items to include in your box.
16. Customized Gifts
Do you have a Cricut or other vinyl cutter? A sublimation printer? Screen printer?
People love customized gifts and you can start a business selling personalized items such as tumblers, t-shirts, hats, keychains, picture frames, and more!
Sell them locally or start an online store and you have yourself a business!
How to Start a Business With No Money
When it comes to learning how to start a business from nothing, there are four important factors you have to take into consideration so you can be a successful entrepreneur: Time, Investment, Income, and Difficulty.
Let's look at these a little bit more.
1. Time
I know for a fact you're probably thinking, "But Elna, I have no time! I have a newborn and a toddler and I work part-time. There's no way I can start a business."
If this is something you truly want to see until the end and make it work, then you DO have the time.
But I understand if you are looking to become a business owner while still working at a regular job and you can't afford to quit and focus on your new business full-time.
This is why it's important to keep in mind how much time you will need to focus on your good business ideas to get started (Psst…so make sure to pick up my blogging plan!).
For some moms, that may mean finding time in the morning or after the kids go to bed – whatever works for you!
For me, I worked on my freelance writing business when my twins were napping. I was fortunate that my twins napped for 2-3 hours in the afternoon ,and then went down for the night at around 7-8pm.
This gave me a lot of time to not only do chores and meal prep and all of that, but also create my website, develop a pitching process and find clients.
2. Investment
When you want to start a business with no money or experience, you need to keep in mind whether or not your new business idea is going to require any sort of investment to get going.
Thankfully, many of the ideas on this list require no up-front costs!
That's great for stay at home moms where they might only have one main income to work with. This was the case for me.
We were actually living with my MIL to help us save money and with childcare.
My husband was the only one working and we had save money as much as possible.
This helped me create a bit of small savings fund for my business in case I needed to purchase something like a subscription.
3. Income Potential
But while you don't necessarily have to pony up any money to get started, you want to sit down and really think about whether or not your new business idea is going to generate an income – as well as how long it will take to earn a living.
It's a good idea to see if others are making money with the same business idea as yours. This can help you figure out if it's possible to generate income.
4. Difficulty
Lastly, consider how easy or difficult it will be to make money with your business idea. How hard will you have to work? How often? How will you find customers?
If you find that it takes you hours to create a craft then, you might have to consider a different new business idea (like digital printables for example).
So, maybe check out Youtube or talk with other mom bloggers about their business to see how difficult it is or how skillful they are to execute this strategy.
Be sure to ask yourself these questions before you get started!
Good Business Ideas On How to Start a Business!
Whether you want to dive into being a business owner or develop a side hustle into a business, these are the best small businesses to start!
Just follow your passion and do what excites you – the rest will come!
Your turn: What kind of business would you love to start?
Let me know in the comments.