Have you ever thought of creating your first ever digital product for your blog?
I never did in the beginning but when I first started blogging way back in 2014 I started learning about courses and online learning.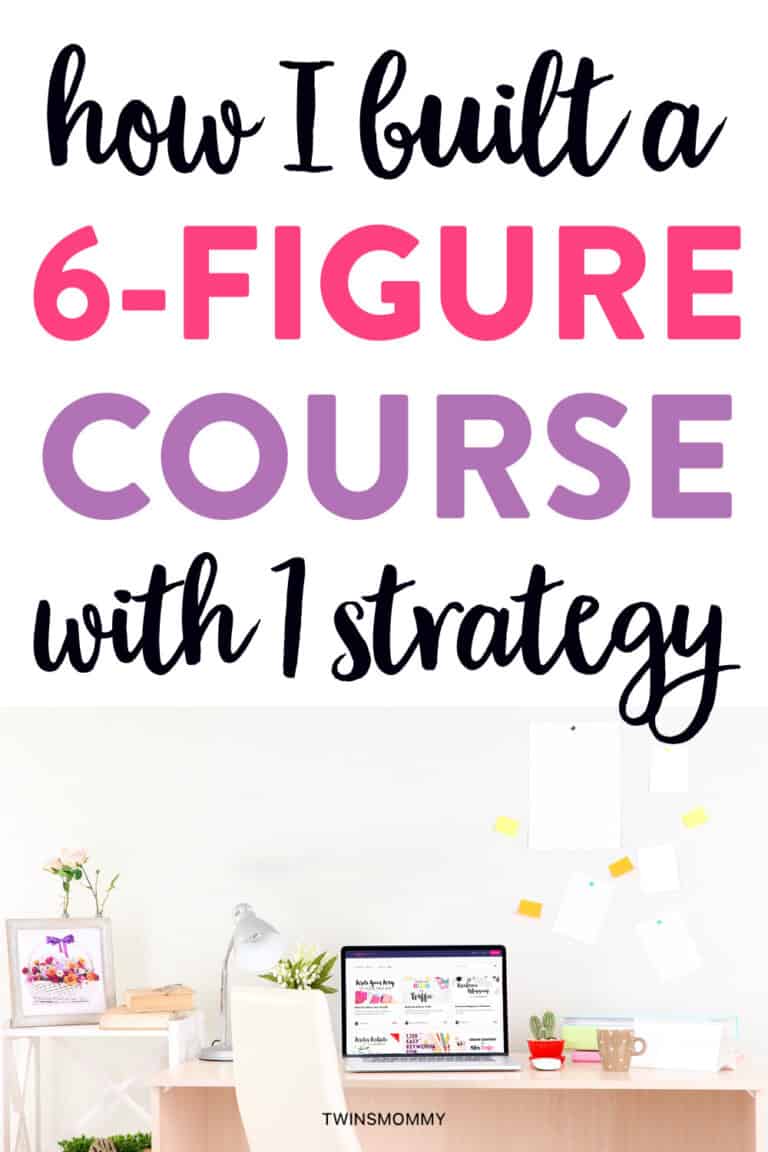 Big bloggers I was following were launching courses and using Teachable to host their course.
I thought, at that time, since I was doing coaching and freelance blogging, I could take what I was teaching my coaching students and bundle that up in to a course for them.
Instead of me saying similar things to each of my coaching students, it just made sense to direct them to one central place (Teachable!).
But, I never thought my first course, Write Your Way to Your First $1k (WriteTo1k for short), would grow into a six-figure business!
I was happy my course sold at all, considering I was still a fairly new freelance blogger when I launched the course in 2017.
My initial success was awesome and I loved it, but I knew I had to create a marketing strategy to support my course sales (and grow my blogging business).
If I could do this, I could rely less on my client income and focus more on my passion project (Twins Mommy!!!).
What Bloggers Traditionally Do to Grow Their Course Sales
Something I learned early on was how traditional bloggers grew their course sales, no matter what they charged for their courses.
What I found was:
Many bloggers relied on an open/close launching strategy and increasing the price during each launching period
Bloggers used Facebook ads to drive traffic to their sales pages and increase their conversions for sales
Other bloggers leveraged influencers and other bigger bloggers to collaborate with, i.e. Genius Blogger Toolkit, course bundles, etc.
As a mom blogger and a freelancer, I just couldn't do this to grow my course sales.
I was still busy writing for clients and supporting my new course students.
Using an open/close launching strategy meant tons of headaches and a huge time investment like creating marketing materials and using multiple channels to market my course.
While Facebook ads is a solid strategy, in 2017, I was still new to blogging and Facebook ads just wasn't that big for bloggers at that time (or they just weren't talking about it).
So, a year after I launched my course, I knew if I wanted to grow my business aside from my freelance client income, I had to do something more sustainable to continually drive course sales for me.
And what I ended up doing worked!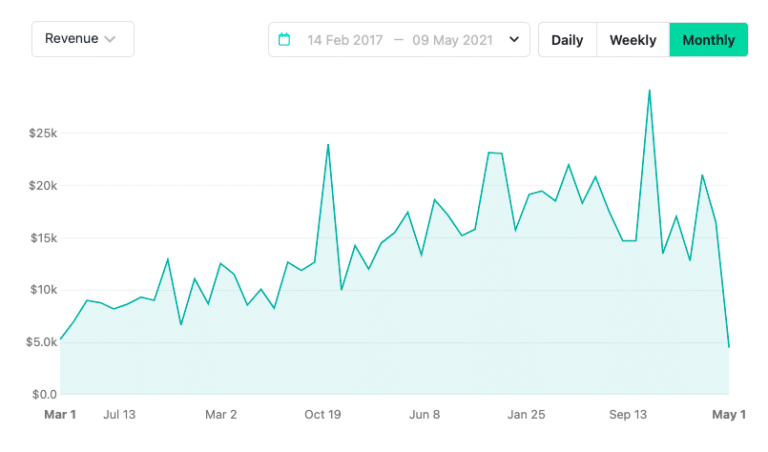 The One Marketing Strategy That Actually Works
The one thing I knew more than anything else was how to WRITE!
It was my writing that provided the platform to form my marketing strategy and ultimately helped build a six-figure course.
The writing I was doing on my blog helped build my differentiation factor and grow my traffic with cold leads. But then I create a graphic that sold my course for me and that really changed everything.
1. Developed My Differentiation Factor
You might be wondering what a differentiation factor is.
As a blogger, it's how you stand out in your niche. What makes YOU and your blog the go-to in your niche?
How does your brand stand out?
What you do – from your brand colors to your writing voice to how you manage your comments or build relationships – can help you form that "it" factor?
And trust me, you need a differentiation factor to help you make sales.
So, as a freelance blogger I had to see what made me, ME and how I could use that to stand out.
I noticed that other writers were young women who worked at a corporate job and either got fired or quit their job then later found success landing client work.
Before I became a mom, I worked as a special education assistant.
I taught for a living and this translated well online.
My work from home story started as a stay-at-home mom to twins.
My twins were around 15 months old when I needed to start contributing to our finances.
I was fortunate to get a year off for maternity and that was when I thought about going back to work as a special education assistant.
The thing is, I couldn't leave my twins.
Call it mama bear instinct, but I would develop anxiety and a longing to be home whenever I was away from my twins for more than an hour.
My story started to form part of my differentiation factor and I could tell that people were resonating with my story.
The other part of my differentiation factor was my freelance business.
I was a mom to twins getting paid to blog!
It was wonderful and I quickly made my first $1k from freelancing.
When I did create my first course, I used my differentiation factor to help others make their first $1k from writing, even if they were moms or bloggers or just wanted to start a side hustle.
2. Created My First Unicorn Blog Post
Even though I created my first course using Teachable, the content I wrote on my blog was mostly personal – silly mistakes I made that cost me clients or what I learned in the first year of being a freelancer.
While even the biggest bloggers would tell you to not treat your blog as a diary (and I even say this too), back then, there was a blogging community that would comment on people's posts, they would guest post on each other's sites and most of the content were personal accounts.
What THEY did to grow an email list or what mistakes THEY had when starting something new.
And, you know what?
Sharing my personal wins and losses generated a hard-core audience.
And, it still works!
I have several blog posts on Twins Mommy that are personal and that have helped me grow an audience.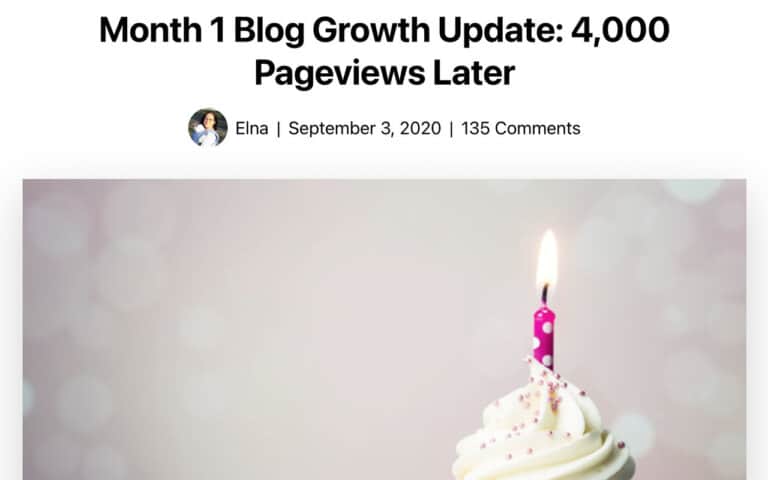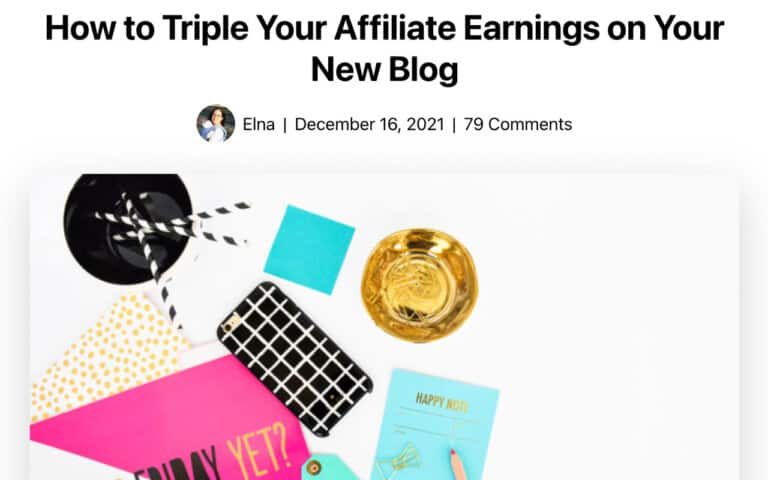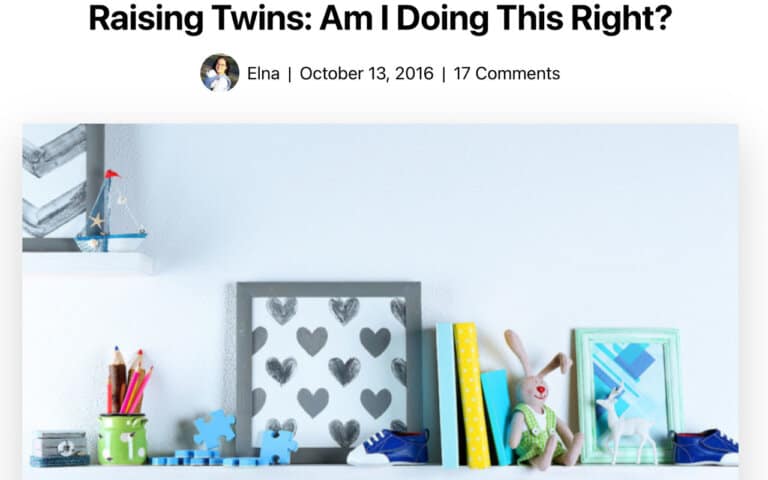 While this was great, I wasn't using SEO to rank my content and only relied on a blogging community to share my content.
So, I tried something new.
I learned how to write SEO content for my clients and this helped me learn what makes a blog post rank.
My clients would give me a blog post idea – SEO tools and WordPress plugins to grow your visibility online – and I would do my research learning about my SEO topic.
I learned about different SEO tools like Ubersugest, Keyword Surfer, Semrush or Ahrefs.
I learned how to properly format a blog post so that Google would understand what I was writing about.
That was when I had a lightbulb moment – I could apply my skills of keyword analysis, user intent and long form-writing into my blog content strategy.
And that's what I did.
Instead of writing about 2 Kids Under Two: A Day in the Life, I started to write about 6 Rules for Guest Posting (+ Opportunities to Guest Post).
I switched from writing about my life to writing about helping other people's lives.
Soon, my content started ranking in Google, but it wasn't until I created my Unicorn post – a post that brought in the majority of my traffic in the early years – that everything took off.
I spent more time with this blog post.
I knew this one was special because I poured everything I learned about finding jobs and even created graphics for each sub-topic, so I knew the content was valuable.
Since then I've created more unicorn posts and these act as pillar content for my site.
To help my unicorn post get in front of the right audience I decided to do an outreach campaign and let others know about my new post and ask if they would share it.
3. Started an Outreach Email Campaign
Over the years as a freelancer, I developed relationships with influencers and digital marketing business owners.
I decided to write an outreach email about my latest blog post and asked others to share it.

I sent my email to around ten influencers and notable people in my industry. This was Tom's response:

That influencer tweeted my blog post to his 14k followers (and mentioned a valuable tip), and this really drove views to my post since his followers were my target audience.
This created a snowball effect whereby I optimized every new post for search ranking and in turn, Google served up many blog posts on the first page.
It was awesome!
My blog was finally gaining backlinks and growing authority as the go-to for freelancing.
People found my content on Google and read my content.
While I was making sales of my course, it was inconsistent and I wanted to work on changing that.
And that's when I created a graphic that would almost instantly drive sales.
3. Made a Promotional Graphic for My Blog Content
I've always heard from other bloggers that each new blog post you write needs to serve a purpose.
Will your blog post drive traffic? Grow your email list? Make you money?
My unicorn post only drove traffic in the beginning, but I wanted it to drive sales.
Simply linking to my course or having a call-to-action in my blog post wasn't enough to convert cold traffic (people who found my blog post on Google).
What I ended up doing – that I honestly feel is what really helped me grow my course income once the traffic came – was creating a graphic of my course and slapping it at the bottom of my blog post.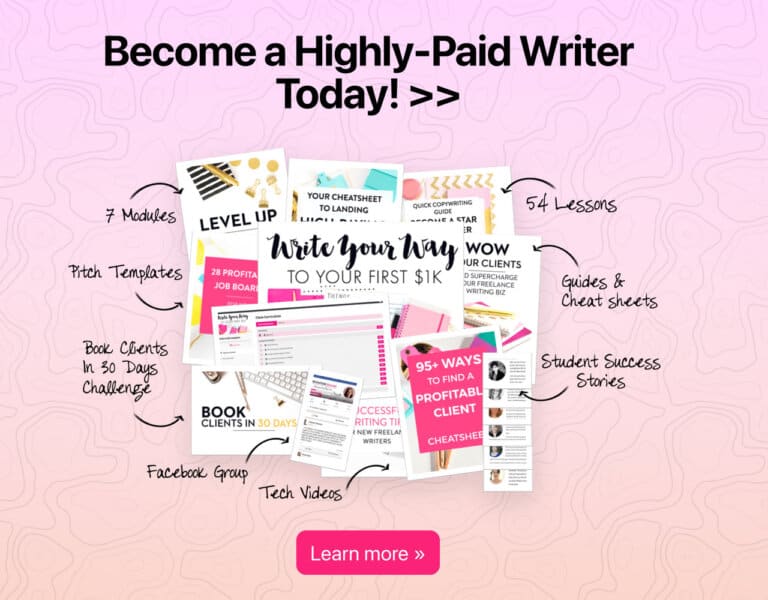 I capitalized on people finding my post on Google, actually reading my post until the end, clicking on the "learn more" button and purchasing my course.
It worked!
I used my course graphic on other high-ranking blog posts to help me convert even more cold traffic into buyers.
Will This Work For You?
To tell you the truth, I'm not sure.
When I created my promotional graphic, I was one of the first to do this.
That was five years ago.
More bloggers are using this method now so it may not be as converting if you tried this method.
I would play around with placing the graphic higher up in your blog post, making it smaller to appear like an opt-in or try placing it on your side bar.
By trying something new – or somewhere new – will make this strategy new again and could lead to better conversions!
Does My Course Need to Be On Teachable to Make Sales?
No, it doesn't.
There are other course platforms like Kajabi, Thrive Learning, Udemy, etc.. that you can use for sure!
I started selling my course on my website actually!
I used a course plugin and while this worked, it became complicated and time consuming with taxes and affiliates.
That is why I switched to Teachable.
Teachable handles our affiliates and payment plans and this is a big time saver.
You can get started using Teachable by hosting a free course.
Building a 6-Figure Course
My course is available year round, which means I have to market my products continually.
This includes adding testimonials with every newsletter I send out, guest posting to reach a new audience, creating a tripwire and email funnel and continually updating my course.
I have since created four more courses for content writers and I have courses for mom bloggers too!
But I still love writing for clients, improving my skills and, in turn, sharing what I learn with my course students.
Over to you – do you have a course? Let me know in the comments below!
Please pin me!