Do you know that one of the best work at home gigs you can have as a stay-at-home mom is freelance blogging?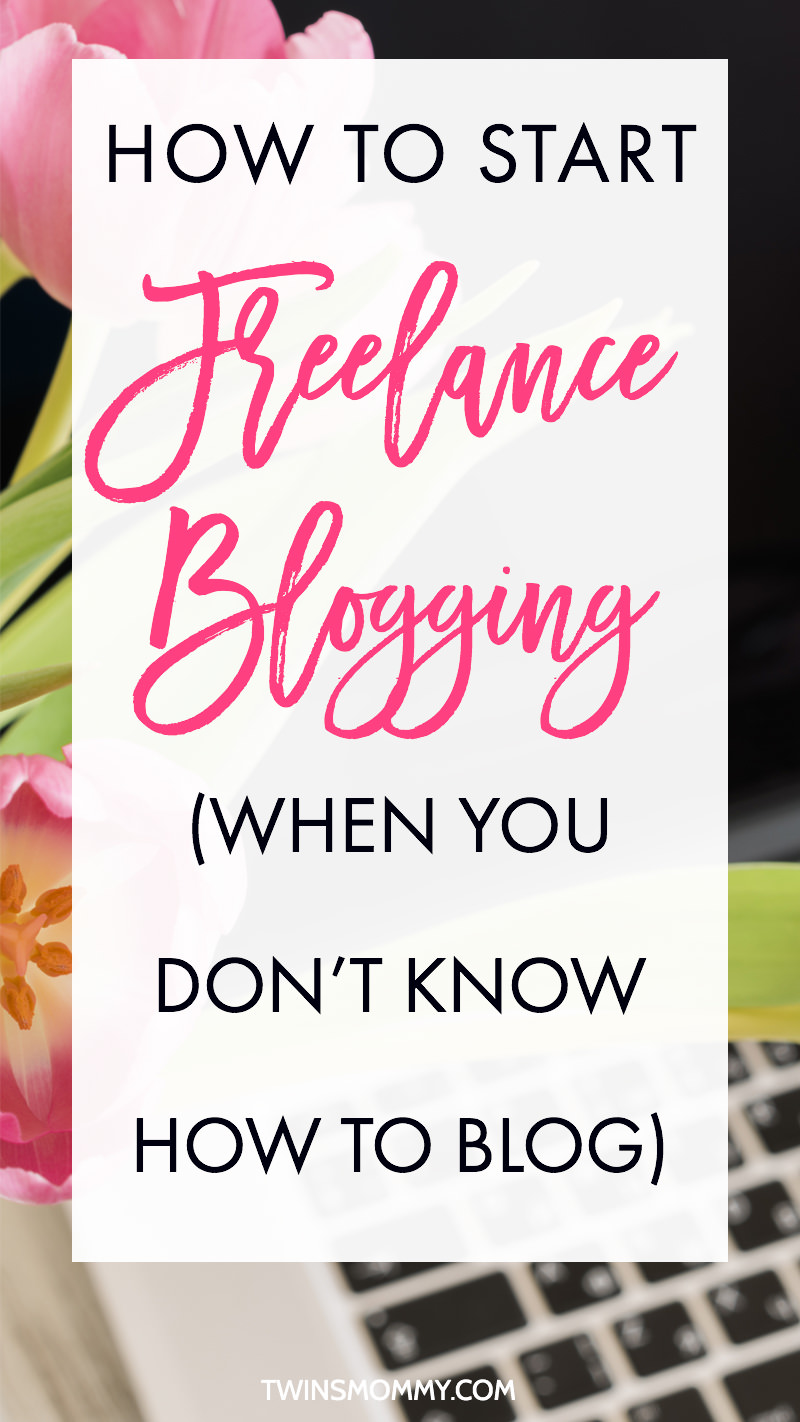 I'm a stay-at-home mom with twins and I'm a part-time freelance writer, but I'm really a freelance blogger. I average around $600 per post and I have several high-paying clients.
How did I stumble into freelance blogging and can any stay-at-home mom succeed?
The answer my friend, is yes you can! And what's great about this freelance service you can offer, is that you don't need a journalism degree or experience blogging.
Before I was a freelance writer, I never read blogs and I had no idea what WordPress was. I just went online for Facebook, YouTube and Pinterest!
It was an understatement when I tell you I was a full-on noob when it came to finding freelance blogger jobs. 🙂
Okay, if you're a stay-at-home mama or working mom that just wants to earn some extra cash on the side, let me give you the low down on how to become a freelance blogger for complete beginners.
What is a Freelance Blogger?
If you're not entirely sure what a freelance blogger is, it's someone that is hired to write blog posts for an online business.
Your client or freelance writing job can be:
Small business owners
Entrepreneurs
Coaches
Authors
Content creators
Influencers
Youtubers
Podcasters
You name it!
All of those "clients" need content. As a freelance blogger you may write:
SEO content
Emails
Social media posts
Website copy
The sky is the limit when you are a freelance blogger. When I started I offered blog writing, eBook cover design and social media writing.
Over time, it has developed into long-form SEO writing and copywriting.
Get Some Blogging Skills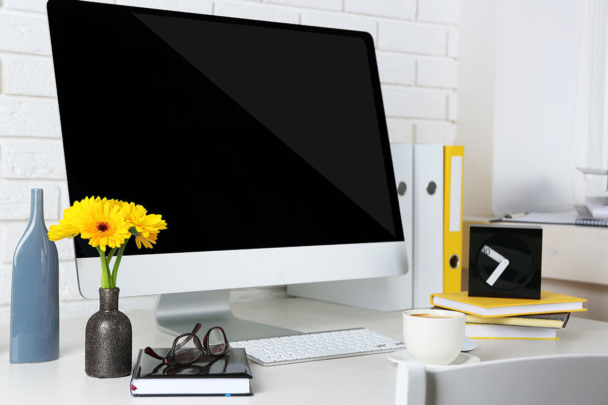 Start a blog and write a few posts so clients can hire freelance blogger and not just a hobbyist.
Get the feel of typing and using a content management system like WordPress or Squarespace.
If you don't have a blog already, that's okay! It's super easy to start a blog and it only takes 10 minutes or so!

Step 1: Find a Platform
I use WordPress.org for my blogging platform. I suggest you don't go to WordPress.com to get a free hosting blog as this isn't very professional for a freelance blogger.
You want to show that you have a service not a hobby right?
A WordPress.org blog does require hosting but I totally recommend you have a self-hosted site if you ever want to monetize your blog or start a business with your blog.
There are also platforms you can use like Squarespace, but a lot of my clients want me to upload my posts on their backend, which is 100% a WordPress blog. WordPress is just used by most businesses and there's a lot of support if you ever need help figuring out how to use WordPress.
Step 2: Choose a Name for Your Website
Your domain name is important if you want to use this as a service based site. When I first started I didn't want to use my name; I wanted a company name. I ended up choosing Innovative Ink.
When you decide on your domain name think about what kind of service you want. If it's freelance writing you can use words like: writing, ink, inkwell, copy etc..
But, it's not necessary. You can totally brand your name and rock that up! 🙂
Step 3: Start a Blog With Bluehost
I use Bluehost for many of my sites and I absolutely love them.
Why?
They have incredible support. It's available 24/7 and you can even do Live Chat! Ah-mah-zing!
Check out my post on how to start a blog using Bluehost.
Once you pick your package, you create your domain name – that's your website name – and your account information.
Review the terms and click pay now and congrats! You have a self-hosted blog. But wait!
What's cool is that Bluehost installs WordPress for you! No tech needed!
If you want a step-by-step tutorial on how to set up a blog using Bluehost, check out my post!

Get to Know Blogging
Freelance blogging is much different from writing essays for school, magazines or newspapers.
Have you noticed that blogs have a certain look to them? That was one of the first things I noticed. Here are some key elements all blog posts should have:
A lot of white space – This means making your paragraphs short. I do no more than three sentences per paragraph and often only do one sentence. This makes it easier to read.
Has subheadings – A lot of blog posts use subheadings to break up the writing. Most use H2 subheadings. In WordPress, it's called Heading 2.
Uses bullet lists and numbered lists – This is another way to chunk up your blog post and make it easier to read
A CTA – this stands for call-to-action. This is at the end of your post and tells your readers what you want them to do. It can be to pin your post, leave a comment, or answer your question.
And one important thing freelance blogging has that blogging doesn't really have is citation. Your clients want facts and statistics in your writing. They don't want you pulling it out of thin air or from a conversation you had with a friend.
For example, here's a snippet of a Pinterest post I wrote for Blogging Wizard:

Right? See all those facts I whipped up? But, when I talk about my Pinterest strategy on this blog, I don't have to mention all these facts and I can be more casual and personal.
2. Draft Some Sample Pieces
Being a new freelance blogger can be hard if you don't have any sample pieces in your portfolio.
Prospects are going to be less trusting of your ability if you don't show them what a great and awesome writer you are.
And one of the best ways to create samples is with your personal blog! This is what actually happened on this blog. My twins post, What 3-Year-Old Twins Say to Each Other, traveled all over Pinterest and caught the attention of the editor for one of the biggest twins websites online, Twiniversity.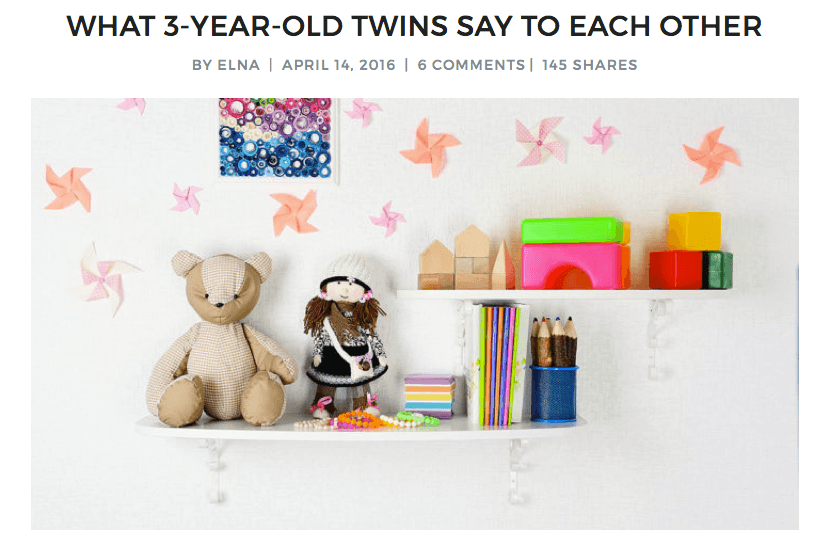 I posted my twins post in April – about a month after starting Twins Mommy. Just one month! And then I receive an email for a writing job: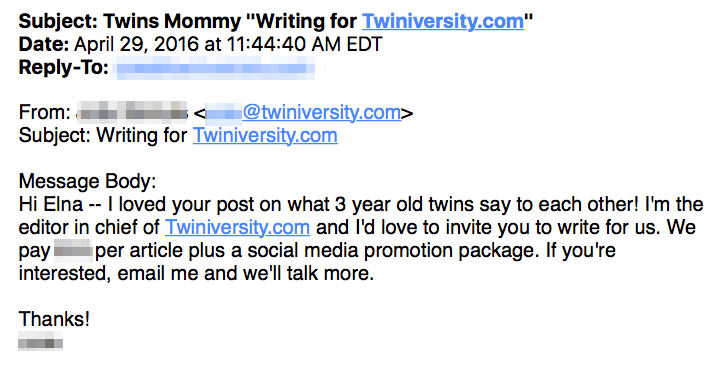 Now, I've been freelancing blogging for almost two years over on Elna Cain and even though I've received writing work from that blog, I've NEVER had this fast turnaround time as I had with my Twins Mommy post.
This tells me that YOUR niche blog, can be just the thing to catch the eye of an editor or blogger on Pinterest or Twitter or Facebook.
And the more niche you are, the better! Alexa Mason of Single Mom's Income said her mom landed a freelance writing job without even trying. All she was doing was blogging about deer and arrow hunting of all things and was asked to be a writer for a magazine!
It's time to get your blog on mamas!
3. Hype Up Your Service
Here's where it gets fun!
Prospects aren't going to find you unless you tell them you're a freelance blogger! The best way to tell other businesses is on social media.
If all your Twitter profile says you're a coffee-guzzling mama who likes to DIY their house, then it might be a good idea to also add that you are a freelance blogger.
Here's Christina's Twitter bio: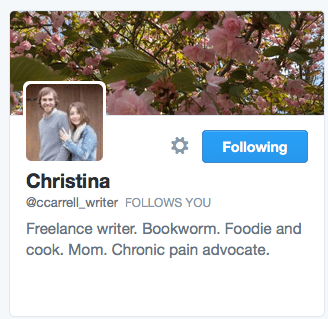 Here's my Pinterest bio: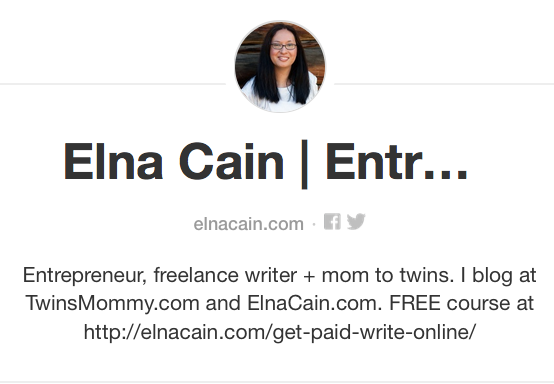 Anywhere on social media, I make sure I mention that I'm a freelance writer or freelance writer for hire.
You can mention you are a freelance blogger or freelance copywriter. Whatever works for you!
4. Time to Pitch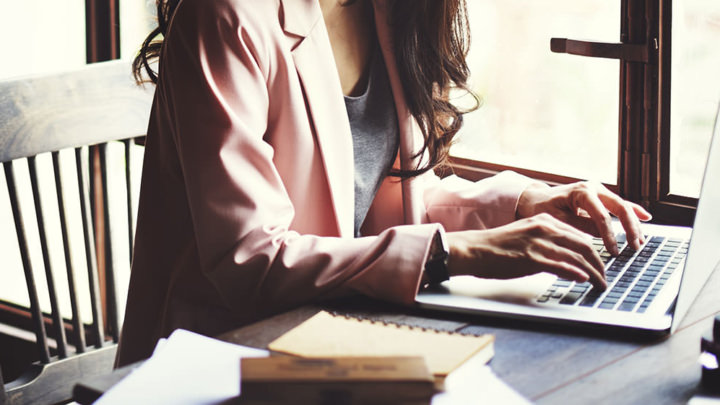 All freelance bloggers are hustlers. That means we work to find work. But, that doesn't mean you'll be doing that forever!
After a while prospects will start coming to YOU and asking you if you have a spot open in your content schedule for work.
That's the best feeling and it can happen early on. For me it was within months of starting as a freelance blogger.
In the beginning, if you're new and no one knows you are even a freelancer, the best thing to do is go to some job boards and pitch to some job ads.
Some job boards I like are:
If you notice, I don't mention freelance market places like Upwork or Elance. I find these are lower quality work and the pay isn't the greatest. Plus I never had luck going that route!
But, what about a freelance blogger resume?
Is that required? Do you need to learn how to write a resume for a freelance blogger?
Not really. If a job asks for your resume then they aren't treating you like a freelancer!
Your LinkedIn profile or portfolio page on your blog is sufficient to pick up a freelance blogging job.
When you find a blogging gig or writing gig, the next thing you do is pitch to them. Sometimes the job ad states exactly what they want. For example:
Three writing samples that have been published
Sites you visit related to this niche
Why you would be a good fit for their blog
But, mostly, job ads just have an email address to send your pitch to and it's up to you to impress them. Personally these are the important things to mention in your pitch:
What type of freelance blogger are you (home decor writer, business writer, pet industry writer)
Where you have written before (these can include guest posts or your own blog)
Samples of your writing
What they get when they hire you (this might mean, click-worthy headlines, engaging tone, CTA, featured image)
Link to your website or portfolio
This is typically how to hire freelance blogger from the business perspective.
They want to view your portfolio and check out your samples after reading your pitch.
From that, they can get a good idea if you would be a good fit for their blog.
Freelance Blogger Pay Rates
For new freelance bloggers, I suggest you start your pay rate at $.10/word.
You can start higher at $.15/word but only if you have experience with that topic (i.e. it was your career or past job).
For example, you can charge a higher rate for educational writing if you're a teacher.
Similarly, if you are a nurse and want to quit nursing, you can leverage that experience and get paid a high freelance blogger salary for nurse writing.
Can You Be a L
ifestyle Blogger that Does Freelance?
Yes! Of course!
This the best thing you can do if you're a lifestyle writer. Show your credibility in your topic like beauty, motherhood, recipes or home decor and then you can use that as samples.
As you saw, my Twin content caught the eye of an editor for a twin blog site.
So, the best think you can do as a lifestyle blogger that wants to freelance, is to keep creating optimized blog posts that are reader-friendly and SEO'd.
For example, if you want to be a freelance and parenting blogger make sure your blog has these categories:
Motherhood
Toddler Development
Learning Through Play
Or variations of parenting topics and children topics for your blog.
With that content you can quote experts, review books and show that you are credible as a parenting freelance blogger.
Are You Ready to Be a Freelance Blogger?
I can't believe I have a successful part-time freelance blogging career! It happened so fast and now I can enjoy staying home with my twins while financially providing for my family.
And now that I have diversified my income, I know I'll have consistent income coming in every month.
If you are serious about being a freelance blogger, I have a free email course on my freelance writing site. Try it out and see if it's for you (and I also have a complete course for the uber serious blogger).
So, tell me stay-at-home mamas, are you pumped yet?