Making money from home doesn't always have to involve staring at a computer screen!
If you're a creative type and like to work with your hands, then you can make and sell things to earn money from home.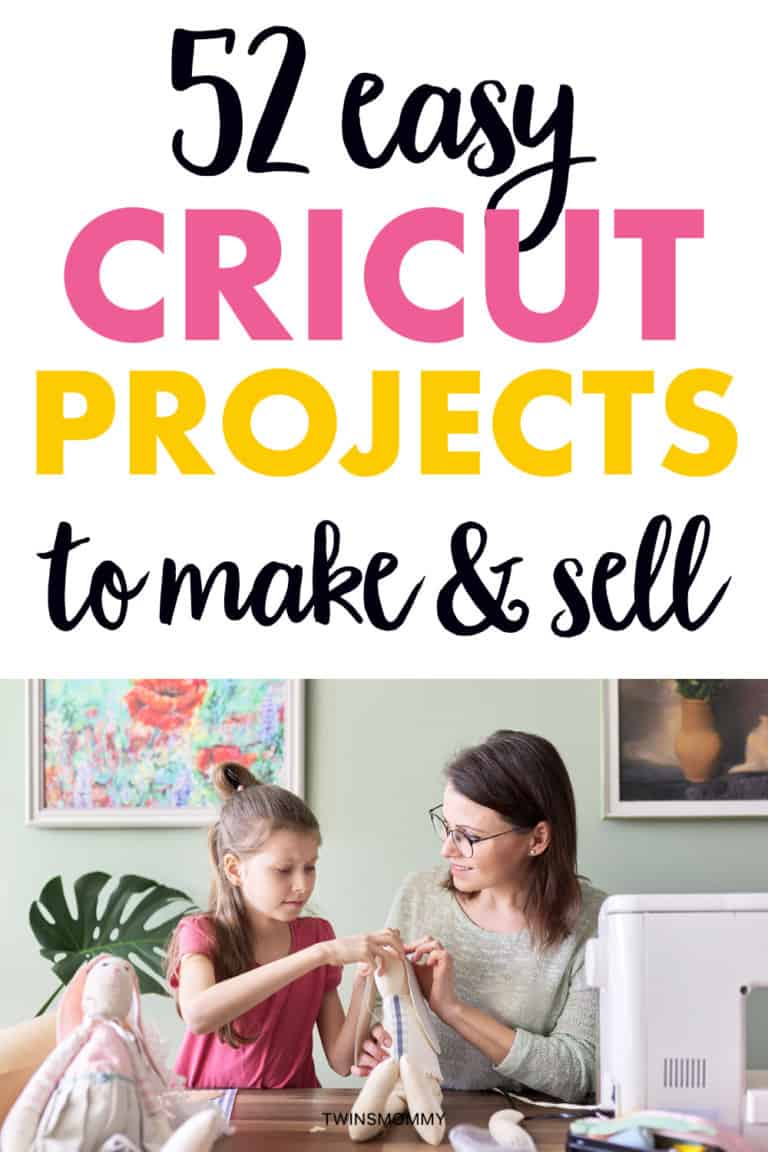 One way you can turn a hobby into a full-time career is to make and sell things using a Cricut.
Cricuts are extremely versatile machines that allow you to create a variety of custom and personalized projects that people are going crazy over right now.
You can sell your creations locally or set up an Etsy shop to earn money from your projects.
Don't have a Cricut?
Don't worry!
You don't need tons of Cricut experience to start a successful at-home business.
In fact, let's take a look at what a Cricut is, how it works, and which machine you should choose before looking at some amazingly easy Cricut projects you can make and sell.
What is a Cricut and How Does It Work?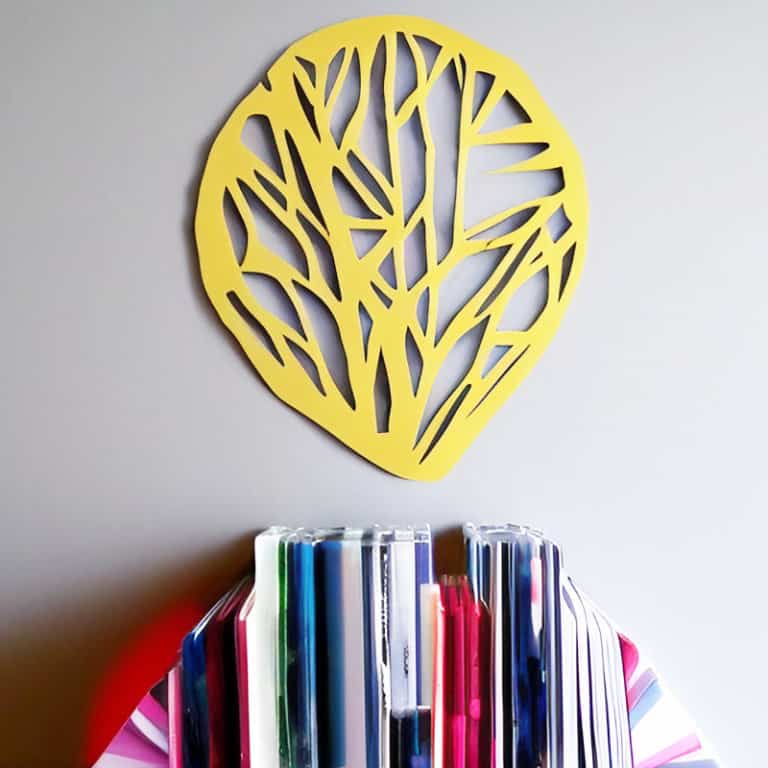 A Cricut is a cutting machine that can cut a variety of different materials, such as vinyl, paper, wood, leather, and fabric.
Cricuts use special blades to achieve this, so you need the right blade for the right material!
Some Cricuts feature an accessory holder where you can place scoring tools and pens to expand your Cricut projects.
The Cricut connects to your computer or smartphone via a cable or Bluetooth.
You then use a program called "Design Space" to download and create designs.
Design Space is really cool because it allows you to use simple shapes and text to create your own designs, or you can upload designs from your computer.
There's also a built-in shop that allows you to purchase unique designs and fonts straight from Cricut.
Once your design is ready to go, you simply push a couple of buttons, and the Cricut moves around to follow the lines of your creation.
If you've never used a Cricut before, there is a bit of a learning curve – but once you get the hang of it, creating Cricut projects become super easy!
Which Cricut Should I Get?
There are three main types of Cricut machines you can choose from to get started on your Cricut projects – but the one you choose depends on the types of projects you want to make and sell.
Let's take a look at the different types of Cricuts.
1. Cricut Joy
The Cricut Joy is perfect for beginners and super simple to use. It's the lowest-priced Cricut available and can cut designs up to 5 inches wide and 4 feet long.
Larger designs will have to be broken up into smaller cuts, and you need to manually switch between the cutting blade and pen if your projects require both.
Other than that, the Cricut Joy is perfect if you plan on making smaller projects.
2. Cricut Explore Air 2
The Cricut Explore Air 2 is perhaps the most popular Cricut machine.
You can use more than 100 different materials using the Smart Set Dial (cardstock, vinyl, fabric, etc.), as well as use both the blade and the pen at the same time.
The Cricut Explore Air 2 allows you to create larger projects than the Cricut Joy – plus, it does the job twice as fast!
3. Cricut Maker
The Cricut Maker is similar to the Explore Air 2, except it has a wide variety of tools you can use that you can't use with other Cricut machines.
This allows the Cricut Maker to cut over 300 different materials using twice as many tools.
So, if you plan on using tons of different materials for your Cricut projects, consider the Cricut Maker.
Otherwise, I would recommend the Cricut Explore Air 2!
Home Décor Cricut Projects
Easy upscale your home with these Cricut project or make them and sell them 🙂
Win-win.
1. Custom Cutting Boards
Personalized cutting boards make great wedding, Christmas, and anniversary gifts!
You can use your Cricut to burn a design into the wood or apply vinyl to the surface. If you use vinyl, be sure to seal it with a food-safe sealant!
2. Family Name Signs
Personalized Cricut projects are super popular right now, especially family names on round wood signs.
You can create a stencil and paint on the name or cut the name from vinyl and apply it to the wood.
3. Farmhouse-Style Signs
Your Cricut can be used to make and sell farmhouse-styled signs!
Look for frames made of old-looking wood and create a vinyl design to stick to a chalkboard background.
4. Vertical Welcome Signs
Vertical porch signs are super charming and easy to sell.
Use permanent outdoor vinyl to make a long-lasting sign on a tall and thin piece of wood.
5. Doormats
Yes, you can even use your Cricut to create doormats!
Offer to customize the doormat with your customer's family name or create funny and witty mats to sell.
6. Serving Trays
Simple wooden serving trays can be beautifully transformed into eye-catching home décor using your Cricut and a little imagination!
You can apply custom designs or use different colored pieces of vinyl to create unique patterns, such as tropical leaves or flowers.
7. Watercolor and Vinyl Art
Your Cricut can be used to make beautiful mixed media art, such as combining vinyl quotes with a watercolor background.
Simply paint or print a watercolor design on a thick piece of cardstock, then apply your vinyl saying on top.
Home Organization Cricut Projects
An easy way to stay organized is with labels! Well, the Cricut makes it easy to make customized and pretty labels for ALL the things!
8. Pantry Labels
Help your customers stay organized by making and selling pantry labels. You can make ones for common pantry staples like flour and sugar or create a set for spice jars.
9. Budget Binder
Using your Cricut and a few other supplies, you can make budget binders to help your customers keep their finances organized.
You can include envelopes to help keep track of saving goals and personalize the front the suit their tastes.
10. Toy Totes
Using iron-on vinyl, you can make super cute toy totes to help keep toys, stuffies, books, and more organized.
11. Custom Corkboards
Iron-on vinyl is perfect for customizing corkboards! Families can use these to display calendars and important notes.
Drinkware Cricut Projects
Who doesn't like a personalized coffee cup or tumbler?
Make them for friends, families and sell them on Etsy!
12. Personalized Coffee Mugs
With a Cricut, you can put anything you can think of on a coffee mug!
But if you're looking for Cricut projects to sell, you can offer to personalize coffee cups with someone's name using a split-letter design.
13. Personalized Tumblers
Along with coffee mugs, you can personalize and sell tumblers!
Tumblers are great for both hot and cold drinks – you can even get small wine tumblers that you can customize.
14. Custom Sippy Cups
Custom sippy cups are super cute, easy to make, and really popular among parents.
You can customize the sippy cup with the child's name and a design based on their interests.
15. Etched Wine Glasses
Last drinking vessel, I promise! But custom drinkware is perhaps one of the easiest Cricut projects you can sell to make money.
With a Cricut, you can also etch glass and make personalized wine glasses.
Fabric Cricut Projects
Have some fun creating some awesome and cool fabric projects with your Cricut!
16. Custom T-Shirts
With a special type of vinyl, you can create designs on your Cricut to adhere to t-shirts.
Choose witty and trendy designs to put on your t-shirts that customers will love! You can even personalize shirts with family names or create matching mommy and me outfits.
Don't forget to create shifts for the holidays, like Hallowe'en and Christmas!
17. Custom Hats
Along with custom t-shirts, you can make and sell custom hats with your Cricut.
Create simple designs or allow your customers to personalize their headgear!
18. Unique Totes and Purses
Use printed or holographic vinyl to create unique designs for totes and purses.
Check out local thrift shops to find some bags that you can customize!
19. Kids' Artwork Creations
I really love this unique idea!
You can take your customer's kids' artwork and turn it into t-shirts, totes, blankets, pillows, and more.
20. Unique Kitchen Towels
Create and sell some unique kitchen towels! You can use charming farmhouse designs or witty kitchen jokes to make a product that really stands out.
21. Pot Holders
Pot holders are a useful kitchen tool and a wonderful piece of décor. You can customize a pot holder using your Cricut for any occasion.
Everyday Life Cricut Projects
The Cricut machine isn't just for crafts. Check out these functional projects you can customized!
22. Keychains
Using round acrylic blanks, you can easily create personalized keychains using your Cricut!
Add a chain and tassel, and you are good to go.
23. Phone Cases
Using blank phone cases, you can easily make and sell unique and personalized designs that customers will go nuts over!
24. Stickers
People love stickers! And you can make some awesome designs that people will buy up to put on their phones, laptops, tumblers, and more.
25. Car Decals
You can use your Cricut to create custom car decals, which are super popular right now!
Sell your own designs or personalize your creations by customer request.
26. School Supplies
Make and sell school supplies, such as personalized pencil cases, notebooks, pencil holders, and more!
27. Birthday Decorations
You can make and sell entire sets of birthday decorations using your Cricut!
Include custom banners, party favor bags, and cake toppers.
Jewelry Cricut Projects
Your mama friends will go gaga over these cute Cricut projects!
28. Faux Leather Earrings
Use your Cricut to cut out some faux leather to create some unique and trendy earrings!
29. Monogrammed Necklaces
You can also make and sell customized monogram necklaces using vinyl, resin, and scrapbook paper.
30. Wood Jewelry
Your Cricut can cut through wood sheets to make all kinds of jewelry, like necklaces and earrings.
31. Acrylic Jewelry
You can also use acrylic blanks to create unique pieces of jewelry (much like the keychains I mentioned above!).
Paper Cricut Projects
Have fun with good ol' paper withes craft projects to make and sell.
32. Paper Flower Décor
There's not a whole lot you CAN'T do with your Cricut! You can even make paper flowers!
You can use the paper flowers to create pieces like wall décor, party decorations, and more.
33. Wedding Invitations
Since a Cricut can cut through just about anything, you can use yours to create cut-out invitations.
And with the Cricut pens, you can personalize the inside for your customers.
34. Greeting Cards
You can get a bit fancier by creating unique and layered greeting cards for a variety of special occasions, such as birthdays and Christmas.
35. Gift Boxes
With the right templates, you can make and sell beautiful gift boxes by using your Cricut and cardstock.
The Cricut will cut out the design, and all you have to do is fold it into a gift box.
(Psst! You can include these with your other products for a small fee as an upsell!)
36. Gift Tags
Along with gift boxes, you can make and sell personalized gift tags – perfect for the holidays!
37. 3D Letters
You can make and sell 3D letters that your customers can use to spell someone's name or initials or other sayings to decorate their home.
38. Bookmarks
Cutting cardstock or faux leather with your Cricut is an amazing way to make and sell bookmarks.
You can sell your own designs or take requests from your customers.
39. Hair Clips
Using glitter faux leather and hair clips, you can make a variety of unique hair clips to sell!
Christmas Cricut Projects
40. Round Wooden Christmas Signs
Round wooden signs make for fantastic Christmas décor, and you can use your Cricut to create tons of unique designs.
41. Personalized Santa Bag
Using fabric vinyl, you can create and sell personalized Santa bags parents can use to wrap their child's Christmas presents featuring the kid's name on the bag!
42. Christmas Blankets
With your Cricut, you can make and sell blankets featuring funny Christmas sayings or popular Christmas movie quotes.
43. Personalized Santa Tray
Using a wooden tray, you can create a special Santa plate to hold cookies, milk, and a carrot for Rudolph.
44. Wooden Christmas Ornaments
You can buy small, round pieces of wood in bulk and make adorable and rustic Christmas ornaments to sell.
You can apply the vinyl directly to the wood or paint the surface with chalkboard paint for a really unique look.
Hallowe'en Cricut Projects
45. Custom Trick Or Treat Bags and Buckets
Using blank totes or simple Hallowe'en buckets, you can add a child's name to either one and sell them for Hallowe'en!
46. Spooky Lanterns
Your Cricut can be used to cut designs out of cardstock, which you can then fold to create spooky lanterns for Hallowe'en.
Include a battery-operated tea light, and you're good to go!
47. Wooden Hallowe'en Sign
Decorate pieces of wood for Hallowe'en by adding vinyl sayings, ribbons, paint, and more. Customers will love these!
48. Hallowe'en Party Decorations
Just like the birthday decorations, you can create and sell packages of Hallowe'en decorations such as garland, treat bags, cake toppers, and craft kits.
Valentine's Day Cricut Projects
49. Love Note Box
These adorable little Valentine's Day boxes can be filled with love notes and given to loved ones on this special holiday.
You can create the boxes by cutting out a template from cardstock or find plain boxes you can decorate with vinyl.
50. Photo Frame
Photo frames can be customized with quotes or names for the perfect Valentine's gift.
You can also create music picture frames that feature the title of a special song along with a QR code to find the song on Spotify.
51. Valentines
Create and sell custom Valentines for kiddos to pass out to their classmates. Customers will love being able to choose their own design!
52. Valentine's Box
Your customer's kiddos are going to need a way to collect all the Valentines they receive at school or daycare, so why not make and sell cute Valentine's boxes?
You can also make boxes to fill with goodies – perfect for teacher's gifts!
Tips for Your Cricut Business
Ready to get started? Here are some tips for running your Cricut business:
Don't spread yourself too thin. It may seem profitable to offer a variety of different items, but you don't want to burn yourself out trying to keep up with multiple projects. Choose one or two items you want to sell and focus on those.
Keep your designs simple. Maximizing your time means streamlining your process. Keep your designs simple, with room to add names and other customizations. You don't want to be creating completely personalized designs every time someone orders!
Make sure to label things as "hand wash only." There really isn't a sealant out there that will guarantee dishwasher safety, so it's best to inform customers to only handwash their items.
Figure out where you're going to sell. The best place to start selling is locally through Facebook Marketplace or Craigslist. You can create a Facebook page to attract followers and promote your items. As your business grows, you can consider starting an online shop and shipping items.
Cricut Projects to Make Money!
There you go! You can easily use your Cricut to make and sell items so you can earn money from home.
Selling handmade items online can take some time and effort to get going, but once you get started you can start making money quickly.
Which Cricut project are you excited to try? Let me know in the comments!
And don't forget to pin!