Are you a crafty mama?
Could you spend hours scrolling through social saving all the crafts you wanna try?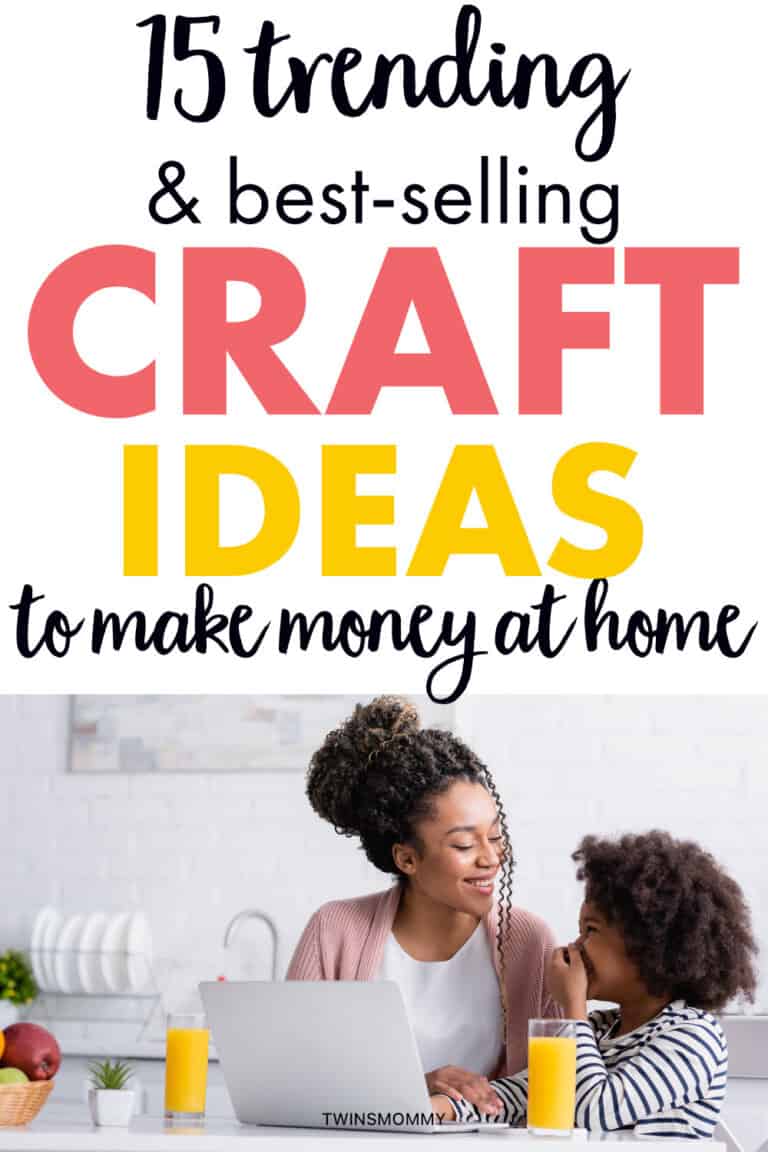 Does your ideal weekend include wandering through rummage sales, thrift stores, and craft stores dreaming up new craft ideas?
Have you ever thought about putting those crafty skills to good use?
Did you know…you can cash in on trending crafts to make and sell.
Right from the comfort of your own home, even with the kids running around (or during nap time).
Let's go through this post on how to create wonderful crafts that sell instantly!
Where to Start?
One of the best things about being able to create best-selling crafts is that you don't need a lot to start with. You can easily start making money from selling your crafts with what you already have in your house.
Got some paint?
Can you find some old palettes?
Got some balls of yarn laying around?
It's perfectly fine to start with what you already have.
You can also get together with other moms and so a craft swap or pool your resources together to make crafts to sell together.
And don't worry if you aren't a great crafter. I know for me, I haven't done any DIY projects but when I was pregnant I found knitting to pass the time.
Little did I know that I found knitting fun and easy! I was able to craft some cute hats for my twins!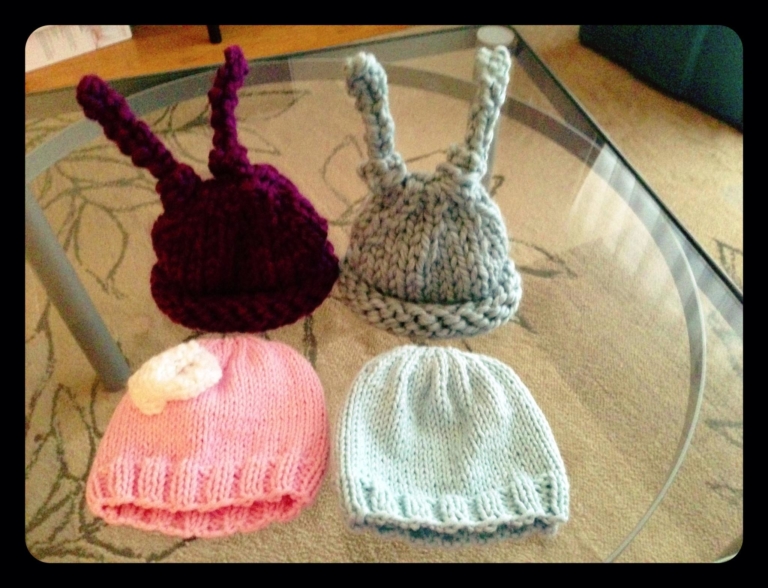 How to Get Started Selling Crafts from Home
Take note…
Competition is a GOOD thing!
When there are already people selling a particular item and there is competition for it, you know that it's a popular item and people are buying it!
Now obviously you don't want to copy what others are doing and you want to put your unique spin on it. This is called your unique selling point.
How are you going to make your items better?
How are you going to set yourself apart from other people selling the same type of things?
Pick one platform to start with, don't try and be everywhere, it will only lead to burnout.
A couple of great places to start are on TikTok, Instagram, Etsy, and Facebook Marketplace.
For example, one popular tactic that I have seen a lot of lately is people showing process videos on TikTok and then linking their Etsy store in the bio. This is a great way to get eyes on your products fast!
Once you find the right marketplace to sell your crafts easily, you have to go and source long-lasting tools and items so that people WOW over you hand-made jewelry or back-to-school plaques.
You can defiantly go to Amazon to find bulk items for a solid price.
Finally, I want you to think about how your craft item is consumable. What I mean is, is your craft a one-time thing that is placed on the wall or is your craft something that is done in a couple of months and has to be bought again?
To help you make more money, make sure to make crafts that need to be bought repeatedly.
Best Selling Crafts
There are certain crafts that are timeless and you can make and sell pretty much any time of the year.
Many of these crafts that you can make and sell require very little equipment to get started and are selling well on platforms like Etsy.
When looking for best-selling crafts, you want to look for things that you can sell year-round or add something to, to make them a seasonal item. Making small changes to a regular item to make it seasonal has the potential to drastically increase your sales.
While this list is by no means exhaustive, it is a great place to start.
While you might not be looking to turn selling your crafts into a full-blown business, you should run it as a business from the start.
This is a great way to put you into a money making mindset rather than just being a hobby.
1. Bath Bombs
Bath bombs are so easy to start making.
They are inexpensive to get started and also consumable. This means that when people love what they buy from you they can become repeat customers.
A quick search on Etsy should spark some great ideas.
From bath bombs that contain crystals to open chakras to unicorn-shaped bath bombs that will turn your tub into a rainbow wonderland!
While you might not become multimillionaires like the sisters that created Da Bomb Bath Fizzers, you'll make a few bucks with this best-selling craft.
2. Keychains
People love to keep special things with them on their keys. Pictures of their kids, keychains with sentimental or funny sayings, or their initials.
There are tons of different kinds of keychains that you can make and sell.
Stamped metal, leather, tassesls, resin, cord, beaded, recycled license plates, the list goes on.
3. Jewelry
Jewelry always sells really well on platforms like Etsy, Shopify, and Instagram.
When it comes to the different types of jewelry, there are literally thousands of different styles and materials to choose from.
You can create jewelry out of polymer clay (more on that below), personalized hand-stamped jewelry, jewelry you create using a laser cutter or Cricut, and even breastmilk jewelry!
4. Hair Accessories
Hair accessories can include items such as headbands, hair ties, hair bows, head wraps, barrettes and so on. You can make these items for adults and or children.
Hairbows for little girls are certainly hot sellers in just about every season.
This is also a great opportunity to make seasonal items to increase sales during certain times of the year.
5. Candles
One of the great things about candles is that they are consumable!
Again, this will give you a higher chance of getting repeating customers that keep coming back again and again.
Candles are pretty darn easy to make and there are so many different options.
You could make candles that have personalized labels on them, that are shaped like bust statues, or candles that use soda or beer cans as holders. Check out these unique candles on Etsy for some inspiration.
6. Personal Care Products
Now this is a very wide range of products that could include anything from lip balm, body lotion, body scrub, bath salts, supplements, soap, beard oil, hair oil, and so on.
People are tuning more now to small-batch, handmade, natural products than ever before.
Some items you will need to make these personal care products:
Trending Crafts to Make and Sell
Of course, when something is trending it is going to be a hot selling item.
TikTok is a great place to start your research if you are looking for what's hot and what's on-trend right now!
1. Polymer Clay and Resin Jewelry
I am simply amazed at the things people can do with clay and resin.
When it comes to making jewelry, it's fairly inexpensive to get started.
You can pick up tools at your local craft store or order kits on Amazon.
Fun and funky earrings are a great place to start.
2. Clay, Ceramic, and Cement Pots
Many people are increasing their plant collections. Think about this, plant care is a commitment.
As plants grow they need to be repotted and propagated to make new plants, which also need pots.
Are you seeing the trend?
While working with clay and ceramic you are going to need things like a throwing wheel and a kiln, you can easily make pots out of cement for very little starting cost.
3. Tufted Rugs
I first saw this trend on…can you guess? TikTok.
It requires some canvas and an electric tufting gun.
It's less scary than it sounds and sort of looks like a painting with yarn. You can take pretty much any picture and turn it into a rug. Check out this fun tutorial here.
4. Tie-Dying
Yup, you read that right.
The popular trend from the 60's and 70's has come back strong as ever. I even bought some tie-dye clothing!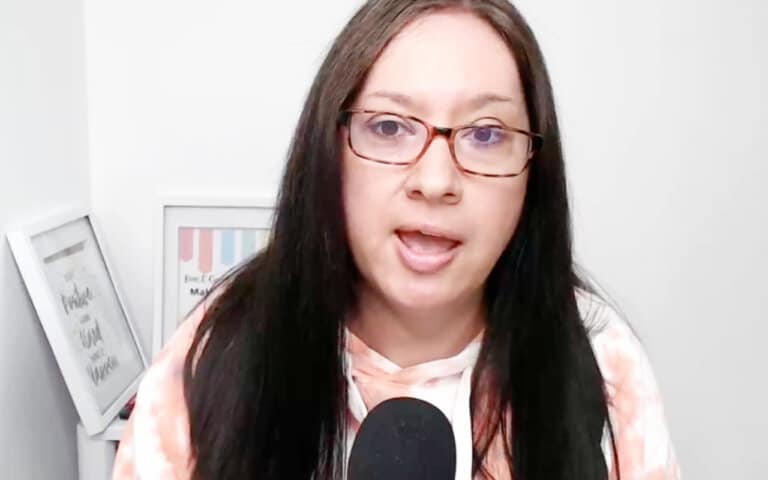 This is another trending craft to sell that is super easy to get started.
There are several different methods you can do, such as the traditional tie-dye, ice dying, and bleach dying.
You can also experiment with using natural dyes from food.
A fun and eco-friendly way to create your crafts.
5. Farmhouse/Leaner Signs
Not only is this craft super on trend to sell right now, they are super easy and super cheap to make!
All you need to get started is some reclaimed wood and some paint!
People pay top dollar for large signs that look weathered and worn.
You can start with signs that have general sayings like "welcome," or "family," with a definition.
Being able to make custom and personalized signs can put even more in your pocket.
6. Face Masks
No, not the kind to make your skin smoother (although that's a good idea too) the kind everyone wears to protect themselves.
While face masks are meant for protection, they have also become a fashion statement.
People want to show off their personalities while staying safe.
7. Upcycled Vintage
Most people don't realize how many textiles are thrown out every single day.
Do your part to help save the plant and make others feel great about themselves in the process.
Upcycling old clothes is not only sustainable but fun!
It's so satisfying to take one thing and turn it into something else.
This could be updating an old dress into something more fashionable or using torn leggings to make into baby leggings or even a part of a Halloween costume!
This is what I did when my daughter was a cat and the broken leggings was her tail!
8. Tote Bags
Another great, low-cost idea to start with.
You can make tote bags out of old clothes, plastic bags, feed bags, paper, and even old blankets.
You can add beading, screen print, or hand paint bags and sell them.
9. Macrame
Macrame has come back into home decor!
Yes, those adorable little macrame plant holders that your grandmother used to have are totally on trend right now!
But this isn't your grandma's macrame, it's at a whole new level now.
People are making some really amazing wall hanging and other home decor like a planter holder!
It's a simple to learn skill that you can turn into beautiful art.
Again, check out Etsy for some inspiration.
10. Photo Transfer
With a sublimation printer and your Cricket Circuit machine you can create cute mugs, t-shirts, onesies and more!
Amazing Best-Selling Craft Ideas for Stay at Home Moms
When it comes to best selling crafts, there are seriously just so many options.
And don't forget some amazing circuit crafts you can make and sell too!
Whether you choose trending crafts to make and sell or want to make the world a better place by upcycling what others think is garbage, you go for it (and make some cash in the process)!
I hope you enjoyed this post! If you want more craft ideas here are some other articles I have:
Let me know in the comments which craft idea you want to start selling today!