Are you looking to start a business from home that allows you to be creative?
Making crafts and selling them from your home is an amazing way to earn an income!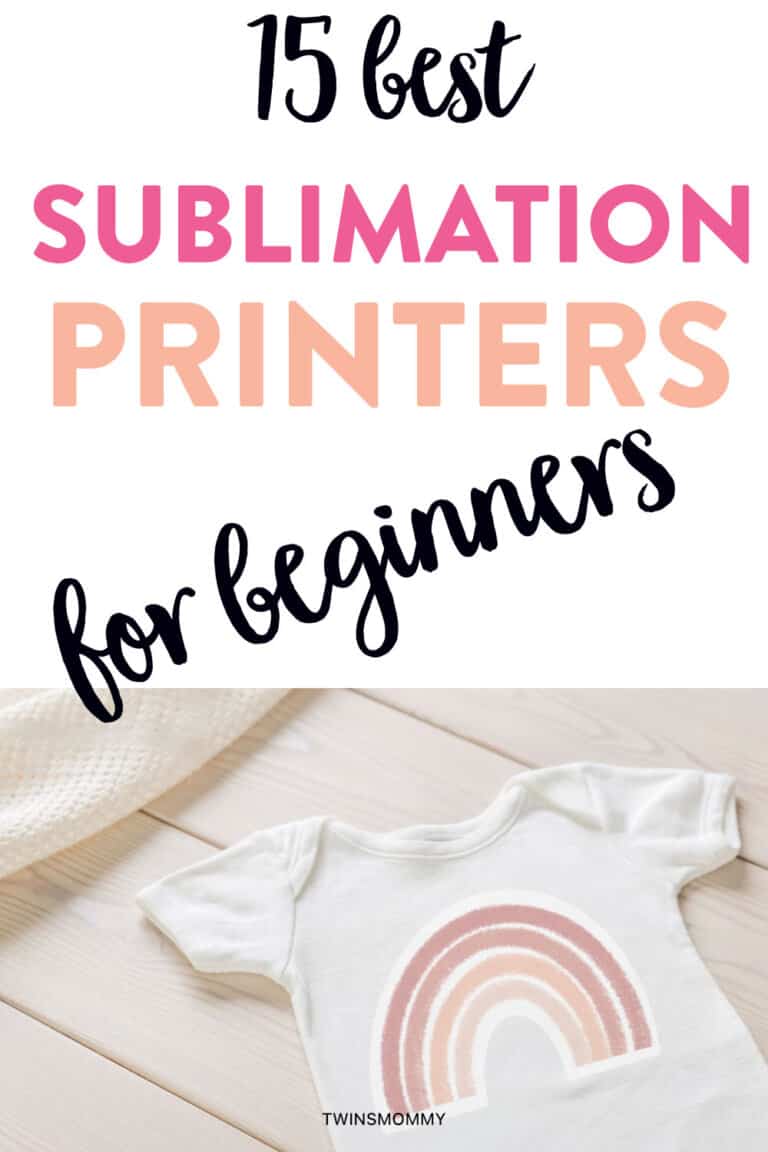 While Cricuts and custom vinyl became super popular in the past few years, sublimation printing is quickly becoming the crafting world's go-to for personalized and creative designs.
But if you're looking to start a sublimation printing business, you need the right tools – namely, a sublimation printer.
I mean, choosing what printer to use for sublimation is a big choice.
Sublimation printers allow you to produce and transfer beautiful and high-quality designs onto almost any type of object.
You can easily create truly unique items to sell!
So, if you're wondering how to choose the best sublimation printer for beginners, here is everything you need to know about sublimation printing, the different printers available, and other tools you will need to build a successful business.
What is a Sublimation Printer?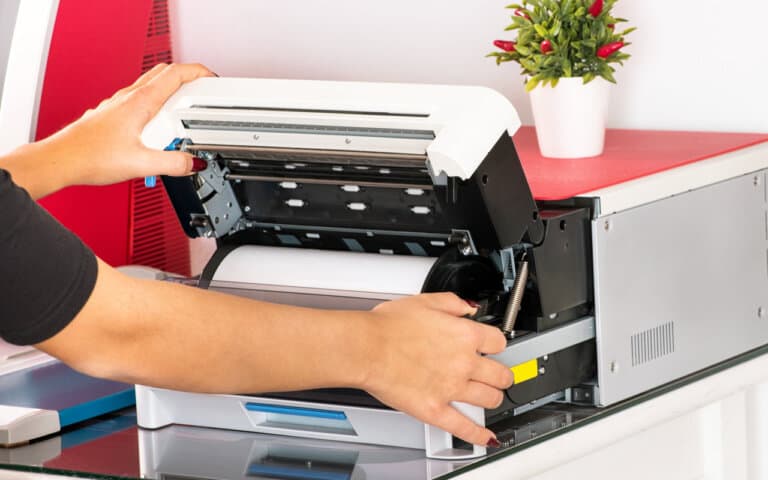 A sublimation printer uses special ink to print full-color designs that can then be transferred to another object, such as a t-shirt, mug, or tumbler.
This transfer process uses heat to permanently adhere the ink to the object.
Once the process has cooled, the design is embedded directly onto the object and won't peel, crack, or wash away!
But you can't use any old printer to create sublimation designs. You have to buy an actual sublimation printer or an inkjet printer that can be converted to sublimation.
You will also need special ink, sublimation transfer paper, and a way to heat the design (such as a heat gun).
So when it comes to buying the best sublimation printer for beginners, you can spend more money on a dedicated sublimation printer (which will give you a higher quality print) or save your money and convert to an inkjet printer.
The Best Sublimation Printer for Beginners
Let's look at all the good printers for sublimation on this list and find the best one for you – the beginner to help you make money!
If you're looking for the top 10 sublimation printers they are definitely here but I also have five more too! Yay!
1. Epson EcoTank 2720

In the world of printers, Epson is a big deal and is the best beginner sublimation printer on this list! They produce top-quality printers for many uses, including sublimation.
The Epson EcoTank is a well-built and long-lasting printer that can be used via WiFi or USB.
This sublimation printer uses sublimation ink sets that can easily be poured into the cartridges as needed.
2. WorkForce 7720
If you're trying to stay within a budget, check out the WorkForce 7720, which is an affordable sublimation printer that will get the job done!
You can easily swap the ink cartridges between sublimation ink and regular ink, making this a great all-in-one printer for your home.
This high-quality printer (also by Epson, by the way) can print as large as 13×19 and features two paper trays so that you can have your sublimation paper in one tray and regular paper in the other.
3. Brother HL-L3290CDW
When it comes to sublimation printing for beginners, this Brother sublimation printer is easy to set up and use and provides the best color quality!
It features a flatbed copier and scanner, and because it uses laser printing technology, the cost of replacing the ink is inexpensive.
It's also a fast printer, printing at a rate of 25 pages per minute.
4. KODAK Wireless Printer
So, what's the cheapest sublimation printer for heat transfer?
Well, if you want to give sublimation a try without investing a ton of money, check out the KODAD wireless printer.
It's the cheapest sublimation printer as well as portable, and uses sublimation ink for your creations!
It only prints small pictures (up to 4×6 inches), but it's a great way to get started with your sublimation business.
The Best Dye Sublimation Printers
5. Sawgrass SG500
Sawgrass is another great name in the world of sublimation printers, and the SC500 is a great way to kickstart your business!
This printer is designed for dye sublimation and comes with access to an online design studio, Sublijet sublimation inks, a 2-year warranty, and in-house support.
6. Epson Expression Photo HD XP 15000
If you're looking for another best starter sublimation printer that's a dye sublimation printer for photos, this is the one for you! It provides exceptional photo printing quality for sublimation projects.
The Epson Expression printer is easy to set up and comes with ink cartridges that you simply have to insert into the printer.
7. HP OfficeJet Pro 9025
This all-in-one printer is perfect for sublimation printing. It produces high-quality photos but can also be used as a home printer.
When starting your business, this is a great dye sublimation printer that won't break the bank!
8. HP Envy
The best hp printer for sublimation is this
high-tech dye sublimation printer
because it can print on both transfer paper and fabric! It prints quickly and can be automated to print without having to stick around and watch it.
It takes large rolls of paper or fabric and features a touchscreen panel for easy use.
The Best Sublimation Printers for T-Shirts
9. DNP Event Pro Printer
For detailed and delicate prints for t-shirts, check out the DNP Event Pro Printer.
It's easy to use and prints full-color images quickly (around 290 4×6 images in one hour).
It has a robust design, so it can definitely last you for a long time and take on many print jobs for your sublimation t-shirt business!
10. Epson EcoTank ET-15000
Possibly the best sublimation printer for t-shirts, the Epson ET-15000 produces amazing quality using less ink than other printers.
They don't call it an "eco" tank for nothing!
It features a touchscreen and is compatible with Alexa so that you can use voice commands.
11. Canon Selphy CP1300
The Canon Selphy is a sublimation printer for shirts designed to provide a high-quality photo quality while being effortless to use.
It features various connection options, such as Wifi and USB, as well as the Canon PRINT app and AirPrint.
12. DTF Transfer Printer
This dye sublimation printer uses film transfer paper that can be directly transferred to a t-shirt with a heat press.
This printer creates transferable images that are suitable for all kinds of fabrics and textiles, making it a very versatile sublimation printer for shirts.
The Best Sublimation Printers for Cricut
13. Epson EcoTank 3760
Yes, there are quite a few versions of the Epson EcoTank in this list – but it really is the best printer for sublimation projects of any kind!
The EcoTank 3730 is a cartridge-free printer that uses a low-cost ink replacement bottle system (which can save you up to 90% compared to cartridges).
It's also a multipurpose 3-in-1 printer that is easy to use and affordable.
14. Canon Pixma MG3620
If you are looking for a sublimation printer for your Cricut that's affordable and reliable, check out the Canon Pixma MG3620.
It provides a clear and high-quality print at a fast printing speed.
15. Epson EcoTank 2750
The Epson EcoTank 2750 is one of the best sublimation printers for crafts – perfect for Cricut enthusiasts!
This advanced ET model uses lower-cost ink and provides high-resolution printing.
The Best Sublimation Ink
Some printers, such as the sublimation printer Epson EcoTank (all models), use refillable ink cartridges to convert the printer into a sublimation printer – so you can use whatever sublimation ink you want!
You just have to be super careful that you are ordering sublimation ink, not regular ink.
Two popular brands you should try are Hiipoo sublimation ink and Cosmos sublimation ink.
Tips On Getting Started With A Sublimation Business
If you're not sure how to get started with your sublimation business, check out my post here on craft business ideas and how to start a craft business at home.
Otherwise, here are some ideas for your sublimation business:
What Can You Make With a Sublimation Printer?
Sublimation printing opens the doors to endless project ideas for your business!
You can print high-resolution designs that can be transferred onto a multitude of objects, such as:
Mugs
Home decor
T-shirts
Tumblers
Door signs
Mousepads
Totes and bags
Canvas
And so much more!
Get the Right Tools
To successfully build a sublimation business, you'll need more than just a printer!
Here are some tools you should consider grabbing:
Heat Press Machine: If you plan on making t-shirts, you'll definitely need a heat press! This will ensure your designs have properly adhered to the material.
Heat Gun: For less flat items, consider getting a heat gun to make the job easier. A mini one will do just fine.
Sublimation Bands: For tumbler designs, you'll definitely want sublimation bands to ensure the design lays flat along the top and bottom edges.
Paper, Paper, and More Paper!
As I mentioned earlier, you're going to need special paper for your sublimation printer. A-Sub is a popular brand of sublimation printer and produces high-quality images.
But if you know anything about working with vinyl and other crafting materials, you'll probably have to try different papers to find one you like (Psst…I mention different vinyls later in the post).
To help you ouse, here are my favorite sublimation paper + my best sublimation paper for you!
1. Hiipoo Sublimation Paper
Hiipoo Sublimation paper is a favorite of mine because of quality. Pure and simple.
This incredible brand is known for its superior quality when it comes to transferring photos and designs onto fabric.
It is known for being efficient, thoughtful and intuitive.
Plus, they make sure whatever they produce has maximum vibrancy! So rather than settling on ordinary, come join the pack and #hippooyeow!
2.HTVRONT Sublimation Paper
HTVRONT paper for sublimations is cutting down on stress levels.
Stop worrying about nasty ink smudges and cringe-inducing mistakes!
Nothing will take away your professionalism quicker than blotches and blotches of incorrect ink.
And this is best sublimation paper for Epson 7710.
This paper promises crisp lines and clarity with every print so you can leave a lasting impression – even if it's not with the drab file reports you slave over.
Don't let yourself suffer in silence, get yourself some HTVRONT Sublimation Paper instead!
3. Best Sublimation Paper: A-SUB Sublimation Paper

A-SUB Sublimation Paper is probably the best sublimation paper because it's the best for heat transfers!
Whether you're printing vibrant t-shirt graphics, transferring some seriously poppin' mugs, or other custom projects, A-SUB will do the best work.
This high quality sublimation paper releases a consistently smooth and vibrant design that not only looks great but stands up over time as well.
And let's be real: no one wants their hot piece of clothing looking like trash after a few wears.
In other words, A-SUB just makes sure you stay slaying!
Start with a Small Project to Get the Hang of Sublimation
If you are new to sublimation printing, it is best to start with a small project to get the hang of it.
For example, you can print out a design on a piece of fabric using a sublimation printer.
Once you have mastered the printing process, you can move on to bigger projects, such as printing designs on mugs or t-shirts.
With a little practice, you will be able to produce professional-looking results that will impress your clients and help grow your business.
Experiment with Different Types of Paper to Find the Best Results
As you learn how to work with sublimation printers , you'll be able to take on bigger projects and designs. Types of paper are :
A-sub
Arlon DPF 8000
StarCraft HD vinyl
ORACAL 651 vinyl
Get Ready for Sublimation!
Are you excited to get started with sublimation printing?
Now that you know which best inexpensive sublimation printer to choose from and what tools to grab, it's time to get started on your business!
Good luck!
Once you get your sublimation printer, what kind of things are you going to create? I'd love to hear about them in the comments!