Right now 45% of Americans (and 50% of Millennials) have a side hustle.
And the good thing is this trend is still growing. It's reported that an additional 60 million people plan to start side hustles in 2021.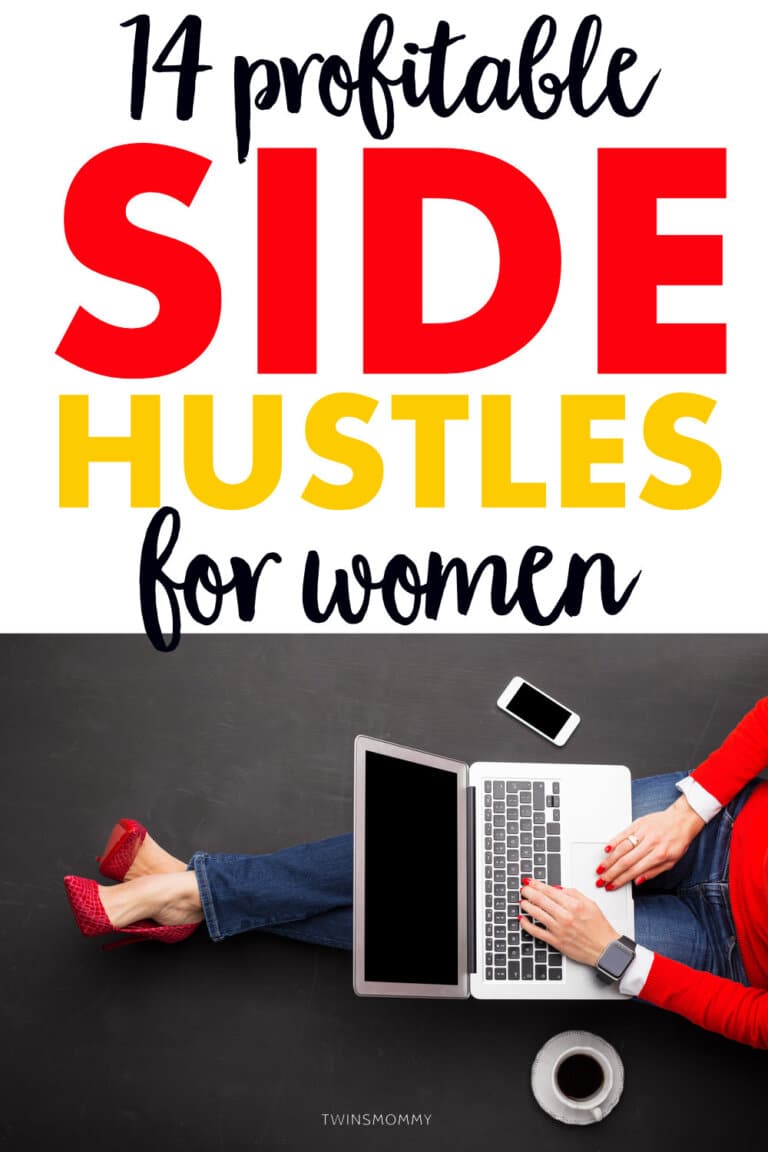 This means there are plenty of opportunities and side hustles for women.
Whether you're a mom like me, a college student, a corporate wife or a single woman working as a barista, it's completely possible to start a side gig, work from home and eventually make enough money from a side hustle to turn it into a full-time home business idea.
Before I started Twins Mommy, I started a side hustle job as a freelance writer.
This proved highly lucrative and it allowed me to work from home indefinitely.
Over the years, I've picked the clients I wanted to work with and I also started Twins Mommy and other blogs during my time. But in 2021, I wanted to start something new.
I wanted to offer a brand new side hustle and see if I can land clients using other marketing strategies.
And, I succeeded! I've picked up several clients and have earned over $1500 in one month.
I continue to land clients and am loving this new side hustle gig.
As women, certain side hustles that just work for us, right? We are more emotional, and talkative than our other half and that works well online.
So, if side hustles are your jam, I'll share the perfect side hustles for women, but before I do, I want to share my story on how I started my new side hustle and made over a thousand in a month.
My New Side Hustle
As a freelance writer, my expertise was SEO long-form blog writing.
I would write 2,000-3,000 word blog posts that were rankable on Google for my clients. Most of my clients were in the B2B and SaaS space.
While I enjoy writing SEO blog posts and long-form blog posts, in 2021, I just don't have the time to devote writing content for my personal blog AND writing content for businesses.
I also wanted a break from long-form writing.
That's where email writing came to me. I saw a training from another writer who writes emails for the eCommerce industry, and I just loved how excited she was about this side hustle job.
But, I also enjoy writing emails. Emails are more personal, conversational and as women, we can gab a bit more and just have fun with our copy.
Once I figured out the offer, I needed to find my ideal client. I didn't want to jump into writing emails for the eCommerce space because I needed to gain experience first.
I also wanted to explore other side hustle ideas from other women like mompreneurs or lady bosses that could help me grow as a writer.
Marketing My New Side Hustle
Once I figured out my offer and my ideal client, I had to market this new side hustle.
My usual promotional strategy for my freelance writing business is to guest post, use Twitter and LinkedIn and reach out to businesses that need writing.
But, for this side hustle job, I did things a little differently. I first signed up to a dozen or so email lists from other women in different niches like:
Saving money/frugal living
Kid activities
Business coaches
Drawing/illustration
This proved to be unsuccessful. Even though I had a Google Sheet, I found it too confusing, and I was suddenly inundated with emails in my inbox and Promo tab.
I planned to see if these women's side hustle businesses had an email list and whether or not they had a welcome series or funnel for products/services.
During this time, I also updated my Instagram and LinkedIn profiles to share my new service.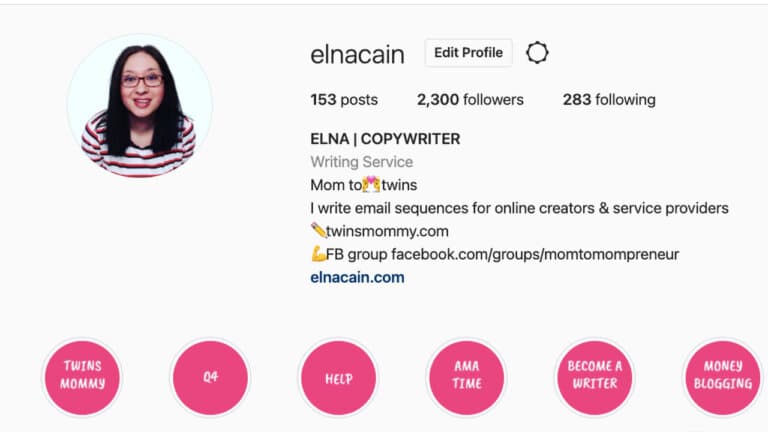 I also spent more time on Instagram to try a new strategy to land clients and this worked.
By networking, engaging and DM'ing, I was able to pick up most of my clients.
The other profitable way I landed a side hustle gig was on Facebook. I reached out to mompreneurs I knew and asked if they needed help with their email writing.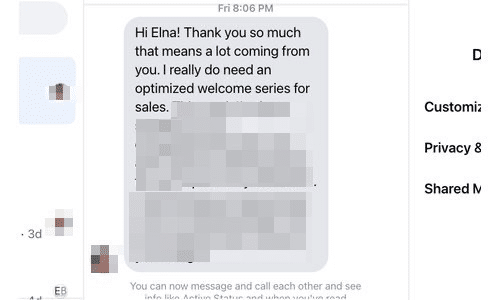 I also have a huge Facebook group of women with side hustles and full-time home businesses that I could reach out to. Still, at this time, I'm not doing any overly promotional Facebook Lives or posts in my group about my service.
Instead, I will reach out to certain women that I feel would be a good fit for my service.
What I Offer
Right now, I'm offering a 4-day or 5-day welcome series or a small launch funnel or flash sale funnel.
My rates are standard for email writing, but my goal is to increase my rates over time. I do talk more about this in my private Facebook group for Writeto1k students!
I write my emails in Google Docs and share my emails with my clients.
My client can edit the email or tell me any changes they want. Usually, my clients are happy with my results but I'm more than happy to change and tweak the email as I go.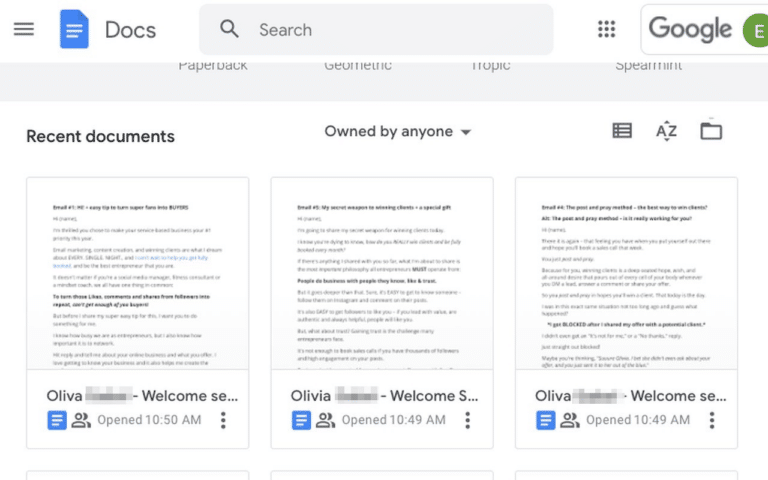 Once I submit 75% of the work and know my client is happy with our relationship and my writing, I will invoice my client.
I ask for their Paypal address and where they live, and I send my invoice. I've had no problems with getting paid on time for my side hustle – even though I'm a woman.
According to Bonsai, it's more likely – up to 31% – for women to be paid late than for men. But, I don't have that problem yet.
Qualifying your clients is essential for this point. Since I have had previous connections or known about these women, I know their side hustles are profiting and are consistently sharing value on social media.
They've also connected with me by commenting on my posts, being on my email list, or enrolling in my courses.
My Side Hustle Plan
So, what's in store for me now?
While email writing is truly only a side hustle for me, I will continue to build up my expertise as an email writer, increase my rates and eventually work with notable brands.
From there, I may pivot my entire freelance writing business to email writing strictly, but only time will tell.
So, if you are brimming with excitement on this new way to make money from home, let's explore side hustle for women.
14 Side Hustles for Women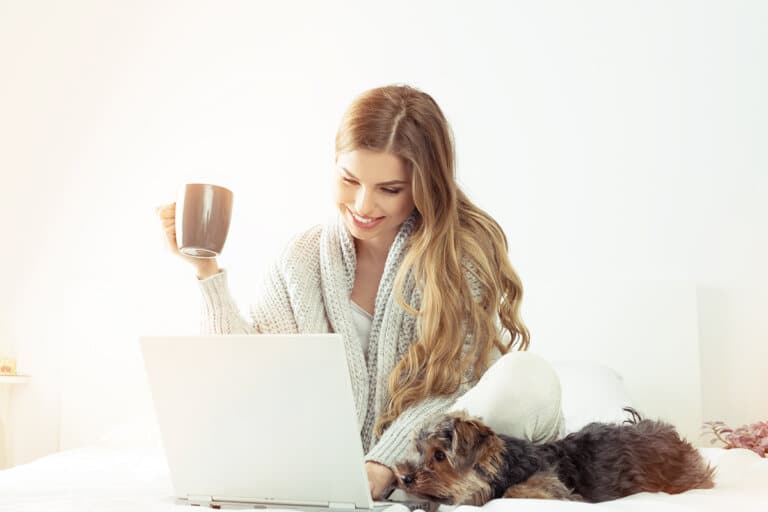 Did you know that 78% of freelancers online are women?
Do you know what this means?
It means there are plenty of side hustles for women out there.
To get started, here's your side hustle checklist:
A business Paypal address
Optional: set up a sole proprietorship (but you usually don't have to)
Register your business with your local city if you aren't using your name as the side hustle (for example: Tiny Tots Pre-K)
With that out of the way, let's look at these side hustles made for women that you can start today and make money.
1. Virtual Assistant
An easy side hustle for women is a virtual assistant position.
If you are a Type A woman, then this is the perfect side hustle for you. As a VA you can be responsible for a whole host of services – many that are stand-alone side hustles:
Writing
Managing customer emails
Marketing
Social media
Outreach
SEO
Networking
Editing
Video editing
Graphic design
Pinterest management
WordPress tech
Copywriting
The list of side hustles can go on and on!
The thing to remember is, to be a profitable VA, you need to specialize in one service like Pinterest or like email or like writing.
As a VA, you would charge by the hour or by a set package rate – $500 per month for four blog posts, 3 emails, 8 social media graphics.
A great way to start landing clients is to network in Facebook groups. Find a group with your ideal client – bloggers, entrepreneurs, authors, coaches – and then offer help in your posts.
Over time, you can reach out to certain people and let them know of your new side hustle.
2. Blogger
Everyone and their dog wants to be a blogger, eh?
I absolutely love blogging. From personal blogs to craft blogs to tech blogs and more, there is a large potential to make money blogging.
The one thing to remember is that blogging isn't a quick "get rich" side hustle.
You have to work on your blog every day and use content to build your success as a blogger.
Your writing, blog posts and email list all can help you generate sales with affiliate marketing, your sponsored content or your eventual products.
It is possible to make money as a blogger in the first month, but generally, it can take up to a year to see profits.
3. Freelance writer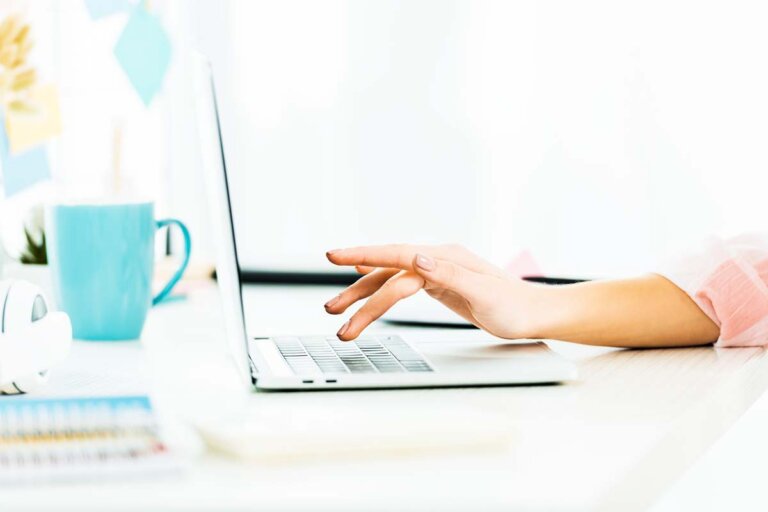 A better and quicker way to make money blogging is to offer your blog writing to businesses.
This is exactly what I did, and I made my first $1k in months of starting.
What's great about offering blog writing is that its recurring income. A business needs blog posts every week or every month and you can be their writer.
As well, depending on your client, you can make hundreds or thousands per blog post.
If you need help, I do have a free email course to help you land your first client!
4. Social Media Manager
Another side hustle perfect for women is social media manager.
If you live on social media – and who doesn't nowadays! – you can manage social media accounts for other bloggers, entrepreneurs or small business owners.
As a social media manager, you might be responsible for:
If you love schedules and lists, then being a social media manager can be your side hustle.
5. Website Designer
If you dabbled in computers and in high school or college, you might have done some websites or designed some websites back then.
Well, as women, this side hustle taps into your creativity and your eye for design. There are many women behind the chic and cute website themes you see online.
Go ahead and offer this service to other bloggers, entrepreneurs or local businesses and watch your money grow.
6. Youtuber
A cool way to start your side hustle is to have a Youtube channel!
There is money to be made on Youtube. I started my Youtube channel years ago, but it's just recently that I want to monetize it.
To monetize your channel, you need at least 1,000 subscribers and 4,000 watch hours for that year.
To achieve that, you need to publish consistent videos. I feel 2-3 videos a week will get you there fast!
My channel currently generates $300, but other Youtubers make thousands a month. Here's a video from Annie Dube on why starting a Youtube channel as a side hustle is great for this year.
7. Coach
A great brand builder is offering coaching services to your audience. There are many women online as business coaches.
You can just run a quick LinkedIn search to see: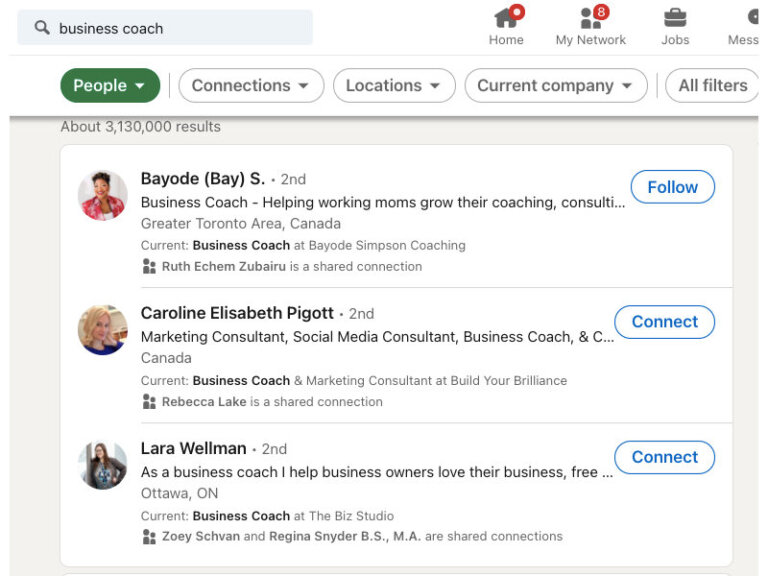 Don't get intimidated by this!
This is great news for you because it shows you that coaching is a viable and profitable side hustle to offer as a woman.
As well, there are soo many different ways you can help your target audience. You can be a:
Health coach
Postpartum coach
Sleep coach
Business coach
Client coach
Podcast coach
Life coach
Wellness coach
Blogging coach
Financial coach
Freelance coach
Career coach
Many coaches also result from blogging. For example, you can start a frugal living blog and provide budget templates and budget advice.
From there, your audience and email subscribers may be asking more questions or wanting more help from you. At that point, you can offer financial coaching to your audience and, over time, make your entire business as a financial coach.
Marketing your coaching side hustle can be as easy as blogging about it and promoting it on social media.
And once you gain some leads, you can set up a coaching call or sales call to see if this person is a great fit for your business.
8. Illustrator
I love designing pin graphics! They are my jam, but there are other ways to make money with your design skills.
If you truly love art, why not do illustrations and sell that on Etsy or online? This is a perfect side hustle for women.
Ashley Lucas of Linzerlane provides whimsical and beautiful illustrations for children.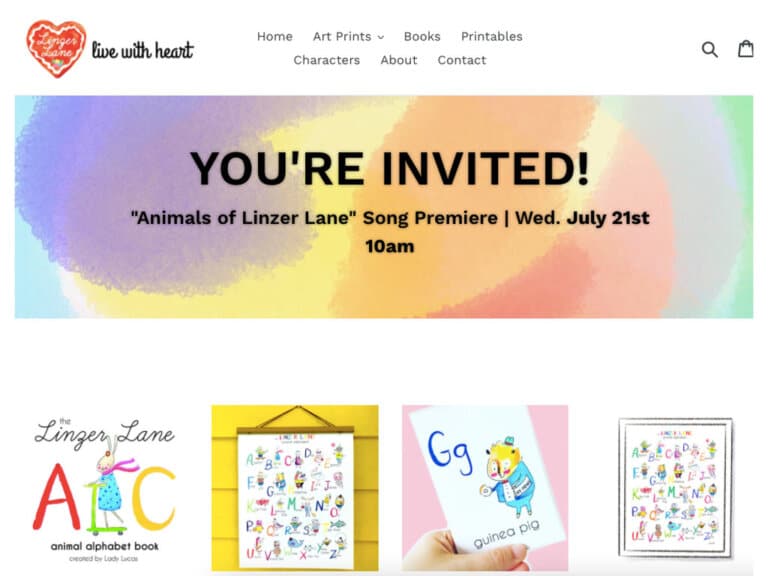 There are a whole host of products you can design out of your artist mind:
Books
Posters
Notebooks
Stickers
Planners
Wall art
Wallpaper
Coloring books
Paper dolls
Wall Garland
For more ways, check out this post on how to make money as an artist.
9. Tutor Online
Virtual learning has been popular since COVID-19 hit the world.
More and more people are adopting online learning and tutors are benefiting from this new way of teaching. If you are a teacher, why not offer your English skills or Science skills as a tutor?
This is a side hustle where you can work from home while helping people worldwide.
10. Write a Book
Have you ever imagined being a New York bestseller?
It IS possible and easier than ever before. With self-publishing booming online, it doesn't take much to get your book selling on Amazon.
If you have a unique story to tell or want to teach something, a book can help you share it with the masses. You won't get rich off of this side hustle, but you can make a healthy side income if you publish multiple books over the years.
Julia McCoy is a content marketer and mom, and she's published many books on her knowledge on content writing and wrote a memoir about her upbringing.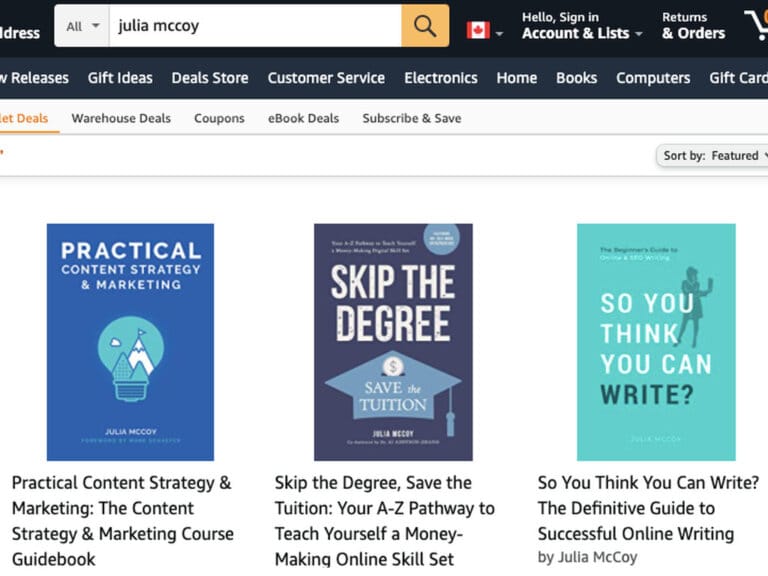 11. Sell a Course
One of the best side hustles you can do is to offer a course. This is a product you create and sell on your website or blog, or course platform like Teachable.
Courses are written or done via video and it can be as easy as a one-hour video presentation or as complex as 58 lessons and video tutorials.
Over the years, I've created comprehensive courses and quick masterclass courses, which generate sales daily.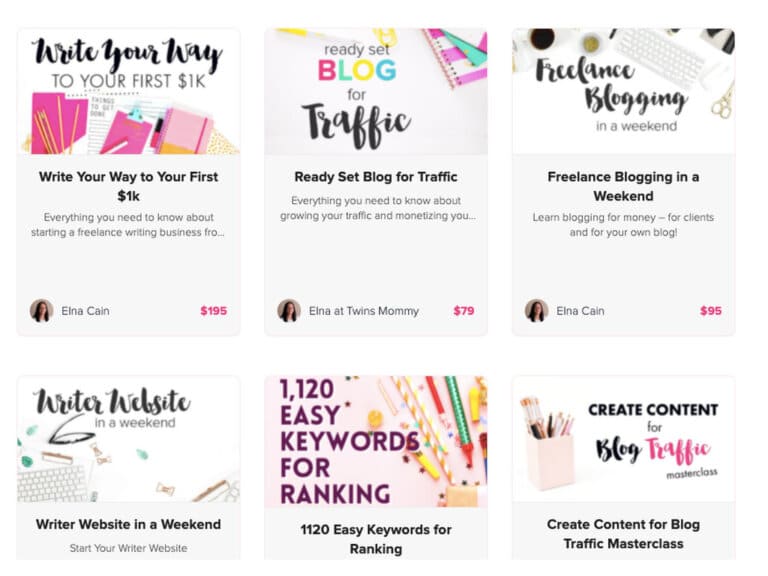 To sell courses, you need to build your brand and grow your blog to build an audience that wants to buy your knowledge.
This might take you years, but I've seen some people do it in less time.
This is a long-term side hustle that can very well turn into a full-time business for you.
12. Design Logos
Along with being an illustrator, if drawing isn't a strong skill you have, and, instead, you like using tools like Adobe Illustrator or even Canva, you can take your love of designing to creating logos for entrepreneurs, small businesses or solopreneurs.
This can be an easy side gig to set up with very little overhead costs.
Over time you might find other things to design besides logos like watermarks, branding templates or branded graphics.
13. Sell Educational Resources
If you're a teacher, another awesome side hustle for women you can start is to sell educational resources for children.
More and more moms are homeschooling and many children are opting for virtual learning during COVID-19. This means moms are actively searching online for pre-k resources, kindergarten resources and elementary school resources.
Why not be that woman who sells educational resources for moms to teach their little ones?
Heather of Kindergarten Ready Skills does just this on her website!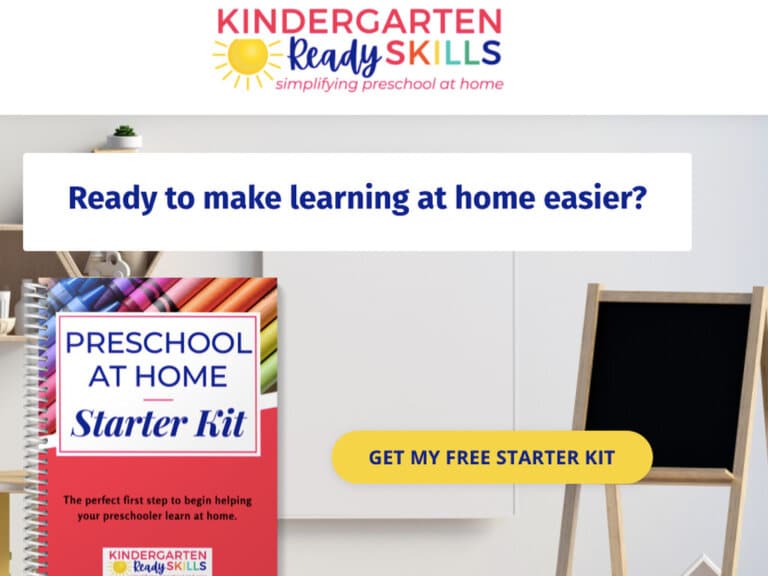 14. Sell Printables
And, one of the last ways women can start a side hustle is to make and sell printables.
While a 1-pager printable is great to grow your email list, you can sell this easily on your blog if you create a multi-page printable or bundle several printable packs.
It's Your Time to Get a Side Hustle Woman!
There ya go!
Fourteen amazing ways to have a side hustle and start making money online or with your blog as a woman! And you know what?
There are even more side hustles I didn't even mention like making crafts to sell or making mason jars to sell.
I hope this inspired you! I know as a mom, I have absolutely loved blogging and freelance writing, and I want to help you succeed as a mom or woman wanting to start a blog and start a side hustle!
Over to you – do you have a side hustle? Let me know in the comments! I love looking at other successful women with their side hustles!