Do you remember how excited you would get as a child when the glue and scissors made an appearance at school?
Maybe you remember your mom and her friends sitting around quilting, tole painting, or knitting.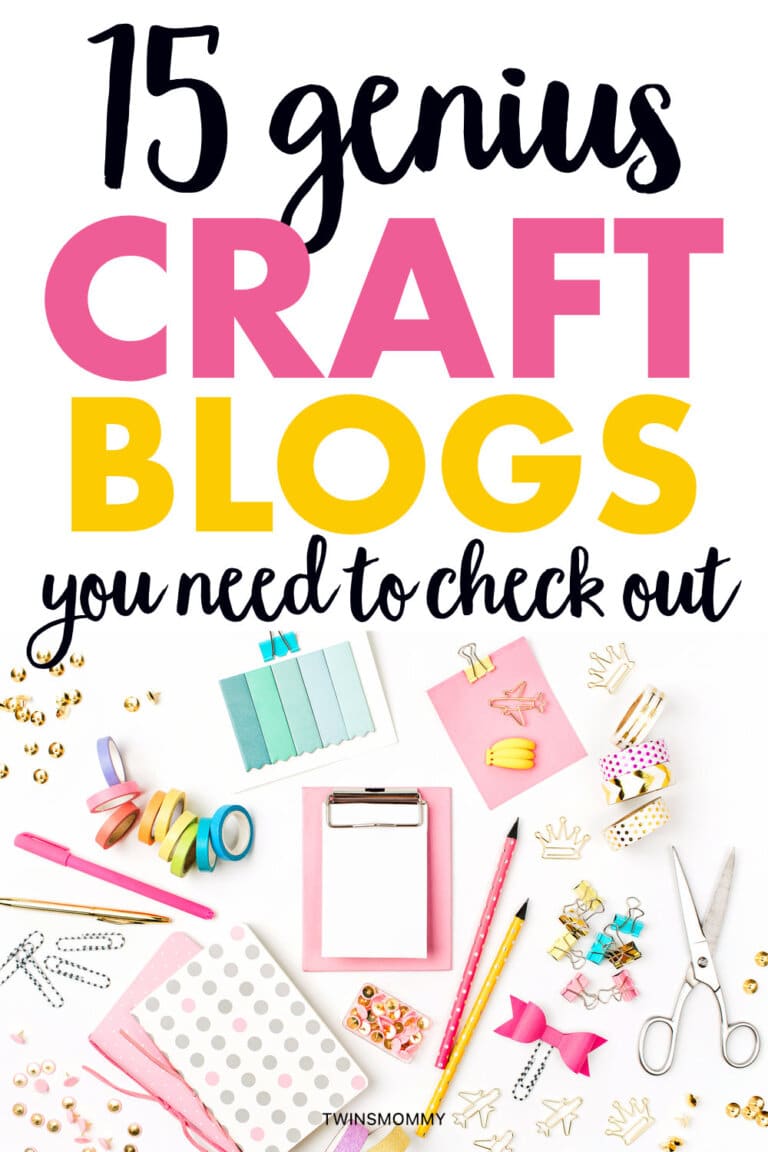 There's something wonderful about combining the creativeness of crafting with the comfort of socializing or even spending quiet moments alone.
Even though I'm a busy blogger and freelance writer, knitting is a hobby I love to do in my spare time.
I actually started knitting as a way to feel productive while I was pregnant with my twins and on bed rest.
And the beauty of crafting is that there are so many projects ideas and inspiration, from knitting to paper crafts and home decor to beauty products.
It's no wonder the crafting niche is booming!
If you're an avid crafter, or looking for a new niche to explore, here are some craft blogs you should definitely check out for inspiration:
Why Are Craft Blogs So Popular?
Crafting has been around for nearly as long as humanity has.
However, whereas early humans crafted to create useful tools for survival, we now have the luxury to craft simply to create something new and unique.
Not only are we more interested in crafting nowadays than we have been in a while, but more consumers are also seeking out handmade items.
Look at how popular the site Etsy has become over the past few years – people want high-quality and unique products.
This is good news for craft bloggers who can easily turn their passion into a side hustle and eventually a full-blown business!
Overall, crafting gives people the opportunity to engage in an activity that is physical, tactile, and stress-relieving.
Making crafts is a great way to stay away from screens while spending quality time with yourself, your friends and family, and your children.
For all of these reasons, more and more people are browsing the web for craft ideas – hence the popularity of craft blogs!
So, if you have a passion for crafting, you also have an opportunity to create a blog that can potentially earn you some money. Here's how.
How to Make Money From DIY Craft Blogs
I know I've talked about the different types of crafts you can make and sell online but creating a DIY craft blog is another way to monetize your abilities and passions!
Before you start a craft blog, you need to decide whether or not you want to focus on a particular niche.
Some people are very successful in running a lifestyle blog that includes DIY crafts.
Others prefer to focus on a more specific niche to create papercraft blogs, crocheting/knitting blogs, etc.
Once you figure out your niche and get your blog set up, here are some craft post ideas:
Easy-to-follow, step-by-step tutorials.
Reposts from fellow crafters (with permission, of course).
Focus pieces on your favorite crafting material or tool.
Craft book reviews.
Address popular crafting challenges.
Once you get going on content and gain some traffic, you can monetize your blog and start earning an income!
The best way to do this is to sign up for an affiliate program where you can promote and sell the same materials and tools you use for your craft projects.
You can also get involved with ad networks and display craft-related ads.
You can also directly sell the products you make either on your site or through Etsy.
After your blog has gained some footing, you can reach out to brands and offer to write sponsored posts.
This means that a company will pay you to write about their product or brand and can eventually lead to you becoming a brand ambassador!
Lastly, you can design online courses that will help your readers learn how to craft or write books containing all of your amazing crafting ideas and tutorials.
The great thing about these two products is that once you've created them, the majority of the work is done and you simply wait for the sales to come in. Yay, passive income!
Now that you have an idea of why craft blogs are so popular and how you can make money by having one, here are some DIY craft blogs you should definitely check out for ideas and inspiration:
16 Craft Blogs You Need to Check Out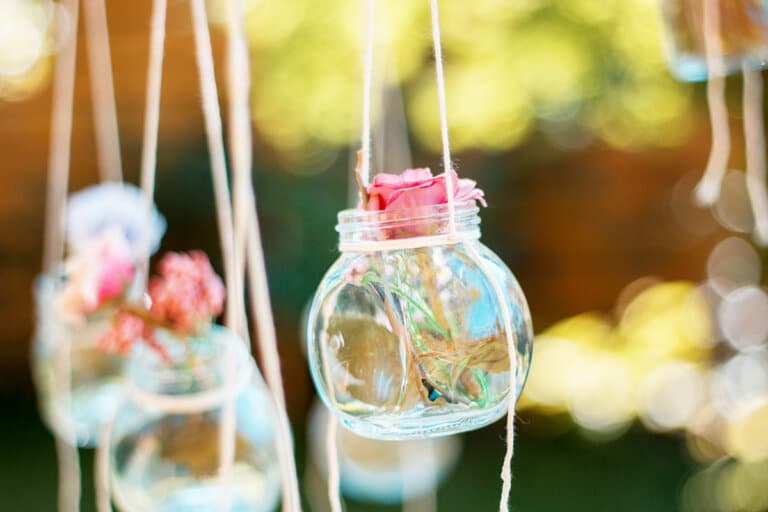 1. A Beautiful Mess
Sisters Elsie and Emma have created this wonderful craft blog that includes over 12 years of recipes and step-by-step tutorials for crafts, home decor projects, and recipes.
They create and write most of their content right from their own homes but also work with contributors.
2. Lia Griffith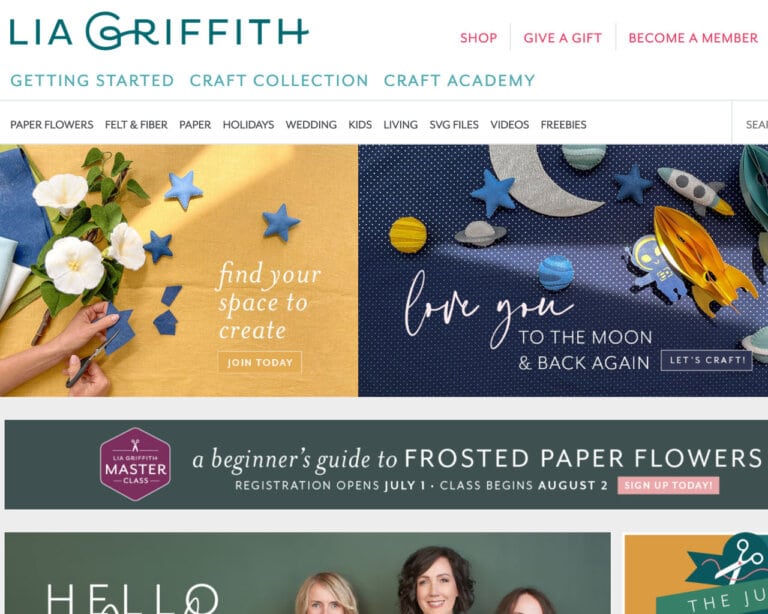 Lia Griffith grew up in a family of artists where everything they did was DIY! Her blog focuses on living a handcrafted lifestyle and she believes that anyone can be creative.
This DIY craft blog walks you through the entire process of being crafty from learning the basics to sharpening your craft skills.
3. Heart Handmade
Heart Handmade was created to provide craft ideas that can improve your mental health.
Their team provides creative craft ideas, craft room ideas, and access to art therapy resources.
If you're looking for inspirational papercraft blogs, this site includes papercraft ideas as well as crocheting instructions and patterns and decorating tips to spruce up your home.
4. Honestly WTF
A fashionable and current lifestyle blog, Honestly WTF features a DIY section that will guide you through many creative projects such as ice dying, cross-stitching, and macrame.
Co-founder Erica has a passion for design and craft and previously worked in the art industry.
She has an extensive background in jewelry and accessory design.
5. P.S. – I Made This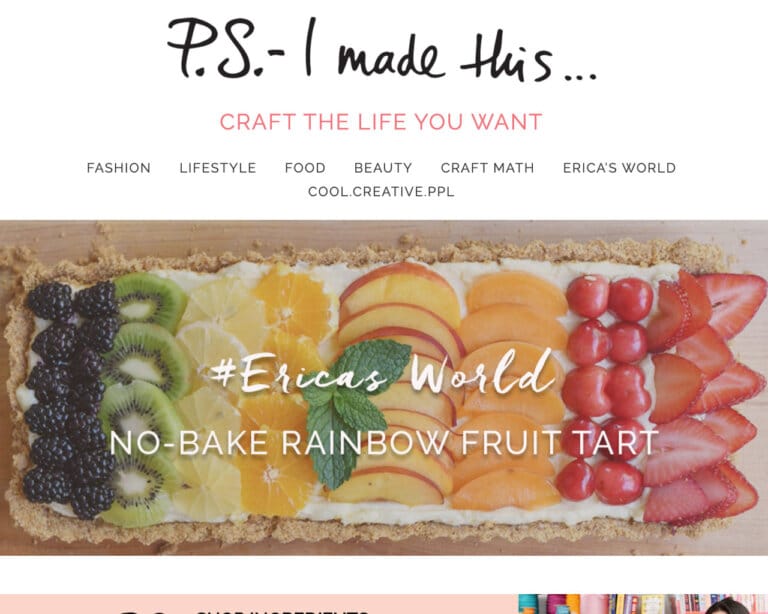 P.S. – I Made This is all about crafting the lifestyle you want and helps people find their inner-creativity as well as embrace a DIY lifestyle.
This DIY craft blog features hundreds of projects with easy-to-follow instructions and digital content. It will also guide you through the products and tools you need to get crafty.
6. C.R.A.F.T.
C.R.A.F.T. stands for "Creating Really Awesome Fun Things" and this is exactly what this blog offers!
This site will take you back to some crafting basics as well as offer free printables, DIY costumes ideas, and craft projects you can do with the kiddos.
7. Lovely Indeed
Lovely Indeed is a lifestyle and travel blog that also features craft posts for your home, the kids, and office as well as DIY ideas for holidays, beauty, and even party and tabletop games.
You'll also find a section for printables such as chore charts, greeting cards, and labels.
8. Yarn Harlot
Stephanie of Yarn Harlot has been writing about her life and passion for knitting for over 14 years! This blog is a perfect example of how to share personal insight while providing crafting ideas and instructions.
This site has a very basic layout but a huge following.
9. Paper and Stitch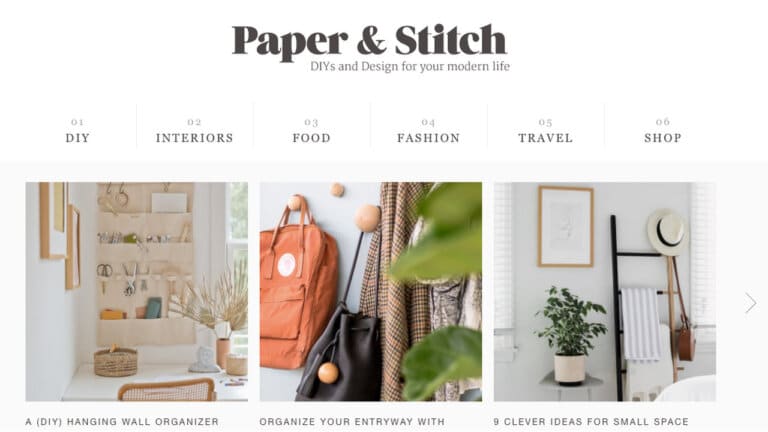 Paper and Stitch is another wonderful example of including crafts and DIY into a lifestyle blog.
This site has tutorials, projects, and posts that give a modern twist to retro and class designs.
Even though there are other subjects addressed on this blog, you can really see how the owner's personality shines through.
10. Flamingo Toes
Apart from the super cute name, Flamingo Toes mixes modern and vintage when it comes to DIY, crafting, and sewing.
On this DIY craft blog, you'll find ideas for making jewelry, refinishing furniture, and sewing projects.
11. A Little Craft in Your Day
A Little Craft In Your Day proves that you don't have to be a millennial mom to run a successful craft blog!
Owned by two teenagers, this blog was created to introduce and encourage teenagers and kids to get excited about DIY in a world full of mass-produced products.
12. Crafterholic
Siteowner Fern is a self-proclaimed crafterholic and her blog of the same name showcases her addiction with tutorials, articles, and amazing DIY ideas.
Along with sharing the beautiful and crafty things that she finds aspiring, Fern also interviews people who make homemade items.
13. Rosyscription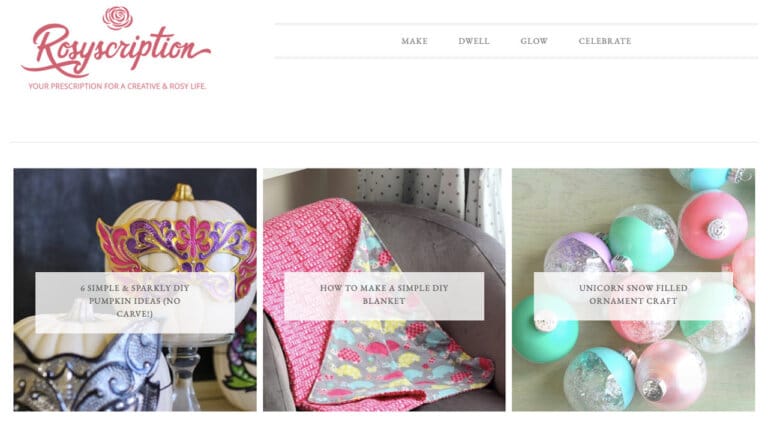 Rosyscription is described as a "prescription" for a rosy and creative life.
Shannon, the woman who runs this blog, is a pharmacist who dedicates her spare time to her DIY craft blog.
From home decor to crafts for kids, this blog shares all kinds of easy-to-follow DIY projects.
14. Gluesticks
Every crafter, both novice and expert, can appreciate the importance of a good glue stick!
This blog was created by a mother of five who finds her happy place among scissors and glue sticks.
After the birth of her first son, Brandy spent her time at home being creative during nap times and focuses on how living a DIY lifestyle is a learning process filled with both wins and fails.
15. Girl, Just DIY!
Girl, Just DIY! is another craft blog that celebrates the successes and failures of crafting.
The projects on this blog are the result of 20+ years of experience with home improvement DIY projects.
Over the years, blogger Toni's tastes changed and she grew tired of playing it safe with her decor. Her ideas and inspirations are anything but boring and she believes that adding new things to your life doesn't have to cost a fortune.
Let's Get Crafting!
With so many amazing craft blogs out there to give you inspiration, are you ready to get started in this super popular niche?
Or maybe you feel compelled to grab your glue gun and get creating!
Either way, if you're passionate about crafting, you can certainly start a blog about it.
And, with some dedication and elbow grease, you could find yourself profiting from your efforts.
For more help here some crafting as a mom blogger for you:
Don't worry about covering a multitude of crafting projects on your blog.
Just start with some items that you are really good at making and go from there.
Your blog can even be a chronicle of your journey into the crafting world.
The possibilities are endless!
Now it's your turn – Let me know in the comments if you are interested in starting a DIY craft blog or, if you already have one, share the link with us!