Do people still make quilts?
Are people blogging about quilts?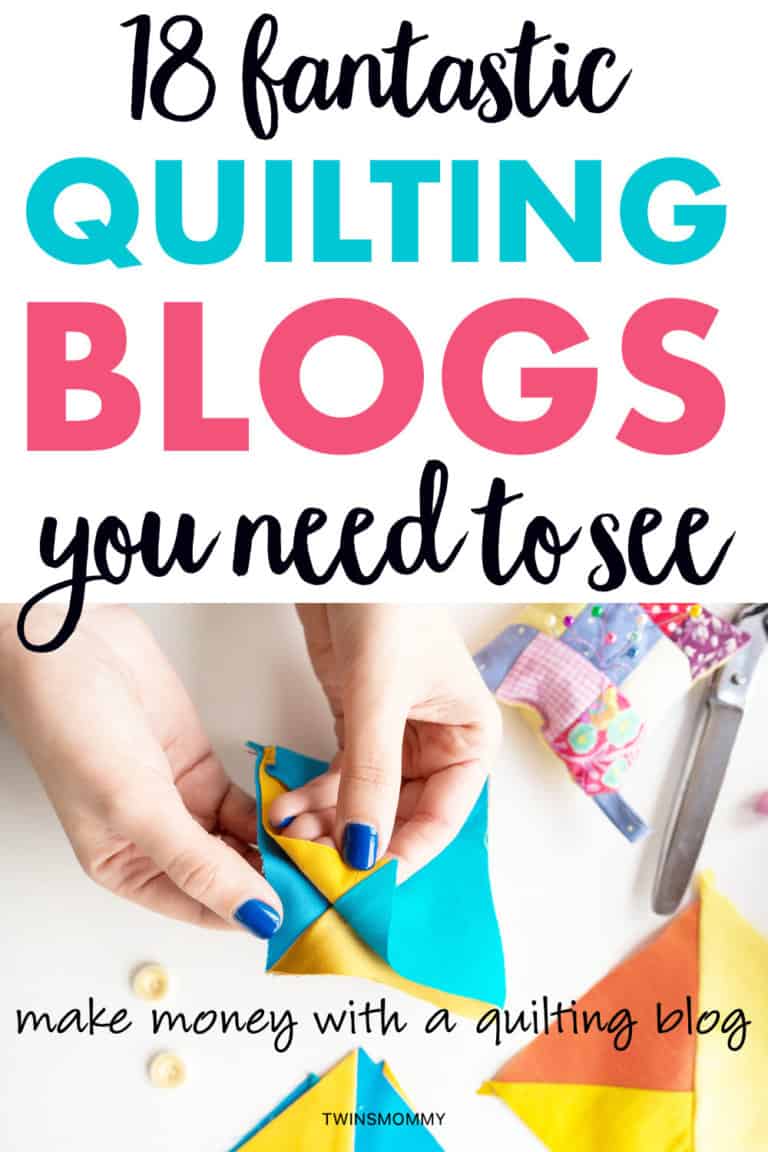 You bet they are!
Quilting is a great way to make and sell right at home!
And if you don't know, the quilting niche is well alive on social media and a popular topic on the internet.
So, if you're a quilter looking to start a blog in this niche, you're in luck!
Or if you are simply looking for some fantastic quilting blogs to follow because you quilt or are looking for a side hustle at home, you're in luck as well!
Some of my favorite cozy blankets are handmade quilts, so I was really excited to dig into these blogs and see what they are all about.
Before we get into the quilting blogs you should follow, I want to share some stats with you that show that quilting is still popular.
Is Quilting Still Popular?
Quilting seems like such a traditional pastime that you wouldn't think it was popular today – but you'd be surprised!
I recently updated my Easy Keywords for Ranking course, and while looking for popular niches to add, quilting kept popping up.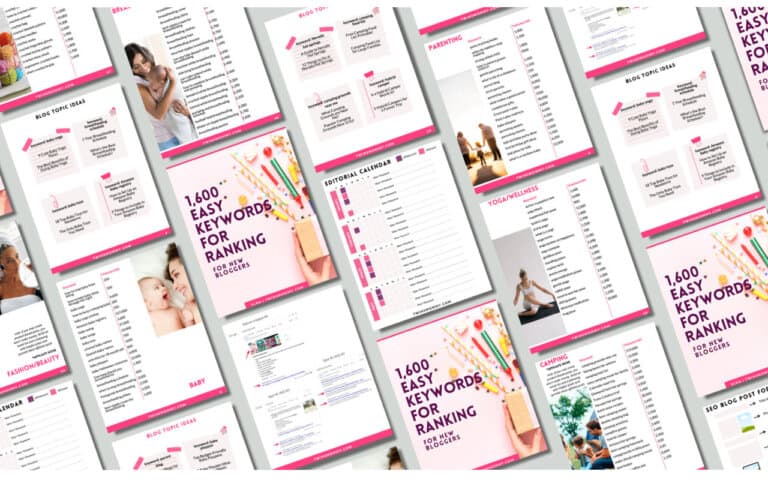 I was kind of surprised, but it all makes sense when you look at the data!
For instance, in 2020, the estimated size of the quilting market in North America was $4.2 billion – up from $3.8 billion in 2014.
Maybe COVID encouraged people to take up this hobby, but the majority of quilters are retired females, and that number also rises yearly.
Many start quilting at a young age, but some pick it up later in life.
For me, I took to knitting but quilting sure looks like a relaxing past time for this busy mama!
So, if you're thinking about starting a quilt blog, go for it! It's a growing industry with a growing audience.
To get you started, I made a list of quilting blogs you need to follow.
Following quilting blogs is a great way to find inspiration as well as network with other quilting bloggers!
I also want to go over what quilters blog about to give you an idea of what topics you can include on your blog.
Let's get started!
What Do Quilters Blog About?
Now that we know that quilting blogs are indeed relevant let's look at what quilting bloggers write about!
1. Tutorials
One of the main topics on quilting blogs is tutorials.
Many readers interested in quilting are looking for step-by-step instructions on how to make quilts, whether they are looking for a beginner tutorial or more advanced methods.
Overall, the majority of quilting blogs out there feature different quilt-making processes from start to finish.
Here are some quick blog topics on tutorial-based blog posts:
How to Bind a Quilt
How to Quilt by Hand
How to Wash a Quilt
How to Hang a Quilt
2. Patterns
Another popular topic that quilters blog about are patterns.
Many will offer a few free patterns to attract readers to their blogs while encouraging them to review the patterns and comment on them.
Some will sell patterns, which can be more lucrative than selling finished quilts.
For ideas for this type of blog post check out what I have:
Yo Yo Quilting Patterns
Boys Quilting Patterns
Pinwheel Quilting Patterns
Teddy Bear Quilting Patterns
3. Reviews
Quilting bloggers will also post reviews to help their readers find the best equipment and materials.
(It's also a great way to earn money through affiliate marketing!)
Reviews can include things like sewing machines, threads, and fabrics.
It's also a good idea to target one brand of sewing machine or fabric and do a review on that brand.
Make sure to take photos of the product and of you using it as a way to build more trust with your readers (i.e. you are not just reviewing a product you don't own).
4. Quilt Alongs
Quilt alongs involve a host sharing a pattern on their blog and then writing about their progress while encouraging their readers to follow along.
Think of them as a sort of challenge. Typically, quilting bloggers will set up a specified time and theme for their quilt alongs, with a defined end date.
If you have a quilting blog, this is a great way to build your brand and engage with your readers!
You can also use this idea to build your email list! With an email list you can create newsletters with special deals just for your email subscribers helping you make more money at home!
5. Finished Products
Some of the simplest quilting blogs mainly feature the blogger's finished products, with some walking their readers through the process.
Including finished products on a quilting blog is a great way to showcase expertise and build trust with readers.
If you find that your readers respond highly to these types of posts you can bundle these posts into a handy eBook and guess what?
You can sell that eBook and generate a few hundred to a few thousand per month!
6. Inspiration
Sometimes, quilting bloggers will share patterns and products that inspire them, which can lead to more engagement with readers.
This can involve sharing finished products from Pinterest or from other quilters' blogs.
You can easily do this with roundups. Every week write a round up post of your favorite quilting blog or Pinner and share their amazing projects!
7. Tips and Advice
The most unique quilting blogs don't only focus on how to quilt. They offer valuable tips and advice, sometimes not directly related to the process of quilting!
For instance, they may share advice on selling quilts at a craft show or tips on setting up a productive sewing space.
Some other tips and advice blog post ideas for your quilting blog:
Handmade Gift Ideas for Teachers
Easy Sewing Projects for Kids
Where to Donate Quilts
Quilting Blogs You Need to Check Out
Let's look at some popular quilting blogs to help you get some ideas for your own quilting blog!
1. Quilting Hub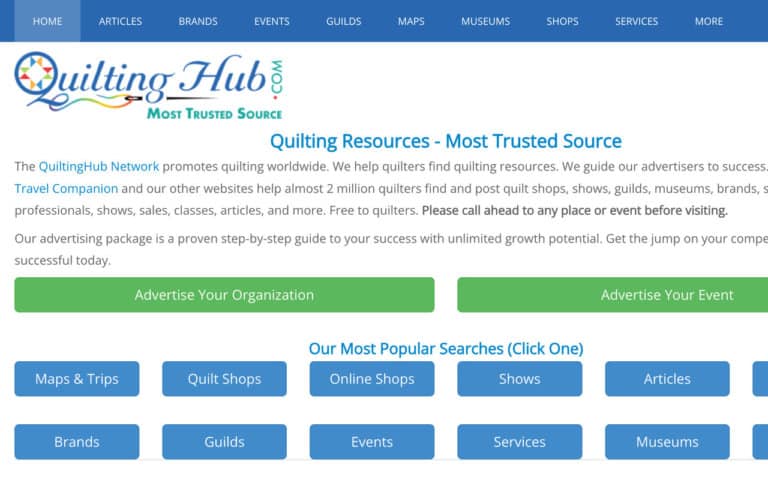 Perhaps one of the most popular quilting blogs on the web, Quilting Hub is a place for quilters to find all kinds of information about quilting.
There is also an online community where people can share and discuss their quilting creations.
2. Just Get It Done Quilts
This is a really unique quilting blog because owner Karen Brown not only shares tutorials and patterns but some amazing stash-busting ideas to use up scraps!
On Just Get It Done Quilts, you'll also find some very interesting information on color theory to help figure out what colors to use in a quilting pattern.
3. Patchwork Posse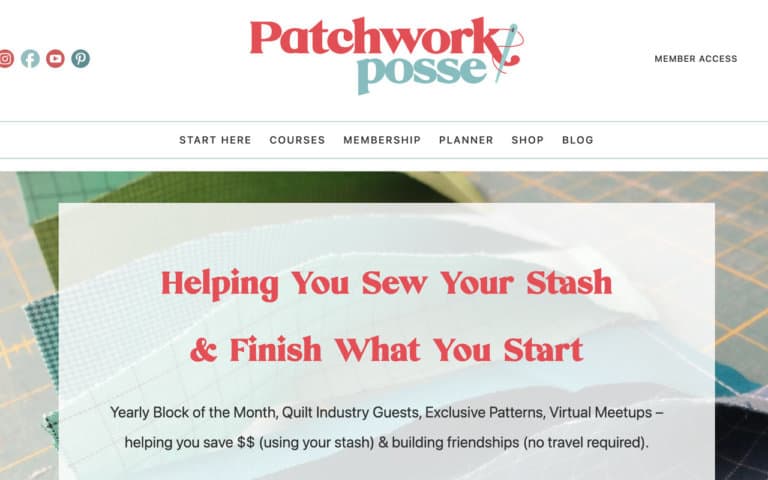 Patchwork Posse is a quilting blog that offers patterns and tutorials to beginners as well as those who have been quilting for years.
Owner Becky is also very active on social media and constantly engages with her followers.
4. Red Pepper Quilts
For almost 15 years, Rita Hodge has been running Red Pepper Quilts, a quilting blog for quilters of all skill levels. She offers tons of advice and beautiful designs and patterns. You'll also find tutorials, quilting tips and tricks, as well as a variety of other resources that can help you learn how to quilt.
5. Quiltville's Quips + Snips
Quiltville's Quips + Snips is a quilting blog full of patterns and tutorials. You'll also find stories and quips from the quilting retreats she hosts throughout the year. One thing I like about Bonnie's blog is that she's not afraid to tackle complicated projects.
6. Cluck Cluck Sew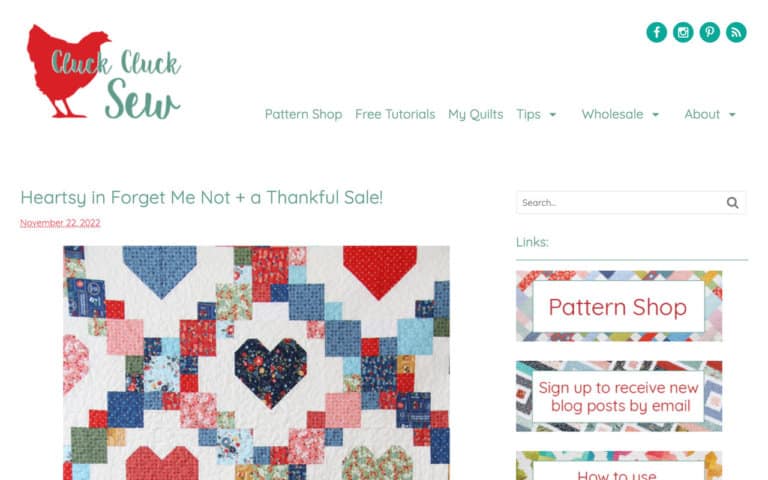 Back in 2007, blogger Allison started using the internet to keep track of her quilting projects. From there, she created Cluck Cluck Sew to share patterns, tutorials, and more. Allison also shares stories and tips about the quilting community, helping readers make connections and learn more.
7. Fresh Lemon Quilts
Here's another blog that's been around for quite a while!
Fresh Lemon Quilts offers ideas, patterns, advice, and tutorials. Owner Faith also hosts quilt alongs and sells beautiful patterns in her shop. Faith also updates her blog with occasional lifestyle posts about travel and other topics.
As you can see, quilting topics aren't the only thing you can share with a dedicated audience that wants to know about YOU, the blogger behind the blog!
8. Quilt Social
Quilt Social features a ton of free patterns and tutorials for beginners and those who want to learn new techniques.
You can also find reviews on sewing machines, fabric, and thread. The best part? Quilt Social is family-run, so you can find lots of projects for kids and parents alike.
9. Quilting is My Therapy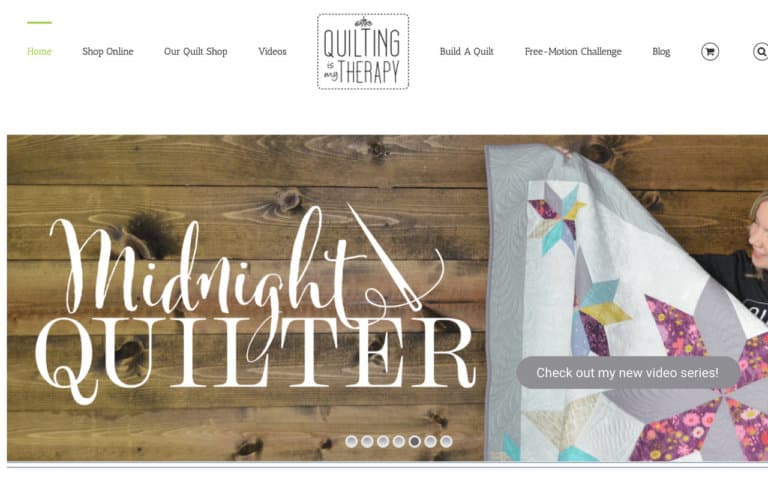 While this quilting blog focuses on machine quilting, it provides tons of inspiration and ideas for this type of quilting.
Quilting is My Therapy has an online shop, quilt alongs, and informative blog posts.
What I like the most about this blog is that it offers advice on how to quilt with a longarm machine. The tutorials are very detailed and easy to follow!
10. Lo and Behold Stitchery
This beautifully designed quilting blog features modern quilt designs created by owner Brittany Lloyd.
On Lo and Behold Stitchery, she has a fresh take on traditional quilting patterns and also offers a beginner's course for those who want to get started. This is perfect for those who want to start quilting without having to learn all the techniques.
11. Amy's Creative Side
Amy's Creative Side is one of those quilting blogs that has more than just quilting patterns!
This blog will give you great information on how to organize your sewing room, creative affirmations, and more. If you want to know how to make your quilting projects look professional and polished, you can find the answers on this blog.
12. A Quilting Life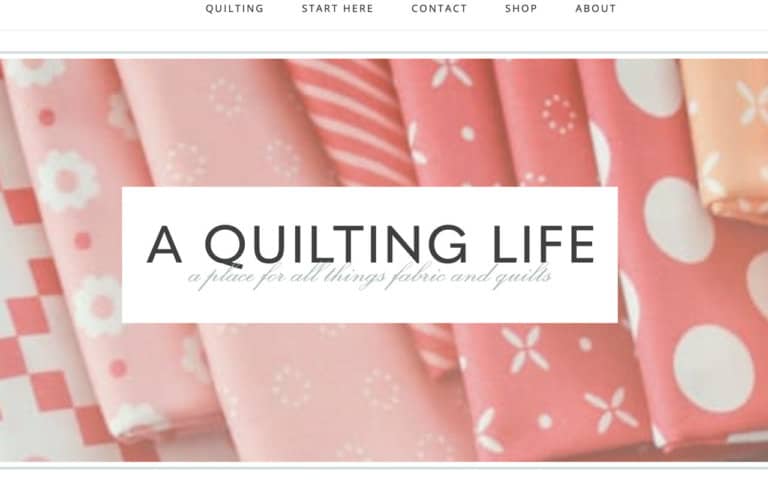 Blogger Sherri has been quilting for over 20 years, and on A Quilting Life, she provides useful tips. She also runs other crafting blogs that she links to in her content. Her quilting tutorials are easy to follow and include plenty of photos. You'll also love her quilt patterns, which are beautiful!
13. Laundry Basket Quilts
Laundry Basket Quilts (love the name!) offers some amazing quilt ideas along with advice on how to combine colors to make beautiful designs. You'll find free quilt patterns, tutorials, and more. The blog is owned by Edyta Sitar, a world-renowned fabric designer.
14. The Crafty Quilter
The Crafty Quilter offers tips and inspiration, from tutorials and patterns to quilt alongs and tips. On this quilting blog, you'll find a ton of beginner-friendly tutorials and a shop where you can buy patterns. If you want to start you own quilting blog , you can see from this blog that it's achievable.
15. Suzy Quilts
Suzy Quilts is a quilting blog that features amazing resources, such as freebies, tutorials, helpful articles, and more.
You can also join some sew alongs or check out the Quilting 101 section to learn how to quilt.
16. Blossom Hearts Quilts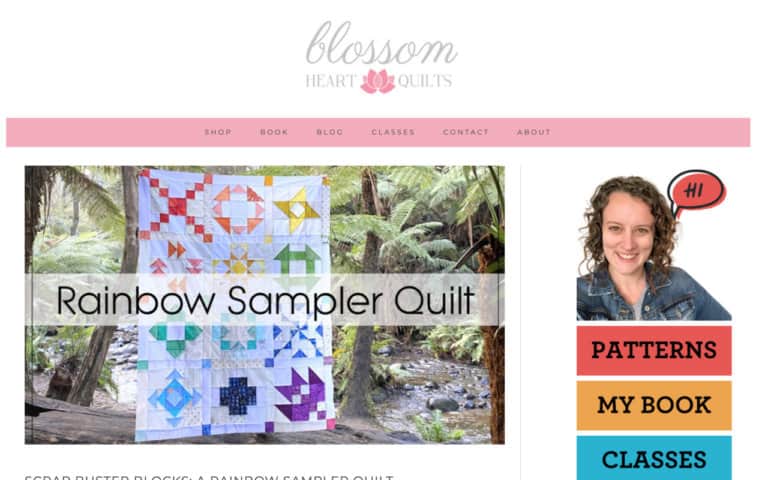 Blossom Hearts Quilts features a well-written and informative blog that includes tutorials and personal stories from owner Alyce about her journey in quilting.
17. Diary of a Quilter
Blogger Amy Smart has been quilting since she was a child and created Diary of a Quilter to share her knowledge with quilters of all experience levels.
She shares step-by-step instructions in a personal tone that readers love. I enjoy the beautiful photographs, quilting tips and techniques, and the variety of projects.
18. Quilter's Candy
Quilter's Candy is a quilting blog that offers tutorials and patterns, as well as project ideas and a unique course that teaches you how to create and sell your own quilt patterns. When you read the blog, you'll usually find posts about quilting techniques and inspiring stories from other quilters.
Check Out These Quilting Blogs!
Whether you are an avid quilter or curious about the craft, these are definitely some quilting blogs you need to check out.
Or, if you are looking to start a quilting blog, they are a great source of inspiration!
If anything else, they are visually stunning and can certainly be some well-needed eye candy during your day.
Now I want to know: Do you quilt, or are you interested in starting? I'd love to hear all about your hobby in the comments!
And don't forget to pin!