When you think about a blog, what comes to mind?
Do you see it as a diary of personal stories?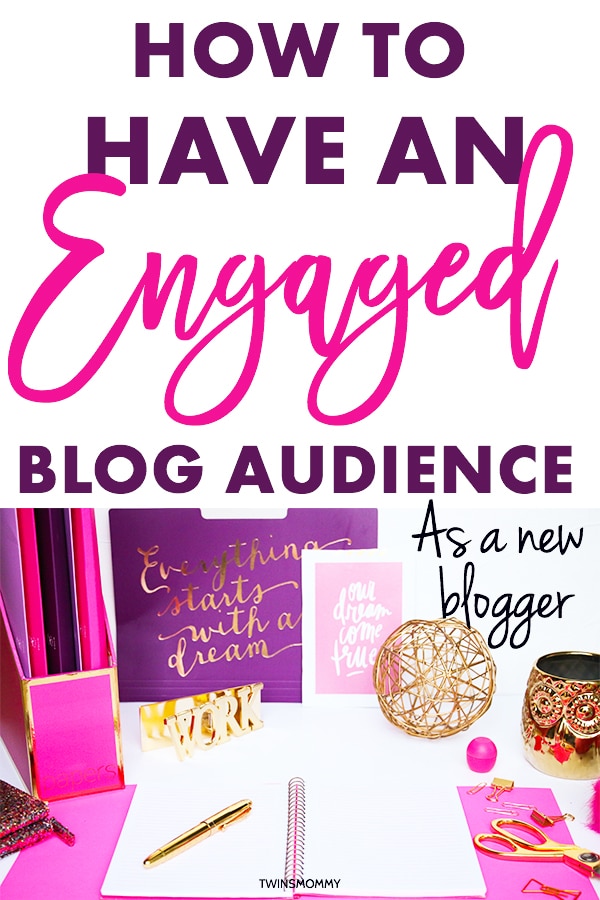 A place to learn from?
Or, do you find blogs a way to connect and feel a part of a group or cause?
A blog can actually encompass all of that and more – maybe that's why I love blogging so much that I have seven blogs!!
But, for a lot of new bloggers, when they start a blog, getting that type of action or engagement never happens.
No one comments on your blog, and the only people sharing your blog post is…you.
So, how come other bloggers that started around the same time as you have an engaging blog with a loyal tribe of followers that sign up to their email list and buy whatever they promote?
Having a sticky blog doesn't have to be hard! You can have this type of blog even if you just started a blog yesterday!
In this post, I'll share with you why having an engaging blog is important and the steps to having that popular blog where everyone wants to read and bookmark.
My Belief About Blogging
If you've been blogging for a long time and following big bloggers, you might notice something.
Many of these big bloggers suddenly stop blogging or they turn their blog into something that's no longer valuable or helpful for their audience.
Instead of how-to blog posts it's more "best blogs for x" or "My favorite x."
There are many reasons why a blogger might change their editorial calendar.
For example, when I started Twins Mommy, I really enjoyed reading Melyssa Griffin's blog.
Her tagline is – Entrepreneur and Blog tips.
She shared Pinterest tips, tech tips, and blog tips, and I devoured it all – and even signed up to her email list and free webinars.
But, over time, her content changed. She started a podcast, and her blog transformed to her podcast episodes.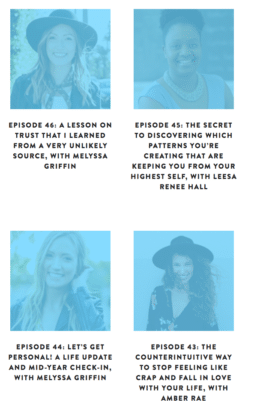 Now I'm sure her interviews are awesome, but I came to her blog to learn her tactics not someone else's.
So, I stopped going to her blog and reading her emails as they were no longer valuable to me.
And for Melyssa that's fine. Her audience is massive so she can afford to lose followers.
I also feel a lot of these bloggers no longer value their writing content and want to grow with another type of content like podcasting or video content.
And that's fine, too, but I personally believe a blog is a fantastic platform to get to know your audience and serve them consistently and over time.
Maybe I'm biased since I love writing and I'm a freelance writer and writing is a creative outlet for me.
But for me, a blog is:
A way to find your writing voice
A way to stay accountable to your audience
A way to be super helpful
A way to build a tribe of ambassadors
A way to work from home indefinitely
And, while you can have many of these things with a YouTube Channel or if you did Facebook Lives every week, you are investing in rented land.
You don't own your social media profiles or audience.
But, if you have a self-hosted blog, you control what you write and have the capability to write content that ranks #1 in Google or becomes viral on Pinterest.
And you can turn this audience into followers, subscribers, and buyers.
On one of my blogs, the majority of my sales come from a cold audience.
This means they find my post on Google or social media, read it, and then buy from me.
I know! Just writing that is insane to think about, but for some reason, my writing created a deep connection with them and made them trust me.
And I'm forever grateful for that opportunity.
This is what I want for you! I want you to have that engaging blog so that people can easily and quickly connect with you on a deeper level.
6 Steps to Having a Highly Engaging Blog
Having an engaging audience doesn't have to be difficult, but it does take some thought and understanding on your part.
If you don't understand your audience, you have first to figure that out before you can build a relationship with them.
1. Write Consistently (And Frequently)
To have an engaged audience, they need to be able to stay on your blog to develop that connection with you.
And this usually means having a lot of content on your blog – pages of blog posts.
So, if you're brand new and haven't written a blog post yet, this strategy has to wait! Get writing!
But, if you've been blogging for at least six months and only have a handful of posts, then you know what you need to focus on – not growing your email list or social media followers, but it's writing more blog posts!
Lately, on Twins Mommy, I've been writing less content each month. Instead of writing weekly, I'm now writing two posts a month.
This isn't great for website traffic or to engage my new readers.
I know when I find a new blog, I visit that site often to see if they produced any new content. And when they don't, I move on.
A blogging hack to get around writing consistently is to write long-form content.
You might do better having six 3,000-word blog posts than six 800-word blog posts.
Why?
Well, usually long-form content typically means it's valuable and has some great ideas.
All of my long-form content on this blog has thousands of shares and many comments, telling me that my audience values that type of content.
2. Reply to Comments
One of the most important things you can do as a blogger is to reply to genuine comments!
When you start replying to comments you start connecting with your audience and create a relationship with them.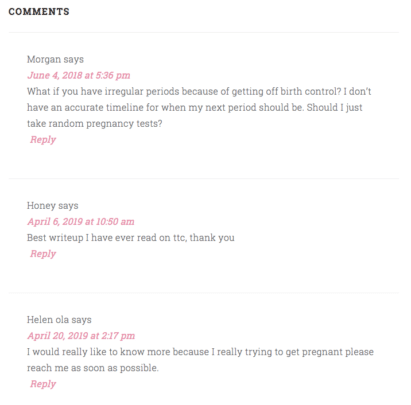 I know for me, I love hearing stories from other bloggers and offering any other tips or help if they ask in the comments.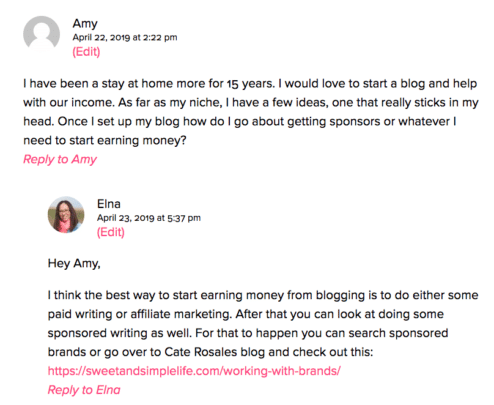 It's also very helpful for SEO too!
3. Start an Email List
While I mentioned your blog is a great platform to gain a deeper connection with your reader, your email list trumps all of that!
An email list is what can really help you identify what your audience needs from you and help you develop a plan for your blog.
Every day I answer questions from my subscribers, and this is one of the best things I enjoy doing for my business.
Before you start your list, make sure to read my guide on email marketing, so you know how to handle your email list.
And after you start your list, make sure you check out my free list building challenge to help you get your first 100 subscribers!
4. Answer the Problems of Your Audience
If your intention is to make money blogging, then your blog has to be the place where people can find answers to their problems.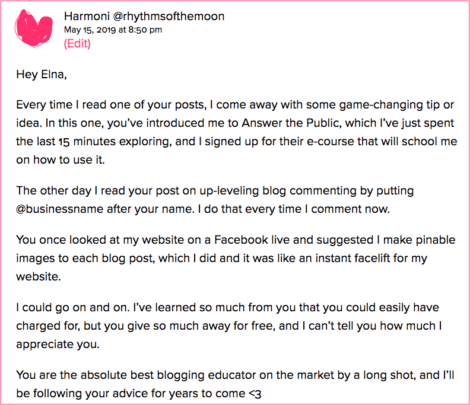 When your blog is their safe place to help them, they will trust you, identify with you, and want to tell others about you.
They become your tribe and loyal ambassadors.
A blog can help you achieve this when each piece of content can help your audience solve a problem they are having.
So, how do you find out the problems of your audience? Social media is where you'll find out.
Read Facebook group threads to see what your audience is needing help with the most.
5. Help Your Audience
One of the best ways to show your credibility in your blog niche is to provide help as much as possible.
This might mean doing Facebook Lives or starting a Facebook group.
Or, it could just mean answering questions in Facebook groups.
Recently I've been doing blogging q/a's and Pinterest q/a's to answer as many questions and help as many bloggers as possible.
6. Be Authentic
The best way to build an engaged audience is to be personable and authentic.
Now, you don't have to be very personable and share your name or your family. You can still be a little personable and build a strong community around your brand.
I don't share current photos of my twins on this blog. I also don't talk about my family much on this blog and only talk about specific instances.
I do, however, talk more openly in my emails about my family and what is happening in my life.
Doing this humanizes you and puts you at the same level as your audience.
If your blog is making money and you're doing well, you don't want to come off as "better" than your audience. Instead, you need to relate to them and show them that you still fail or make mistakes.
I often talk about my challenges as a mom on social media or in my emails. This shows my audience that I'm just like them and am no different.
Other ways to show authenticity is from income reports, your About page content, and by showing your face or profile as your Gravatar.
When You Show Up, They Respond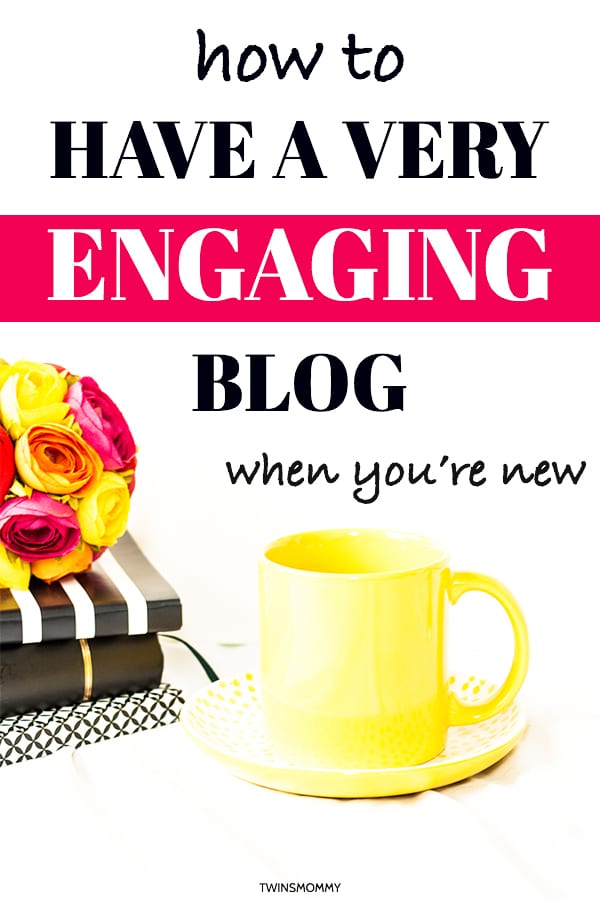 Blogging is a challenge for sure. It's a long road, and staying motivated is half the battle.
But, knowing that I'm building a loyal tribe gives me the confidence and motivation to keep helping them.
And, knowing that I helped only one person is enough for me! 🙂
I hope these tips will help you build a big and engaged audience for your blog!
Share with me in the comments your favorite tactics to engage your audience!
Please remember to pin me!