Hey mama!
Are you crafty? If you are, did you know you can make money with your crafts?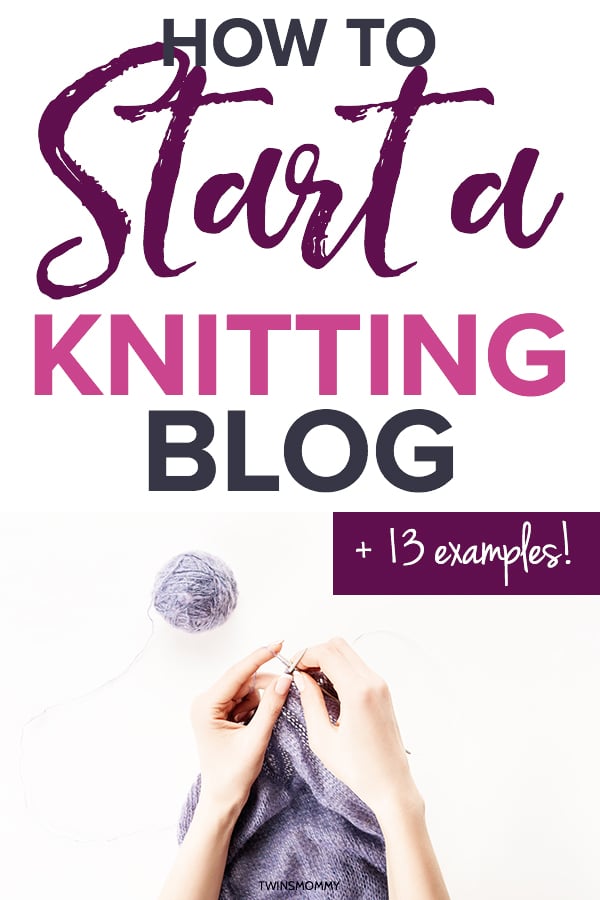 Knitting is one of the things I really love to do in my spare time.
It's creative and I work towards something I can use!
Also, it was was a productive time when I was pregnant and was on bed rest!
I think that's why when I had some free time I started a blog!
What I love about blogging is that you can take something – almost anything – that you're passionate about and build a business from it.
I say almost anything because there are some niches, like feminism, that you might be passionate about but will be a little more difficult to actually make money from. You gotta think problems and solutions.
Your blog is the solution to peoples's problems about something.
If there's a topic you are passionate about and you know others are passionate about the same topic, there's a good chance that you can build a money making blog from it.
So, if knitting is your thing, let's look at how you can start a knitting a blog and start making money with your knitting projects.
How to Start a Knitting Blog
First of all, if you aren't that familiar with knitting or aren't that passionate about it, then knitting might not be for you.
But, if you have just a basic understanding of knitting – like I do – then you can make beautiful knitted hats, scarves, mitts and booties.
And guess what?
You already are successful because you have a core niche idea – knitting. Many people that want to start a blog get stuck with finding a niche topic to write about.
But, since you already know that knitting is what you want to share, you will already succeed with blogging!
To position your blog for money, you'll need to be a step or two ahead of your audience. So even if you are not the best at knitting, as long as you know more than other people, you can start a blog about it.
Plus, you can always research and learn more as you go.
Finding Knitting Topics
But before you just start writing about random topics related to knitting, you need to do some research.
Go to Pinterest and or Google and type in "knitting," and see what the autofill options come up with.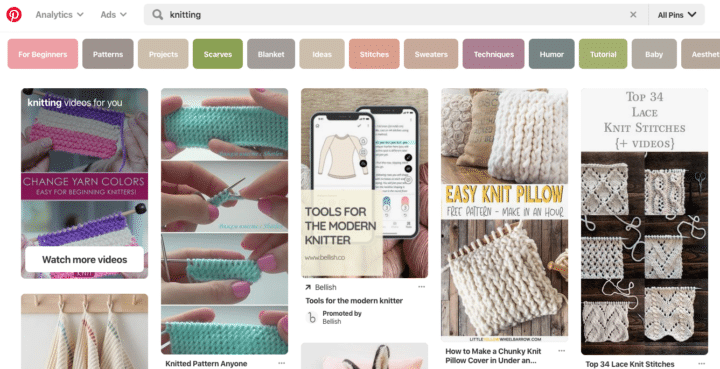 As you can see from the image just typing "knitting" into Pinterest you can some up with a whole host of ideas that you can begin writing about.
You can see these ideas as tiles under your search term in Pinterest.
Step-by-step knitting tutorial
Easy knitting projects
What you need to start knitting (tools and patterns)
Knitting projects for babies/teachers/moms/dads
The best part about these autofill options is that these are terms that people are actually searching. This means, this is information that people are looking for.
You can do the same thing with Google. Type "knitting" into Google, without hitting enter, and Google with give you some autofill options of what people are looking for.
This is what you should start writing about.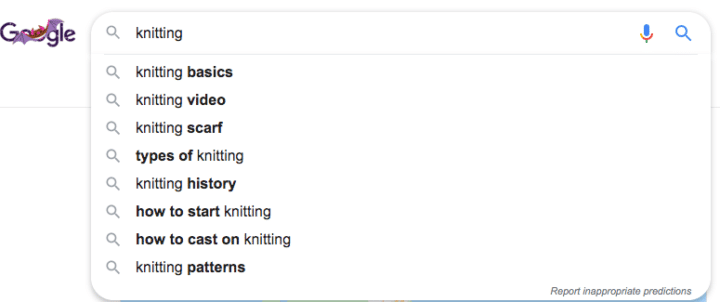 As you can see people are interested in the history of knitting, how to cast on, and knitting basics.
These make for some great blogging ideas.
Getting Your Blog Live
Once you have some ideas for blog topics for your knitting blog – around 25 ideas – it's time to put them out into the world!
There are two main ways to start a blog, with free hosting or self-hosted.
Every serious blogger self-hosts their website. This simply means that you pay another company for your own little piece of internet real estate.
If you aren't familiar with hosting, it's like buying a house rather than renting it.
When you buy a house, you can do whatever you want to do it. When you rent, you are limited in your capabilities.
I personally use and recommend Bluehost.
They are one of the most well known hosting companies and are used by many big name bloggers.
They offer incredible customer service and are so helpful even for non-techie people. Not to mention, they are incredibly affordable.
Figuring Out a Blog Name
Once you've purchased your hosting, you will also need to come up with a domain name – a blog name – this is the address for your piece of internet real estate.
Don't overthink it too much. If at all possible, try to get your main keyword (if you are blogging about kitting, it should have something to do with knitting in the title) in your domain name.
Take a look at some of the knitting blogs below to see what I mean.
If you're having problems coming up with a blog name, don't worry – with Bluehost you can skip this option for later!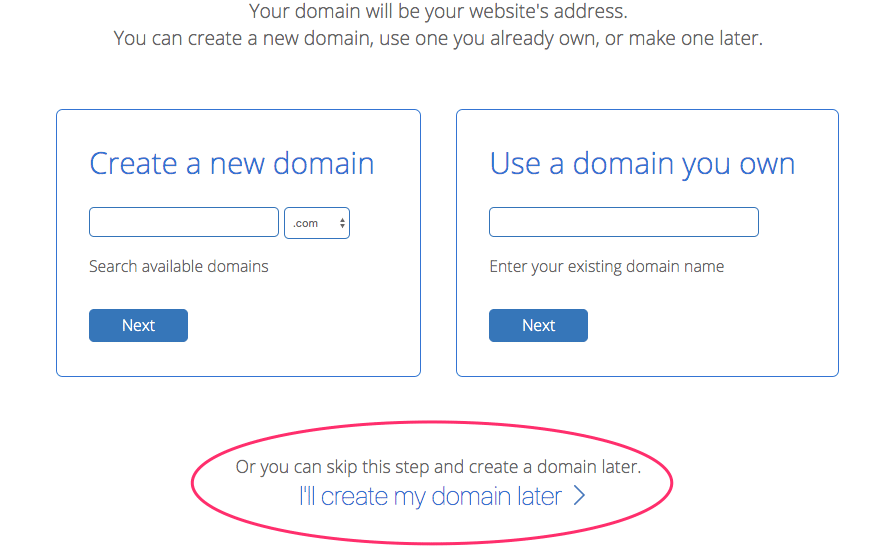 Once you have your domain name and hosting purchased, then you can start to publish your content on your site and promote it all over social media!
Top Knitting Blogs (That You Should Follow)
The top knitting blogs that I've listed below are all independent bloggers, meaning that these are not blogs that are part of a company's website that sells knitting products.
They are moms and other women that started a knitting blog that have the potential to make money.
1. Love. life. yarn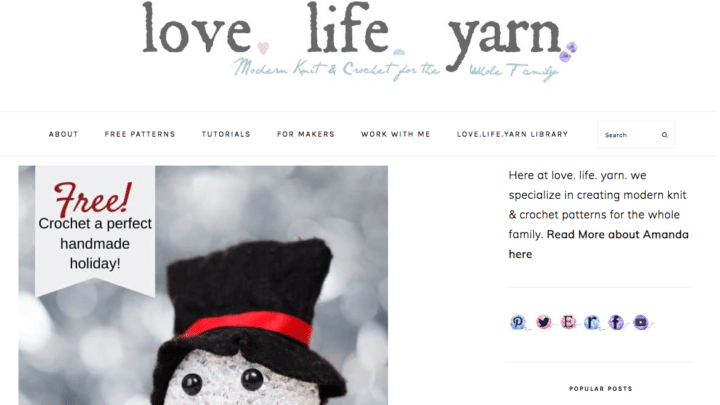 Amanda is a teacher and a mom to four boys and loves knitting and crocheting.
Her blog provides free patterns as well as how to design intricate clothing. What's great about her blog is that she has an email list with a great incentive – to increase your odds of having your knitting patterns published in magazines.
2. Knitting Authority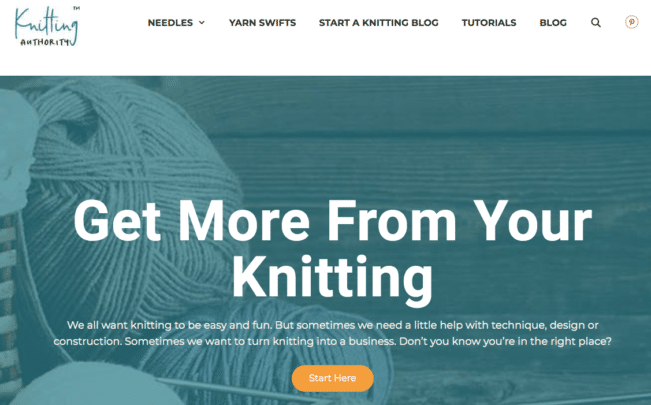 Emma Lane of Knitting Authority is sharing her blog to educate other knitters. This is what is helping her make money with her craft blog.
From her brand to the type of blog posts she has – like how much yarn do you need to knit a sweater – she is helping solve problems for her audience.
Visit her blog and see how she is positing her blog to make money.
3. Knitting Sarah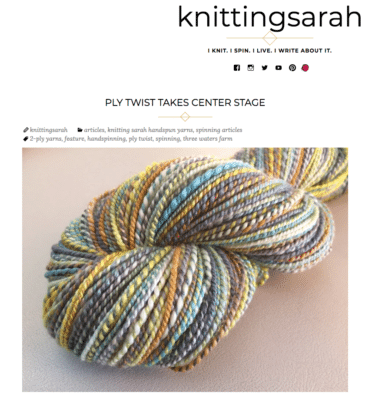 Knitting Sarah is a cute little blog where founder Sarah writes about knitting as well as spinning (as in spinning yarn, not bikes).
She even offers a few video tutorials, which can be extremely helpful for beginners. Not to mention cute pics of her pup that she shares on her social media.
4. The Yarn Harlot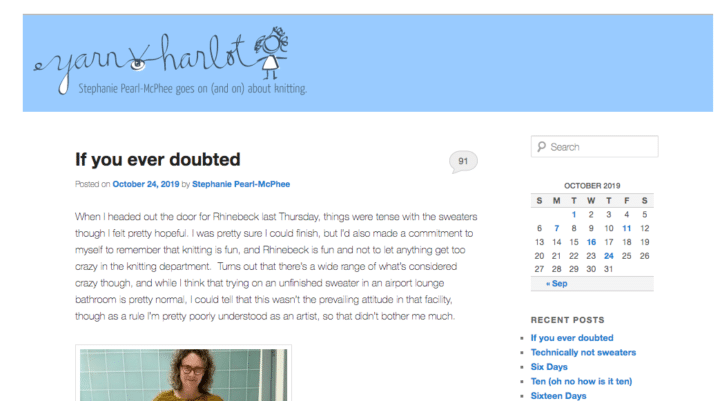 Remember, knitting is supposed to be fun, blogger Stephanie Pearl-McPhee has to remind herself.
While she is very passionate about knitting, she discusses how she challenges herself with her patterns on her blog the Yarn Harlot.
In addition to writing about her adventures in knitting, she also shares a handful of patterns. Although be warned, these patterns are not for beginners.
5. Yards of Happiness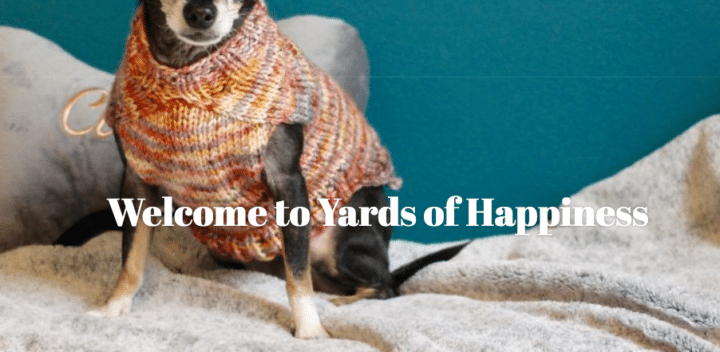 Yards of Happiness is run by Dana and her adorable Chihuahua Jellybean.
Dana is crazy passionate about knitting sweaters, especially sweaters for her adorable dog. Plus, she earns money for her knitting with her Etsy shop. Etsy is a great creative platform to sell your DIY projects!
She is full of spunk and just exudes energy in her posts. This is also the perfect blog if you also want to knit sweaters for your dogs.
6. Small Things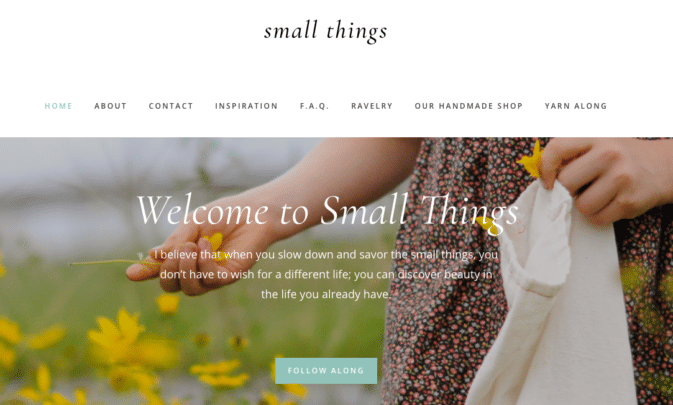 This is a beautiful blog run by Ginny, a homeschooling, homesteading mother to eight kids (bless her heart!) who shares her knitting adventures as well as what she is currently reading.
She even has an Etsy shop where she sells naturally dyed yarn, fabrics, and her amazing photos. Talk about a talented mama!
You go mompreneur!
7. Knit Om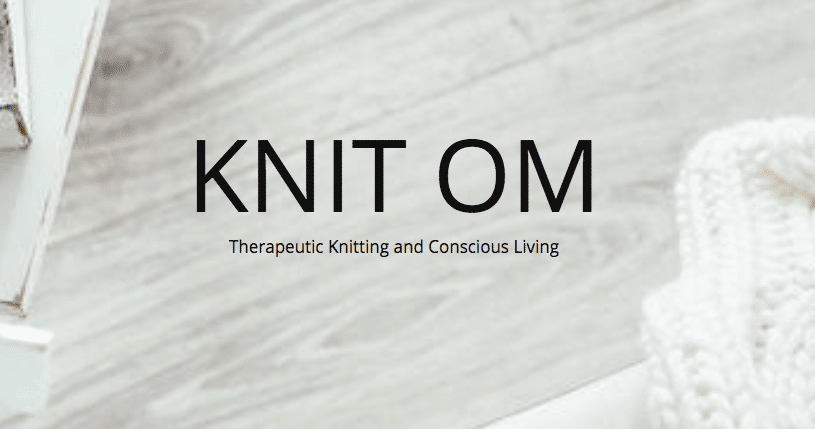 This is a beautifully designed blog by Becky, a stay at home mom of three that is on a mission to help people destress with the benefits of knitting and meditation.
Knitting Om is a unique combination of knitting and mindfulness. Becky shares knitting patterns as well as tips and techniques to up your knitting game like her free 30 day Commit to Knit Challenge!
8. The Knitting Doctor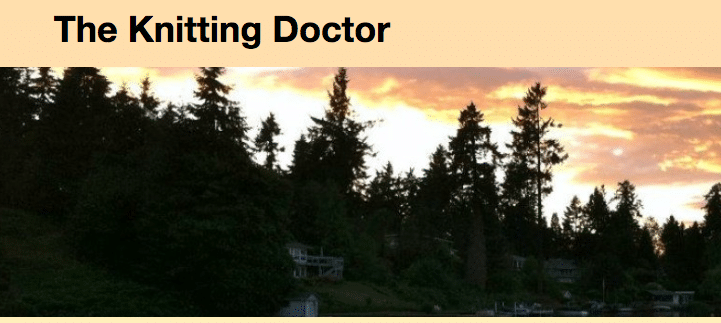 Lorette, aka, The Knitting Doctor, loves to share her latest knitting projects and pictures of her adorable Corgi.
She specializes in intricate patterns using very fine yarn. The neat thing is, that she is actually a doctor of internal medicine, and a knitting fanatic.
9. Knitting Nuances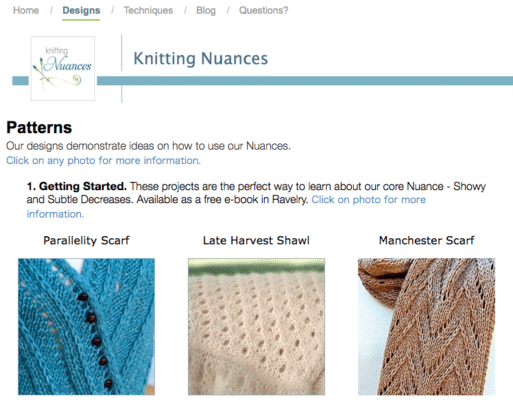 Knitting Nuances, run by Laura, shares a ton of different patterns for both beginners and more advanced knitters. If you are looking for neat patterns for hats, scarves, and socks, this is the blog to check out.
10. Craftsmumship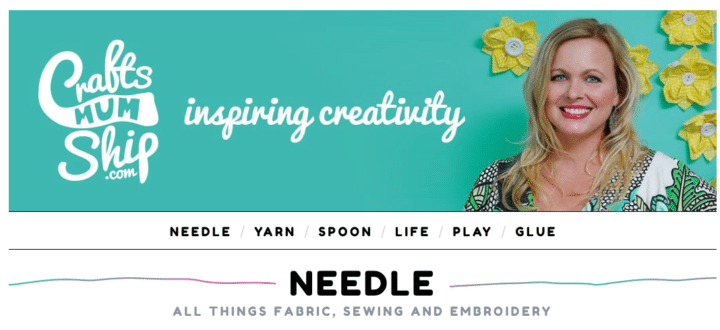 From knitting to sewing dance costumes, Craftsmumship is all about the fabric crafts!
She shares knitting projects from sweaters, to shawls, to Halloween costumes. She even offers a handful of video tutorials for small beginner projects.
11. The Craft Sessions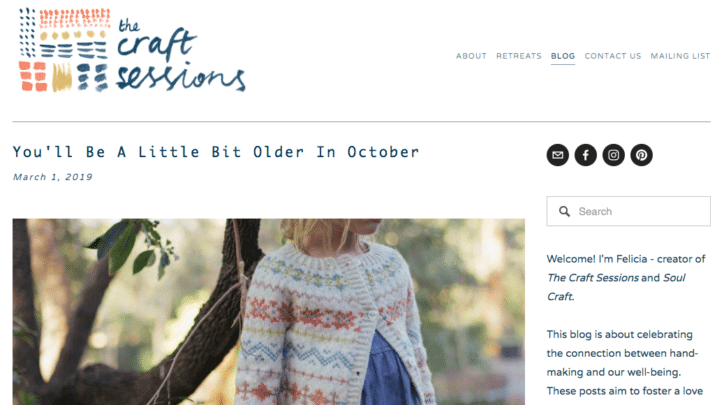 Run by Felicia, a self-proclaimed crafting addict for the past decade, she is on a mission to bring people joy through crafting on the Craft Sessions.
She not only blogs about knitting but she also holds retreats where women can come together to knit and do a variety of other crafts, such as pottery, embroidery, fabric dying, block printing, quilting, and of course, great food and friendship.
12. Vickie Howell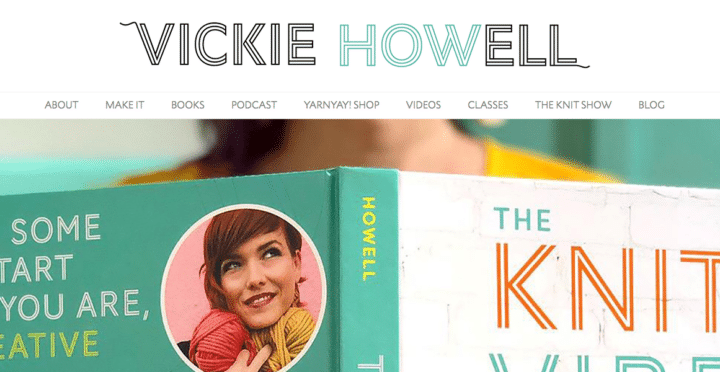 Everyone has to start somewhere. Author and blogger Vickie Howell stated in her book, "pick up some yarn, start where you are, and get creative."
Vickie is a fabric crafting maven, not only is she an author and blogger, she has also started a yarn based subscription box, a podcaster, and shares a ton of tutorials on her YouTube channel from her adorable craft room.
She also monetizes her blog with providing useful beginner courses.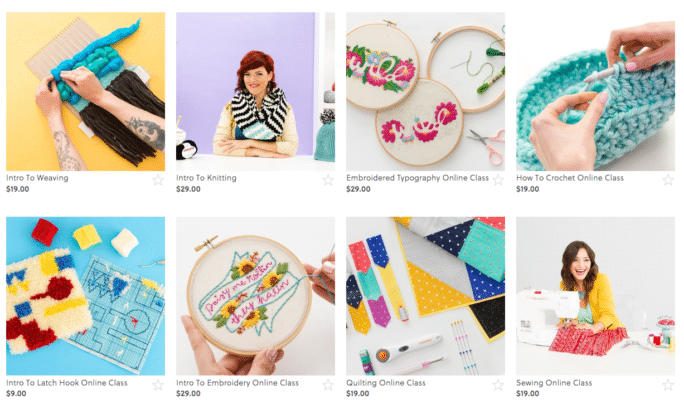 13. Knits All Folks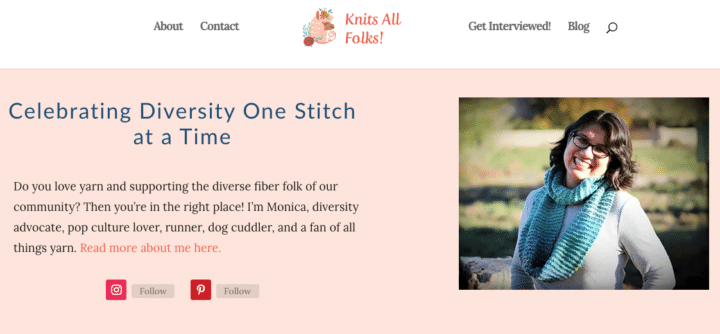 Knits All Folks is packed full of knitting patterns for every skill level.
Founder Monica Rodriguez started knits all folks as a way to connect to others in the knitting community.
She loves to share fabulous patterns and topics related to pop culture and community diversity.
Get Your Knitting On!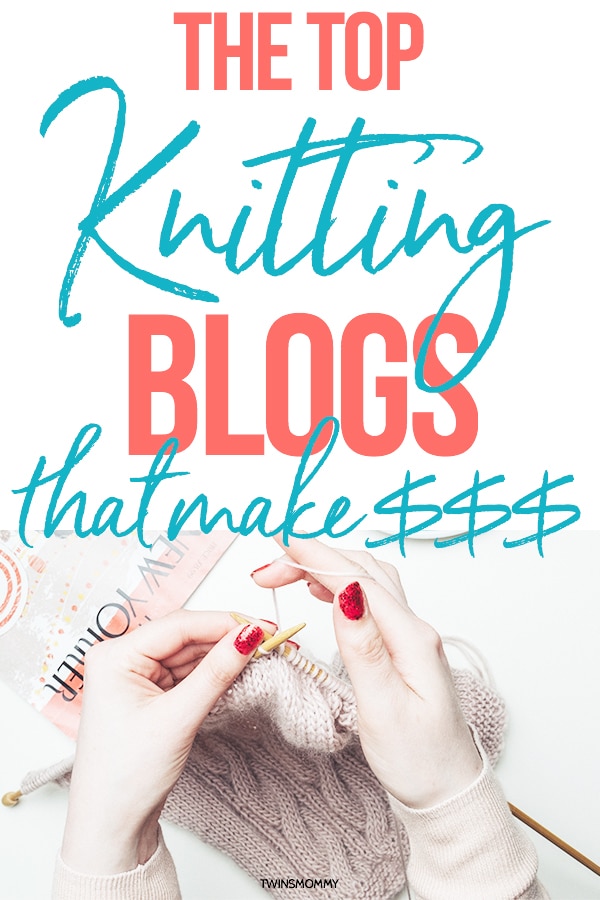 As you can see, there are a ton of different knitting blogs out there that you can use either for knitting or blogging inspiration.
In my post about the 8 most popular blog niches I included sewing in that list.
Why? Because it's a niche that everyone practically knows and it has the potential to make money as you can see with this list.
Knitting, sewing, crochet, quilting, and any type of fabric craft can be a niche within itself.
If you're passionate about any of these areas, you can certainly start a blog about it.
Just think about the things that you search for online, certain patterns, particular pieces (like sweaters for Chihuahuas), or using certain types of yarn. These are all ideas for content that you can write about if you want to start a blog about knitting.
And if you are thinking to yourself, how the heck to knitting blogs make money?
Don't worry, there are plenty of ways that you can make money from a blog about knitting just as you would any other topic. I noticed some knitters started Etsy shops, others used affiliate marketing and still others created their own classes.
So as blogger Vickie Howell said, start where you are! Make a plan and get to blogging (or knitting)!
Over to you – tell me in the comments if you want to start a knitting blog! Or, if you have one, please share it in the comments!
Please pin me!