When I first decided to stay home with my twins, I looked online to find out what I can do to make money at home.
My husband has always worked at home and he suggested to read blogs and learn what is a blog.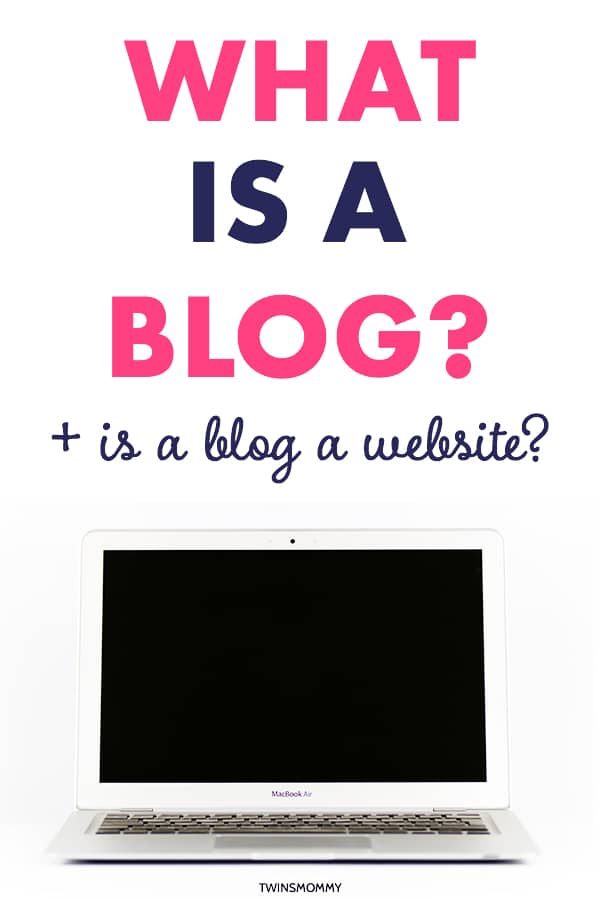 I wasn't too familiar with blogging, but I soon learned how a blog can help you make money and stay home for good.
If you are new and wondering what is a blog, I thought this post might help break this down and make it easier to understand!
You might hear blog or website thrown around. Maybe even self-hosted blog or WordPress blog. What is what and is there a right way to blogging?
I've been blogging for four years now – on different blogs – and over the years I gradually learned about blogging, and it's helped me start blogs quicker, make money easier and be able to help others with their blogs!
What is a Blog? Blog Definition
The blog definition is an updated site that is usually run by one person or a team of people. The content on a blog is mostly conversational, helpful and inspirational.
Smart Mom Ideas is a blog. When you land on that site, it's the blog. You see the blog posts as the first main thing on the site.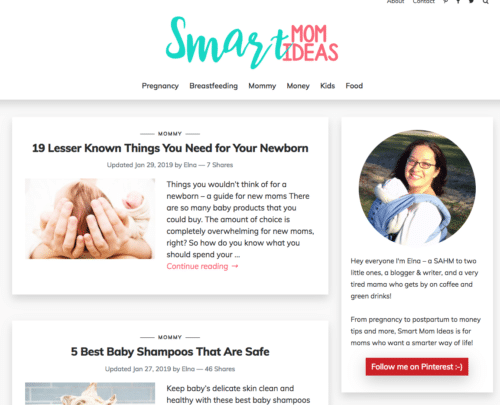 Difference Between a Blog and a Website
Can a blog be a website? Yes.
But, what is a blog and what is a website?
I view a website as a collection of pages with the intent to sell. They may have a blog section, but it isn't the focus of their site.
For example, businesses and services have websites.
Here is ConvertKit's website.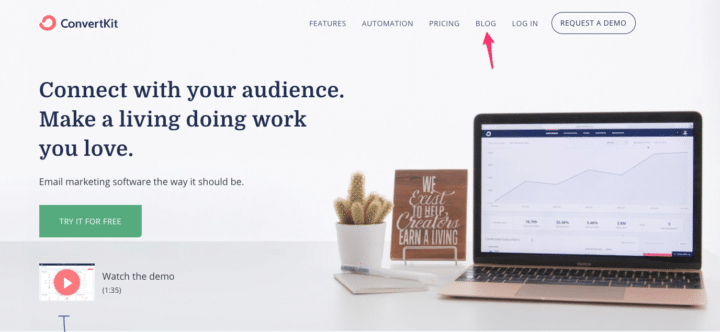 Their blog is just another section of their entire website.
But, a blog can also have a homepage and blog section too. I recently changed my Twins Mommy home page to have a stylized homepage.
Many bloggers do this when they turn their blog into a business where they make money blogging.
For example, Spiked Parenting is a site by Brianna. Her homepage is optimized for several things: grow her email list, grow her coaching biz and sell her courses.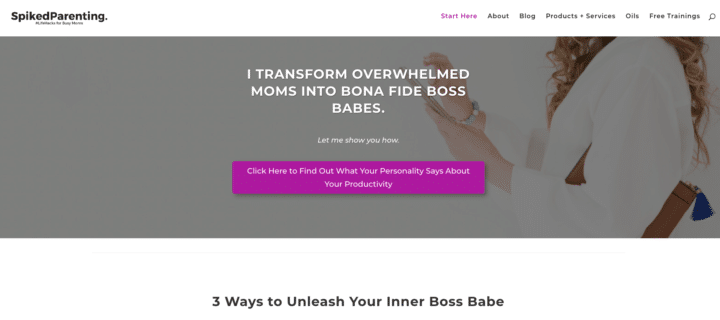 Just like ConvertKit, Brianna has a website with a blog page.
But, if you're new or wanting to start a blog, you can do just fine with a blog as I have on many of my sites!
Different Types of Blogs You Can Have
Now, here comes the more technical part of what is a blog.
A blog has to live online. To do this, something has to host your blog. There are many content management systems available for bloggers.
And to add to the confusion, there are free hosting options and paid ones too.
Let me tell you that free hosting plans like WordPress.com won't help you monetize your blog and build a business from. This is a free way to start blogging and is only recommended if you want to blog for fun or as a hobby.
But, why can't a free WordPress blog make money?
Well a "free blog" on WordPress means your website address will have a 3rd party name: www.yourblog.wordpress.com
This immediately shows people you have a free WordPress site.
Another reason why you can't monetize a free WordPress site is you can't run ads on this site or try other monetization strategies like email list building. All the content on your free blog belongs to WordPress.
Instead, you need a self-hosted blog and guess what? WordPress.org is a self-hosted platform. Go figure!
Self-host means you can do whatever you want with your blog. It's your choice, and you don't have limits like you would with a WordPress.com blog.
So starting a coaching business or having an email list or doing sponsored content is up to you.
While WordPress houses your blog, you need a hosting provider to store all your files. There are many hosting providers out there too, but the best one that is budget-friendly for new bloggers and the most economical is Bluehost.
Besides WordPress as a content management system there are also Wix and Squarespace.
Wix offers a free blog while Squarespace has a 14-day free trial to test out their platform.
Out of the two, I feel Squarespace resonates with a lot of bloggers. The templates – or how your blog looks – are beautiful and easy to customize.
You can also monetize a Squarespace blog. But, after the 14-day trial, you are paying up to $12/month, which is pricier than having a self-hosted WordPress blog.
What Is the Best Blog to Have?
As I mentioned, having a self-hosted WordPress blog is your best bet. Using a hosting provider like Bluehost or even Siteground ensures that your blog will be running smoothly and safely.
All my blogs are WordPress.org blogs!
A Look Into a WordPress Blog
A WordPress blog uses WordPress – a publishing platform to host your content on.
It's one of the most popular content management systems for bloggers.
With WordPress, you can publish content like blog posts or pages on your blog like an About Me page or a sales page.
WordPress is a block editor. Essentially, you write in blocks. Every sentence is a block. You can add button blocks or "related posts" blocks or a pricing table block.
New blocks are being created every day by WordPress developers.
Here is what it looks like to write a post in the block editor.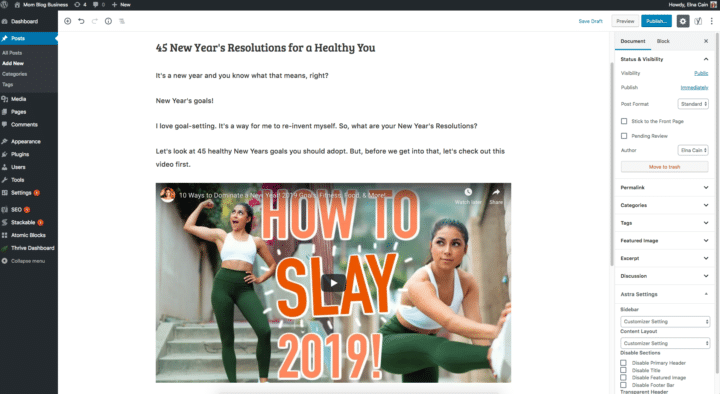 As I said, adding new blocks is super easy.
Just click on the + sign as you start a new block and you can pick what block you want: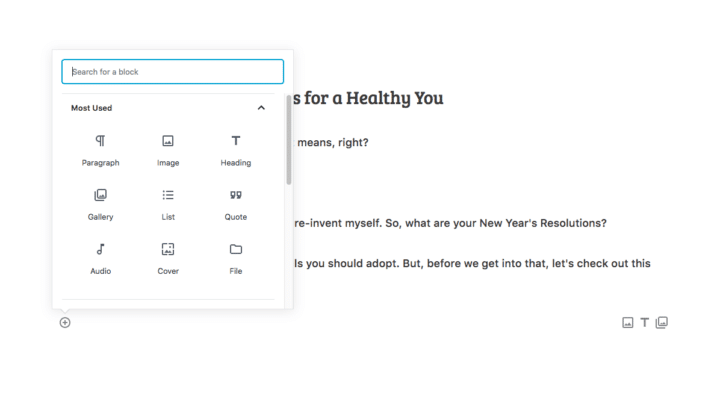 There are still lags and problems associated with using the new block editor.
So, you can install the Classic plugin to revert to what WordPress usually looks like.
A WordPress plugin is an added feature you can add to your blog. They are usually free, but there are paid ones and some that offer a free, but limited, option.
The Classic WordPress looks like this:

As a brand new blogger, your hosting plan (Bluehost) will have enabled the Classic plugin for you already!
So, it's up to you what type of visual editor you want to write your content in.
Can a Blog Make Money?
Yes! Many people start a blog so that they can earn some extra cash on the side of their main job. Others start a blog to catalogue their journey and during the process, learn to monetize their blog.
So, how do you make money blogging?
There are several key ways:
1. Offer a Service or Sell a Product
When I first started blogging, I offered a service – freelance writing. My first site is my writer website, Innovative Ink. The sole purpose of that site is to showcase my writing service.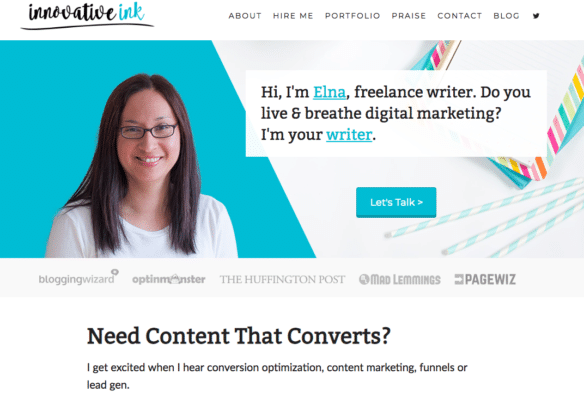 As a new blogger, you can definitely make your first blog a service based business blog. Maybe you want to be a virtual assistant or a social media graphic designer.
For more ideas, here are 22 freelance services you can offer!
As you get used to blogging, you can also sell products on your blog!
Many bloggers sell:
Printables
Social media image templates
Email funnel templates
Physical products like baby blankets or scarves
The list can go on and on! If there is a need, then you can create a product around it!
This strategy relies on a strong community. So starting an email list is your first step.
2. Ads
An easy way to earn income on the side is to place ads on your blog. Not all ad networks are created equal though. I didn't use ads for the longest time because I always thought they didn't pay well or only pennies.
But, once I found out about Mediavine, my view changed. You have to have 50,000 sessions on your blog before you can apply to Mediavine.
This number is how many people are visiting your blog.
Once you achieve that, then you can apply, and Mediavine places the ads on your blog, and you're good to go.
It's a nice $500+ every month!
Blog traffic is your main tactic for this monetization strategy. My traffic course can help you achieve your traffic goals and more!
3. Affiliate Marketing
Affiliate marketing is the process of promoting a product and if someone buys that product, you get a commission.
For many new bloggers, this is the first monetization avenue that's used. You don't necessarily need traffic to make money with affiliate marekting, but you do need a targeted audience.
If you want more information, here's my guide to getting started with Amazon marketing.
3. Sponsored Content
When you've been blogging for a while, you might be approached by a brand to write a post (or post it on social media) featuring their product. This is a strategy I haven't used so don't know much about it.
But, I do know you need a media kit to show brands your analytics for your blog and your social media following.
4. Subscription
Some bloggers have a subscription service. This means a person pays a recurring rate every month to get access to digital products.
These subscriptions usually range anywhere from $45 to hundreds a month. Haley Burkhead of the Profit Planner offers a monthly subscription to her Profit Planner Lounge.

Creating a subscription service can take anywhere from 6 months to year to create the content that is in these subscription services. For example, the Profit Planner Lounge has:
Exclusive trainings (that are updated)
90-day profit system
Hot seat where a person's biz is under the microscope
And more
Other subscriptions have a library of courses while others have experts come in to give expert talks to enhance the value of their subscription service.
The Legal Side of Blogging
There is a legal side to blogging. If you decided to open up your blog to make money, you need to disclose to your audience your intentions for your blog.
These are documents that lay out the privacy and disclosure features of your blog.
Where do you get a privacy and disclosure disclaimer? The safest way (and to cover your behind) is to use templates from an accredited laywer.
Mariam Tsaturyan is a freelance lawyer and helps bloggers by creating legal templates.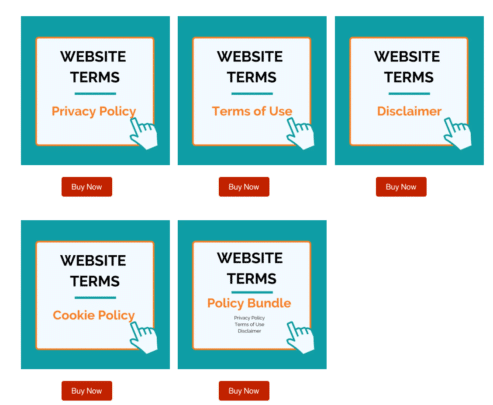 Blogging Definition
There ya go! Knowing what is a blog can hopefully help you understand that it's is not only a place on the internet but it's a way to change your life! There is so much possibility with starting a blog that I want to tell everyone about blogging!
Over to you – have you started your blog yet?