Do you want to know what I love most about blogging?
First, it's the opportunity I have to reach out to my audience and help them in their struggles. I wouldn't be writing these articles if I didn't want to help you out!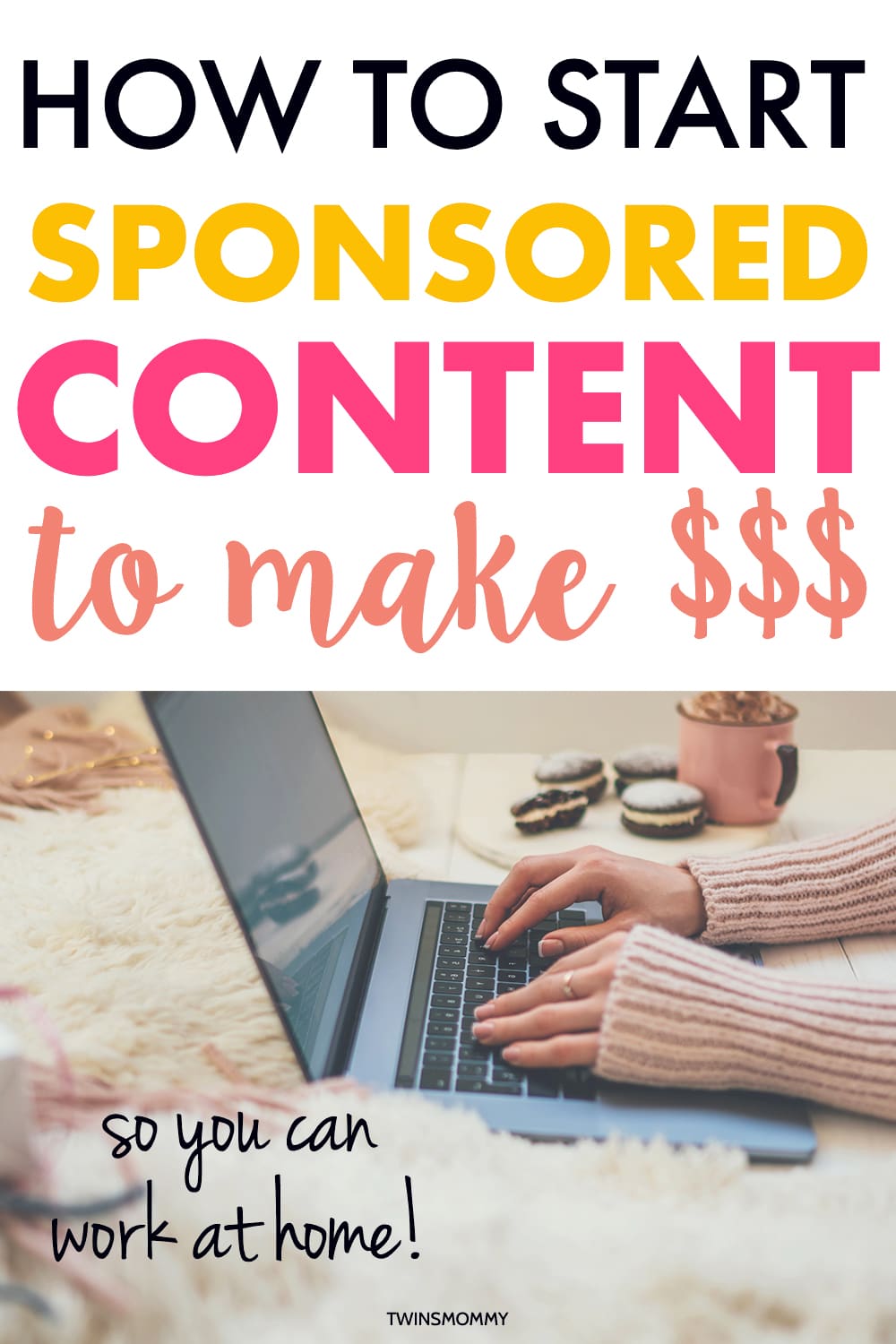 I love love love supporting new mom bloggers along this journey. You really need a tribe to help you succeed mama!
Secondly, though, is the opportunity blogging has to generate income. Between blogging and writing, I can work from home and enjoy more time with my family.
This is my ultimate goal and I bet it's yours too!
Blogging offers a wonderful opportunity to create multiple income streams. From affiliate marketing to selling your own services, a blog creates a foundation for making money online.
Another way to make some extra coin while blogging is to write sponsored posts.
That's right! You can get paid by brands and companies by simply writing about their products and services.
This is something I actually have never one but am totally interested in learning.
Since I freelance write for businesses and brands, I can probably get into sponsored content too!
So, I did all the research for you to get started with sponsored content.
Before you go jumping into sponsored content with both feet, it's important to know how sponsored blog posts work and how to go about finding brands to work with.
What is a Sponsored Post?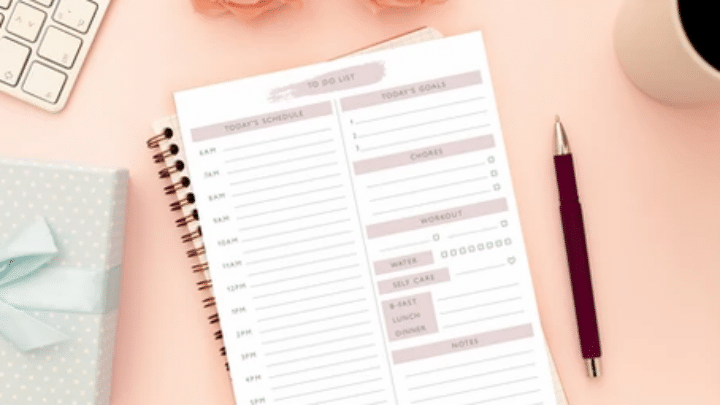 A sponsored post is really just a post or social share advertising a company's product or service.
Generally, a company will reach out to an influencer or blogger and ask them to write content about their product or service.
This can be in the form of a review or the inclusion of the product/service in a project. The company will provide specific links and talking points that need to be included in the copy.
The influencer or blogger will then write the post in their voice and format in order to connect with their readers.
When you think about the world of advertising, traditional mediums (such as ad placement, commercials, etc.) can be quite costly to a company.
This is why they love to use bloggers to promote their brand – it's less expensive and more effective.
Companies will seek out bloggers with a loyal audience and following because they know that your readers will trust you if you discuss their product or service.
Why You Should Be Writing Sponsored Posts
To make money!
Like I mentioned above, sponsored content is more affordable for brands and companies wanting to put the word out there about their product and service and they are willing to pay bloggers to do so.
That doesn't mean you'll only earn pennies writing sponsored posts.
If you are writing sponsored content for social media, you can actually base your cost per post on how many followers you have.
That's why I'm interested in sponsored content as a freelance writer. I love writing and I have built a large following over the years.
When it comes to posting sponsored content on your blog, you can leverage the cost of a post on the amount of traffic you receive as well as the word count.
Companies and brands want to pay bloggers with a wide reach and strong connection to their audience.
So a sponsored post is a great way to make some money while generating new content for your site!
How to Get Started with Sponsored Posts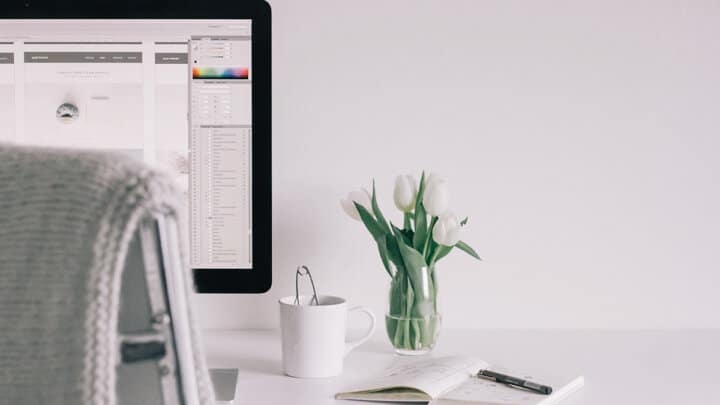 Connect with a Brand
While you may be lucky enough to have a company drop an offer on your lap, you may have to do some leg-work to find brands to work with.
Before you start sending off pitches and designing media kits, you need to figure out exactly what kind of brand you want to represent – and this all ties into your niche and values.
For example, if you are a fitness-mom, promoting fast-food companies won't make sense.
Think about what reflects your personal brand and what kind of products your readers would be interested in.
Once you have figured that out, it's time to attract some brands.
Here are some steps you can take to connect with companies and sponsor their products/services:
Join networks. There are blogger networks out there that will connect you with brands looking to sponsor posts. Check out BlogHer, Aspire IQ and ValuedVoice.
Pitch on your site. Create an advertiser's page on your site. Give a little backstory about your blog and outline the benefits of having you create sponsored content.
Create a media kit. Before you pitch to brands, you should have a file that contains details about your blog, niche and pricing. Having a media kit looks professional and shows companies that you are serious about promoting their products/services.
Pitch to brands. Once you find a brand you want to work with, look for their contact information and send them a short pitch (along with your media kit) outlining why you would be a good fit to promote their product/service.
Once you've connected with a brand, you need to work out all the details before you start creating the sponsored content.
The Contract
Even if you don't sign on a dotted line, there needs to be an agreement between you and the company.
For instance, the company may require that you use certain hashtags and keywords in your content. Or they may request you use certain images.
When it comes to posting sponsored content on social media, they may ask that you publish a certain number of posts during the week.
There's also the matter of payment and how you are going to be paid.
Laying out all of the terms right away not only clarifies what the company expects but also allows you to negotiate terms or address concerns you may have about the project.
Creating the Sponsored Content
Before you start tapping away at your keyboard and writing a blog post, you need to figure out exactly what kind of medium you intend to use to promote a company's product/service.
In fact, this is something that is usually determined during your communication with the brand.
They may request that the content be created for Instagram or in a blog post or they may ask you what platform you intend on posting the content.
After that is all figured out, it's time to create the sponsored content.
While most sponsored content is in written form, you may decide to create a YouTube video or do a Facebook live.
Whatever the medium, the first step in creating sponsored content is to start with the story and then add in the brand. This will make the content feel natural to your audience and not like a sales pitch.
Begin with a problem or pain-point you've experienced that your audience can connect with.
Use the product/service to illustrate how the issue can be resolved and how your readers' lives can be enriched.
Be sure to write in your own voice. This is why companies want to pay you in the first place – they know that your loyal audience will trust what you have to say.
If you sound like a robot or advertisement, you won't get a great response to the content.
Writing Sponsored Content on Social Media
Writing a sponsored post for a blog is pretty straightforward – write the content and publish it on your blog.
Writing sponsored content for social media is a little different. You need to clearly communicate your message in a shorter form, often relying on images to do so.
Also, because you are using a 3rd-party platform, you need to play by their rules. Most social media sites will require that you specify that your post is sponsored.
In fact, you need to disclose that your post is sponsored on your blog as well.
Before you post any paid content to a social media platform, double-check their rules and requirements.
For instance, Instagram requires that you signify your sponsored post with hashtags such as #sponsored or #ad.
For example, Ally of What Moms Love makes a healthy income just from sponsored post on Instagram. She makes sure to follow the rules for sponsored content on this platform.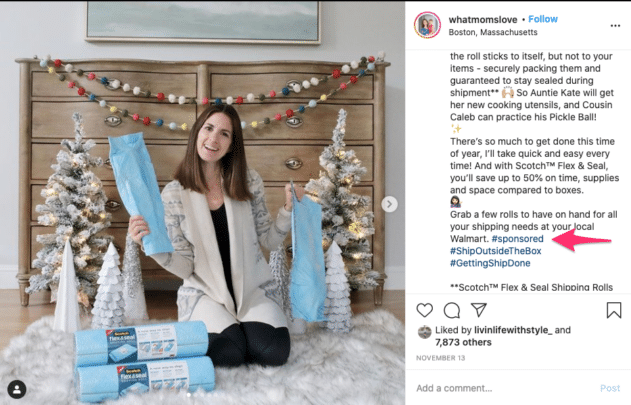 Creating sponsored content for social media channels can be fun since you can get really creative in how you promote a product or service.
Just remember the follow the rules and be yourself! You want to maintain the trust you have built with your loyal followers.
Pricing Your Sponsored Content
I know I touched a bit on pricing your content based on followers/traffic, but I wanted to go into this in a bit more detail.
While I can't give you a hard-and-fast number you should be charging for sponsored posts, here are some other factors you should consider when determining your price:
Your site's reach. Are readers sharing your posts? Check out engagement metrics such as Facebook likes, retweets and comments.
The word count. The length of the post will determine how long it will take you to write it and time is money!
Additional work. Take into consideration if the company requests that you provide specific graphics, etc.
Here is a basic formula you can use to get an idea of how much you should charge for a sponsored post:
Figure out how much you want to charge per word. If you're a freelance writer, you already know this number.
You'll also need to determine how much you want to charge for specialty services such as image resourcing. You'll probably want to base this on an hourly rate.
Next, look at your metrics. You can charge per comment, per average post view and per average social media shares.
Add it all up and you'll get the total value of your sponsored post!
Ready to Get Started?
Writing sponsored content is an amazing opportunity to connect with brands and earn some income from your blog.
Like anything else when it comes to making money online, you just have to put yourself out there!
How about you?
Have you had any experience with sponsored posts?
Share your story!