Many moms in my Facebook group are wanting ways to make an income from home.
They were let from their job or their husband was let go.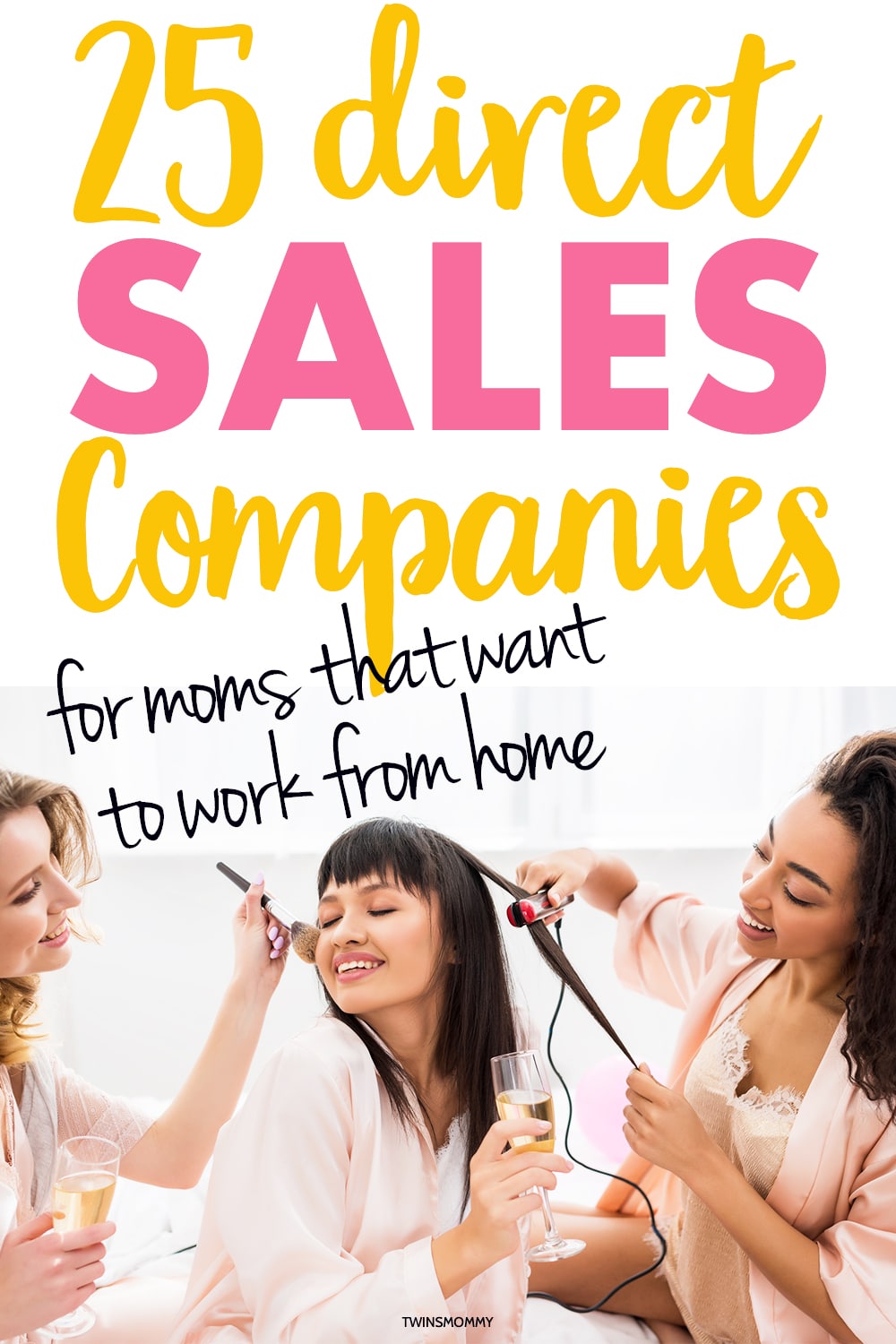 Many of you might be thinking that starting a blog or business is a way to make money and you are right!
My business are my blogs. I sell products, but there are many ways to make money blogging and one of them is with direct sales companies.
Direct sales (also known as MLM) can get a bad rap sometimes.
However, there are many moms that have built successful businesses from home and working in their spare time through partnering with direct sales companies.
In this post I wanted to highlight the direct sales companies that not only allow you to work from home but are also pandemic friendly!
Gone are the days of in-home and face-to-face sales. Anyone can easily host a party online via Zoom or Facebook live!
So let's dive in!
What Is A Direct Sales Business?
Now I am sure that you are at least somewhat familiar with the direct sales model, but I wanted to give you a more solid understanding of what direct sales actually is.
Direct sales is just that, the process of selling a product directly to customers without the retail middle man!
When starting with a direct sales company, they often will give their associates a starter kit with everything they need to start making sales. All you have to do is find the customers!
More than likely, your first potential customers are going to be your friends, family, co-workers, fellow SAHMs, and acquaintances. You can quickly start to build up your client base through your immediate network and garner referrals from them.
How is this different from affiliate marketing?
With affiliate marketing, you enroll into a referral program either from an online marketing company – like Share-a-Sale – a shopping platform like Target or Amazon or from the product platform – promoting my course for example.
You don't have to use the product to do affiliate marketing, but with direct sales companies you do have to know and use the product.
Why Stay At Home Moms Love Direct Sales Companies
There are a ton of reasons why stay at home moms love working for direct sales companies. You can pick and choose how much you are going to work, which is great for moms with busy schedules or partners that work out of the home full-time.
Many peak times for parties and sales happen in the evenings and on weekends, allowing dads to stay home with the little ones while mom is out making bank!
While the peak sales times happen during the evenings and weekends, many of the other administrative tasks can easily be completed during the day, at naptime, and so on.
How Much Money Can You Make as a Direct Sales Consultant?
Unfortunately I can't give you concrete numbers here as every direct sales company is different and the amount you make is highly dependent on how much effort you put in.
The average commission for a direct sales company is around 20-35 percent of the product's sales price (I've included commissions rates for each company below).
Making a couple hundred dollars while hanging out with some friends and talking about your favorite products for a few hours is a sweet deal.
There are also a number of ways in which you can make money as a direct sales consultant.
Tiered commission plans
Recruiting others to your team
Commissions on your recruit's sales
Not to mention bonuses for meeting certain sales goals like sweet trips!
While many direct sales companies follow these same types of commission and recruitment structures, they can vary drastically from company to company.
Needless to say, the more you sell, the more people you recruit, and the more they sell, the more money you are going to make.
What Makes A Successful Direct Sales Consultant?
It's all about personality baby!
Think of the cheesy infomercials on late night TV that sold the most ridiculous things.
Why did people buy those? Because of the personality of the host or the sales person.
In order to be a successful direct sales consultant you need to have a great personality that people can relate to, be outgoing, confident, and genuine. People will be more likely to purchase products from you if you are genuinely passionate and excited about what you are selling.
How to Choose The Right Direct Sales Company for You
There are literally hundreds of direct sales companies to choose from. The main component of choosing a direct sales company to join is to find one that you are passionate about the products they offer. You need to have in interest and excitement about the business and be able to acquire the knowledge needed to share with others.
Before diving in join a direct sales company, you should ask yourself a few key questions first:
What types of products do you, yourself, enjoy using?
How much time can you put into your direct sales business?
How much are you willing to invest to start your direct sales business?
*Pro tip: choosing a company that has consumable products is never a bad idea. Consumables = repeat customers!
How to Make Sales
You can make sales with each one of these companies in several different ways.
Face-to-face consultations
One-on-one online consultations
Facebook lives
Hosting an in home party
Through your social media/blog/website
Public demonstrations (like vendor shows or cooking classes)
Bridal/baby showers
Pop up shops
With the current pandemic, the best options for you as a work from home mom doing direct sales is to do Facebook Lives, online consultations and through your social media or blog/email list.
For special products or campaigns you can consider hosting a small party at home and invite a few people and do that once a month or once a week.
The Top 25 Direct Sales Companies to Work For
While there are many different direct sales companies to choose from, here are our top 25 picks for moms who want to work from home.
1. Beauty Counter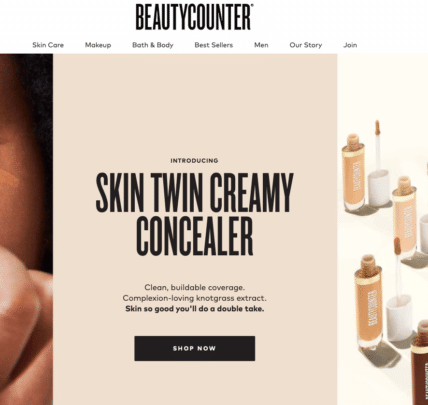 Beauty Counter offers skin care, makeup, and bath and body products for both men and women.
Like many women that get into direct sales, you can start using the products and if you love them so much that you can became a rep.
There is an initial enrollment fee of $98 which includes your personalized website to share with potential customers, access to selling tools, and a training platform.
You can then also purchase an optional starter kit (which ranges from $132 to $715) to get familiar with the products. The commission ranges from 25-35% of the products you sell.
2. Young Living
If you are into essential oils at all, I'm sure you have heard of Young Living.
As a consultant you get a sweet 24% discount on all of your favorite products.
They offer essential oils, diffusers and accessories, natural cleaning products featuring their essential oils, personal care items (facial, dental, makeup), and health and fitness items. Depending on which route you want to take (oils, health, home, ect) there are several different starter kits available.
Starter kits range from $35 to $250. The starting commission rate is around 8% though, however, there is a lot that goes into the commission structure, check out their detailed PDF here..
3. Pampered Chef
Pampered Chef has been around for 40 years!
They sell high quality kitchen products and seasoning to make your experience in the kitchen more enjoyable. You can start for $120 a year for your website and a starter kit ranging between $59-$229 and consultants get 20-25% commission.
4. Color Street
Color Street is another very popular beauty related direct sales company that people just can't get enough of.
They sell stick-on nail polish (not to be confused with stickers) for hands and feet that give the look and feel of a real manicure. You can grab a fully stocked starter kit for $129 and earn 25% commission on a weekly basis.
5. Usborne Books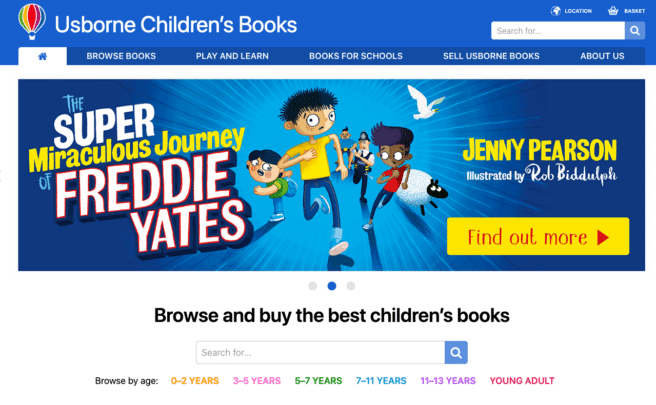 An amazing resource for parents and kids alike! Usborne sells books and learning resources for kids ages 0 to young adults. With up to a 24% commission and between $25-$99 to get started you can easily start to earn quickly with these great learning resources!
6. Honest Company
The Honest Company (from Jessica Alba) brings innovative formulas and thoughtful designs to all of their beauty and baby products, making them safe for your little ones.
They know that being a parent is hard enough, so they want to make your life a little easier by offering products that are truly safe and effective. With The Honest Company, you can rest assured that your family is getting the best possible care.
You can sign up to up to be an affiliate for them and earn a commission every time someone clicks on your special link for the Honest company.
7. Tupperware
Tupperware is a common household name with products that practically sell themselves.
They offer various kitchen tools, cookware, and kitchen storage solutions. You can launch your business with a virtual $15 kit and a demo kit for as little as $60 with commissions starting around 25%.
8. Discovery Toys
Just as with quality books, parents are always looking for high quality educational toys for their little ones, Discovery Toys offers just that.
They offer toys and books for ages newborn to 8+. You can join Discovery Toys for $79 and earn 34% profit on all your sales!
9. Scentsy
Everyone loves a home that smells good, why not help your friends and family achieve that with Scentsy products? This is another direct sales company where many women join just because they love the products so much and want to share them with everyone they know. Consultants can get started for about $99 and can earn commissions of 20% or more.
10. Close to my Heart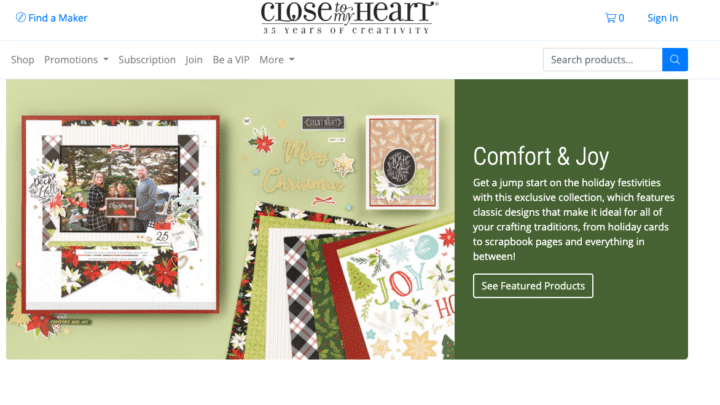 Love scrapbooking? Get together with your girl friends and put all of those precious photos into one of a kind scrapbooks. Not only will you have a blast crafting, you can also earn 25-45% commissions on all orders and it only costs $50 to get started.
11. Essential Bodywear
All women want to feel sexy and comfortable in their undergarments. Essential Bodywear allows women to become personal stylists and help other women do just that.
Commissions range from 25-37% and you can get started with a kit of $199.
12. Simply Fun
You got to love a company that is all about family! Simply Fun offers games that teach real-world skills the whole family will enjoy playing. Sign up to become a "Playologist" with one of two starter kits, $49 or $139 and start earning weekly commissions of 25-42%!
13. Silver Icing
Moms love comfy and stylish clothing. Silver Icing offers modern fashion apparel for women of all shapes and sizes, from XXS to 4XL (and for the little ones too!). You can sign up to become a stylist for $75 and earn 20% commissions and a 50% discount!
14. Paparazzi
Fun fashion accessories for $5, heck yeah! At $5 a pop, the product sells itself.
And with a 45% commission rate, you can start to earn quickly! With starter kits ranging from $99-$499, you will have enough amazing accessories to show off to all of your friends.
15. Mannatech
Mannatech is all about healthy living. They offer products for weight loss, skincare, targeted health concerns, and integrative health options. You can start your Mannatech business for just $49 and 20% commission on sales.
16. It Works!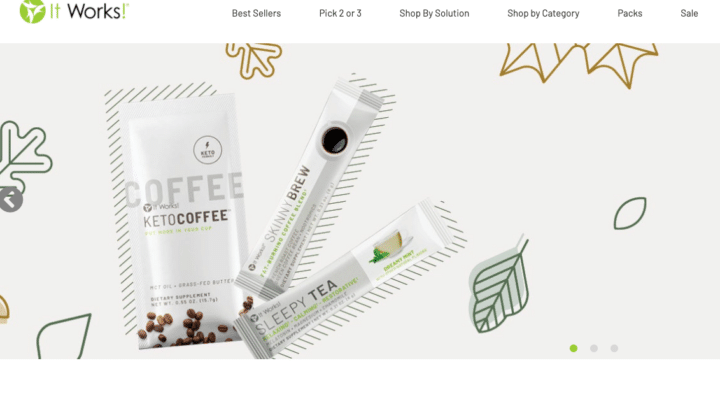 It Works originally started as just a herbal body contouring wrap but has expanded into a full blown health and wellness company. They offer products in beauty and personal care, keto, vegan, weight control, energy, and even some apparel. The normal cost of a starter kit is $99 with a commission rate of 40%.
17. Thirty-One
Thirty-One is another well known direct sales company that offers home organization essentials like tote bags and organization caddies. Start earning commissions of 25% with starter kits ranging from $59-179.
18. Tastefully Simple
Tastefully Simple offers a wide variety of clean food items, such as bread, cake, and seasoning mixes. They offer up to 40% commission and a bountiful starter kit for $99.
19. Threads Worldwide
Become a "social impact entrepreneur" by joining the fair trade movement selling stylish and unique jewelry, handbags, and accessories. Get started as a Fair Trade partner for $199 and earn up to 30% commissions.
20. Vantel Pearls
This is certainly a unique and one of a kind direct sales company. Host in person or virtual parties where you open oysters and then choose beautiful jewelry for them to be placed in. Choose from a $99 or $149 starter kit and earn 25-33% in commissions.
21. Traveling Vineyard
Get paid to have wine tasting parties? Yes please! You only need $49 to get started and you don't need to already be a wine expert to share your love of fine wines while earning up to 35% commission.
22. Avon
Avon is definitely the oldest direct sales company on this list. They offer a wide range of makeup, skincare, and jewelry products and have a very affordable starting package of only $10! You get 25% off anything you order for yourself and earn a 25% commission.
23. Mary Kay
Mary Kay is another iconic direct sales company that just about everyone has heard of. From stellar makeup to timeless skincare; you can get started with a kit for about $30 and earn a whopping 50% commission on your sales!
The $30 start-up fee provides you with a free website and credit card processing for an entire year.
24. Younique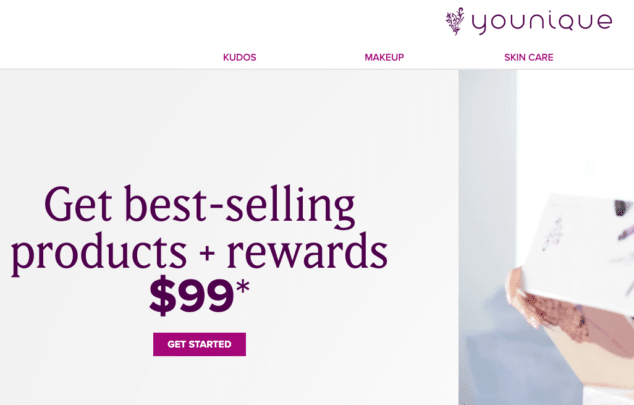 Stay at home moms and influencers have been all over Younique products! They offer makeup, skincare, and fragrances, but it's the mascara that every raves about. At only $99 to get started and earn between 20-30% commissions.
25. Touchstone Crystal
Every woman loves a little extra sparkle in her life. Touchstone Crystal sells beautiful and affordable Swarovski crystal products. Their $99 starter kit includes over $500 in product and you earn between 25-40% commission with a 50% discount on your own products!
Direct Sales Companies to Make Money at Home
With all of these amazing direct sales companies, you can easily start to earn a great income from home, even when the kids are napping.
These make great opportunities for moms who want to work from home and build a thriving business around their busy schedules.
If you want more ideas on how to work from home check out my other guides:
Over to you – interested in direct sales companies? Let me know in the comments