Are you wondering what is a bullet journal and how you can use that for your blog?
As a stay-at-home mom with multiple blogs, finding a way to increase my productivity, streamline my blogs, and business and give me laser focus has always been on my mind.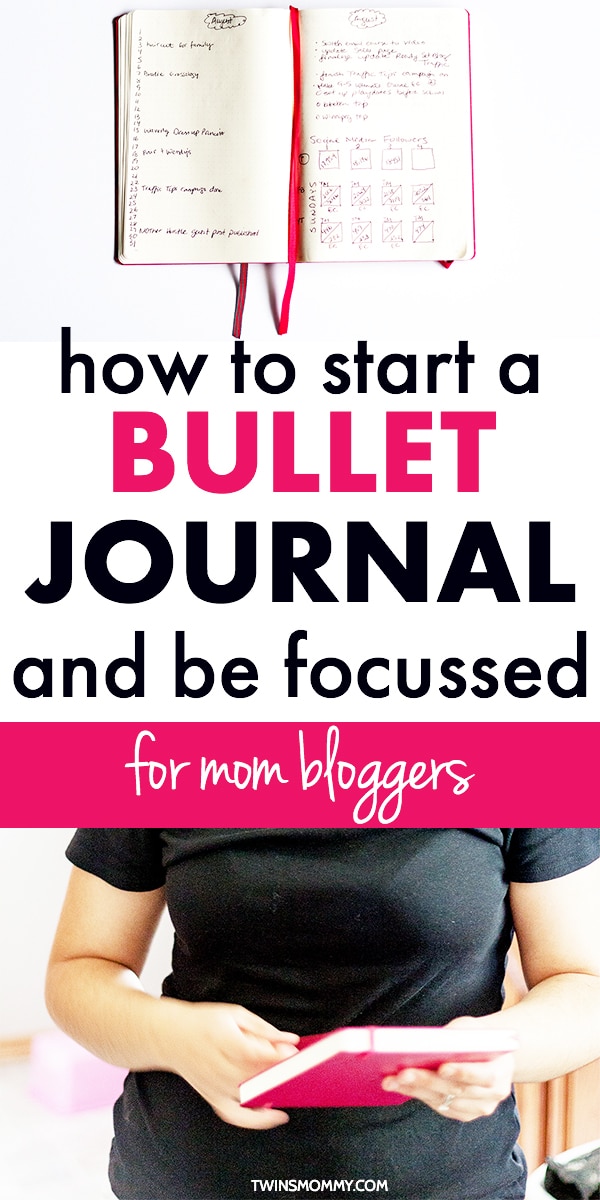 The more projects I have under my belt, the more organized I have to be with my plan for the day, my financial goals, or blog plan.
But, my desk – well, let's just say if my twins needed scrap paper or post-it notes or a pen or pencil, they can just grab it from my office desk!
I was drowning in notebooks, post-it notes, markers, and scrap paper. I needed to find a system like a bullet journal, that worked for my blogs but also allowed a fluidity to my overall blog plan and inspired my creativity.
And that's when I wanted to know about what is a bullet journal.
And yes, having those bullet journal ideas in one place is the way to go mama!
But, before we get into the nitty-gritty of this post, I want to go through how to increase your productivity as a blogger, what your blog plan should focus on, and how bullet journal can fit into your blogging day (yes that's before we get into the nitty gritty of this post!).
What is a Bullet Journal?
I go more what is a bullet journal later in this post, but the shortened version is – a bullet journal is a tracking system and uses dots rather than lines to organize your tasks.
For many people this opens up their creativity to draw out their plan for the day.
I like to use it for organizing my tasks for the day and planning out my blog topics for the week. It's a great system that I have opened on my desk every day.
Learning to Be More Productive As a Blogger and Mom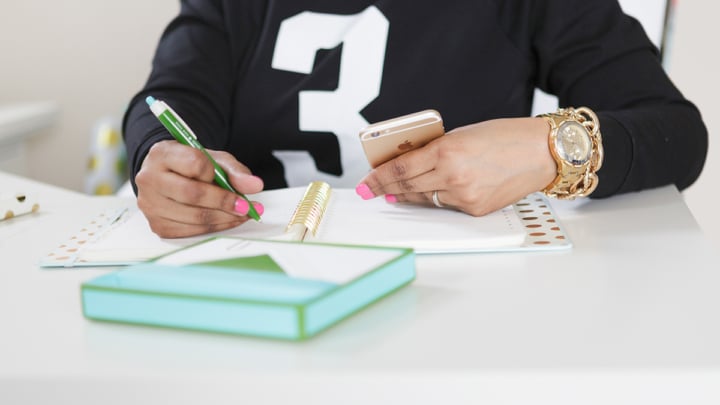 I've had a few years learning how to blog on the side and now how to blog full-time while still being a mom to twins. I was able to work primarily when my babies napped to now working when they are in school.
I also grew my business from being strictly a freelance writer to starting more blogs and creating more products like courses – while still taking care of my twins.
This will be the second year my twins will be in school, but their first year was not a traditional year. They were sick more than 50% of the time and they had a home day.
So, this year, my twins will attend every day, giving me more time to focus on my blog.
If you're a new blogger, here are some easy ways to increase your productivity so you can squeeze in more work.
Drink coffee – or tea! For me, coffee clears my mind and gets me focussed
Have a list – create a task list or to-do list of the things you need to accomplish in a day
Automate what you can – I used Tailwind to schedule my pins and Buffer to post to my Facebook group
Wake up before your kids do – I have never done this but I hear it can really boost your productivity
Create templates – use a template for your pin graphics or have a template for writing blog posts or use an email signature
Have a swipe file – anything you see online like a cool freebie idea, landing page, blog theme, email, blog post or sales page, take a screenshot and put it in your swipe file
Spend time creating blog topics – give yourself some time (Friday night, Monday morning) to come up with at least 10 blog post topics
Consider having contributors on your blog – free up time by having guests write a blog post for your blog
The point is to find ways to downsize your work, streamline your process and possibly outsource some work. For me the biggest time saving acts I do is automate a lot of my promotion strategy and have help for content on my other blogs.
Other areas I may outsource in the future are graphic design or email management.
In the beginning, you may not need all of this support. Using Tailwind may be enough in the beginning. Later you may need to invest in a course to help you achieve you blog goals quicker.
Your Blog Plan
Let's step back for a second. Before you start a blog, you need a plan on how you envision your blog to be.
Why start a blog and what is the end goal?
For me, my main reason is to be able to stay home with my twins and I have achieved that! They are in school and I'm working at home. My next big goal is to pay off the mortgage and possibly buy a camp for the summer.
Your blog plan has to fit a monetization strategy to help you see the potential of blogging in the first place.
Everyone has a different why and strategy. Some may do the service route like I did, while others work on affiliate marketing to grow their income.
And what I found is that once I had my bullet journal, I could write down the relevant tasks to lead me to my end goals. I didn't need a notebook for each blog or a Trello board for each promotion strategy.
I could house it all in one place.
How to Start a Bullet Journal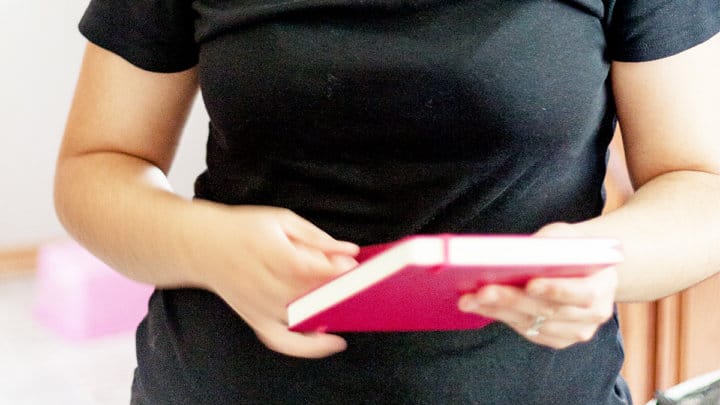 When I first got my bullet journal, I had to figure out the most important metrics I wanted to chart. I wanted this to help me with my blogs but also help me as I'm working.
I decided to track:
My social media followers
My blog topics
My water intake
My pitch ideas for clients
As for my pageviews and income goals, that is all online and is not needed to be tracked on paper. With these tracking pages, I can quickly see if my social media followers are growing, which pitch ideas were accepted and if I'm drinking enough water (because that's important mamas!)
I place my bullet journal open to the day on my desk so I can jot down journal ideas. I can switch back and forth to my monthly view or daily view of tasks quickly and it helps me stay focussed.
I know exactly what needs to be done for that day.
And you know what?
This has more than doubled my productivity as a mom blogger. I was shocked!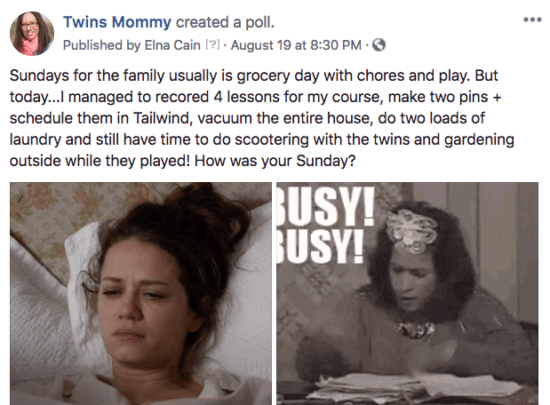 By having my blog tasks in my bullet journal, I could whip them out fast and that left me time to be a mom and do mom things like chores and play with my kids!
If you're still unsure if a bullet journal will help you as a blogger, let's go over what it is and how to use it.
What is a Bullet Journal? More Information
The intended bullet journal definition was to catalog and track what you did, organize what you're doing and plan for what you will do in the future.
This is different from traditional planners that are stuck only in the present.
But, the great thing about this system is that it's entirely customizable for YOU.
Each page is blank like a canvas and you create the system you want. You can be as creative as you want with bullet journal designs, but for me, I keep it simple.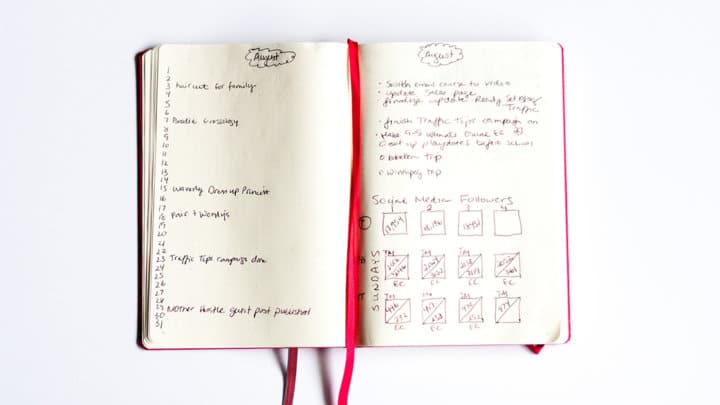 How to Set Up a Bullet Journal
To make it easy for you, you can follow these steps on how to set up your bullet journal so that it's more functional for you.
The first page is your bullet journal key – it's just a legend of the symbols you are using and can come in handy later on
Your next page is your index – this will be filled out after you create your other pages and will be a reference page like a table-of-contents
Your next two pages are your monthly log and a breakdown of your month – the photo above shows my monthly log on the left and a breakdown on the right (along with my social media tracker)
The next pages will be your daily log: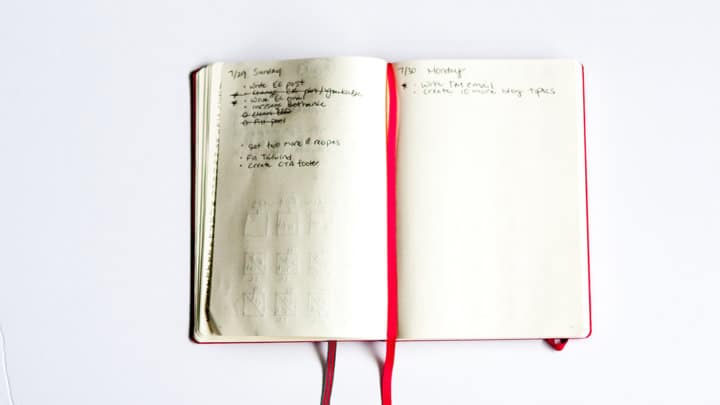 You use dots to mark a task and an open circle as an event (like a haircut).
When a task is complete X the dot or cross it out completely (like I do). If you don't finish that task you can migrate it to the next day by noting <.
You can also add notes to your daily log by using a –.
But, like I mentioned, you can create your own key and own pages to track. For the collections – like your income tracker or water intake tracker – you can group them by having them in the middle of your bullet journal spread or later in your spread.
The two fabric bookmarks make it easy to find those collections or certain spots in your bullet journal.
I've been using the bullet journal over the summer and have seen a marked improvement to my productivity. I updated a course, created a new masterclass, did weekly Facebook Lives, optimized my multiple sales funnels, created a trip wire and created a brand new lead magnet idea (with my twins home with me!).
On top of that I've been on top of keeping my house clutter free, and enjoyed the summer with my twins!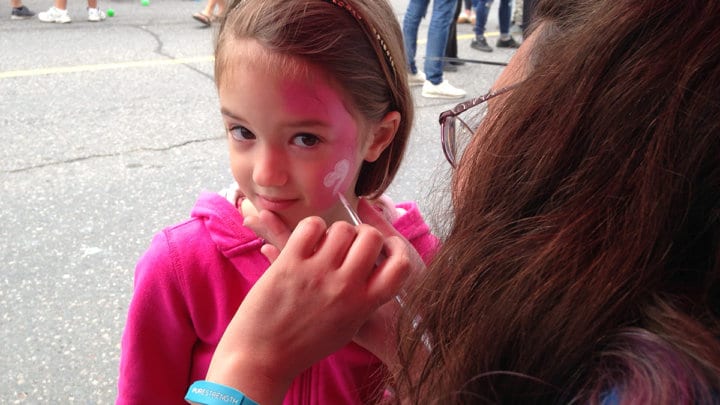 Journal Ideas for Mom Bloggers
I'm shocked I never started using a bullet journal years ago. I've heard about them and thought they were a bit silly with all the designs but when I realized that the process and functionality of using a bullet journal helped me be more productive, I was sold.
And when you work at home, you need to find an organization system that works for you and a bullet journal can help you get that!
Over to you – how do you remain focussed on your blog?