Goal planning for your blog is something I like to do on a continual basis, but I find the last quarter is where I really focus and execute.
The goals I create for my blog plan can help me grow my blog for the following year, but trying to figure out what those goals are can be a struggle.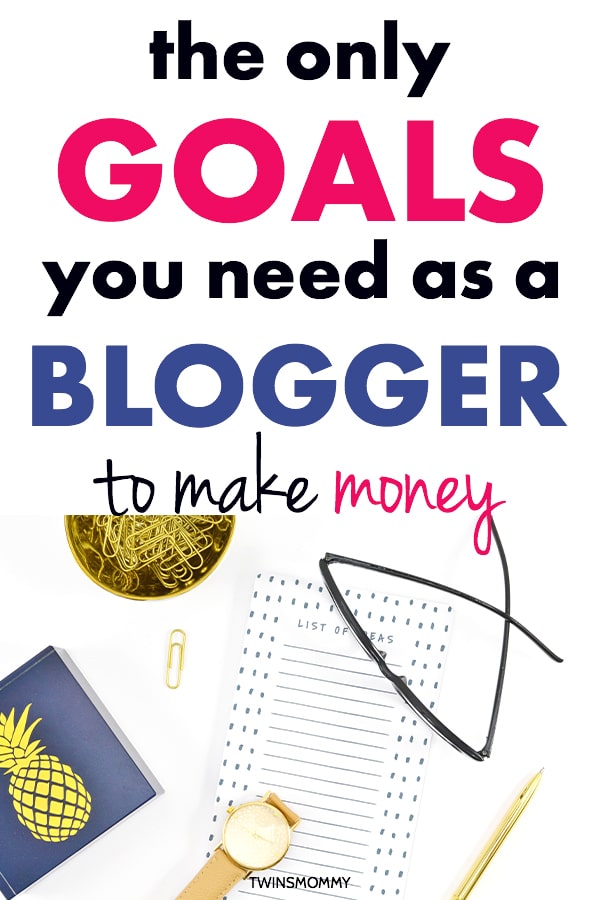 If you just started your blog, you might not be thinking of setting goals and having a blog plan. Everything is just too new and planning your goals isn't on your to-do list.
I get it.
When I started Twins Mommy I actually didn't have a plan. I just wanted to blog about being a work at home mom with little ones. But, once I started creating goals for my business, I saw success in what I was doing!
I know that sounds cheesy, but with mom brain ALL.THE.TIME writing down my goals and seeing them every day really helped me focus on what needed to be done to accomplish my goals.
No matter what blog niche you are in, these blogging goals are universal and can help any blogger that just started a blog.
***if you haven't started a blog yet, check out my step-by-step tutorial!***
1. Goals for Traffic Building
As a new blogger, growing your blog traffic should be one of your top priorities. Without blog traffic, it will be hard to monetize your blog in the future.
So, set a goal to grow your blog traffic and make it measurable.
If you just started a blog, some traffic building goal ideas can be:
In 30 days I want to grow my blog by 10,000 pageviews
In three months I want to have 25,000 pageviews
By the end of the year I want 100,000 pageviews
Pageviews are typically the metric you will use to gauge if your traffic is growing, stalling or decreasing. Make sure to install Google Analytics so that you can start tracking traffic from day one.
If you need help with installing Google Analytics and how to use it, make sure to check out my tutorial!
When thinking of your goal plan for traffic, you also need to think about how you will grow that traffic and build goals around that.
For example, when I started Twins Mommy, my blog plan was to use Pinterest to market my blog. This was new to me at the time and I wanted to try it out.
Some goals around Pinterest to grow your traffic might be:
Switch to a business account
Create a blog board (i.e. your blog's name board)
Create keyworded board topics
Invest in Tailwind
Create multiple pins for each blog post
Here are 27 more Pinterest tips to help you get started using Pinterest for your blog!
Maybe you want to focus your marketing efforts on Facebook. When I started Twins Mommy I also created a Facebook page and had to find ways to grow my Facebook page.
Some Facebook marketing goal ideas for you might be:
Link my Facebook page to every email I send
Do a Facebook Live once a week
Create a specific graphic just for my Facebook page
Get 20 Likes a week
Grow my Facebook page by 1k Likes in three months
Finally, another way to start growing your blog traffic is from guest posting. When you guest post on another blog, you open your blog to a new audience. A new person is reading your post and if you share your blog or social media profiles, they may follow you and read your other blog posts.
If you haven't started your own mom blog, make sure to check out my start a mom blog free course just for you!!!
Some guest blogging goal ideas might be:
Guest blog once a month
Do a guest podcast once a month
Pitch to 10 guest blog sites a month
2. Goals for Making Money
Having a blog opens the doors to making money! It's amazing when you make your first affiliate sale as a new blogger! Making money as a blogger suddenly becomes real.
There many different ways to make money online so the first thing to iron out is how you will make money with your blog. For me, I rely on offering a service, affiliate marketing, course sales and ads. Phew! That's a lot.
The easiest to get started with is with affiliate marketing. Some goals around affiliate marketing might be:
Do two tutorial posts on one product each
Do list posts every week to promote multiple affiliates
Do a review post once a month on an affiliate
Do a case study on an affiliate product every quarter
If offering a service like freelance writing is something you want to do, then your goals should center around how much money you want to make in a certain period of time or how many clients you want to pick up each month.
For example, when I first started freelance writing I just wanted to have one client by the New Year. I was brand new and I needed the time to learn about freelance writing and marketing my business online.
Some goals for your service based business might be:
Land 3 new clients by the end of the month
Double my income in four months
Land 3 recurring clients by the end of the quarter
3. Goals for Brand Building
To grow your blog others need to know you exist!
It's not enough to just use Pinterest to circulate your pins.
You need to have a plan to get out there and network to grow your brand. It has helped me grow my blog traffic time and time again.
The best way to grow your brand is on social media. This is where you can connect with other bloggers, share your expertise and show your credibility. Another great way is guest blogging. This allows you to reach a whole new audience.
Here are some brand building goals to start doing for your new blog:
Follow five new bloggers by the end of the month
Join 10 new Facebook groups this week – feel free to join my Facebook group, Mom to Mompreneur!
Start a Facebook page
Start a Facebook group
Answer questions in various Facebook groups
Ask questions on your Facebook page or in a group
Just doing these little things can help you as a new blogger network and get yourself out there!
4. Goals for List Building
Starting an email list is a valuable asset you can have as a blogger. This is the core community of people that WANT to follow you and connect with you. This is the group of people that you can serve the best.
It's essential to start an email list when you feel your blog is ready as well as YOU are ready. You know you need an email list when you've figured out how to start a blog, write a blog post and promote your blog.
Having those tasks down pat can give you time to start an email list and learn all about email marketing.
Once you are ready, you can start an email list using ConvertKit. ConvertKit is the easiest email service platform for bloggers and it's robust enough to help you with sales funnels, segmenting your list and tagging your subscribers.
The best way to grow your email list is with an optin freebie idea. This is a checklist or guide you can offer your subscriber that is a quick win.
Here are some list building goals you can adopt:
Create 2 new optin freebies a month
Create a landing page for each optin freebie
Write a blog post about a new freebie
Create a video to share your freebie with your audience
Create a pin for your freebie
Grow my email list to 500 in 6 months
Get my first 100 subscribers in two months
5. Goals for Serving Your Audience
As a blogger, it's our job to serve your audience. This means that whatever you put out on your blog or on social media should help your audience in some way. And when you serve your audience, you'll grow your income.
The previous goals are ways to serve your audience. Some more goals include:
Sharing your story in your blog posts
Being authentic when blogging
Doing income and/or traffic reports
Answering emails you get from readers and subscribers
Doing a Facebook live on your Facebook page or group
Staring a YouTube channel
Creating a poll to get to know what your audience needs from you
Your Blog Plan for Success
Having that blog plan with goals is important to have! Blogging is hard mama! It's a journey with ups and downs and it takes time and persistence to make this actually work!
What are your goals as a blogger? Does your blog plan include these goals? If not, share your blogging goals with me! We are doing this together!
For more, check out these goal planning ideas.