Hey mamas!
It's that time of the year again! I'm doing my 12 Days series again this year. Last year, I posted for 12 days straight of free resources like Tailwind Tribes, planners and more.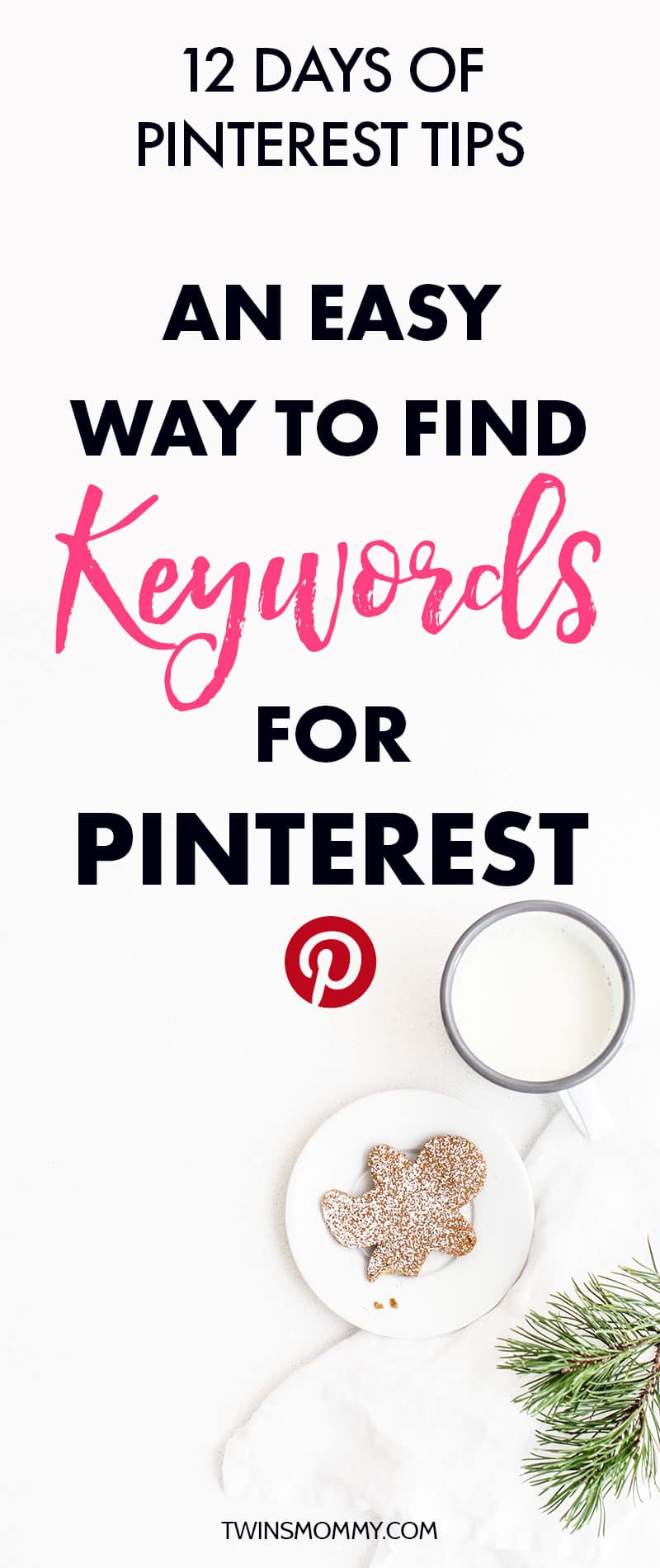 This year I want to do something a little bit different. I want to share some pin-tastic Pinterest tips! Pinterest is my BFF and I realize I don't talk about "her" much on Twins Mommy.
So, for the next 12 days, I'm going to be sharing some Pinterest tips to help you grow your blog traffic, list, and income.
Day 1: An Easy Way to Find Keywords for Pinterest Descriptions
Day 2: What You Need to Know About Pinterest Hashtags
Day 3: What Are Pinterest Sections And How Do You Add Them to Your Boards?
Day 4: 4 Ways to Get More Saves on Your Pins
Day 5: 5 Big Pinterest Mistakes Bloggers Might Be Doing
Day 6: 5 Ways Any Blogger Can Make Money on Pinterest Today
Day 7: 5 Poppin' Pinterest Podcasts for Bloggers
Day 8: 4 Pinterest Tools to Help You Grow Your Blog Traffic
Day 9: 3 Easy Ways to Grow Your Email List Using Pinterest
Day 10: How to Find the Best Times to Pin for Massive Blog Traffic
Day 11: 5 Top Pinterest Myths That Everyone Believes
Day 12: 5 Ways to Get Your Pinterest Profile Ready for 2019
For today I want to talk about keywords.
Keywords should be your foundation for your Pinterest marketing strategy. This is the #1 way pinners will find your content.
I'm sure you've heard of Search Engine Optimization (SEO) for your blog right? While I do SEO a different way to grow my blog traffic, the rule behind SEO is if you have keywords on your blog posts, this will help you rank on Google (in the very of simplest terms).
Well, did you know that Pinterest is actually one of the world's largest search engines next to Google?
Pinners search on Pinterest for anything and everything and many prefer going to Pinterest over going to Google to find their answers (I know I do when I search for recipes or parenting tips).
And you can leverage keywords to get more followers, more saves and more clickthroughs on Pinterest!
But, how do you find keywords to place in your Pinterest descriptions?
Use Pinterest to Find Relevant Keywords
Since Pinterest is a search engine, you can use this to find keywords for your blog niche.
Let's pretend you have a health and fitness site about the benefits of doing yoga after childbirth. You want to reach out to brand new moms and tell them how yoga can help them lose weight, be healthier and more fit.
Pinterest is perfect for this blogger.
To find keywords in this niche, search for "yoga" on Pinterest.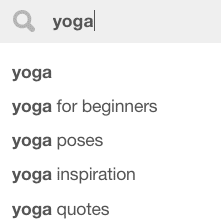 Pinterest gives you suggested terms. These terms are your keywords!
How easy is that?
But, wait. These keywords are highly popular searched terms and can be a challenge to rank on Pinterest using those terms. To start growing your presence on Pinterest, you want to dive deeper into keyword results.
So, for our example, lets pick 'yoga for beginners.'

Immediately, you see tiles underneath your search terms. There are over 80 tiles for 'yoga for beginners.'
Pinterest is trying to figure out what type of content you want to know about. This is perfect if you have a health blog.
You can use 'yoga for beginners' as a keyword, but also:
yoga for beginners weight loss
yoga for beginners video
yoga for beginners toning
and more
Each tile you can add that phrase to your keyword to make it more niche and more related to your audience.
But, wait! You can nest down some more!
Pick 'yoga for beginners weight loss.'
More keywords!
These are the keywords you want for your Pinterest descriptions.
How to Optimize Your Pinterest Board with Keywords
One place to use keywords on Pinterest is on your boards. I can bet most pinners have no description on their boards. It's often overlooked, but it shouldn't be.
Pinterest promotes boards on your feed.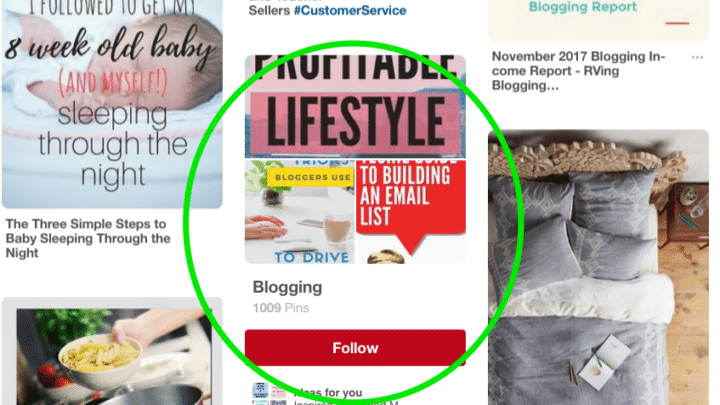 So, place keywords in our board's description.
For the health and fitness blogger, here's an example for a yoga board:
"Yoga for beginners to help with weightloss, toning, flexibility, and stress. Learn Asana with video lessons, a morning and bedtime yoga routine and how to do yoga poses as a beginner."
Make sure to also use a keyword for the name of your boards. Using a cutsey name won't help pinners find your board. So use keywords that's related to your niche.
Here is a snippet of my Pinterest boards.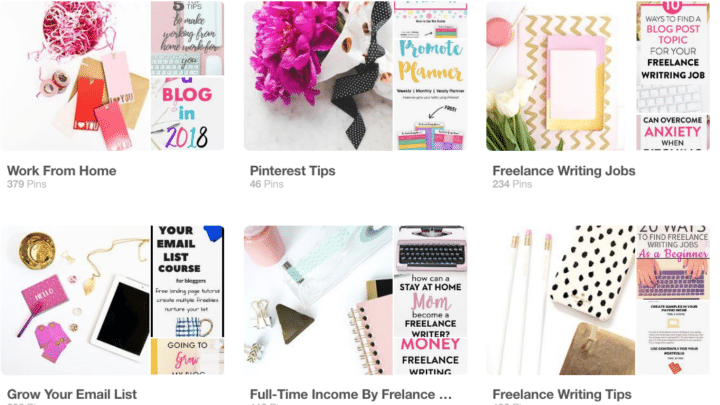 You can see my audience wants to know how to make an income online so I have boards for work at home moms, freelancers, and mompreneurs.
How Many Keywords Can I Use for My Pinterest Description?
Right now, 2019, Pinterest doesn't penalize you for using a lot of keywords in your descriptions. In saying this, you do want to be classy and not look like you're spamming your board descriptions.
Try to use keywords as naturally as you can in your sentences and you should be fine!
There Ya Go!
Your Pinterest board descriptions are important to help you be found on Pinterest. So, set some time to fill those board descriptions if they are blank or tweak them to have keywords that someone may search for when searching your niche topic.
This is day 1 of 12 Days of Pinterest Tips to Grow Your Blog Traffic, List, and Income!
Tell me in the comments if you optimized your board descriptions with keywords.
Please pin me!