Hey mamas!
It's that time of the year again! I'm doing my 12 Days series again this year. Last year, I posted for 12 days straight of free resources like Tailwind Tribes, planners and more.
This year I want to do something a little bit different. I want to share some pin-tastic Pinterest tips! Pinterest is my BFF and I realize I don't talk about "her" much on Twins Mommy.
So, for the next 12 days, I'm going to be sharing some Pinterest tips to help you grow your blog traffic, list, and income.
Day 1: An Easy Way to Find Keywords for Pinterest Descriptions
Day 2: What You Need to Know About Pinterest Hashtags
Day 3: What Are Pinterest Sections And How Do You Add Them to Your Boards?
Day 4: 4 Ways to Get More Saves on Your Pins
Day 5: 5 Big Pinterest Mistakes Bloggers Might Be Doing
Day 6: 5 Ways Any Blogger Can Make Money on Pinterest Today
Day 7: 5 Poppin' Pinterest Podcasts for Bloggers
Day 8: 4 Pinterest Tools to Help You Grow Your Blog Traffic
Day 9: 3 Easy Ways to Grow Your Email List Using Pinterest
Day 10: How to Find the Best Times to Pin for Massive Blog Traffic
Day 11: 5 Top Pinterest Myths That Everyone Believes
For our last day of the 12 Days series, I want to talk about how to optimize your Pinterest presence in 2018.
Pinterest is changing.
If you've been on Pinterest for a while, they have changed many aspects of a pinner's user experience from the look to the algorithm changes to changing search strategies.
I feel Pinterest is also working hard at ranking in Google with their explore pages.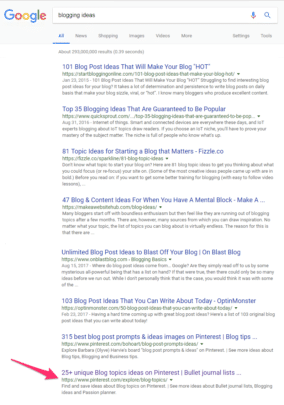 Pinterest is number 8 for the term "blogging ideas." And Pinterest is dominating other bigger niches like home decor, fashion, and food.
So, you can see, that if you are ranking well on Pinterest, Pinterest will promote your pin in their explore pages on Google.
So, what can you do to make Pinterest your traffic BFF? Let's look at five ways you can get ready for more blog traffic in 2020.
1. Clean Up Your Boards
It's a good idea to assess your boards to find commonalities and outliers. For example, if you recently switched your personal Pinterest account to a business Pinterest account, you may have board topics that don't align with your target audience.
Don't delete the boards though! You will lose followers since each board has a set of followers. Instead, make that board secret.
To make your board secret, go into your board and click the pencil icon on the upper left-hand side to edit your board settings.
Slide the secret option over to make that board secret.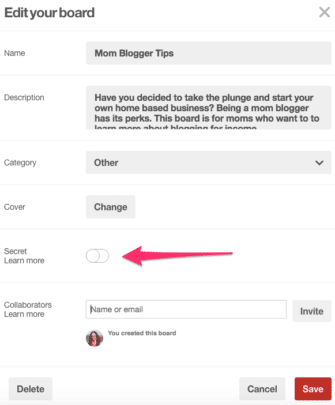 If you decide to secret a board that is related to your niche, I would first check your Pinterest Analtyics to see which boards have the highest click-throughs.
Go to Pinterest Analtyics and then to Your Profile and scroll down to see which boards drive the most traffic.
Another thing you can do with your boards is to clean up your boards with Sections. Pinterest Sections allow you to categorize your board into smaller niche topics.
Find boards with similar topics and move them to the main topic board and create sections.
2. Analyze the Group Boards You're In
Are group boards still in for 2020?
Yes and no. For new profiles they work and with big group boards (20,000 followers or more) they still work.
I still use group boards to grow my impressions and click throughs but there will be a time when group boards won't work as well. Until that time comes for you, still use 'em!
While you can get a lot of insight using Tailwind, if you don't have Tailwind, you can still run a quick assessment of the group boards you're in.
First, check the ratio of contributors to followers. Typically a board with fewer contributors and more followers perform well.
I wouldn't remove myself from poor-performing group boards, however. Personally, I wouldn't schedule my pins to those boards as often.
You never know if group boards become popular again or if that particular group board becomes more converting.
Next, look to see how fast the group boards move. Fast moving group boards (usually with hundreds of contributors) perform low with repin value.
They move too fast and the followers on that board may not see them in their feed unless they spend time scrolling their feed.
Again, don't rely on or think that group boards with hundreds of contributors will drive the most traffic to your site. They will help with some clicks but it won't be your main traffic generator source.
For example, I belong to one group board with 109 contributors and 298,030 followers.
This board DOES bring clicks back to my sites and is one of my top boards listed in my Pinterest Analytics.

Finally, you want to see if the group boards you are on are relevant to your blog niche. There are a lot of "catch-all" types of group boards on Pinterest that may not serve you well.
Again, go to Pinterest Analtyics – and if you have Tailwind, go and explore your board insights – to get a better picture of the boards you're on.
3. Find the Pins that Drive the Most Traffic
To start figuring out how people are coming to your site and what content is resonating the most on Pinterest, go to your Google Analtyics to view your top performing pins.
Go to Acquisition > All Traffic > Referrals.
From here click on Pinterest and you can view your top performing pins.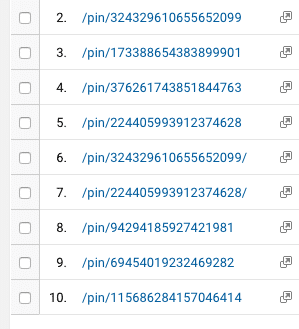 Copy and paste that URL after the "https://pinterest.com/ <———" part. You will see the pin that's driving traffic.
From this you can gather some information like:
The main topic that drives traffic
The pin graphic style that attracts pinners
The type of headlines you're using
What board it was saved on
Who pinned it
Based on this information you can start creating more content in that niche topic and you can focus more on optimizing your pin graphic designs.
4. Start Testing
Armed with this knowledge you can start testing on Pinterest!
My free Pin Promote Planner has three planners: a weekly planner, a monthly planner, and a yearly planner.
The yearly planner is optimized to look at your profile and tweak it with some A/B testing. Start changing your pin graphics, the sizing, the descriptions and so on.
This is the time to really look at your profile and see if from a pinner's perspective. While most pinners won't go to your boards, Pinterest does – so optimizing each board is essential.
5. Get Your Blog Ready for Pinterest Traffic
Look –
You can have the best pimped out Pinterest profile and drive massive clicks to your blog, but if those pinners aren't staying on your blog and not signing up to your email list, what's the point?
You have to have a sticky blog.
This is a blog that a pinner or blogger comes to and opens every blog post, reads every post and signs up to your list.

How do you get a blog like that?
My traffic boosting course, Ready Set Blog for Traffic, gives you the blog traffic recipe to make a sticky blog that drives traffic every day.
As a freelance writer, I know what makes a powerful and engaging blog post. As a blogger, I know how to effectively write content that helps solve problems for my audience. And as a digital marketer, I know how to use Pinterest to drive traffic.
There Ya Go!
This is day 12 of my 12 Days of Pinterest Tips to Grow Your Traffic, List, and Income! I hope you found some great tips to help you get found on Pinterest!
Let me know how you're going to get ready for Pinterest in 2020!
Please pin me!