In the past, blogs were just a tool for people to share their thoughts with others.
You know, the personal blogs back in the day that may have gossip and acted as a personal diary.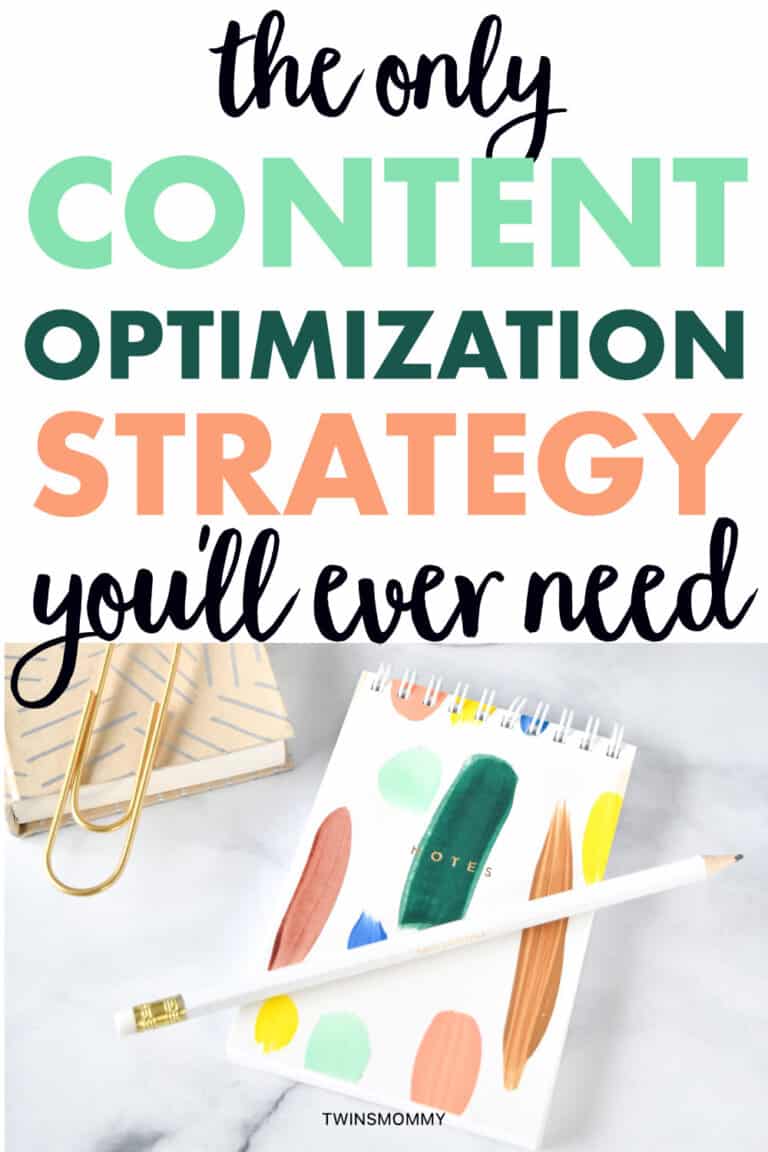 But now, bloggers are more than that.
Blogs have become an important channel to attract users and customers to a blog.
And content optimization is a huge part of this tactic.
It often feels like there are so many different factors to take into consideration – like creating a solid content strategy – when writing blog posts.
However, the good news is that you don't have to be an expert in all of them because content optimization can be broken down into six categories: updating old content, finding the right keywords, showing your authority, learning copywriting, writing consistently and creating the right blog posts for traffic.
It may seem like a lot, but if you come into starting a blog with a content optimization strategy, you won't lose track and be successful must faster than other new bloggers with no plan.
These six areas should be at the forefront of your mind whenever you create new content.
I'll go over these six elements and how they impact your rankings on Google searches!
It's All About Content Optimization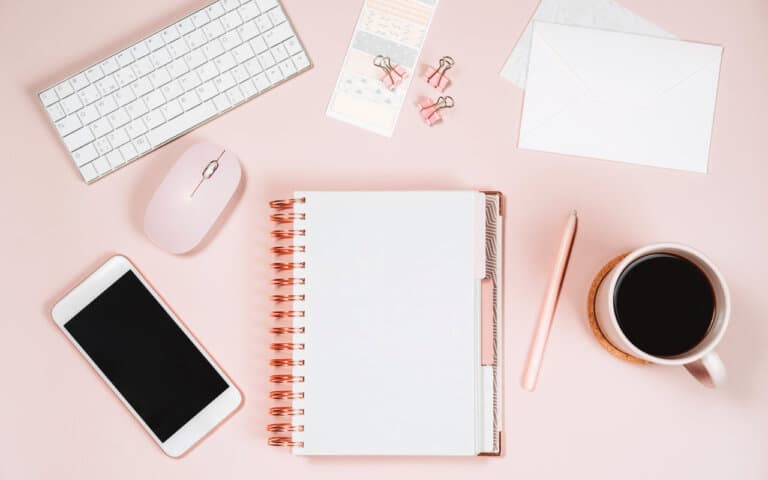 When it comes to blogging, you need to learn what optimizing means:
To make changes or improvements in order to achieve maximum efficiency.
When looking at search engine optimization (SEO), it's an ongoing process that continues up until a page goes live on Google's first page.
For the time it takes to write a blog post it's actually formatting it, adding lead magnet offers and optimizing for the best keywords and user intent that take the longest.
Optimizing blog posts, articles and landing pages means you're working to provide the best user experience possible for people reading your content.
Some of this optimization process entails using keywords in your post titles, descriptions or tags.
Your SEO campaign needs to begin with content optimization. This is the foundation of your blog content.
You want every post to help you make money, grow your traffic and increase your email list, right? This means every post has to be optimized.
But, is optimizing your posts all that is done as a blogger?
No.
Marketing is a huge factor for success and after you optimize your content, you need to market it effectively. This was how I was able to gain thousands of subscribers and over 30,000 pageviews early on as a new blogger.
Using Marketing for Your Content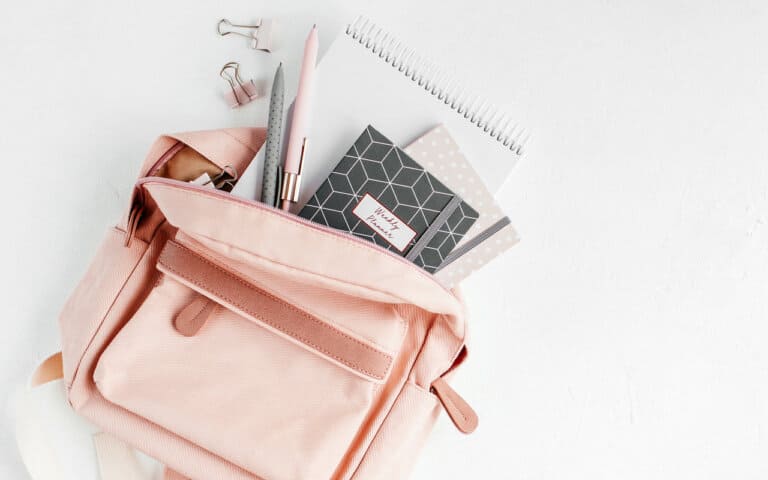 Guess what?
Content marketing is worth over $400 billion dollars right now!
And, what's more important than knowing that marketers and businesses are sinking dollars into this strategy, is that people are reading 3-5 blog posts before they think of buying something.
That means the content you spend time writing and optimizing will help a reader buy and they may even buy from you via affiliate marketing, sponsored content or with your own products.
Content is what brings traffic and that's the most important thing for a blogger to focus on.
Content marketing is simply creating content for your blog and using other forms of media to advertise that material such as through social networking sites or advertising online.
There's nothing wrong with using this tactic when you have a blog because it's important to get your name out in the blogging world and hopefully gain an audience.
Remember, a blog relies on an audience that wants to read your stuff!
One example of how you can use content marketing in blogging is telling a story, which draws readers in because they want to learn more.
Telling stories is a great way to attract people and get them engaged with your blog (and I'll talk more about that when we go into copywriting as a strategy for ranking).
It's important to keep in mind that content marketing is all about building trust.
When you're sharing information, whether it's text or video on Instagram or YouTube for example, this will help gain users and readers that are interested in your posts.
That's why marketing efforts are layered for you. First content optimization, then an email list, then a promotional strategy and finally, selling your first printable product.
So let's look deep into the first step: optimizing your content to help it rank better.
Your Content Optimization Strategy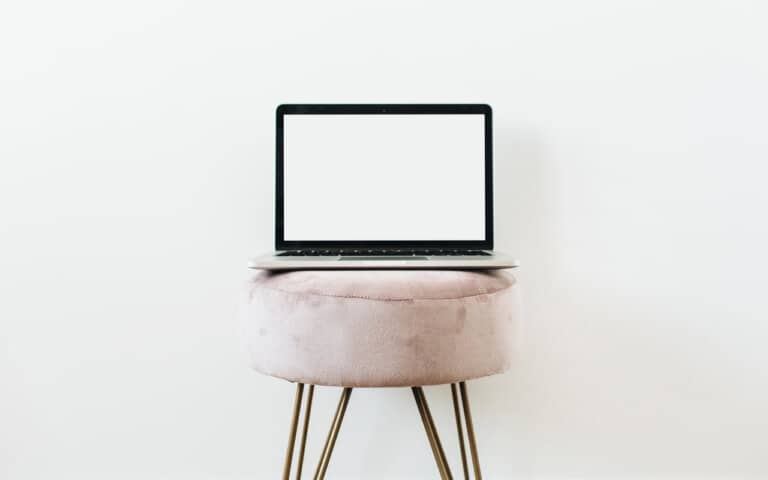 Some people might be thinking, "I'm not a content strategist. What's the point of this?"
Here's why you should care about your blog optimization strategy: Google will reward you for producing high-quality content that's relevant to your target audience.
In other words, if you have an audience that cares about cooking or travel, make sure your blog posts are on those topics and include plenty of images.
So to get ready for that flood of traffic, you need to ensure you have the basics covered. Let's look at three important features that every blog post must have optimized.
Basics to Have: Your Blog Post Title is Optimized
A good, SEO-friendly blog article headline is important because it helps people discover your content on social media and search engines.
This increases exposure, click through rates (CTR), and organic search traffic. Win-win!
To give you a better idea of what I'm talking about, here's an example blog post title: How to Pick the Perfect Keyword: A Step-by-Step Guide.
This is an optimized blog post title because it has the keyword phrase that I'm targeting in the beginning of the sentence (perfect keyword).
This helps search engines understand what your article's content is about, and rank it higher for relevant searches. This is also a great headline because of the number of words in each word group (i.e. three-word phrases).
I have a total of five words in our blog post title (i.e. How to, Pick the Perfect, Keyword: A Step-by-Step Guide). This is important because Google shows short blog post titles that are around 60 characters long in the search query (i.e. the rest of your title isn't shown and you want users to quickly know what your blog post is about).
Make sure to avoid using:
Extra spaces, symbols or punctuation
Abbreviations (i.e., acronyms)
Category or subcategory names in the blog post title
These things can cause technical issues with your blog , which can result in Google not crawling it properly, and/or other search engines not indexing it at all, and you don't want that!
Basics to Have: Your Meta Description is Optimized
The meta description is the short blurb of text that appears under your URL in Google.

It's also found when you're doing a search on Google and it's slightly different than what shows up as "snippets" at the top, which are pulled from your content.
The meta description helps people know if they want to click through to your page or not.
There are a couple of ways you can create your meta description.
The first is leaving it alone and letting WordPress do its thing when generating the content automatically from within your post editor screen.
This is actually what I do and I prefer because I found searching for my posts using different keywords brings up different optimized meta descriptions.
For example, putting different keywords for money making crafts gives me my post but with different meta descriptions.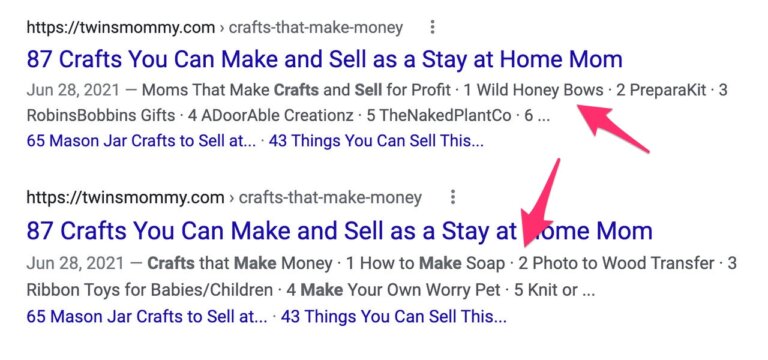 The other way is using the Yoast plugin on your blog. This will automatically generate the meta description for you and use relevant text from within your content to help boost SEO.
Basics to Have: Your URL is Optimized
A blog's URL is either its brand name (for example, twinsmommy.com) or an alternative version of it that the site owner has chosen to represent their business online (such as innovativeink.ca).
Often times, a blog post title will be included in the URL so readers know what they are clicking on.
For example, I shared my Goal Setting Planner in my Facebook group and you can see I used the title of that page as the URL.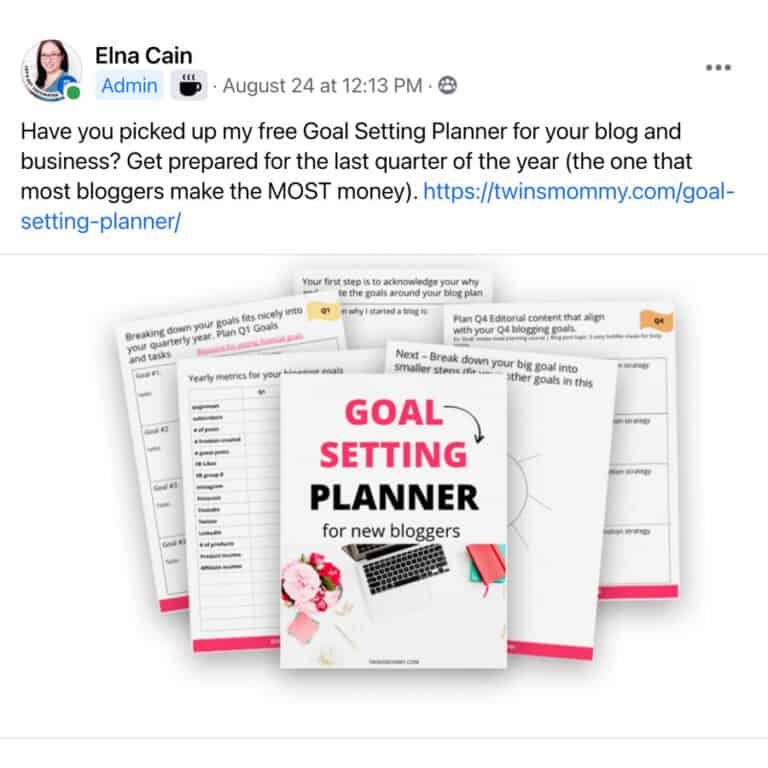 On your blog, the URL should be something simple and easy to remember that's relevant to the content of your blog post (which will make it easier for people who are sharing your content or trying to find it).
Okay, so now let's go through the six ways to create a content optimization strategy for your blog.
1. Update Old Blog Posts
Updating blog posts should be a thing you do every month.
Unfortunately, for me, that isn't always the case! I have several blogs and doing this one thing can take weeks!
So, what I do is just focus on blog posts that are loosing ranking or just aren't ranking at the moment. By focussing on the most important pieces of content to update, you're saving time and growing your business much faster!
To help you update your old blog posts and get it ranking faster, make sure to take my totally free training – SEO Your Post.
Updating old content means making sure you update it with the latest information to keep your content engaging.
Here are some steps that will help you update older blog posts easily:
Add new relevant keywords if needed for ranking better
Answer more questions about your topic to increase word count but to also add more value. If you have good content, then it should rank well even after making a few tweaks here and there
Update any broken links in your blog posts to help improve user experience
Update your post with new information and keep it fresh. This might mean new facts and statistics to help it make your content more up-to-date
Update any old images in your blog posts. For me, since I talk a lot about Pinterest I have to always go back and if, needed, update the images of the user platform since it changes constantly
2. Finding the Right Keywords for Your Niche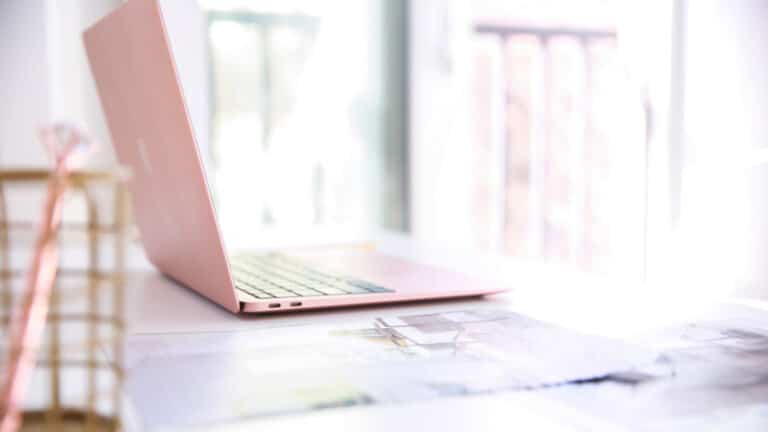 The first step to finding the right keywords is understanding your blog niche, and what people are searching for.
Fundamentally, these are the ONLY things that can help you find the right keywords (but know that I have a keyword guide with good keywords for 17 niches. Yes, I did all the work so you don't have to!).
If you can find a way to use that information in each blog post differently then it will help attract more readers because you're using different keywords throughout the article instead of repeating yourself over again.
For example over on my freelance writing blog the keyword "freelance writer" is one I use a lot.
But I don't want to keep repeating myself so when I do end up using that keyword each blog post will have a different angle. One might be about the business of being a freelance writer while another blog post might be ways a freelance writer can grow their income.
Once you found the right keywords (either via my helpful guide or using a free SEO tool like Ubbersuggest), you need to determine how you're going to implement those keywords.
There's different ways that work better than others, but here are some simple suggestions on how you can use them properly for your blog content:
Keep keywords relevant and natural – It's not that you need to include your keywords over and over again, but it needs to feel natural as if the reader was reading what they thought was a normal blog post. This means no article spinning which is considered spamming or using synonyms of the keyword just so you can keep repeating yourself on every page. It's better to find other related keywords. For for "freelance writer" other related keywords might be "online writer" or "writing gigs" or "new writer online."
Be consistent – Using your main keyword throughout your content (but not over using it) is important. Not only does it bring in more search engine traffic, but you won't confuse the reader with constantly using different keywords that don't make sense to them or relate back to what they originally searched for. There is no right number on how many times to use your keyword but for long-form blog posts I would stick to 10 or less.
Keep sentences short and sweet – Keep all of your sentences short when possible to help people stay on your blog posts longer. Remember, Google looks at the retention of readers. Once a person clicks to a blog post how long do they stay? If they leave quickly that's a signal to Google that your post didn't answer the user's question.
The important thing to remember is to be patient.
Your blog post won't rank in Google overnight, but with consistency your views will slowly increase over time, helping you grow your income and email list!
3. Show You're an Authority
For your optimization strategy to work for you, you really need to dig deep and look at yourself as an authority in your niche.
But, what if you have a lifestyle blog? How can you be an authority on living?
For this to work, you need to excel in one topic in your lifestyle blog. If you talk about adoption as a main health as a pillar topic, then it would be a good idea if you're a nurse or nutritionist or have a job in the health sector. Having that credibility will help your readers trust what you have to say about health.
But, what if you have a niche site like gardening or coffee or home decor?
If you aren't a home decorator or work in a garden center and run these types of niche website to help with affiliate marketing, you can show your authority by having stats and examples in your content.
So, even if I'm not a career expert, by adding stats about people quitting their jobs to work from home or buying-behavior online, I can use these to shape my authority to help moms make money blogging.
Okay, let's look at some things you can do to show your authority in your niche.
Talk about your experience with the topic. For my blog Smart Mom Ideas, I talked about using IVF to get pregnant with twins and this was one of my most viral posts on that blog. This helped me though, become an expert in being a mom to twins and using IVF to get pregnant.
Show statistics to show there's a need for what you provide in your content. Make sure these are real stats, not just made up ones from random sites around the web! Use stats from the first page of Google.
Share relevant studies that help add credence to what you're writing about and make it more credible. Using case studies or even sharing your own personal experience can add relevancy to your authority.
Make sure each post is long enough in length to talk about your topic as much as it needs
Finally, tell YOUR story.
While Twins Mommy is a site for moms who want to start successful blogs, I do have a Twins section and periodically write about my twins. This helps my readers know I'm a REAL person and hopefully they can relate – if they have twins or if they have a child the same age as mine.
4. Learn Copywriting
Look –
I'm sure if you're a follower you know that I'm also a freelancer. I do email copywriting for online coaches and other mompreneurs and I love it!
I write emails that convert. This means the intention of my copy is to sell something.
Now, it doesn't have to be a product or service, you use copywriting tactics to sell YOU, your IDEAS, your BRAND to people.
So, in effect, copywriters write articles using words effectively by putting the right words in the right place and using them to get their point across.
Copywriters also use words carefully so they write about what the client wants to know without going off topic.
And, guess what? You can do that as a blogger too!
There are many ways to use copywriting as a blogger.
It can be used for SEO purposes, which will help increase your search engine rankings and website traffic.
For example, you could write about how using specific techniques such as list posts or infographics would boost your blog in Google's eyes. You should also show people what they are going to get out of it by using bullet points and numbers.
Just by formatting your post for better reading can be a quick way to convert readers into buyers.
It can also be used for lead generation, which is getting your readers to sign up on a list or subscribe via email so that you could build an audience and market directly.
For example, if someone reads about how they should use hashtags in their Instagram posts then you made a handy cheatsheet of Instagram hashtags for mom bosses and added that to the post – BAM! Subscribers are on their way!
These "tactics" are copywriting tactics because you are using your content to convert a reader into a subscriber or buyer.
5. Write Consistently
I have too many blogs!
While I do hire ghostwriters to help me with my niche sites, I have two main sites – this one, Twins Mommy, and my freelance writing one, Elna Cain – and I have to write a blog post at least once a month or more.
Preferably, I want to write more because to help me rank better in Google, I'm effectively competing with other bigger blogs. Those blogs have 10 years worth of content and a thousand blog posts or more.
Me? I have barely 300 for any one of my sites!
So, I want to build my content library quickly so that Google sees that I'm an authority and niched down – my content optimization strategy right there!
How do I write consistently on two sites then?
One thing that helps is being able to type fast. Since typing/writing is my "job" I have to be good at it and when I first started blogging I actually took typing tests!

When you can type fast and accurately, this saves a lot of time writing blog posts!
Another thing that helps a lot is writing an outline for each post I create. This is crucial to help me see where the post is going and judge how long it needs to be.
Finally, something I recently invested in is an AI writing tool called Jasper.
While Jasper CAN write an entire blog post I find it highly redundant, repetitive and quite bland.
As a copywriter I know the value in highly engaging content and Jasper just isn't there yet.
But, I do use Jasper AI for some type of content like my subtopics, my conclusion and sometimes my introduction. Recently, I've been having Jasper "beef" out older content to make them more valuable and longer and am liking this tactic.
I still have to heavily edit Jasper and add my own content to make it sound more like me!
But, as a serial entrepreneur, I'm finding Jasper is a must for your content optimization strategy.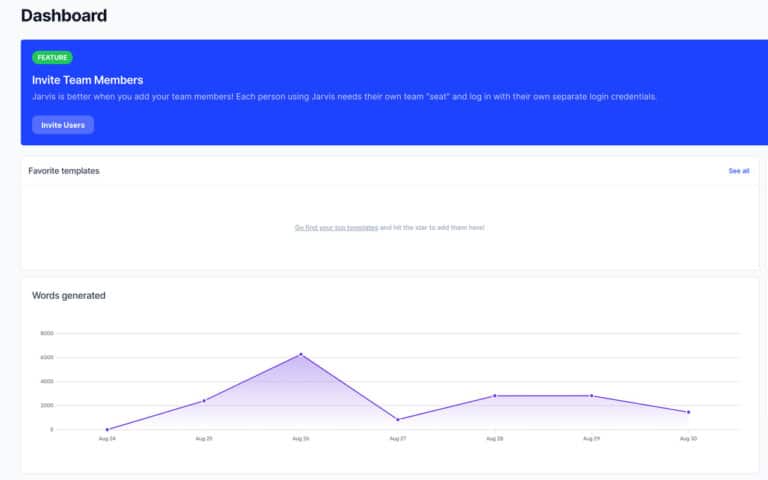 6. Create the Right Posts for Traffic
There are many different types of blog posts that can be created to help drive traffic and rank in Google.
Each type serves an important purpose, some for immediate traffic while others work over time for better ranking potential. It's important to know what each blog post is good at so you can get the most out of your blogging efforts.
Here are the best post types that are best at driving traffic right now:
How To Posts
How-to blog posts explain how something is done.
They can be videos, written text or pictures. These rank high for keywords and get a lot of searches every day.
For example, using Ahrefs – a paid SEO tool – I can see the "how to clean a Keurig" gets around 19,000 searches a month!
That's a lot!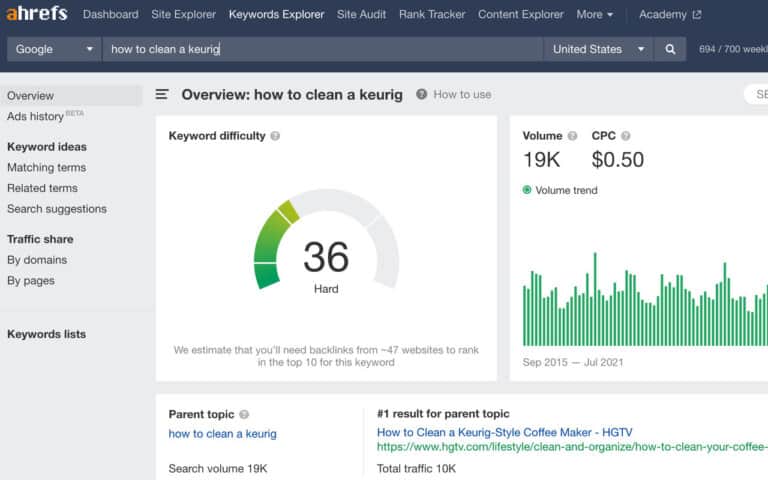 If you're looking for immediate traffic, this is one way to do it as they are easy to write and can reach a lot of people.
Lists Posts
Having list posts on your blog makes for great content as they're categorized, valuable and effective at ranking in Google.
But, list posts are also great for social media.
Make your lists detailed with numbers or bullet points and make sure to also add screenshots of what you are talking about or pretty chic stock photos.
Some examples of popular list posts include "Top five ways to…" or "The ten best hacks to…"
Find a topic in your niche – new mom with a newborn – and create a list based on it, "25 Baby Hacks for New Moms."
I write a lot of list posts for Smart Mom Ideas and many of them go viral.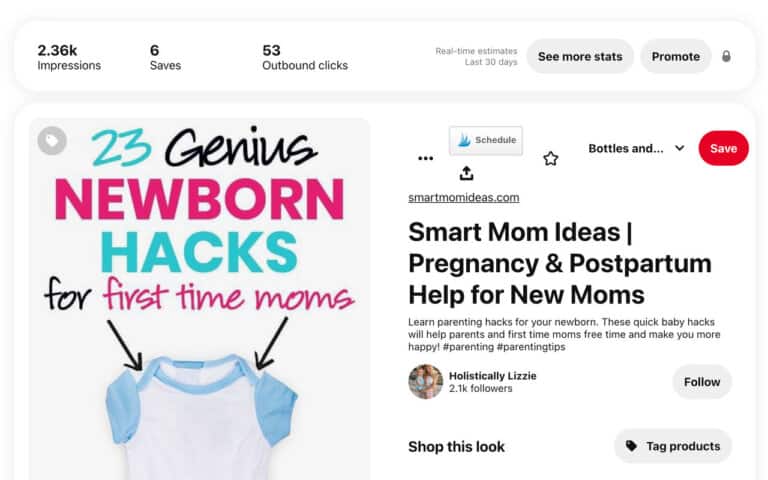 Questions
Question-type blog posts work well if you're wanting to start a discussion because they get people talking about your content and sharing it with others.
It's also a great way to boost user intent when people are searching on Google. Most searches are questions people have and if your posts is the answer to that question, it will rank.
You can easily write question-based content by using Answer the Public – a free tool to look at the most frequent questions people put into Google.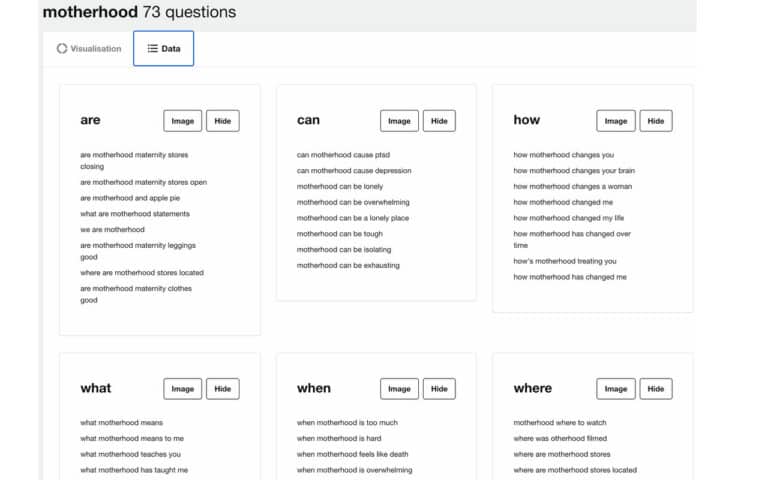 Start Your Content Optimization Strategy Today!
If you've been struggling to find the best way to optimize your content for search engines, hopefully this post has helped.
I know that there are a lot of blogs and articles out there about creating a blog strategy, but it can be difficult wading through all of them to figure out what will work best for you.
One thing is certain though – if you want more people reading your blog posts or visiting your blog, then optimizing those posts with keywords should help drive traffic!
Are you ready to start your content optimization strategy today?
Tell me in the comments what you will try out first in this list!
Please pin me!