Did you recently start a blog, but have no idea how to get visitors to your blog?
If you've been blogging for less than six months, there are some blog traffic tips that can help get your new blog seen by potentially thousands of new people!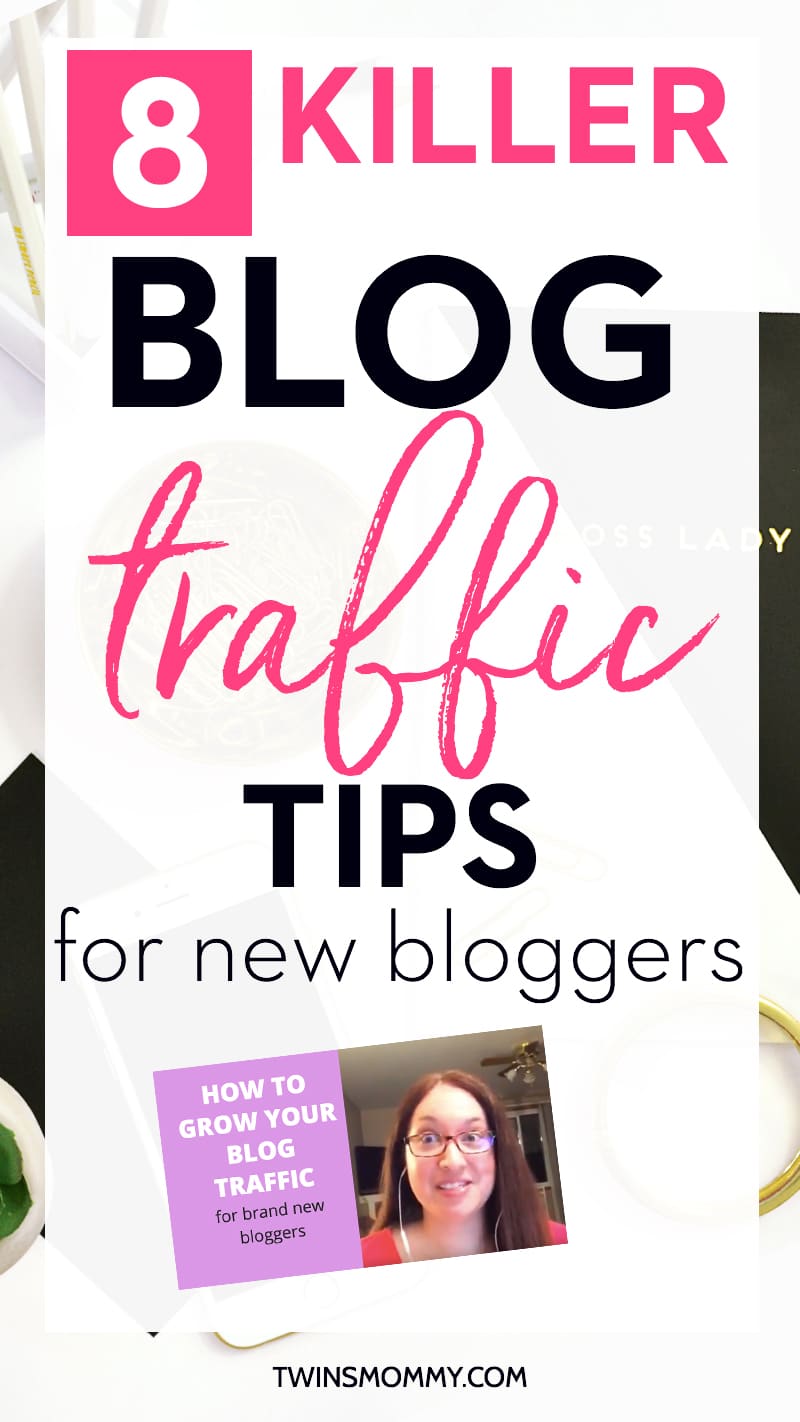 I started Twins Mommy over a year ago, but I was in a completely new niche (mom blogging). I didn't know any other bloggers in this niche and I was struggling to gain an audience.
It wasn't until I started actively trying to grow my blog that people took notice!
Looking back, there are eight key strategies that I did to start growing my blog traffic. If you don't have time to read the post, I made a video! I'd love it if you watched the video and subscribed to my YouTube channel! <3
1. Understand Your Audience
To have a loyal following, you need a niche. A blog niche is focussed and can help one type of people. While multi-niche sites are popular, it's hard for new bloggers to attract a wide variety of people.
Instead, if you want to monetize your blog in the future and grow your traffic now, figure out your niche and understand your audience.
In the beginning, I was writing to the work at home mom. I wrote posts to help that type of audience, but I later pivoted. I wanted to grow my blog and share that with my audience.
And by sharing that content, I was attracting a whole new set of readers – mom bloggers wanting to grow their blog.
So, even though you started a blog and you're not sure who your audience is, it's okay 🙂 Just keep on blogging and over time you'll see who you are attracting and then you can tailor your content for this audience!
2. Create Your Blog Voice
When you first start blogging, you may not fully develop your blog voice and personality. Maybe you follow a particular blogger and start writing the way they do, or maybe your work has you being professional and so your blog is like that.
If you want to grow your traffic and income, your blog has to be a friend to others 🙂 So, making it more conversational, adding your own phrases, emoticons, GIFs or images can help with that.
Your blog voice also comes out with the colors you choose for your blog and the Pin graphics you create. And you know what? As a new blogger, this is something that takes time to develop.
Don't feel pressured to create this blog voice and brand within the first month of blogging. Instead, do what you like and feel comfortable with and over time your blog voice will shine!
3. Your Posts Need to Help Solve a Problem
Can I tell you a secret?
Bloggers are selfish!
We only go to people's blogs if it looks like it will help us with something.
If I see a Pin on My First Month Blogging, I probably won't click on that. Why? It's not telling me that that post will help me as a new blogger. Even though that post may have tips for new bloggers, the headline doesn't tell me that.
So, when you create your post, you can be personal and share your experiences, but always remember to give tips and strategies for your readers to help them through the process.
And an easy way to do that is to make a headline that tells readers you will help them. For the example, if the blogger included tips, then a better headline might be 8 Tips I Learned From My First Month Blogging. This is a better headline, but we can even make it more clickable if we talked about mistakes as well.
8 Blogging Mistakes I Made in My First Month Blogging. In that post, you can focus on the mistakes and what you learned, instead of just writing about your first month.
Formatting your post for your audience is key to getting traffic. I suggest that you think of four blog post ideas and see how you can help your audience too. For example, if you are a mom blogger that writes about parenting mostly some ideas to help your audience:
Ways moms can yell less
How to get your child to listen more
What to do when your 3 year old wakes up at night
The best non-toys for Christmas
These are just ideas based on the niche parenting, but in those posts they can help other moms. Here are two other tips below.
4. Visit Blogs in Your Niche
As a new blogger, it's important to start networking and meeting other bloggers in your niche! You can't grow your blog by yourself! You need that support of other bloggers!
I found that the mom blog community is highly supportive and I love that!
You can search in Facebook groups to find others in your niche. That's what I did and I also visited other mom blogger's blogs and followed them all over social media!
What's great about doing this, is you can learn from them. Look at their blog content and see which posts are popular. Maybe they have all of their popular posts on the sidebar.
Take a look at the topics and use that as inspiration for your blog. You want to have blog posts that can help solve a problem and visiting other blogs can help you get an idea of what your audience craves.
5. Search on Pinterest for Topics in Your Niche
It's my best referral for traffic!
Pinterest is a great way to see what people are pinning in your niche. For example, if you have a blog about newborns, I can search on Pinterest for breastfeeding tips for newborns.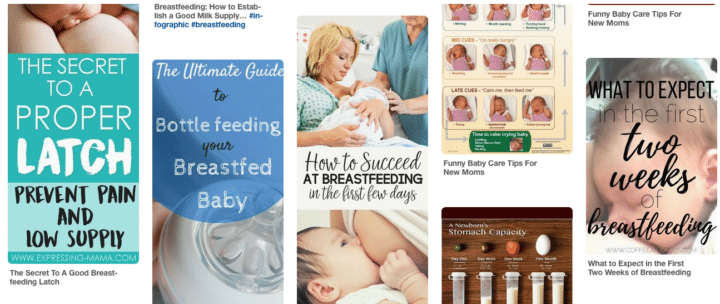 Looking on Pinterest can give you ideas of what's popular – latching, bottle feeding, learning to breastfeed fast etc..
From here you can create blog posts about or around those topics and add some more tips as way to make it more valuable.
6. Create Resource Guides
Can you tell I'm all hung up on content?
Content is the only way to grow your blog traffic (no matter how often you promote it). People will NOT click on your social media post or Pin if it isn't solving a problem and isn't enticing enough.
So, having the right content is important. And one of the best types of blog posts you can have is resource guides. These are highly valuable posts that people will link to and refer to.
These are ultimate guides, tutorials, reviews, list types of posts, how to's and more.
These types of posts are easy to monetize too!
7. Join Facebook and Pinterest Groups
While promoting your blog post is important, as you can tell from this post, having the right content to promote is more important.
Once you have that down, the next thing is to start joining Facebook groups and Pinterest groups.
Once you join these groups, start sharing your posts. On Pinterest it's okay to only share your posts. You're new and you need to grow YOUR brand and blog. I mostly pin my stuff and Pinterest doesn't frown on that.
So, go ahead and pin your things!
8. Start Guest Posting
Do you know what guest posting is? It's when your blog post is published on someone else's blog. This is one of the best ways to get in front of a new audience. When I started Twins Mommy I did a lot of guest posting and it helped bring new readers to my blog.
Guest posting is also a long-term strategy and something I'm currently doing since I have more time now that the twins are in school!
To find guest blogs you can search on Google. Type in "write for us + niche." Here's the result for parenting.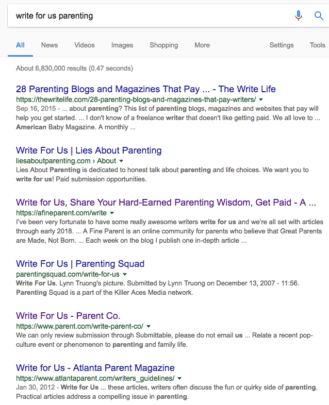 There Ya Go!
If you're brand new to blogging, one of the first things you need is traffic! Traffic will grow your income and email list! Let me know in the comments what you are struggling with OR what you are having success with! I want to hear from you!