Need help in promoting your new Facebook group?
You're pumped about all the cool things you want to share like challenges, daily prompts, pics and more, but there's only one thing: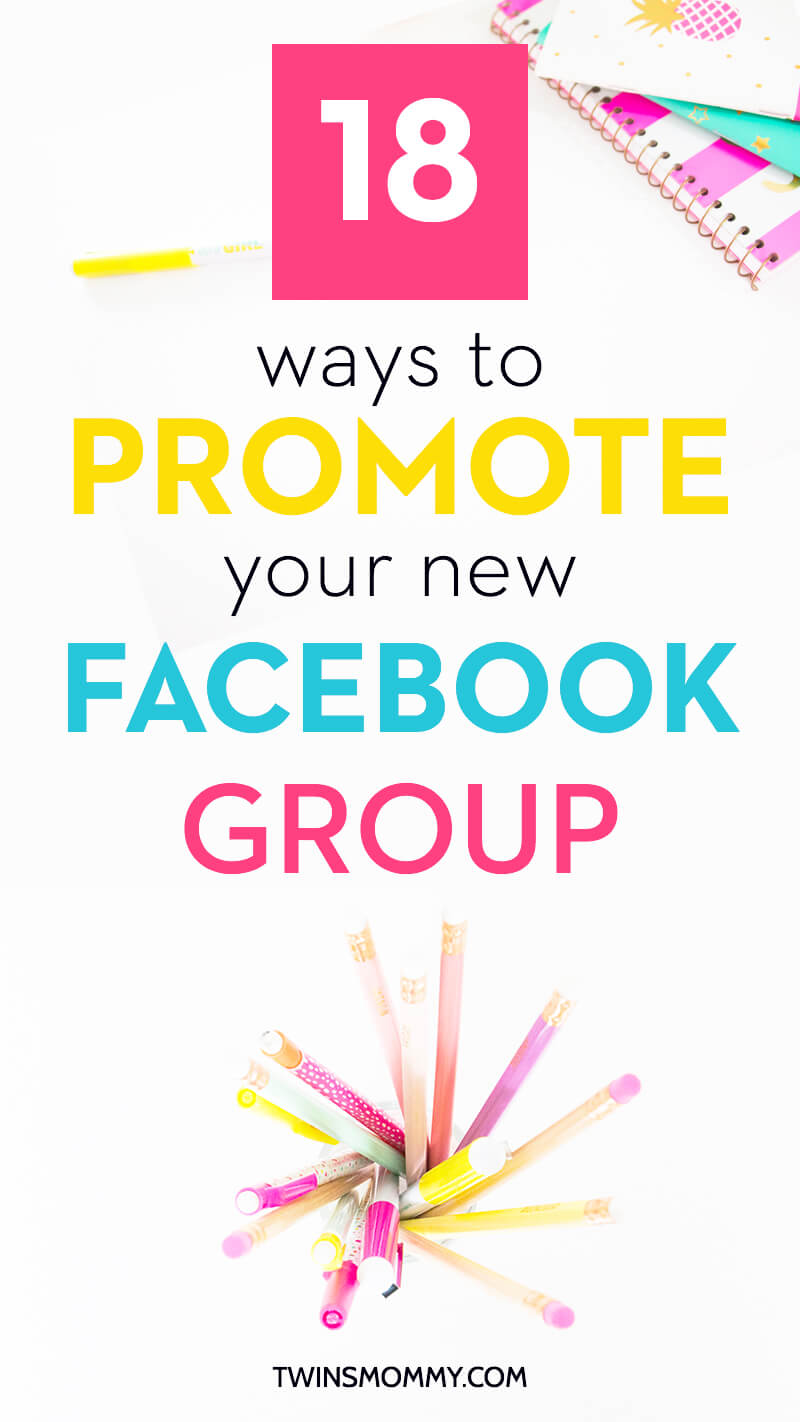 How will people know you have a new Facebook group?
How can you promote this new social media group to your audience without spamming every other group or your email list about it?
I recently started a Facebook group called Ready Set Blog for Traffic (From Mom to Mompreneur).
Originally it was called Mom to Mompreneur but since I released my traffic course, Ready Set Blog for Traffic, I wanted to have a place for my course students to ask me questions and for me to help them!
So, I updated the name to reflect this.
I needed to find a way to promote my new group without screaming about it all over social media.
Here are 18 ways on how to promote a Facebook group!
1. Put a Link in Your Welcome Email
What do you do when someone subscribes to your email list? Do you email them your freebie and then do nothing?
I hope you don't! You can email them a welcome email! This is an email that introduces you, your blog and some great things you want to tell your new subscriber (like that new Facebook group you have!)
When I started my group that was one of the first things I did.
Brand new subscribers can join my Facebook group, get to know me on a more personal level and learn about growing their blog and business.
2. Put Your Link on Your Sidebar
The next thing I did was create a little graphic for my sidebar. This is a popular way to let new readers and even repeat readers know that you have something new.
Here are some examples of sidebar graphics promoting a Facebook group.
And while most people have banner blindness for sidebar ads, I find creating graphics for my own posts, and lead magnets haven't hurt me yet! When people click on your graphic you can direct them to the Facebook group to join or to a landing page to opt-in to you email list before joining.
3. Pin It to Your Facebook Page
Something odd happened when I created my Facebook group. Around that time I also created a Mom to Mompreneur Facebook page as a "just in case" I do something with that brand name.
The Facebook page sat there, doing nothing, but I was getting notifications that people were Liking that page! I have 62 likes already…
So I created a Facebook page banner just to promote the Mom to Mompreneur Facebook group and linked the "learn more" button to the group.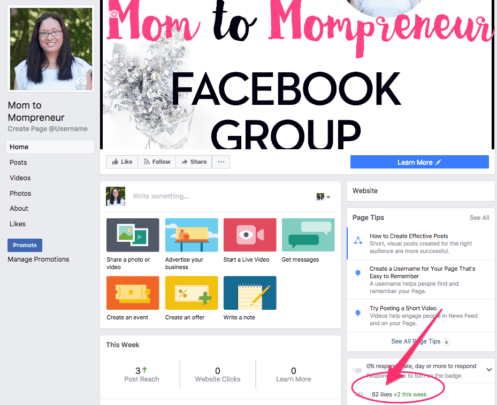 And of course, sometimes when I posted on social media, I ended up posting on this Facebook page! Go figure! I'm hoping the 62 likes are from people also in the group!
But, if you have a Facebook page you can pin your group and use that as a place to market your group to your audience and new bloggers!
4. Link to It on a Thank You Page
This tip I haven't done, but it sounds like a great idea when I was coming up with this post topic! When people subscribe to your list, free course, summit or something you are offering, you can alert them to your Facebook group.
This is exactly what Darci of Life Unplanned does when people sign up to her list.

5. Promote Your Group in FB Group Threads
One of the great things about FB groups are the daily prompts. Many FB groups have daily prompts to share your recent blog post, lead magnet or even your FB group.
So, don't be shy about promoting your new Facebook group!
6. Mention It in Your Author Bio
I love author bios. Maybe it's because I'm a freelance writer and whenever I land a freelance writing project on a big blog, I love seeing my name attached to my post.
For most bloggers though, author bios are used for guest posts (and even for your own blog. I do that for Twins Mommy in case new readers don't know who the blog owner is when reading my posts.).
Guest posting is not only a great way to grow your audience, but also to earn some extra cash!
With guest posting, you'll receive an author bio to tell everyone who you are and what your blog is about. This is also a great way to promote your Facebook group.
This is what I did for my author bio on this blog!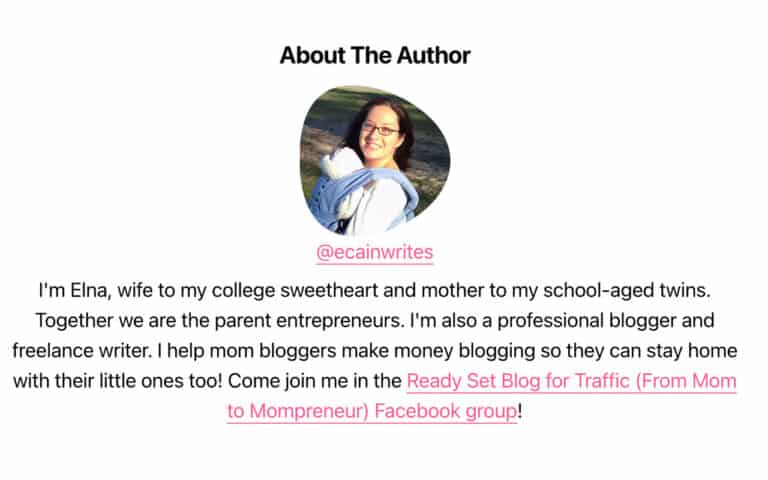 7. Mention Your Group in a Podcast
Don't you love listening to podcasts mamas? I do! They are totally easy to listen to while I'm folding clothes or running around the house picking up after my twins! I love learning while choring! ha..
#learningwhilechoring
I also love being a guest on podcasts. They are fun to do, and they don't take much of my time! When you are a guest on a podcast, the show owner typically writes up show notes and provides links to the resources you discussed on the show.
In a podcast I did, I mentioned my Facebook group along with other resources!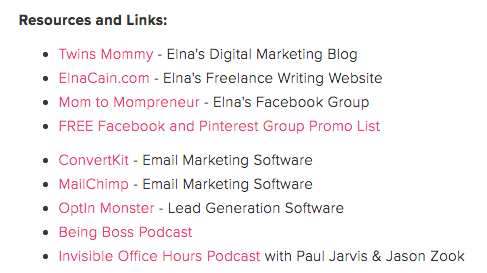 If you have a new Facebook group, this is a great time to start guesting on podcasts and work your Facebook in either in the conversation or at the end when the show owner asks you for any last things.
8. Pin Your Group on Twitter
Similar to pinning your Facebook group link on your Facebook page, you can also pin your link to your Twitter profile.
What's great about this promotion tweet is her graphic. She tells you the what, why and where and it's a big graphic too!
9. Create a Graphic and Pin it On Pinterest
Why not create a Pin graphic of your Facebook group and share that all over Pinterest? It's just another way to nudge people closer to your new Facebook group.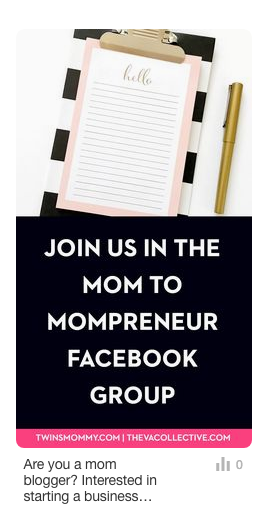 10. Create an Opt-In Form for Your Group
You know a great way to boost your email list is to create an opt-in form for your FB community. This helps with getting the right members for your group as well as helps you get more personal with your members.
For example, Holly McCaig has a dedicated landing page for people to sign up to her Facebook group, Brand Clarity.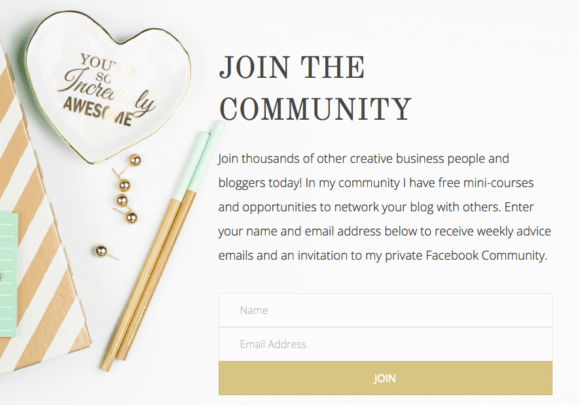 You can easily create this type of landing page with ConvertKit.
11. & 12. Put a Link in Your Menu and Create a Top Bar
An easy way to notify your readers that you have a Facebook group community is to put a link in your menu!
Most bloggers do this since it only takes a few minutes to do it.
You can also create a top bar or Hello Bar that shows on your blog promoting your Facebook group. Monica has a link to her Facebook group on her menu and in her Hello Bar!

13. Create a Blog Post About Your Facebook Group
Back in December, I created a 12 Days of Holiday Freebies, and one of my posts was about Facebook Groups for Mom Bloggers.
At that time I didn't have a Facebook Group, but once I did, I made sure to include my group along in that list! You can do a roundup of other Facebook groups like I did, or you can create a post about Facebook Groups (hey, like I'm doing right now!) to tell everyone about your FB group.
14. Drop a Link on Your Homepage
If you have a homepage that features your lead magnets, courses or other promotional things, you can promote your new Facebook group!
Brie Beeks of Blissful Bosses promotes her group along with some free courses and classes.

15. In Every Email
So you have a link in your welcome email, but you can also link to your Facebook group in every other email. For subscribers, this could be the first time they realize you have a group and it's just another way to reach more targeted people to join your group.
16. At the End of Blog Posts
There's no shame to add multiple call-to-actions at the end of your blog posts! You can have share buttons, lead magnet, content upgrade, related posts, a conversation starter question and even a promotion for your Facebook group!
Check out Caitlin Bacher's example of how she promotes her group at the end of a blog post:

17. Have Others Feature Your Facebook Group
While you can't hound other bloggers to write a roundup post on Facebook groups and include yours, it's nice when other bloggers do and feature your group!
When bloggers feature my blog/s or Facebook group, I usually share the love and promote their post on my social media profiles!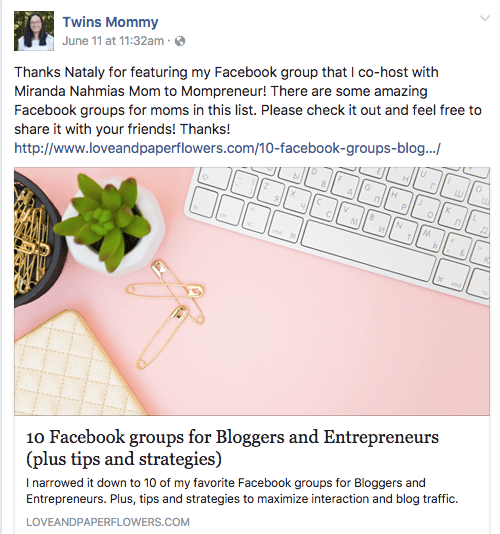 18. Put a Link in Your Pinterest Group Description
If you have a Facebook group, you might also have a Pinterest group too, eh? 😉 What a great way to promote your Facebook group in your Pinterest group (or the other way around!)?
Krystal of the Daily Femme has a Pinterest group, but she isn't currently accepting contributors. However, you can still join her Facebook group! #smartidea

Bonus #19. Link it In Your Blog Posts
Whenever I talk about networking, growing your traffic or gain eyes to your posts I always talk about my Facebook group and link it.
It's easy to market that way and people really do click on those links because they want to join your group!
A Whole Bunch of Ways Mama!
There ya go! Eighteen simple and amazing ways to promote your new Facebook group. In no time you'll get flooded with notification that everyone wants to join! Whoop whoop!
Did I miss something? If so, let me know your favorite way to promote your Facebook group. I'd love to hear it!