I love planners!
From blog planners to goal-setting planners, I rely on them to stay organized and productive.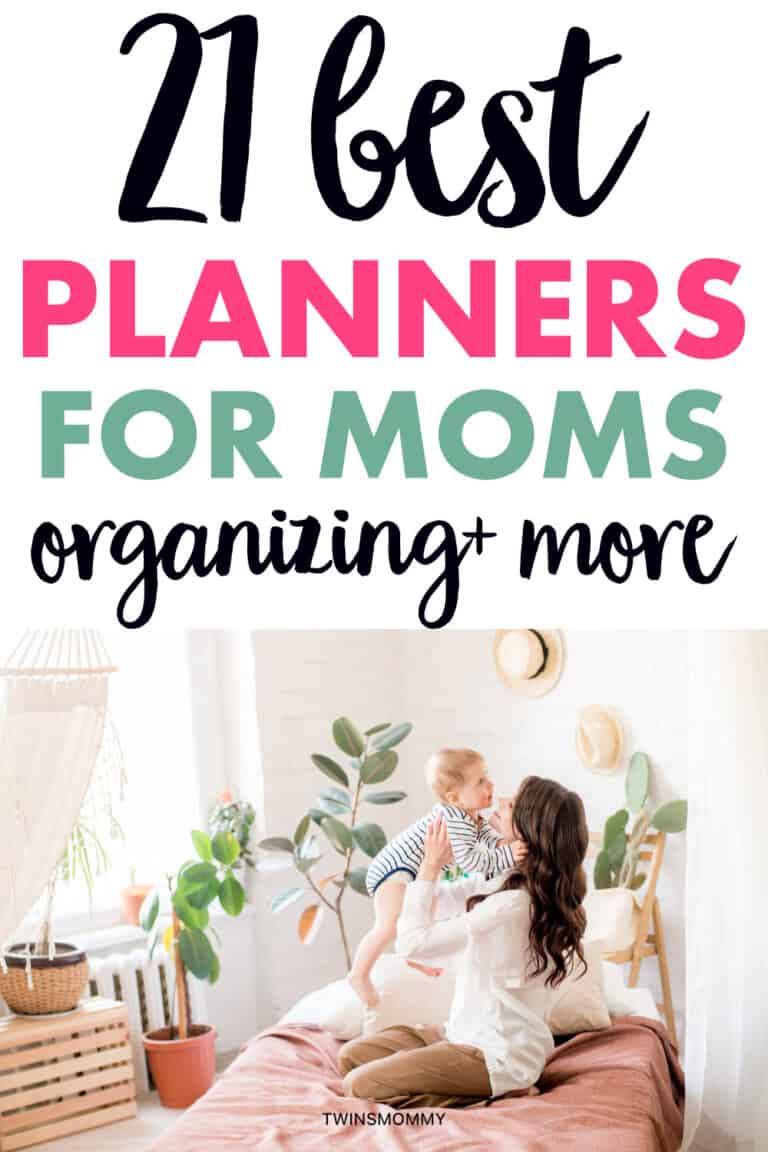 But even though I use the best planners for moms and professionals, I know that keeping track of daily life with a family can also be a struggle.
That's why I put together this list of the best day planners for moms!
Because moms, we need organizers for sure!
Whether you are a stay-at-home mom, a work-from-home mom, or a work-outside-the-home mom, life can get pretty hectic.
There's a lot to balance, and having a good planner is the perfect way to keep everything in check.
Trust me, between running my own business and taking care of twins, my head would be in a constant spin if I didn't write everything down in a planner!
So, if you're ready to increase your productivity, organize your life, and more, check out these best planners for moms:
How to Use a Planner for Organizing and Productivity
How exciting is it to grab a new planner and start to organize your life?
But before you do, let's look at how you can most effectively use a planner to sort out your busy mom life.
1. Choose a Planner
There are three types of planners that are perfect for moms! Choosing a style has everything to do with your personal preference:
Dated Planners: Dated planners feature monthly and weekly page layouts that are already labeled for the year.
Undated Planners: An undated planner allows you to get started at any time by filling in the monthly and weekly sections.
Bullet Journals: These blank notebooks are perfect for designing how you want to keep track of your schedule.
So do you want your months and days laid out for you, or do you want something where you can get creative with how you organize your time?
This will help you pick out the perfect planner!
2. Give Yourself Time to Plan
Planners don't plan themselves, so you will need to find some time to actually plan!
Include writing in your planner into your routine, so make sure you keep up with schedules, activities, work hours, and more.
This should only take around a few minutes a day, or you can sit down once a week and take around 15 minutes to get yourself organized.
3. Figure Out Your Planning System
There's no right or wrong way to set up your mom planner. Go with what feels right!
If you like to-do lists, choose a planner that gives you extra space on each page. If you want to decide on your own planning system, go with a bullet journal.
4. Use Highlighters to Organize Your Tasks
Humans are visual creatures, so take advantage of color when organizing your tasks.
For instance, you can use a pink highlighter for appointments, blue for extracurricular activities, yellow for when your bills are due, etc.
This way, when you look at your planner, you won't be overwhelmed by everything you have written down!
Best Planners for Working Moms
Are you struggling with a work-life balance?
Don't worry! These best day planners for working moms will help you calm the chaos and find harmony in your life:
1. The Panda Planner

The Panda Planner is designed to improve productivity to allow you to get more done and feel better every day!
Each page allows you to review the previous week, plan the next week, sort out projects, and keep track of your goals – it's one of the best planners for busy working moms!
2. Legend Planner PRO
This is probably one of the best planners for working moms!
It is an hourly planner that will help you stay organized and productive while establishing a work-life balance.
The time slots are perfect for planning appointments, work tasks, and your family schedule.
3. Building My Empire Planner
If you are looking for a way to conquer your year, check out this completely customizable month-to-month planner that helps you lay out your schedule weekly.
It also has some creative prompts and a super fun design!
4. My Family Desk Planner
This humorous desk planner is perfect for moms who work from home!
Or for moms who set up their base of operation at their desk.
I love the binder design that allows you to lay the planner out flat.
Inside, you'll find monthly and weekly spreads as well as lots of space for notes and shopping lists.
5. iFocus
This daily/weekly self organizer is made for entrepreneurs!
If you want to start your own business – like a direct selling – then don't forget to pick this planner up!
With each page helping you get closer to your goals, this is a MUST HAVE for a momtreprenur!
6. Legend Planner
Remember when I told you that the Legend Pro Planner is the best life planner for moms? Well so is this one!!!
With daily, weekly, monthly sheets and yearly goals pages, your Legend planner will be by your side all year long!
Best Planners for Busy Moms
It's no secret that a mom life is a busy life!
To keep yourself organized and productive, grab one of these best planners for busy moms:
7. Amy Knapp's Very Busy Planner
This dated planner has lots of space for your schedule as well as notes and to-do lists for each day.
It also includes prompts each month to help you set goals and space for you to reflect on each week.
Oh! And it comes with stickers too!
8. Bloom Daily Planner
This planner for busy moms is laid out like a traditional calendar but allows space for prompts and goal-setting, along with inspirational quotes and monthly reflection questions.
9. Clever Fox Pocket Weekly Planner
This undated planner is perfect for busy moms because it can easily fit in your purse, bag, or pocket!
It allows you to keep track of your schedule and goals, track your habits, set priorities, and create a vision board.
Best Planners for Homeschool Moms
Do you homeschool your kiddos?
If so, you definitely need to take a look at these best planners for homeschool moms to help track your kids' progress and organize your lesson plans:
10. Homeschool Mama Customizable Planner
This fully customizable homeschool planner will help keep you organized, hold important records, and make planning your homeschool curriculum a breeze!
The undated monthly calendars have a two-page spread, and there are undated lesson planners for up to seven subjects.
11. Homeschool Lesson Plan Notebook
This undated homeschool lesson plan notebook uses a grid framework to help you plan and organize your homeschool lessons.
The monthly calendars are all up front with 52 weeks of weekly planning pages.
12. Homeschool Lesson Planner for Multiple Kids
If you homeschool more than one kiddo, this homeschool planner is for you!
It has tracking pages and inspirational quotes with lined boxes to make writing out your plans easier.
13. Chaos Coordinator Homeschool Lesson Planner
The name says it all! This planner for homeschool moms is an undated organizer that features an efficient layout so you can easily create your own homeschool schedule and lesson plans.
Best Planners for Stay-at-Home Moms
Being a stay-at-home mom means juggling household responsibilities, kids, finances, and more!
To keep yourself on track, check out these best planners for stay-at-home moms:
14. Day Designer Weekly and Monthly Planner
Not only does this planner for stay-at-home moms feature monthly and weekly calendars, but it also has a yearly life planner that includes a four-step planning process, a list of holidays, and extra note pages for your organizational needs!
15. The Anti-Burnout Journal
While it's technically not a planner, this journal does include weekly and daily pages that allow you to organize your life and encourage journaling.
It also has weekly journaling lessons and challenges to help you beat the burnout of being a stay-at-home mom!
16. Cleaning Planner
Do you ever feel like your housework just keeps piling up? Check out this cleaning planner!
It will help you manage your time at home with weekly chores, monthly cleaning, and room for lots of notes.
17. GoGirl Budget Planner and Bill Organizer
If you're looking for a way to manage your finances, check out this mom planner!
You can set goals, track your expenses, see your progress, and organize your bills. This planner provides a practical approach to finances.
Best Bullet Journals for Moms
If you're creative and want to take control over how your planner looks, consider grabbing a bullet journal!
Bullet journals are a great way to customize your planner as well as tap into your imagination.
*Learn how to set up your bullet journal for maximize productivity!
18. Scribbles That Matter Bullet Journal
This bullet journal is sturdy with acid-free paper to make designing your planner a mess-free adventure!
It also includes an index page so you can organize and color-code your planner.
19. Wordsworth & Black Bullet Grid Journal
This beautiful hardcover bullet journal has lots of space to plan out your days, weeks, and months.
It also features a back pocket for storage and premium quality paper that can handle watercolor and brush pens.
20. Feela Bullet Journal Set
This bullet journal set comes with a bullet journal, 15 colored pens, 1 black pen, 5 reusable stencils, 6 sheets of stickers, and 6 rolls of washi tape – everything you need to get started when making your mom planner bullet journal!
21. Watercolor Sunset Bullet Journal
This 192-page bullet journal has a beautifully designed cover along with pockets to tuck in notes, bills, and more. It includes a satin ribbon bookmark and an elastic band to keep everything in place.
FAQs About Using Planners
1. What Should a Mother Planner Include?
A mother planner should include a way to keep track of your daily, weekly, and monthly tasks.
It should also have space for notes, goals, and any other information you need to remember. For example, a planner for moms should have a section for meal prepping, life goals, and a section for self-care.
2. Should I Get a Daily or Weekly Planner?
It depends on your needs! If you want to see an overview of your month, go with a monthly planner.
This is great to help you be accountable to your goals and to always think ahead. But if you see you aren't connecting the dots and if you need more space to write down daily tasks, opt for a weekly planner.
3. Do Planners Really Help?
Yes! Planners help you stay organized and productive.
But don't just take my word for it–check out this study that found people who use planners are less stressed overall.
Let's Get Planning!
Using a mom planner to organize your life does not have to be complicated!
No matter which one you choose, remember that your planning system can be as simple as you want it to be.
And having a planner just makes that part easier!
Now I want to know: Which one would you choose? Do you already use a mom planner – and how does it work for you?
Let me know in the comments, and don't forget to pin!