Are you thinking about getting a bullet journal?
Last year I got my first bullet journal and I can't live without it!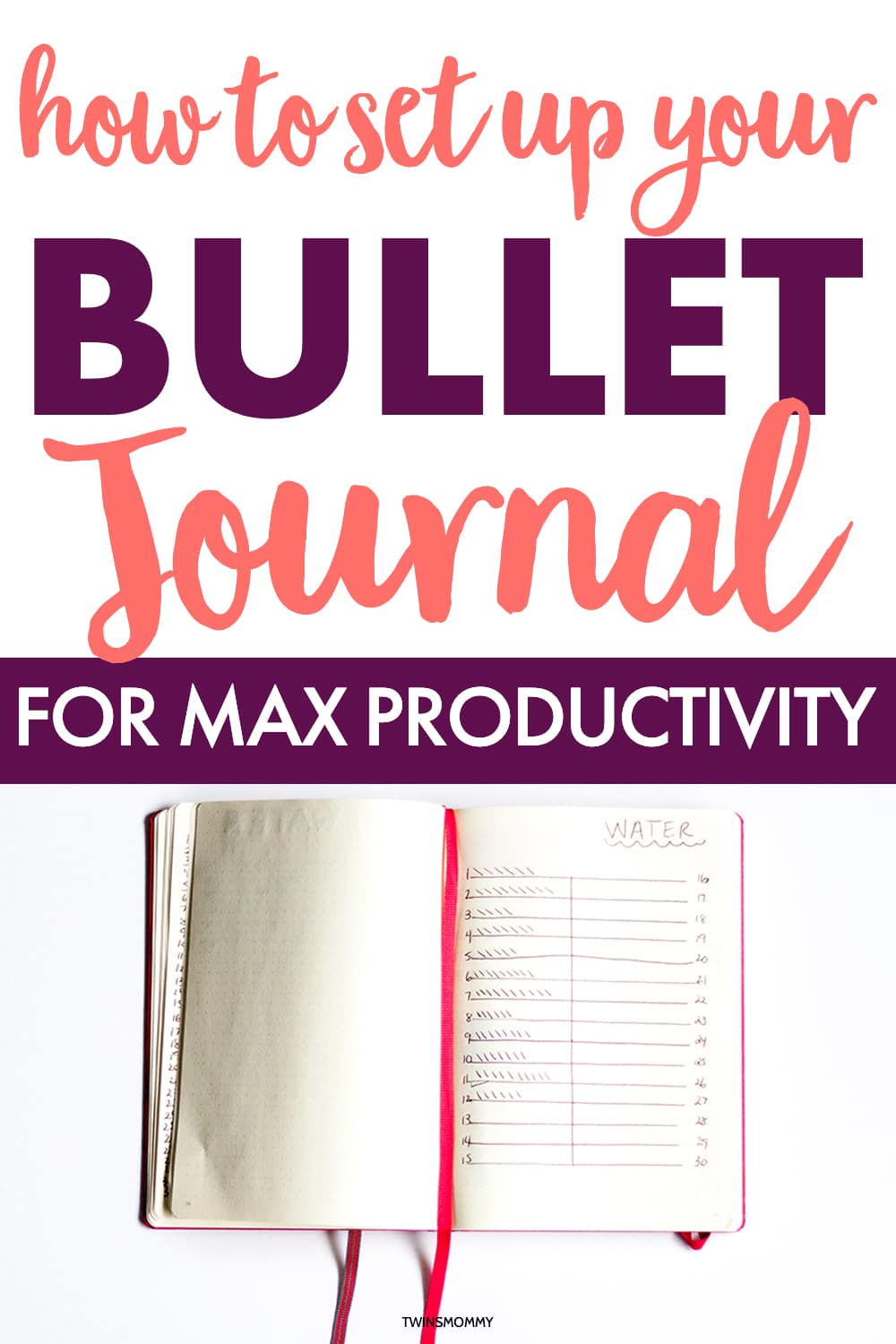 It's always on my desk, opened and ready to help me smash my goals.
Before I got my bullet journal, I would see pictures of bullet journals floating around on Pinterest and think, "Wow, that is beautiful!" and then I thought "I don't have time for that!
Who are these people that have all this time to decorate their planners so perfectly?"
What I didn't know is that these Instagram and Pinterest artists were merely embellishing on a very simple, yet mind-blowing, way to organize your life.
So, if you're unsure about the power of bullet journals, keep on reading on how to set up your bullet journal so that you can have maximum productivity in your days whether you're a busy mom or mom blogger!
But, First, What's a Bullet Journal?
It is an organizational system that uses a simple blank notebook and pen.
Essentially, it is a planner. But it does the job that a planner is supposed to do, but much better – because it's not rigid.
You don't have to conform the way your mind organizes your life to fit into the lines of a packaged planner or even customized inserts.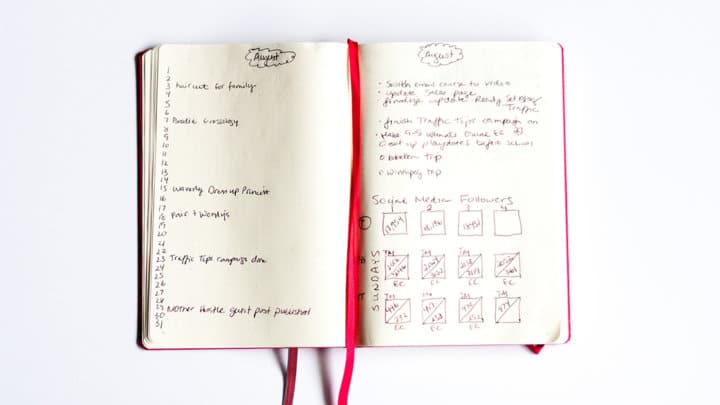 Who is a bullet journal best for? Everyone! Especially people who are busy, like order, like to make lists, have multiple roles, and lots of things to keep on top of.
Sounds like a mom, right? That's what I thought.
I've been using mine for over a year now, but I can tell I will be a life-long convert. I'm already imagining a bookshelf full of my old bullet journals packed with all the memories and things I care most about.
Want to be a BuJo Convert too? You can start your bullet journal in 5 steps.
1. Get Your Bullet Journal
There is a debate about which notebook is best for bullet journaling, but I went with the Leuchtturm1917 Medium Hardcover A5 dotted paper journal.
They also come in bigger sizes or with lined or grid paper – not to mention all the different cover colors. I chose the Leuchtturm1917 because of it's features – an index, numbered pages, archival quality paper, archiving labels, and a pocket in the back.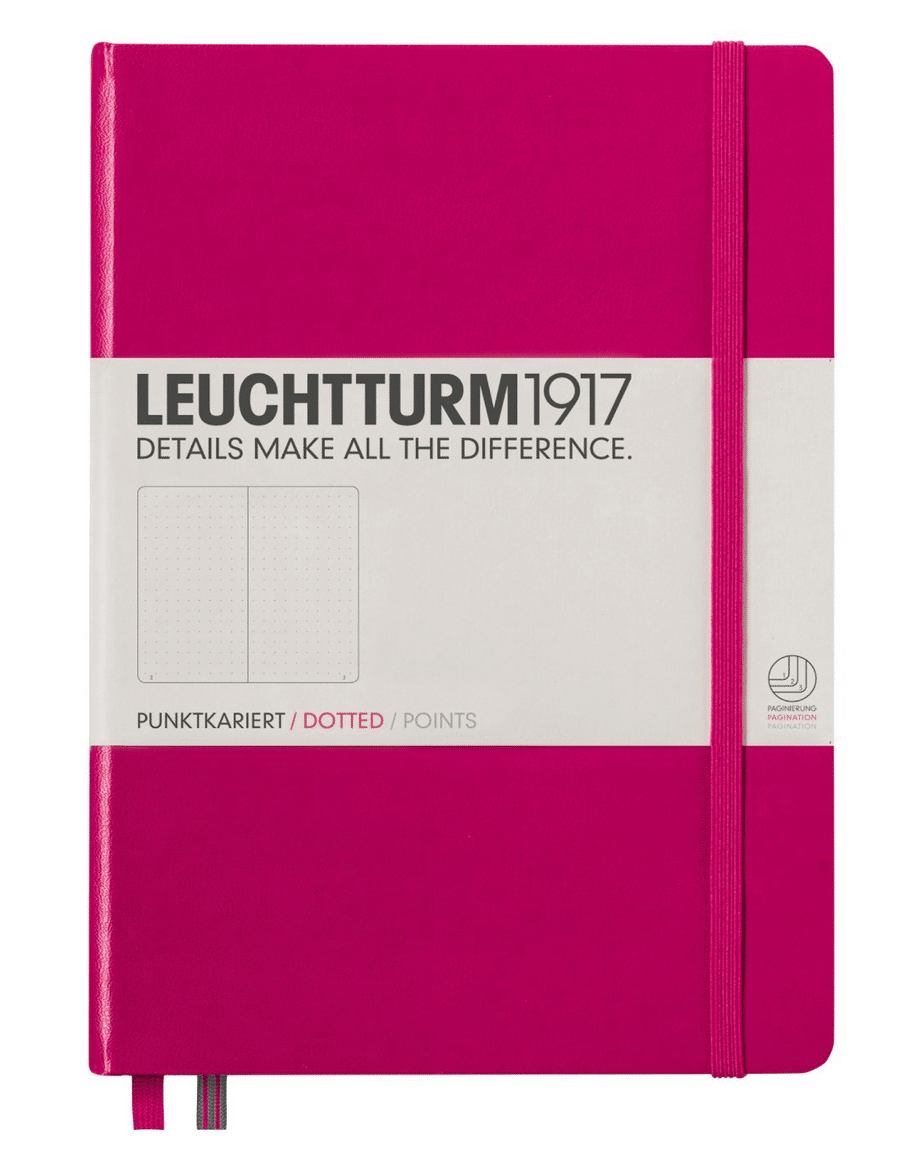 I also use a regular ball point pen- but I made sure it is archival quality so the ink won't fade and it's also water-resistant. The Uniball Signo micro pens are my favorite. These are the pens that I've used since college.
They write smoothly, they're easy to find at any store, and they feel nice in my hand – as you can see, I'm obsessed with finding the right pen!
However, there's no need to get fancy though, ANY blank notebook and pen will work.
2. Create an Index and Number Your Bullet Journal Pages
If you go with the Leuchtturm1917, it already has an index in the front and numbered pages.
Hence the main reason I chose this brand – it saves time! But if you just want to try it out, grab a spiral notebook and any pen lying around and give it a whirl.
The Index is where you will keep track of where you put your monthly and daily logs and any lists you make so you can easily find it again later.
If you start a list (or collection) called "books to read" on page 19 and then continue it on page 105, you just make note of it in the index: "19, 105 Books to Read."
You can also go back to page 19 and draw an arrow and write "pg 105" as a note to yourself that this collection continues on that page.
This is called threading.
Using the index and threading is what will keep your sanity.
There is no need to guess how many pages you will need to allocate for a certain month or idea. You don't need to worry about keeping it orderly or perfect – a must have for busy moms!
Nothing in our lives is orderly or perfect. Except maybe our Pinterest boards…
3. Make Your Future Log
The future log is used to make note of upcoming events and appointments. Start your months where you are – not necessarily at the beginning of the calendar year.
When a new month begins, you will migrate these tasks and appointments to your new monthly log – which I will talk more about later.
To create your future log, just divide up your pages with enough room to dedicate to each month. Use more space if you have lot of things to keep note of, less if you have less.
I also use my future log to put in my monthly recurring tasks so I don't forget them.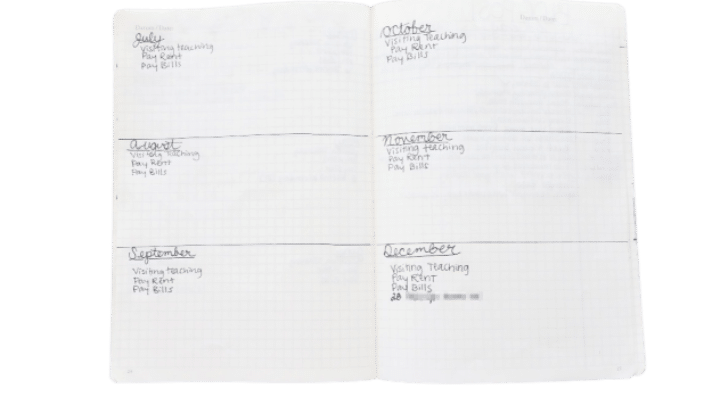 4. Make A Monthly Spread
Make a monthly log by writing a column with the numbers of the days of the month on one side and the first letter of each day of the week on the other. Next to the dates you fill in your holidays, events, and appointments you made note of in the future log.
The 2nd page of the monthly spread is a task list. You might find this unnecessary, I use it only sometimes when I have a lot going on that month.
I have personalized my monthly spread by adding a small column for my "focus."
5. Create A Daily Log
This is where the "bullet" part of the bullet journal comes in.
Tasks, appointments, notes, and events all live happily in the daily log together. They don't need to be spatially separated because they each have a special bullet to help you visually differentiate which type it is.
You make your daily log one day at a time.
At the end of each day I write down any memories from the day and then start a new log with the tasks and appointments etc. for the next day.
I'm a journaler by habit – I love to write down memories and thoughts –and I love to keep track of my life with to-do lists. Both of these things being together under the same date is life-changing for me.
You can change the bullets to your liking – just write down a key so you can remember what's what.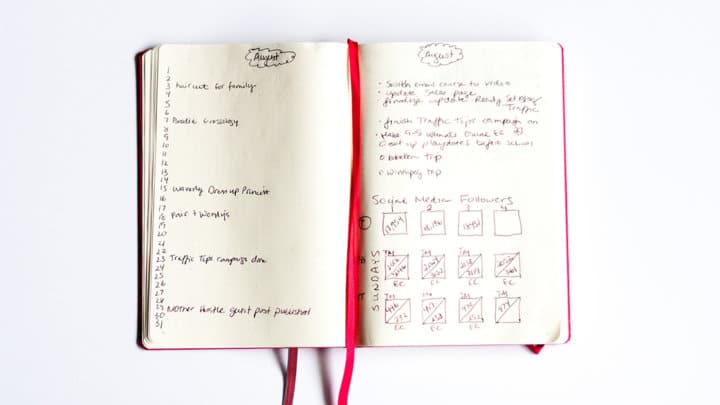 Bonus Tips
Make your bullet journal usable. Don't limit yourself to only writing perfectly or trying in vain to use fancy ink pens and going crazy with washi tape – unless that's your thing. When it's okay to mess it up, you will use it more. Did you notice how not perfect and covered in white-out my journal is?
Make it personal. Add in some collections that give your journal purpose and soul. Like a gratitude log or a collection of funny things your kids said.
Here are some bullet journal inspiration:
It's this "year in pixels" a cute idea to chart whatever you like. In this Pin they are tracking mood, but you can track cups of water, money made with blogging, words written in a day, exercise time, etc..
How cute is this gratitude log that is bee inspired! What's great about having a bullet journal is the freedom to create around your pages to suite your mood!
What an inventive and cute way to track your habits. On my vision board in my office I have a picture of a saying, "Chang your habits, change your life" and this bullet journal idea can help you keep that goal!
I don't know about you, but having a visual schedule like this in my bullet journal keeps me on top of all the things I need to do with chores while having a business.
Why not get another bullet journal and make that your fitness bullet journal? I might have to do this!
Use your Bullet Journal to plan more pages for your bullet journal. Also, I like to use simple embellishments on my headers just for fun. These are totally not necessary, but as I am thinking of what to add I usually doodle a bit. It's very calming to me.
Wreck it with pages dedicated to your doodles and art from your kids. I have found that as I organize my life with the bullet journal, my bullet journal becomes a reflection of my life.
It is an easy and integral way to preserve memories and keep track of milestones of my precious young kiddos.
Bullet Journal Resources
If you need more help setting up your bullet journal, I do have two resources for you:
Over to you – do you have a bullet journal? If not, what's stopping you? For someone with poor time management, I rely heavily on to-do lists and my trusty bullet journal!
Please pin me!