Money, money money….
You need it..badly.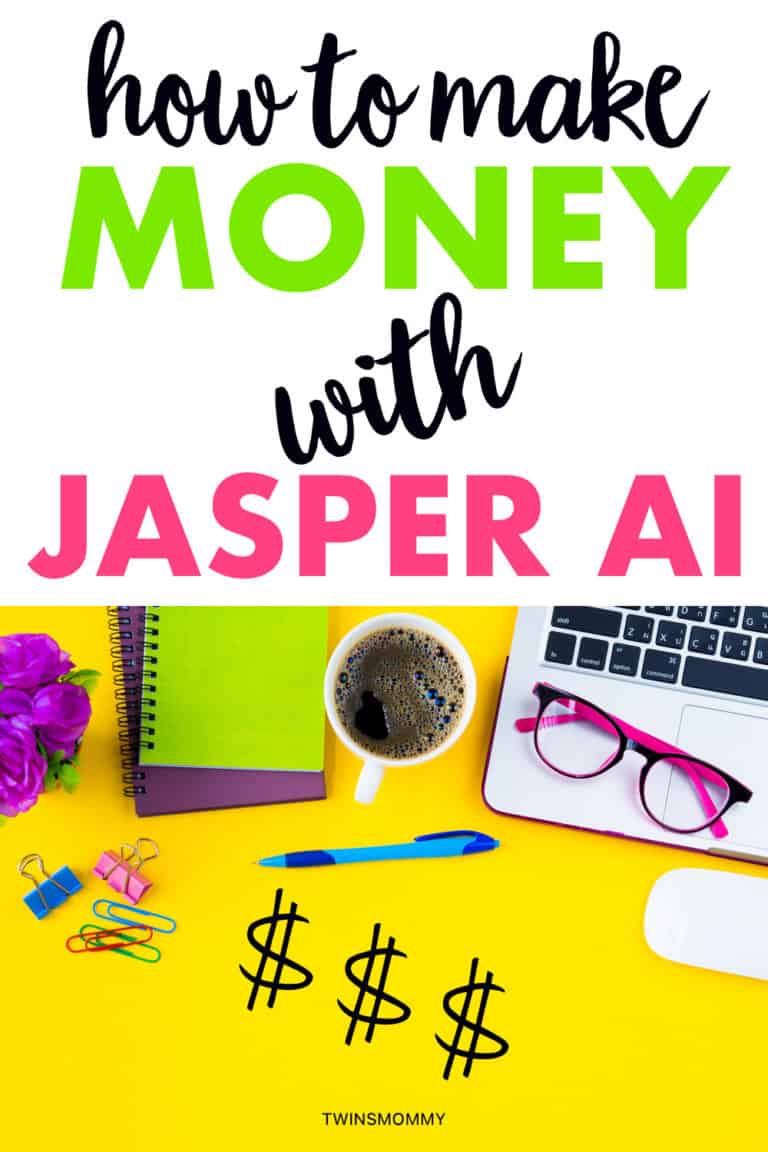 And if you are running a blog or business online, you just don't have the time to create the content that makes money.
You know you have to, but I want to share a secret.
A writing assistant can totally help you make money while you sit at home!
It's called Jasper AI.
Use this AI tool in dozens of ways and you can make money.
Here's my Jasper review if you want to check it out in full.
For this post, I want to share with you 24 easy ways to make money with Jasper.
You don't have to be the best writer or artist to leverage this amazing AI tool.
So, let's get started on showing you how to make money with artificial intelligence.
But, First…What Is Jasper AI Really?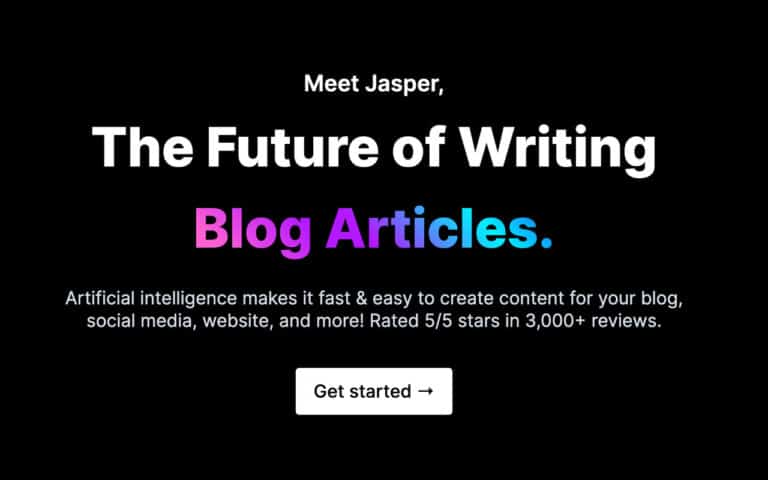 Does Jasper just repurpose content from the web?
Does it steal copy online?
The answers: no.
Every piece of content Jasper produces is 100% original and unique.
And with hundreds of thousands already using Jasper, it's learning from us!
This means the output it provides is 100% better than a year ago (when I was trying to use it).
The one thing you should know about Jasper content is that it isn't fact checked.
So make sure any stats or facts it tells you is checked and backed up.
Finally, Jasper AI also does digital art!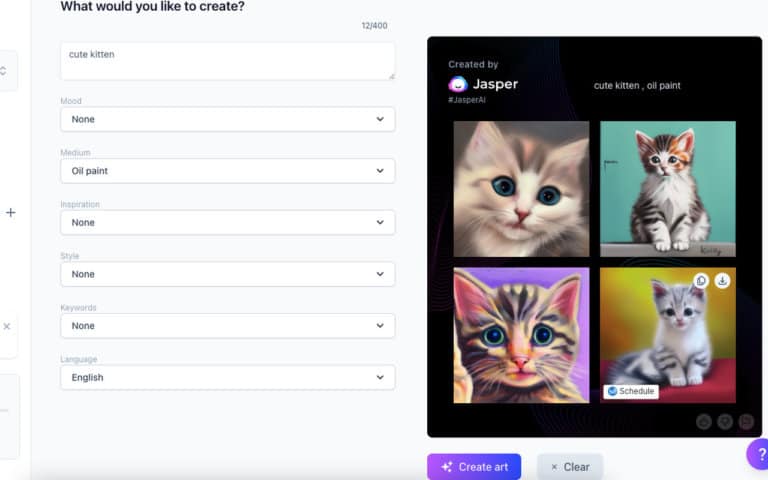 How cute is that?
I'll share some fun and creative ways to make money with Jasper Art too!
So, let's get to that list.
24 Ways to Make Money With Jasper AI
What I LOVE about Jasper AI is that they are constantly coming out with new templates and features to help content creators.
Each new template opens up so much possibility and it's great to try them out and see how they will fit with your blog and business.
1. Affiliate Marketing
A popular way bloggers make money with blogging is with affiliate marketing.
And a popular type of blog posts is a round up of products. Think a gift guide or best of.
The only thing is it's exhausting writing about each product and can get boring.
Well, I know it does for me!
So, when I learned that Jasper has a template called "Product Description" I was all over it.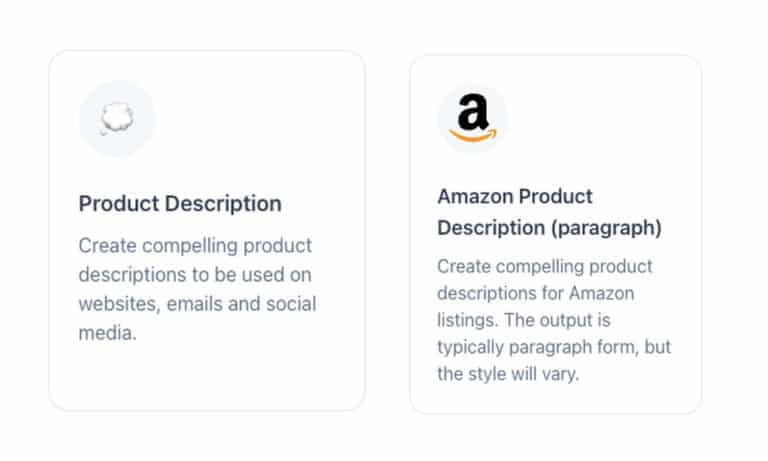 What would take me hours to write, only took minutes with these Jasper templates.
And this optimized my strategy to making more money with affiliate marketing.
For more help, check out my Youtube video (and remember to subscribe to my channel for more help!)
2. Freelance Writing
Do you know that Jasper has a Facebook group?
It's an amazing community filled with training videos and helpful prompts and ideas. Every week, Jasper puts out a thread where people can let others know their writing services.
Many freelance writers have landed profitable gigs this way.
You might be wondering if clients allow generated content from artificial intelligence.
The answer: Yup! They do!
As long as you disclose you use AI tools like Grammarly, Jasper or an SEO tool, you should be fine.
If you are new to freelance writing and Jasper, then make sure to check out my Jasper AI Writing Prep Class for freelance writers!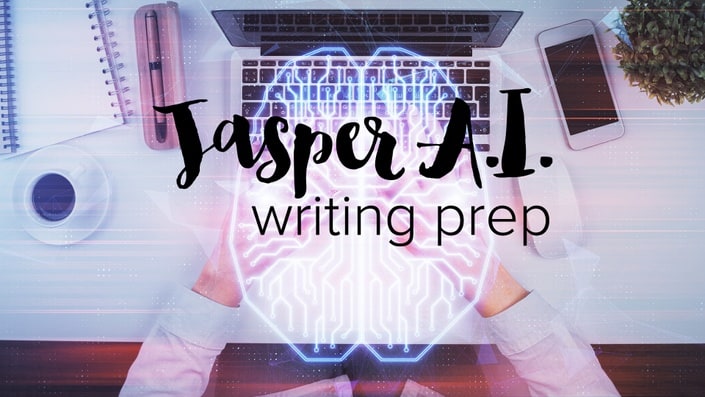 As a freelance writer you can offer any one of these services I mention in this post!
You can write blog posts, sales pages, product descriptions, email, social posts and more!
3. Amazon Product Listings
Similar to the product description template, Jasper also has an Amazon product listings template. If you decide to write a book (psst…Jasper can help with that!) then you can use Jasper to write your Amazon product listing!
You can also offer this as a service to other mompreneurs!
4. Facebook Ads
Have you decided to sell your printables?
A way to ramp up your income is with Facebook ads.
But, typically a copywriter would charge thousands for ads.
If you are a mompreneur with your first digital product, you may not have the funds to hire an expert copywriter that writes Facebook ads.
That's where your trusty writing assistant comes in – Jasper AI!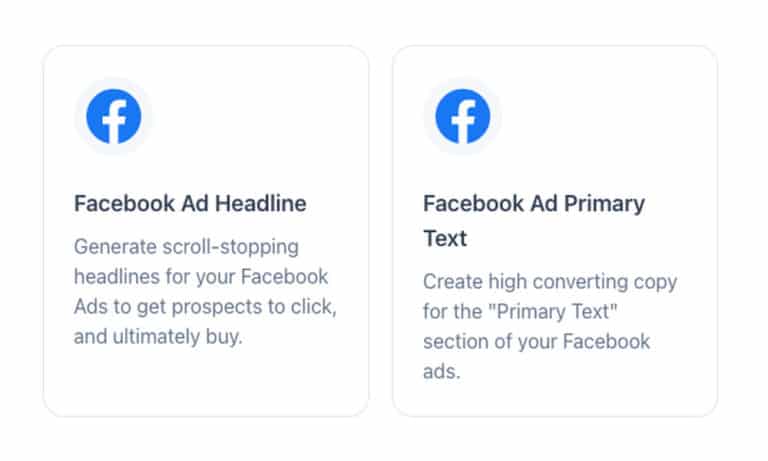 Jasper AI has two templates you can use to create a highly optimized headline and text.
5. VSL Creator
Have you ever made a course or ebook before?
If so, then a VSL, aka Video Sales Letter would be perfect for your marketing strategy.
Jasper AI can easily create one of these bad boys using the Mini-VSL template.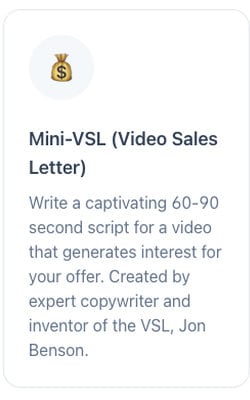 Not only will this help your brand's message come across clearly and accurately, but it'll also save you time because you won't have to hire a copywriter.
VSL are short videos designed to promote your product by highlighting the benefits and features of your product in an enticing new way.
This works soo well because it brings to life the product to the person wanting the product.
You can even use the Mini-VSL template to sell your affiliate products too!
6. Sales Page Copy
With that first digital product, you do need a sales page, right?
This is the main tool you will have to make many sales.
But, most bloggers don't know how to write a converting sales page.
At least I didn't in the beginning.
To bypass trial and error – and time – use Jasper AI.
There are copywriting formula templates you can use.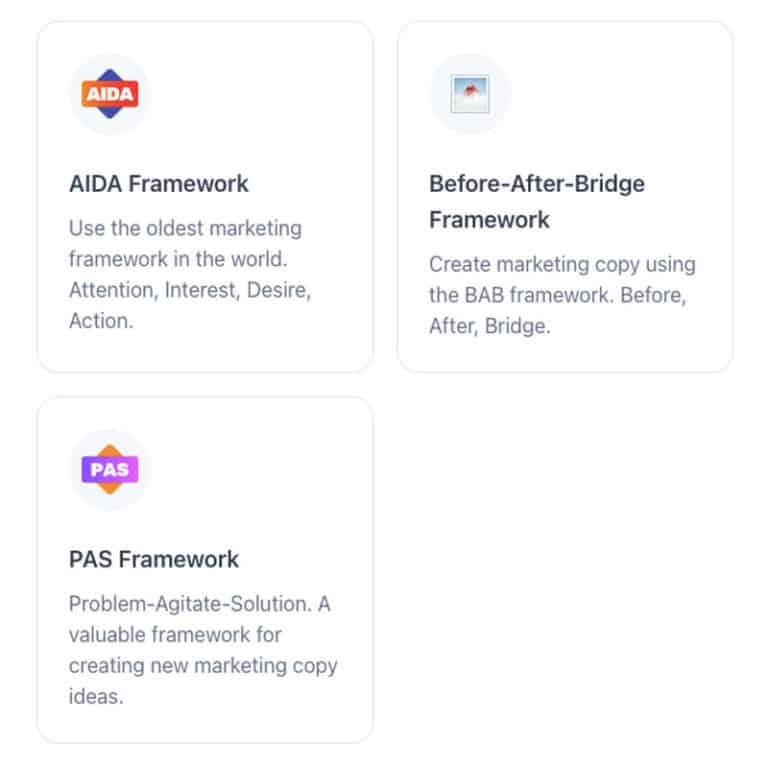 These can help you create a sales page with the right tactics to sell your product.
7. Social Media Manager
Jasper has some pretty cool social templates you can use if you want to offer social media management to other mompreneurs!
I use many of these templates for my own business!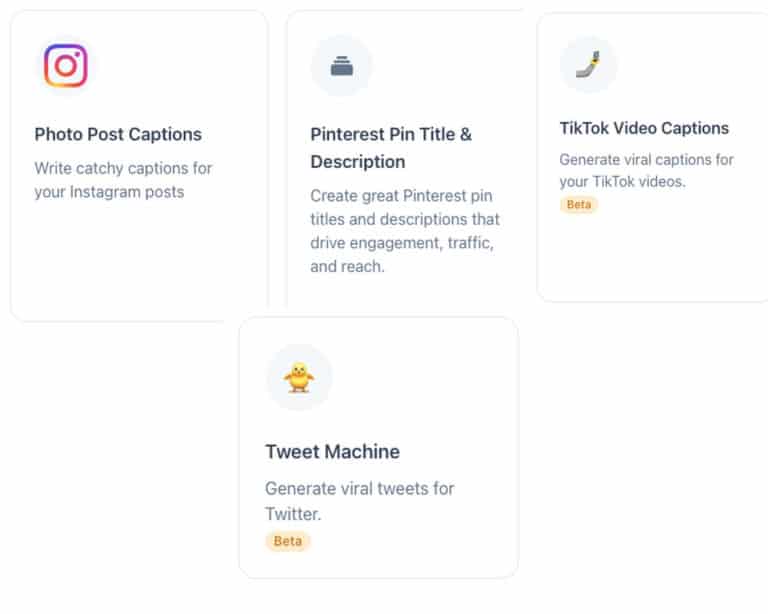 The Tweet Machine is the newest addition and it can be used for more than just Tweets for Twitter.
I've used it to create headlines, taglines and CTA's for social media posts!
As a manager, you can book even more clients since these templates will save you massive time each day!
8. Email Campaigns
Bloggers, entrepreneurs and business owners are all busy and they often outsource email writing.
Well, let Jasper be your assistant!
If you sign up to the Boss Mode, you have access to the email campaign workflow.
Plug in the product and marketing message and Jasper will spit out 3-5 emails you can use.
9. Write a Book
Now, this is gangbusters!
Jasper can help you write an entire book.
What I've seen the most are children's books written with the help of Jasper.
And, you can even have your child lead the project!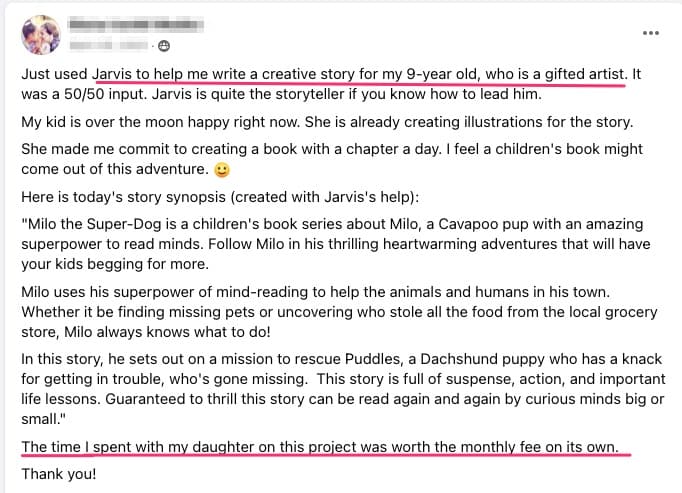 Once the book is done, you can sell if on Amazon or on your blog with Sendowl!
How cool is that?!
10. Ghostwrite for Clients
This is similar to freelance writing but in this case, your name isn't attached to your article.
The client's name typically is the author. If the client doesn't mind, you can use Jasper to create an outline, talking points and write the entire article!
Win-win since ghostwriting pays more than freelance writing!
11. Fiction Writing (Creative Stories)
Have Jasper create stories for you that you can sell!
There are marketplaces where you can sell your writing! It's called PLR (private label rights).
You can make a good living selling your creative stories this way!
Your stories could be used for NFT art, live streaming and more!
12. Write Company Bios
Another freelance writing service you can offer is bio writing!
Jasper has templates for that too!

You can either use the Company bio or Personal Bio depending on what type of client you have!
Just fill in the information Jasper needs and you have an engaging and helpful bio.

Bios go for $200-$500!
13. Optimize Old Blog Posts
Improving content is a cool service to offer to other bloggers.
Many bloggers need to update old blog posts but just don't have the time.
Why not offer this to them?
You can update the copy using Jasper and also update the images and stats if needed.
14. Google Ads
A high-paying service to offer or to use for your own business are Google Ads.
Jasper has a template for this!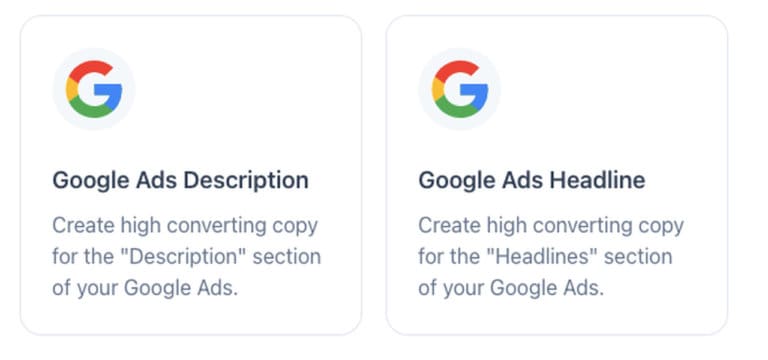 And if your ad copy converts you have proof to charge more and use this service to help you make money with your blog!
15. Real Estate Listings
Are you a real estate agent or want to be?
If you struggle coming up with the listing, let Jasper AI assist you!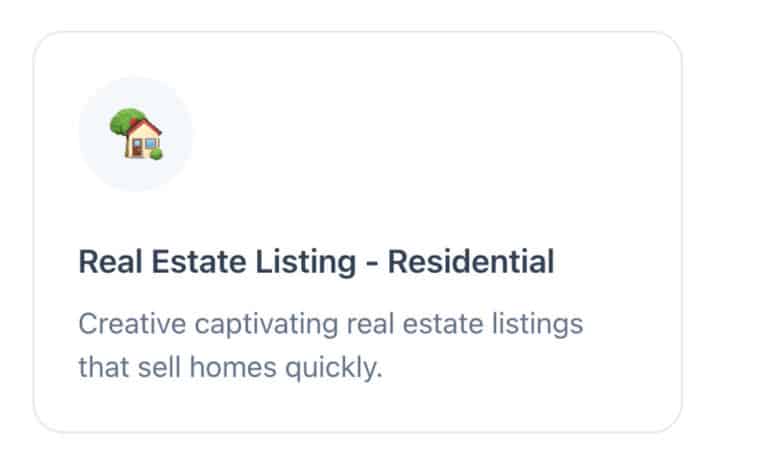 It will turn your bland listing to something captivating to help you sell those listings faster!
16. Youtube Video Scripts
This is something I want to try!
Let Jasper create Youtube scripts! You can simply ask it to create a script for your video.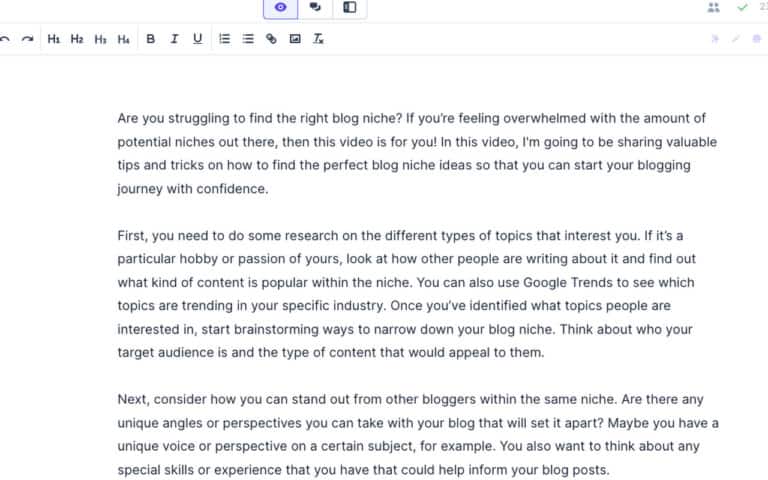 You can use this for your own videos if you need help with ideas or offer it as a service!
Jasper has a Youtube Descriptions template you can also pair with this tactic making your Youtube marketing easier!
And you do that, you can make more videos and that will make your more money (or closer to making money on Youtube!).
17. Email Manager
If you don't want to create email campaigns for businesses, you can offer email management.
This might entail replying to customers' questions or refunds.
You can definitely do this as a side business opportunity and still have time to mom blog!
18. Training
If you love using Jasper and have found it fun and easy, why not take that skill and teach others how to use Jasper?
This is what I did when I created my Jasper Prep class for writers!
You can create a Jasper copywriting class or a Jasper creative class or writing class! The sky's the limit and for how much to charge too!
From $50 to $300, it's up to you and what you teach!
Digital Art
Digital art is still in its infancy but once you get a handle of the prompts your images will be amazing!
Plus, Jasper added a feature where you can give Jasper a picture and it will closely create that picture.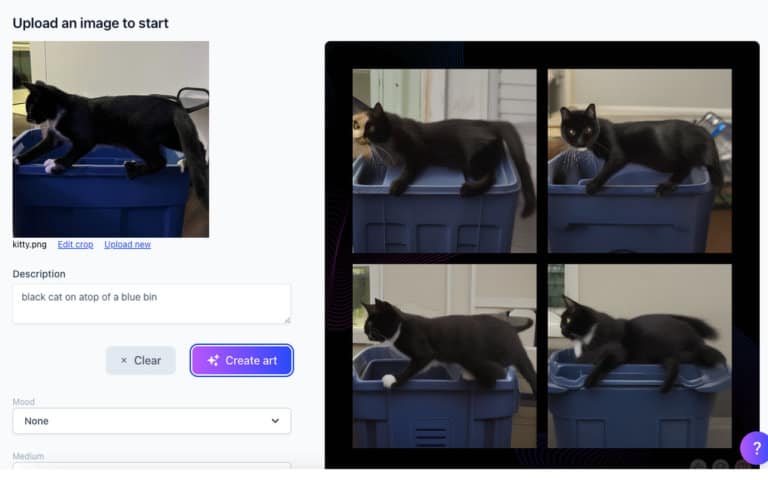 19. Greeting Cards
If you're a creative why not try your hand out at making greeting cards?
You can sell them on Creative Market or on Etsy.
Use Jasper to create the greeting and Jasper Art for the cover, then put it together in Canva!
20. Book Designs
Tell Jasper Art a fantastical idea for your next book cover!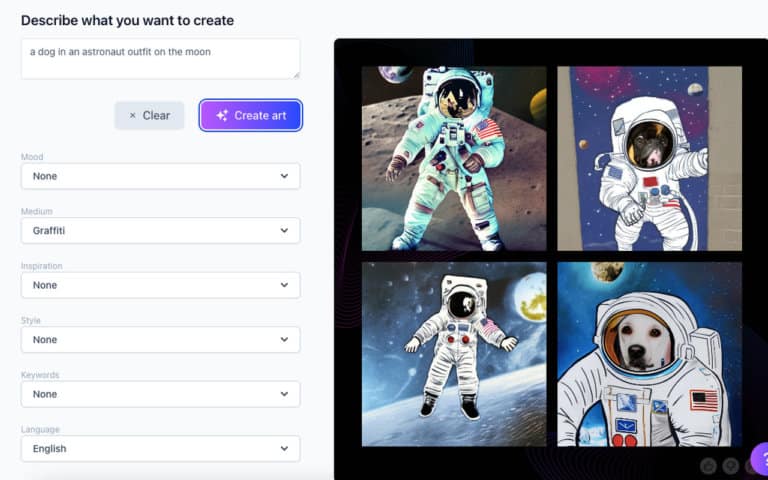 I love giving Jasper weird things to create!
One thing I offered back in 2014 when I first started freelancing was book cover designs!
If only Jasper was created at that time, it would have been fun to keep offering this service (but it was difficult for me).
Get inspired by creating cool book designs for your products and other people's products!
21. Coloring Pages
Did you know if you change the medium for your art you can create coloring pages?
Whether you want to make Adult Coloring pages or kid coloring pages let Jasper Art help you.
Go ahead and sell these to your audience and start making money! Oh yea!
22. Cartoons
One medium is ink and you can make cute characters that you can make stickers out of or just a pack of images people can use for their marketing materials or blog!
Just use "cartoon" in your description and let Jasper Art do the rest.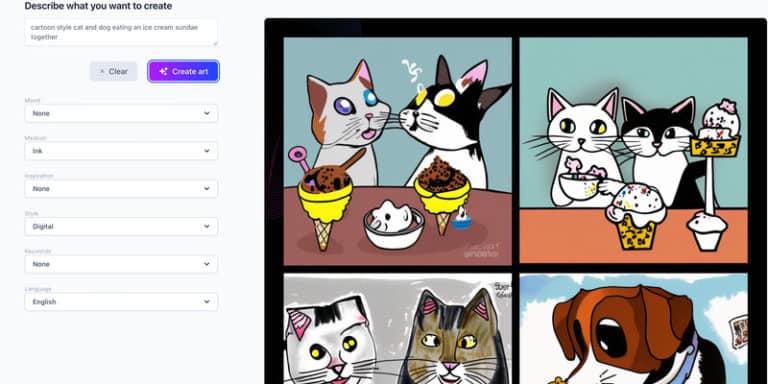 23. Print on Demand
What a cool business idea for stay at home moms!
Why not do a print on demand service for your audience!
If they are in a pinch for some birthday party images or celebration images they can call you!
Have fun with this service!
24. Blog Post Images for Other Bloggers
Finally, you can make feature images for blog posts!
Of course, use them for YOUR blog but why not sell them to other bloggers.
Make a pack of 50 feature images in a niche for bloggers to use!
Use Jasper AI to Assist You in Making Money Today!
I hope you found some cool money making ideas for your side hustle!
Tell me in the comments below which Jasper way you want to start with!
Remember to pin me!