When I started Twins Mommy, it was really an opportunity for me to dip my toes into figuring out how to grow traffic and earn money from a blog.
I mean I was a mom to twins and I needed to make some money to see if this was a viable way to stay home!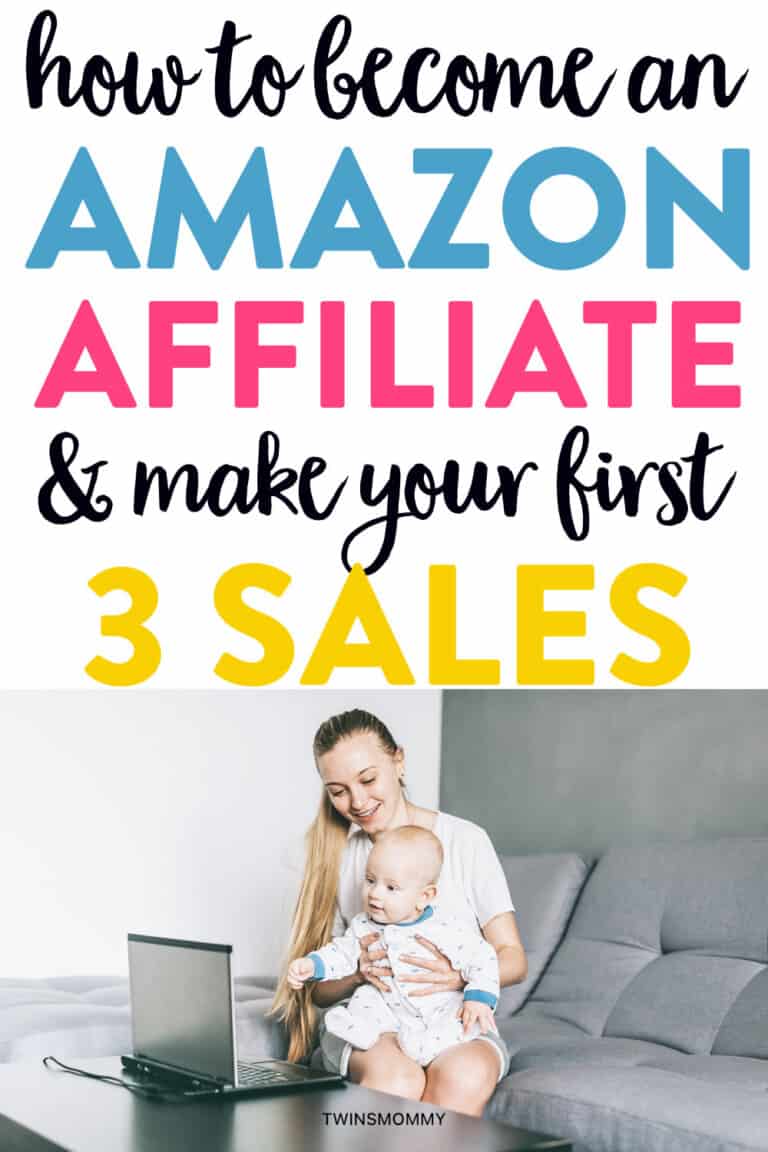 This is how I got into Amazon affiliate marketing – and it was so simple and fun!
It didn't take me long before I made my first sale, and now I want to help you make your first three!
While your first sales aren't going to send you on a trip to Bali, even the smallest amount is enough to say:
"Hey! My blog makes money!"
And how awesome would that be?
So, mama, if you're wondering how to become an Amazon affiliate, read on!
What is the Amazon Affiliate Program?
Even though there are many different affiliate programs out there, Amazon still takes the lead as one of the most popular and profitable!
But before we get into the details of the Amazon affiliate program, let's look at exactly what affiliate marketing is:
What is Affiliate Marketing?
Affiliate marketing is basically an arrangement made between someone selling something and a third party willing to promote their product or service.
Whenever the merchant, or the person selling something, receives a sale that was referred by the third party, the third party earns a commission.
The benefit here is that the merchant can increase their sales by having people such as bloggers and influencers promote their product. All they have to do is give that person a cut of the sale.
When it comes to Amazon, they are the merchant, and they pay you (their affiliate) based on the number of people you sent to Amazon who made a purchase on the site within 24 hours.
Here is my Amazon affiliate dashboard of the commission sales I made in 30 days.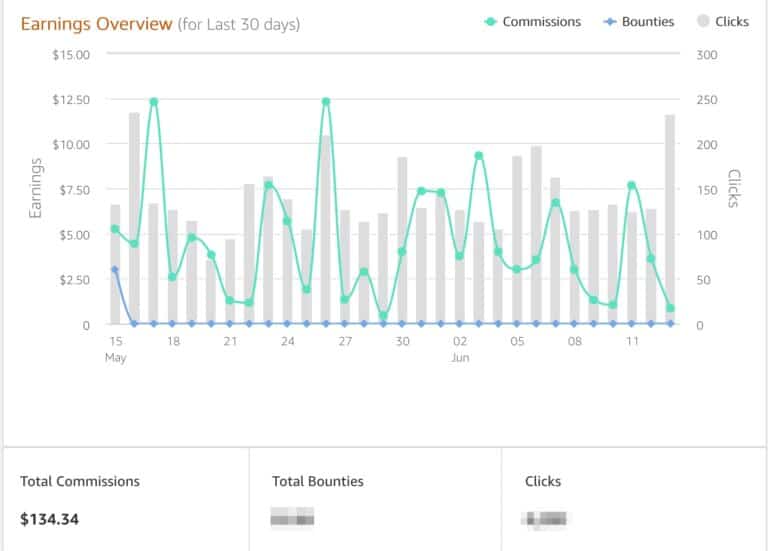 How the Amazon Affiliate Program Works
Amazon Associates, as their affiliate program is also called, is a referral program that pays a commission to individuals that send over buying customers.
As I mentioned before, Amazon will pay you a percentage as long as that person makes a purchase on their site within 24 hours – it doesn't even have to be the item you were referring to!
For example, say I were to post an article about the best blenders, and someone clicks on my Amazon affiliate link.
Even if they don't buy the blender but instead purchase a number of other items, I get a commission as long as those purchases were made within a day of clicking.
Pretty cool, right?
It's important to mention that the commission you earn also depends on your conversion rate.
This rate shows Amazon how many people click on your affiliate links and make purchases.
It's calculated by looking at the percentage of visitors from your site who made a purchase compared to your site's total number of visitors.
The average conversion rate for Amazon Associates is 0.5-1%.
Your conversion rate plus the commission percentage of the item will determine how much you will earn through an affiliate sale.
And, yes, you saw that right. The conversion rates for Amazon is quite low.
So, to really make money with Amazon affiliate marketing, you need a lot of traffic and to write the right types of blog posts to sales.
The Pros and Cons of the Amazon Affiliate Program
Before we get into how to become an affiliate for Amazon, let's look at some perks and pitfalls of this program.
First of all, Amazon is a HUGE online retailer!
Not only is it easy to sign up for the program, but the chances of your site's visitors making a purchase (whether it's the product you promoted or not) is very high.
Plus, over 3 billion items are listed on Amazon, so there is no shortage of products to promote in your content.
However, their commission rates do vary from category to category, with items such as luxury beauty products earning up to 10% while video game consoles only earn 1%.
This can make it difficult to earn money if your niche is related to the lower end of the commission rate scale.
The last thing I want to point out about the Amazon Associates program you should consider is the fact they do have a lot of rules about where you can post affiliate links – so it's important to understand their terms and conditions when you get started.
Overall, I find the pros far outweigh the cons when it comes to becoming an Amazon Associate!
So now that we've looked at what the program is, let's talk about how you can get started.
How to Become an Amazon Affiliate
There are a few steps to becoming an Amazon affiliate, but the process is very straightforward!
Here's how to fill out the Amazon application:
1. Create a Website
In order to be an Amazon Affiliate, you have to have a website, blog, app, or YouTube channel.
It's helpful to fill your site with content, so it appears active to Amazon – this will help improve your chances of qualifying!
So, in the beginning, take a month or two to create a few posts and if you want, have a resources page on your blog to direct people to your Amazon affiliate products.
This is what I do for Twins Mommy.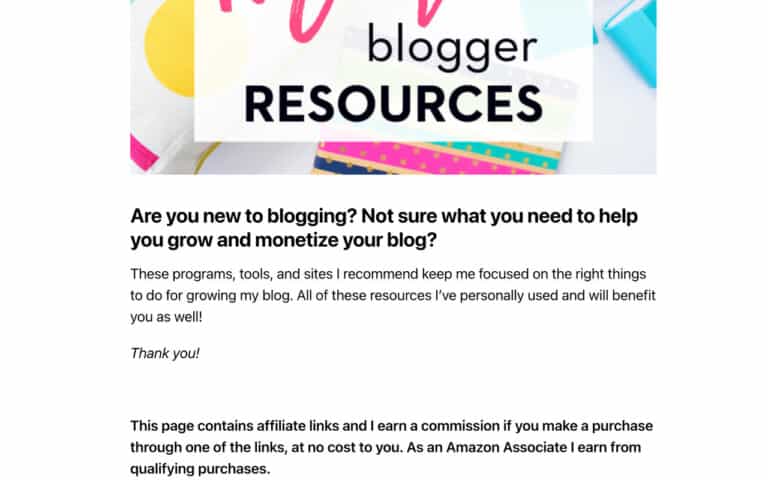 If you're not sure how to get started, check out my helpful post here!
2. Sign Up For the Program
Once you have your site ready, head to the Amazon Associates page and click "sign up."
You can log in to your existing Amazon account or create a new one.
3. Account Information
From here, you'll fill in your account information.
This includes your name, address, phone number, website address, and preferred store ID (which is usually the same as your website name).
You'll also be asked to choose Amazon topics that best fit your niche. This will help Amazon understand the types of products your affiliate links will be targeting.
4. Site Traffic
Amazon wants to know how you plan to drive your site traffic, such as how you build links, etc.
They also want to know how many visitors your site brings in each month.
This is why I suggested you get your site up and running before applying so you can better qualify for the program by demonstrating healthy traffic!
5. Payment Method
If you're going to make money with the Amazon Associates program, you want to get paid, right?
You can choose to do this now or later but make sure it's done so you can receive your commissions.
6. Creating Amazon Affiliate Links
In your Amazon Associates dashboard, you'll see a performance dashboard. Here, you can search for relevant products to link to from your content.
Click on the "Product Linking" link in the top banner of your dashboard and search for a product. This will give you a list of results from which to choose the product you want to promote.
Click the "Get Link" button. This will copy the affiliate link to your clipboard so that you can use it in your content.
Another way to get links is to search for products in the Amazon store and use the SiteStripe bar to get a text, image, or text/image link.

How to Make Money on Amazon
So you have your affiliate account, and you've grabbed some links. Awesome!
Now it's time to start making money with Amazon!
Are you ready to make your first three sales?
1. Get Your Site Ready for Affiliate Marketing
Before you pop your affiliate links into your content, there is one cardinal rule you must abide by:
Every post that has an affiliate link requires a disclaimer.
In the spirit of transparency, Amazon doesn't want visitors clicking on links and feeling bamboozled into making a purchase.
Adding a disclaimer is as simple as putting a note somewhere in your post prior to your affiliate link that says something like:
This page contains affiliate links, and I may earn a commission if you use them. As an Amazon Associate, I earn from qualifying purchases.
Easy!
Here is what mine looks like on Smart Mom Ideas: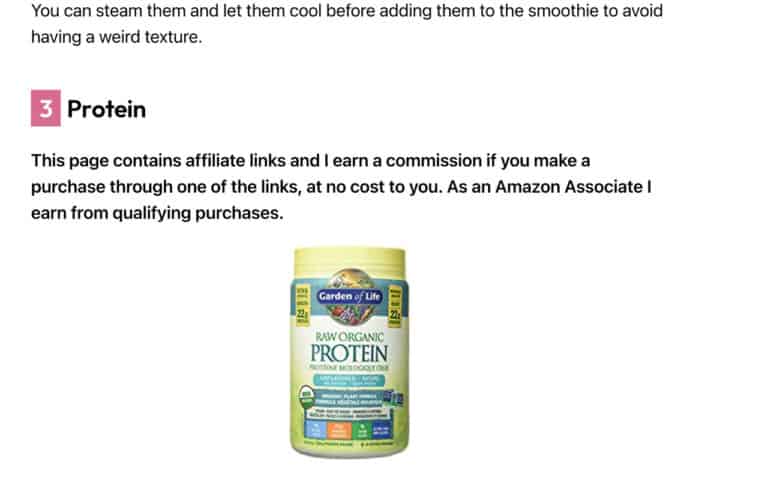 I put my disclaimer as close to the first Amazon affiliate link in the post.
2. Plan Your Content For Maximum Earnings
Check out my video on the #1 affiliate post to write and other converting ones.
You can share a product on your blog in many different ways, but some methods are more successful than others.
You can start by writing an entire post about one product.
For instance, I wrote a post about my bullet journal and highlighted how I use the product, its features, and its benefits.
So instead of saying, "Hey! Look at this product and buy it!" I explained how I used it so that my readers would feel encouraged to buy one and do the same.
You can also do round-up posts where you promote multiple Amazon products related to your niche.
You can title these posts "The Best…," "The Top…," or "My Favorite…"
On my blog Smart Mom Ideas, I do this all the time!
I can find so many products related to moms, such as nursing covers, bathing suits, diaper cream, etc.
And these posts do really well!
Lastly, you can promote Amazon products by writing gift guides such as the best coffee mugs for mom bloggers (we all know one in our life, right?), the best baby shower gifts for new moms, and the top gifts for Father's Day, etc.
3. Promoting Your Affiliate Links in Your Post
One thing Amazon does allow you to do is use their images in your post!
For your blog posts, you can choose text links, images, or a combination of both to promote your affiliate links in your post.
However, I find that using an image and a text link separately works better than combining both, which looks more like an ad.
Check out my Youtube video to help you add those affiliate links to your blog post.
I just wanted to address a common question I get about promoting affiliate links: Do I have to use the product?
Nope!
Although using the product and showing how you use it will lead to higher sales, there is no policy stating that you have to use the product before promoting it.
If you don't plan on using the product, I would recommend using high-rated products with good reviews.
4. Promote Your Affiliate Posts
In order to get people to click on your affiliate links, you have to get them to check out your stuff!
The best way to promote your affiliate posts is to share them on social media and with your email list.
(Not sure how to start an email list? Don't worry, I have you covered! Check out this article.)
Just remember that many email service providers (where you send emails to your list) discourage using affiliate links in your emails.
Instead, you can share a valuable email and direct readers to visit your affiliate post.
This is what I do just to be sure I'm safe when promoting my affiliate links.
Also, be careful about sharing affiliate links on social media.
If you do share an affiliate on your own profile or page, you have to use a disclaimer since this is considered advertising.
The Amazon Earnings Report
Once you start earning money through Amazon Associates, you'll want to track the money you are making!
You'll find this information in the Amazon Earnings Report by clicking "Reports" then "Earnings Report."
Here, you can check out your commissions, bounties, overall summary, and payment history: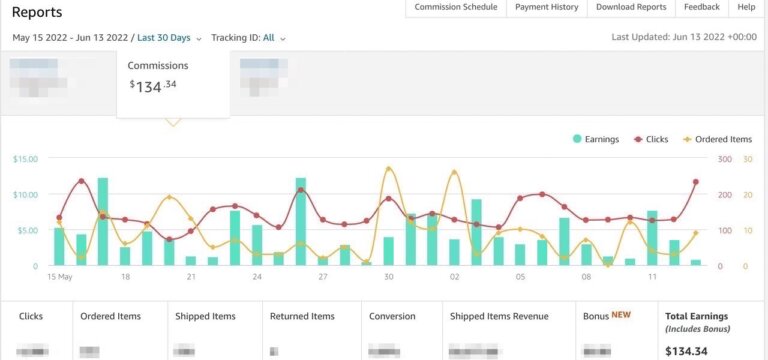 Bounties are another form of commission but ones that are earned from recommending Amazon services and programs such as Amazon Music or Prime.
Amazon updates this information in real-time, with most orders being reported within an hour of being placed.
It's also helpful to take a look at your Amazon quarterly earnings report since Amazon sends out affiliate payments every quarter.
As you can see, I don't make a lot of money with Amazon affiliate marketing.
The main reason is the lack of buyer posts I have. But this is changing now.
I'm in the working of creating more buyer intend blog posts to help me convert more sales!
Get Your First Three Sales as an Amazon Affiliate!
Now you know how to become an Amazon affiliate!
Just remember to build up your blog, sign up, and post some amazing affiliate content that your audience can't resist.
It may take some time, but please be patient. I am the poster child for the idea that you can't build a successful income-generating blog overnight.
It took me a while to build traction but I stuck to it and now am earning a passive income from Amazon commissions.
If you find that your sales are slow, shift your focus to building your blog traffic.
Remember, people can't click on your affiliate link if they're not visiting your site!
So what are you waiting for? Get out there and get your first three sales as an Amazon affiliate!
Your turn – Have you ever tried affiliate marketing? What worked for you?
Let me know in the comments!