Mama – have you recently started a mom blog or want to start a blog, but not sure if you can juggle blogging and motherhood?
Twins Mommy isn't my only blog.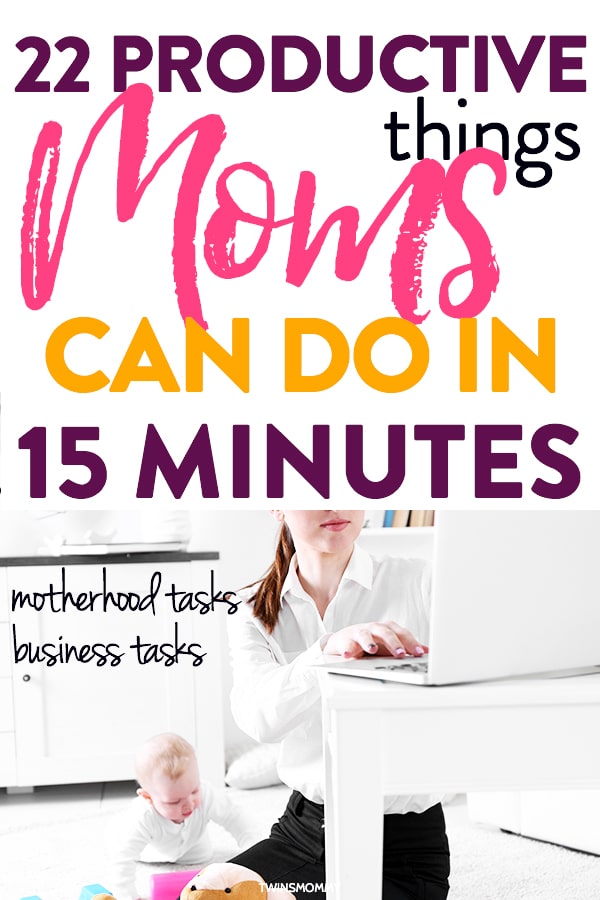 I have over 6 blogs that I run and manage, twins and a house to take care of.
What I found was the best time management hack I came up with is to try to incorporate small but pivotal tasks to help boost my productivity.
I feel that if given a 15 minute time span, you can do a lot for your life and for your business.
Fifteen minutes doesn't sound like a lot of time.
Don't be fooled!
Take advantage of a 15-minute time gap during your day and make the most of it!
Let's look at 15-minute business tasks you can do in between your child napping, playing, eating or while they're strapped to you!
12 Productive Blog Things You Can Do in 15 Minutes (Or Less)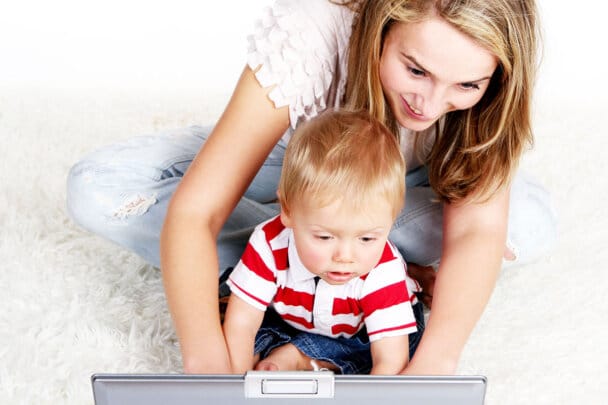 1. Draft an Outline for a Blog Post
If you're anything like me, you have post-it notes, notebooks and pages upon pages of blogging ideas.
Maybe it's because I have a lot blogs, but my desk at times can be covered in post-it notes!
A better use of my time is to block off 15 minutes to draft a blog post outline – or several.
Here's my process for finding quick blog topics to write about.
1. Research a Keyword & Theme
So, for example, maybe I'm thinking of writing a gift guide. I can use an SEO tool like Ubersuggest to get ideas of gift guide keywords.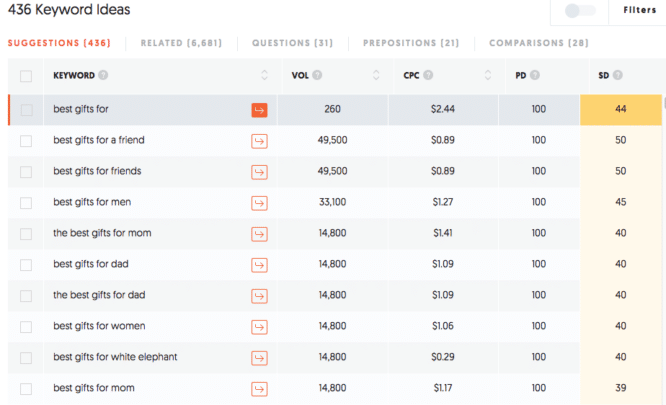 From this list I can get some ideas of topics that relate to my blog. If my blog is a parenting blog I can use these keywords:
Best Gifts for Dad
Best Gifts for Mom
From there, I will look on Pinterest and on other blogs to see how comprehensive these guides are. Is it possible to write something similar or better then the ones I view?
If I find that I can't then I move on to another keyword idea.
This process takes around 8-10 minutes.
2. Come Up With Title + Type of Blog Post
This stage is fast as I can quickly determine the type of blog post I want and title.
If I decided I want to create a blog post on gifts for mom, then I would create a list post, use Amazon affiliate products and title it, X Best Gifts for Moms That Crave Comfort.
I like to add an identifier as a way to narrow down my audience and increase the likelihood people will click on my post.
This usually takes less than 2 minutes.
3. Outline the Post
The rest of the 15 minutes (or a few after) is devoted to creating the outline. If it's a long list post, I may just focus on the beginning half of the blog post and as I write it, will create my list of items.
2. Download a Facebook Live to YouTube
Do you have a YouTube channel?
If you do, see if you have a Facebook live and download it so you can upload to your YouTube channel.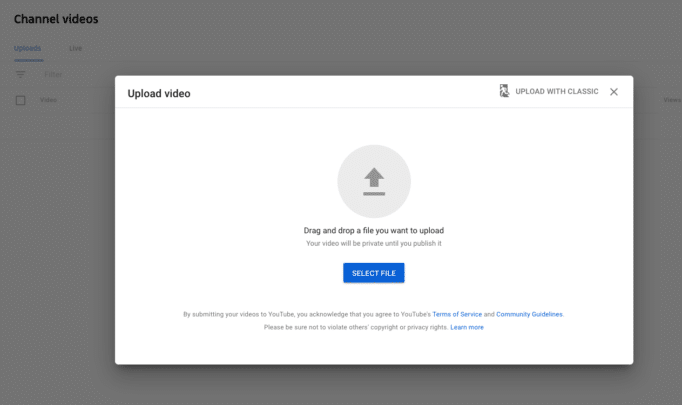 While the video is uploading, you can go to Canva and create your YouTube Thumbnail.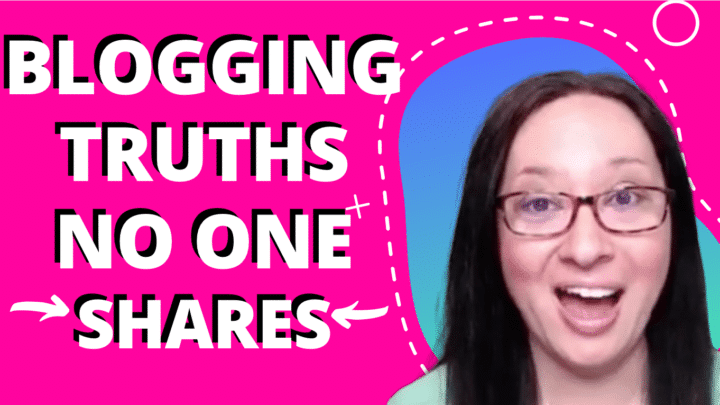 3. Promote Your blog Post on Facebook Promo Days
Do you belong to Facebook groups that have promo days?
Pay attention to those days and spend time promoting your latest blog post or lead magnet on those days.
4. Fill In Your Pinterest Board Descriptions with Keywords
Are you on Pinterest?
I bet not all of your Pinterest boards have an optimized board description.
Spend the 15 minutes going into your boards and creating a board description with keywords for your niche.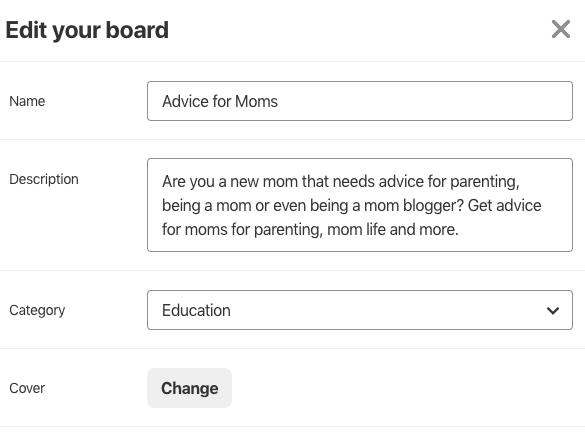 5. Pitch a Guest Post
A great tactic to start growing your audience is to guest post. You reach a new audience and that can help you boost your subscriber list and income!
Go to Google and run a search for your niche + write for us or +guest post.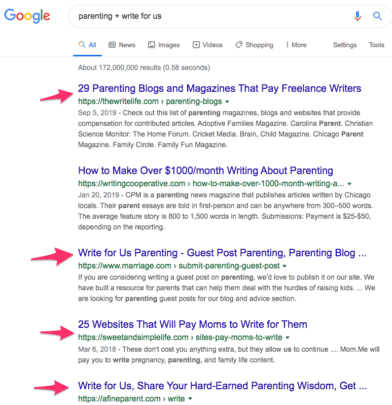 You might even see places where they pay for your writing! Sweet!
Spend time looking at these sites and reading their submission pages for guest posting. You can quickly draft up your pitch or get some blog ideas for their blog.
6. Do a Quick Facebook Live
Do you have a quick tip to share with your audience?
Why not save it for a Facebook Live? You can post on your Facebook page or in your Facebook group!
As an introvert, I know how scary it can be to go on video, but just remember, your audience wants to get to know every quirk you have. This makes you more authentic and relatable!
If you struggle with video, check out my post on how to do a Facebook live.
7. Create An Alternate Pin to an Old Post
I'm working on making this a set thing in my schedule – to create 3 alternate pins for three of my blogs.
I create a template and just swap out pictures.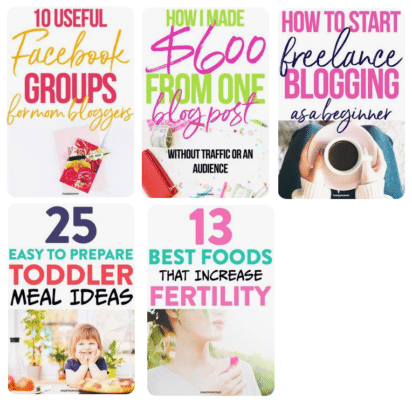 I sometimes use old saved templates or make a new one for that day and use that template for most of my pins.
8. Watch a Lesson from a Course You Enrolled In
Are you a course junkie? Why not spend that 15 minutes for educational time and watch a course lesson?
So, instead of feeling like you aren't doing anything for your blog, you can at least watch a lesson and get some ideas on things you're struggling with.
9. Do Some Manual Pinning
I like to toot around Pinterest throughout the day. During this time I test manual pinning and optimize my pinning strategy.
Sometimes I'll pin from my follower tab, other times from my feed and still other times from my notifications.
Do some testing with your manual pinning to see what works best!
10. Share Your Pins with Tailwind Tribes
I also spend time on Pinterest scheduling my pins and sharing them to my Tailwind Tribes.
I try to send new pins or popular pins to my tribes for more traffic.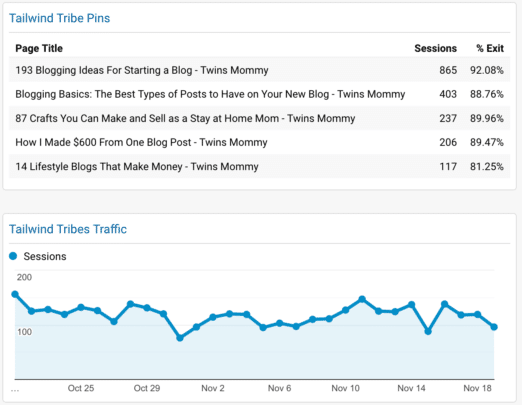 11. Update Old Blog Posts
A tedious and on-going task I have is updating old blog posts.
For example, I went and changed all of my posts with the year to the new year.
I have to be careful though, some posts with no year in the title may talk about the year and it will seem old and outdated if the year is last years!
I also have to do this for my pins too!
You can also update old blog posts by updating the images you use for certain tools or ensuring all your links work.
While this can take all day, you can just focus on it for 15 minutes at a time!
12. Check Your Popular Post for Ideas
A great way to write content that you know your audience will enjoy is to check out your popular posts.
These are popular, which means, if you write something along that vein, the new content will also be popular.
You can do this easily in Google Analytics. Go to Behavior > Site Content > All Pages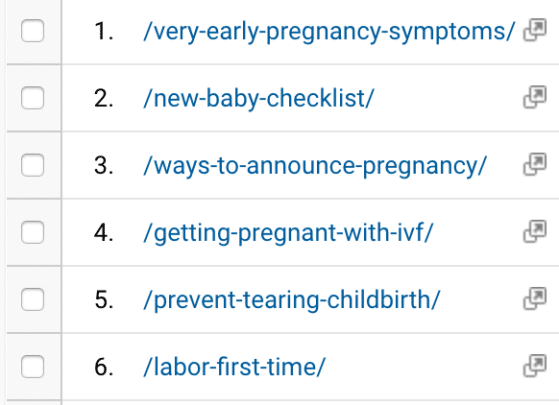 Looking at Smart Mom Ideas most popular posts, you can quickly see that the topic that resonates the most with my audience is pregnancy related. It's not parenting or postpartum, but pregnancy.
So I can glean from this list and come up with new topics that center around giving birth, laboring, alternative methods to getting pregnant, and first becoming pregnant.
13. Edit A Blog Post
If you already wrote a blog post, then spend 15 minutes editing it and getting it ready for publish.
I like to use an editing tool like Grammarly (desktop version) to edit most of my blog content on my blogs.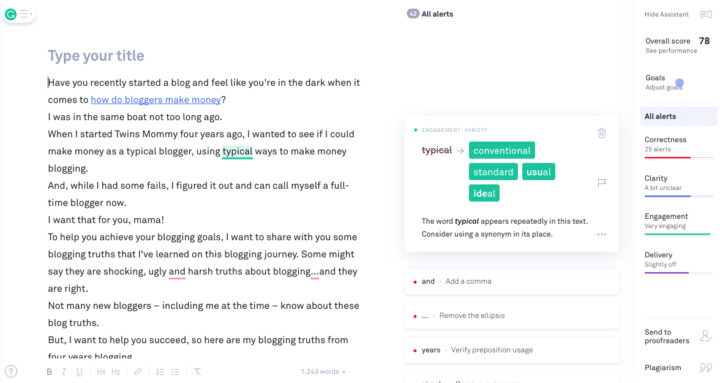 From there I proofread it and then create my social media images.
I also add my lead magnets to my post, links to my affiliates, if it's warranted, and add any final touches before I schedule my post.
10 Productive Mom Things You Can Do in 15 Minutes
1. Clean Something
Look – your house does not need to be scrubbed with a toothbrush to sparkle.
If you're running a business at home, chores and cleaning need to be minimal, but have an impact.
It is all about the speed clean.
When my house is a disaster, 15 minutes can set the flow of our household back in place. I always start at the dishwasher. If it's empty, fill it. If it's full of clean dishes, empty it and fill it again.
Then I start picking up odds and ends around the house – clothes, toys, paper, gadgets, batteries etc… I have twins here!
Doing those two things can make your house look organized and presentable.
Not at home? You can clean your car, your purse, or your email inbox all in 15 minutes or less too.
2. Declutter
Clutter is pure evil and it will clog up your house and brain power.
Clutter is the bane of my existence!
I work every day to declutter my small house.
I swear, the twins hide rocks and beads and small trinkets in their pockets and litter the house with them once home!
The quickest way to declutter is to grab a trash bag and fill it in 15 minutes.
It's fast and unforgiving but boy, oh boy, once that 15 minutes is done and you have a bag full of stuff, you feel wonderful!
Look through your kid's clothes first; what is outgrown, worn out, or something you just don't like? Throw it in.
Look in your own closet. Be real with yourself and cut emotional ties with your stuff.
I just threw my dream skinny jeans in the giveaway pile yesterday because I told myself that if I lose the weight, I can buy whatever hot, pricey jeans I want.
3. Read a Chapter of a Book
I try to keep my phone or Kindle near me at all times.
If you have some downtime, you need to do some self-care mama! And reading for me is what helps me balance it all.
I don't read for fun very often, but when I do, I cherish it! I get my coffee, some cozy socks and sit in my comfy chair!
You can almost read a chapter in any book in 15 minutes.
You can even read a chapter or two from the Bible, from a fiction book or from a business book.
If you work outside the home you can listen to an audiobook at 2x the speed during your commute.
If you want some audio books, make sure to get a subscription to Audible.
4. Write a Better To-Do List
To-do lists are powerful productivity tools, but they need to be done right.
Don't just dump anything and everything from your mind on your to-do list.
You are just setting yourself up for failure if you write all of the work you want to do that day plus all the projects you have backlogged. Write down what you can realistically get done.
Usually, I only write three things I need to get done for my business.
This may be:
Send pitch to guest post
Write blog post
Write email newsletter
5. Write a Note
Jessica Turner from The Mom Creative said in her book The Fringe Hours that she carries note card with her wherever she goes.
She uses her waiting time to quickly jot words of encouragement or a nice note to a friend or loved one. What a great way to connect even during your busy times.
Again, you need to stay present as a mom blogger and nurture the other things in your life like connections and relationships!
6. Journal
Even if you don't like to write, you can use a journal to dump your thoughts. Don't think too hard about what you are going to say. Just go for it.
No one is going to read it. You can even just list out things you are grateful for.
I personally use my bullet journal for my every day tasks, business tasks and personal musings.
7. Exercise
So many times I push back exercising because I don't have a large enough chunk of time. Fifteen minutes can be plenty of time to raise your heart beat, walk a mile, or even do some yoga stretches.
I like to watch a YouTube video for motivation an ideas.
8. Ponder Over Tea
Life is busy and it is easy for use to go, go, go – all the time.
Make yourself a cup of tea or coffee and just stare aimlessly outside. No distractions, no anxious thoughts. Just look at how beautiful the sky is.
I sometimes do this if I'm the first one up (which is rare) or when my husband is out of the house and I'm by myself during the day (kids at school).
I'll take a break from blogging, make some coffee and sit outside!
9. Set Your Inbox Up for Success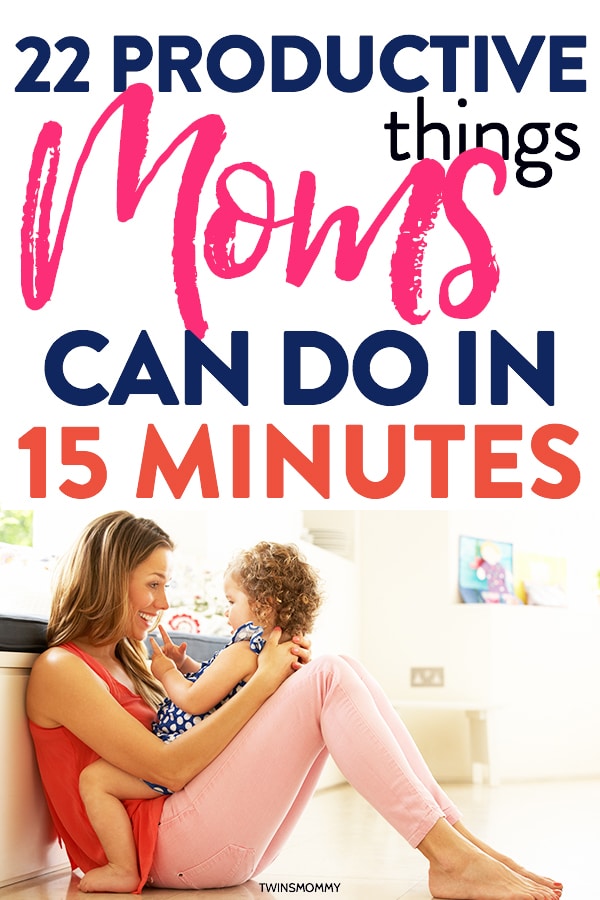 In 15 minutes, you can unsubscribe to several email newsletters and even assign commands for certain clients or people.
Delete all unnecessary emails and organize the others into the right folders.
When you do this, it will feel like a weight was lifted off your shoulders! I had to be brutal and unsubscribe to bloggers that didn't push me further in my business.
I also unsubscribed to brands' emails as they cluttered my inbox with promotions and deals of the week.
10. Enjoy Your Hobby
What is your hobby? Whether it be crafting or baking, many hobbies can be enjoyed in smaller chunks of time.
You just have to get creative. For example, if you love to knit, keep a project you are working on with you always, or memorize a quick recipe for no-bake cookies.
Fifteen minutes might not give you a lot of time for your hobby, but if you can spend 15 minutes pursuing something you love, you will feel more energized throughout the day.
Being Productive
Sometimes it's hard to stay productive.
I get in a rut a lot and that means I lose creativity and my writing suffers.
But, I find that if I take care of myself – with exercising, reading, spending time with mom friends – I can fill up my "cup" and work on my business.
I hope this list of productive things was helpful!
What do you like to do when you have a 15-minute time gap?
Share with my in the comments!
Don't forget to pin me!