I need a bulletin board for my home office!
I mean, I'm seeing so many amazing office bulletin board ideas, I can't decide which to set up.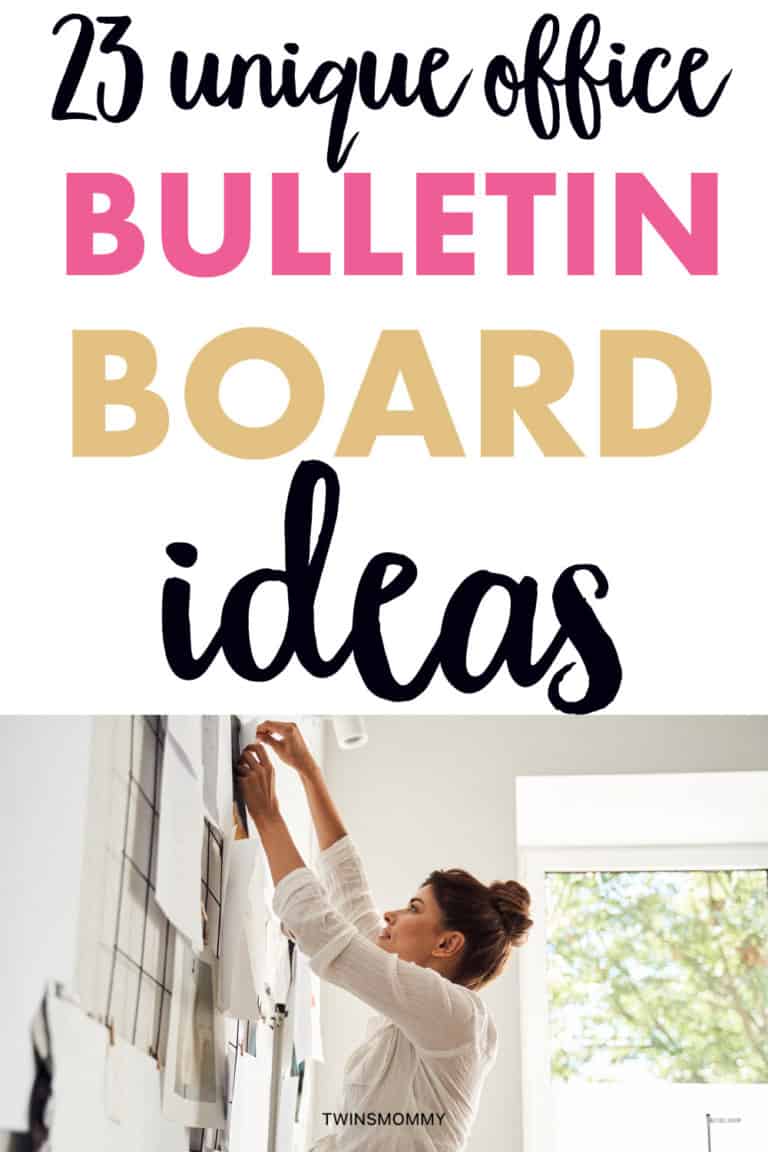 If you work from home then you know how important it is to stay organized but also inspired by your work.
And, lately I've been wanting to spruce up my office and put in a bulletin board.
With constant reminders, ideas for new courses and lead magnets, a bulletin board would be PERFECT for me and help me see the big picture!
So, if you're in the mood of getting a bulletin board for your home, check out these types and ideas, plus how to creatively use them!
Materials and Types
Before deciding what to put on your bulletin board, you need to figure out what size and type of bulletin board you need.
What you choose will depend on the size of your office and how much wall space you have available.
A large bulletin board can take up quite a bit of room, so if you're working with limited space then maybe something smaller would do the trick.
For me, I have a large wall behind my office for a large bulletin board, but I think I'll find something smaller since my office is currently in my bedroom!
Let's check out the best types of bulletin boards for your office!
1. Wire Grid Panels
These Kaforise painted wire wall grid panel is the perfect bulletin board.
You can hang notices using clothespins, postcards, succulents and other office supplies with grid wall accessories.
It comes with two grid panels, 23.6″x 23.6."
Here's an example:
2. Cork Panels

For a chic look, these hexagonal cork panels dub for art too!
For this bulletin board office idea you would need to grab push pins.
This may not be the best option if you have little children running around and that often play in your home office!
My twins are 10 years old now so I could opt for this look for something unique and pretty.
But I've seen designs where the entire wall is plastered with these cork panels for a fun look!
3. Whiteboard
For a more traditional bulletin board, you can go with a whiteboard.
I like this double sided whiteboard. It's 15×12 inches and is perfect if you need a to-do list during the week!
All you would need are dry erase markers and some post-its for important reminders!
4. Acrylic Board
For a unique bulletin board idea, use an acrylic dry erase board. This one is 23″x16″ and comes with screws to mount on your wall.
If you don't want something that permanent you can try a desk version instead.
One thing that might happens is these bulletin boards can be easily scratched if you bump something hard against it (like your laptop or journal).
But they look sleek!
5. Reversible Boards
If your home office is large, a reversible board that's mobile would be a good addition!
These come in various sizes and work well if you have a small local team or if your husband or sibling work with you on your business!
6. Magnetic Bulletin Board

Another unique bulletin board idea is use magnets!
Many of these are combos: white magnetic board, magnetic chalk board or magnetic cork board.
This one isn't too heavy to lift and is sturdy enough that it won't bend either.
Throw in some magnetic alphabet pieces and let your child play while you work! Win-win!
7. Felt Bulletin Board

For something soft use a felt bulletin board!
I think this is perfect for moms that have babies or toddlers.
You don't want anything hard or the potential to hurt your child.
I would avoid the push pins and try using ribbons to criss cross your bulletin boards so you can slip in paper and other notices!
Office Bulletin Board Ideas
So with material and sizes out of the way, let's check out the best bulletin boards for your home office!
8. DIY Bulletin Board!
If you can't find anything to buy, why not be creative and make one yourself.
I like this green version bulletin board!
9. Place it Next to Your Laptop
If you find placing your bulletin board in front of you too distracting, try placing it next to you. The set up looks amazing, doesn't it?
10. Ultra Unique and Chic
For a fun look, use picture frames as the boarders to your bulletin boards!
Genius!
11. Go Big or Go Home
If you have the space, go for a wall-to-wall bulletin board.
I love this look from Farmhouse Living.
12. Glam it Up
This feminine and chic home offie isn't complete without a glammed out bulletin board! Love this unique idea!
13. Sometimes Chalk Just Makes it Great
For a fun and whimsical look, use a large wall for a chalk bulletin board.
If you are into calligraphy or love to design, use it to create stylized fonts and images!
14. Use it For Power Words
Gain inspiration from your bulletin board by posting quotes and power words.
15. Make it Into a Command Center
If you want your office to efficient, then turn your bulletin board idea into a command center.
This is where you have everything you need to run a business like:
File holders
White board
Cork boards
Calendar
Pen holder
Quotes
16. Eliminate Paper Clutter!
Use your bulletin board for the home as a way to finally eliminate paper clutter for good!
17. Make it Pretty
Sometimes just looking at a pretty and chic bulletin board will give you ideas and help you be more creative!
Ways to Use Your Home Bulletin Board
Aren't those ideas to die for? Love them!
Okay!
So, besides a place to plan things, what else can you use a bulletin board for?
18. As a Youtube Backdrop
Don't you love watching Youtube videos that have a gorgeous backdrop?
I know I do!
Whether I'm looking at their home office, bedroom or bulletin board, I feel it adds a touch of personality and professionalism to their video (like they took the time to create a vibe).
For example, I like how By Sophia Lee uses her house design bulletin board as her Youtube backdrop.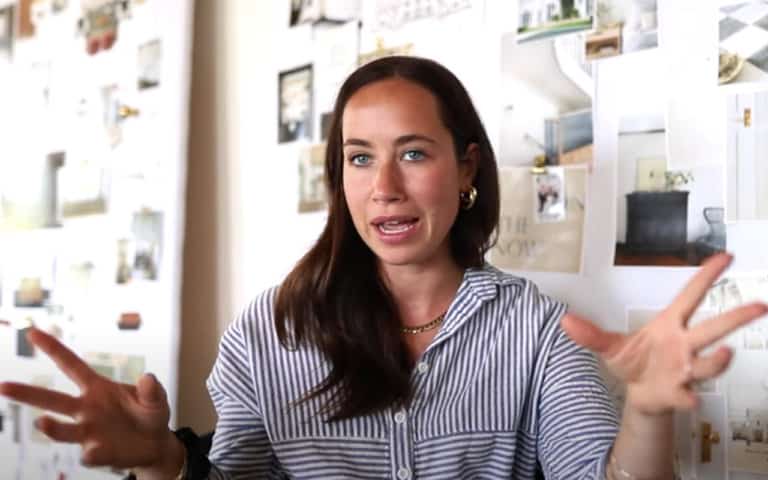 What's great about using your bulletin board for your videos is that you can customize the look and feel for each video if you want.
Whether it be a video game vibe with LED lights and computer equipment; or an abstract art project with modern shapes, lines, and hues; a bulletin can help transform your space into whatever look you're going for.
If you want to take it one step further, you could even add lighting behind the bulletin board!
This will give your backdrop an extra dimension and cast warm light on whatever decorative pieces you added.
19. As a Place to Create Your Business Plan
Look –
When I first started Twins Mommy, my twins were under 2 years old.
They were constantly in my room wanting to get into everything I had on my desk.
Having a bulletin board that's on the wall would have helped tremenosuly!
I could plan out my Twins Mommy business and see the direction I wanted to go in.
If you don't know I started on one path, then stopped that path, went onto a new path and I recently pivoted again!
So, yeah, seeing the big picture for my business totally helps!
20. As a Place for Future Events
Planning a vacation?
Or, how about a weeding?
Got some special event happening in a few months?
Why not use a bulletin board to keep track of dates and reminders?
I love this idea and what's great is you don't have to use your office either.
You can place this in the kitchen where you spend more time in!
21. As a Vision Board
For the start of each new year, create a vision board of what you want to accomplish with your blog and business.
Use a vision board to dream and visualize your goals, while also taking actionable steps towards achieving them.
When I made mine a while back, I just used card stock but getting a bulletin board makes it seem more permanent and would hold me accountable!
Just make sure there's enough space for all the information and ideas you want to include.
It should be large enough that you can comfortably write out you long-term goals, daily tasks, personal affirmations, or anything else you want to include.
Make sure to have colorful photos and graphics for visual encouragement!
22. As a Mood Board
Create a mood board to help boost your motivation and productivity.
You can create different types of bulletin mood boards:
Design your home office mood board
Paint swatches mood board
Design your bathroom mood board
Create themes like neutral, farmhouse, modern, etc..
To create your mood board, collect any materials that inspire you: fabric swatches for color palettes; magazine clippings; pictures from books or magazines; postcards; wallpaper samples; sketches and drawings; photographs from nature or travels; scrapbook pages with quotes or memories; even souvenirs from special occasions.
Place them on your bulletin board and arrange them into a pleasing design.
You can also add color-coded labels such as "work" or "relaxation" on top of each item so that you know what you're looking at when you need inspiration.
23. As a Place for Brainstorming
Create one bulletin board for brainstorming ideas for your business.
This can help you remember what you thought of last month and stay one track.
There Ya Go!
It's time to organize your thoughts and create outlines for your projects with the help of bulletin boards!
Yay!
Let me know in the comments which bulletin board idea you like and don't forget to Pin me!