Do you often feel that there's more to being a mom?
I don't know about you, but once I became a mom I wanted to not ONLY identify as a mom.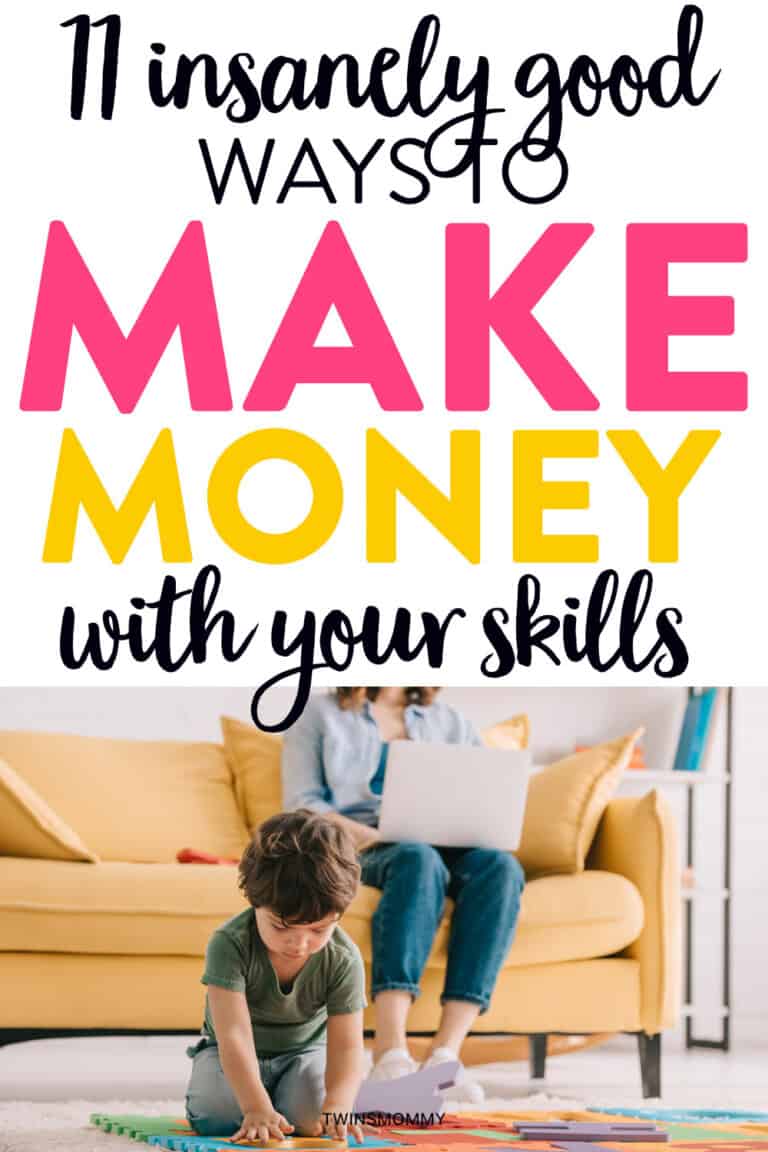 I wanted to also be a productive member of society.
That's partly why I was excited to start a blog as a mom!
I wanted to use my skills.
Know this: even though it might feel like your only skills lately are finding a matching pair of socks and whipping up dinner when everyone says there is "nothing to eat," you have so much more to offer the world and yourself.
Perhaps you've thought that it would be nice to bring in some extra money to help your family out.
Whether it's to help buy gas and groceries or to help pay for your kids' activities (or maybe just some extra cash to pamper yourself), there are many different things that moms can do to earn extra income by using their incredible skills.
Whether you want to make money from home or take some time to go out and be a real adult again and interact with other real adults, here are four insanely good tactics to make money with your skills.
What Are Your Skills?
But before I dive into these tactics, it's time to take an inventory of your skills to determine the best way to make money with your skills.
In the beginning, it's best to determine what your skills and passions are and how you can make money from those things.
Do you already have a job?
What are some of the skills you could use from that job to make some extra income on the side?
As an example, if you are a teacher, you can also teach English online to kids in China or create printable resources to sell to other teachers.
Are there some activities you have enjoyed doing but don't do anymore due to lack of time?
This could be writing, art, playing music, crafting, or any other type of "hobby" that you used to do.
What types of things do you enjoy doing outside of your regular working hours and you are pretty proficient in?
What are some topics that you really enjoy reading about and could research about for hours at a time?
How can you take what you already do as a profession and make money off of it in a different way?
What do others say your strengths are or have asked you for advice on or to teach to them?
These are all potential opportunities that you could do to make money on the side from your skills.
But I have a secret to tell you if you feel you don't think you have a strong skill to make money with.
Here's the secret:
You just have to be one step ahead of your audience to make money.
That's it!
When I started Twins Mommy I never started a mom blog before!
So I learned how to market my blog – on Pinterest of course! – and began helping other new moms learn Pinterest.
The same when when I was monetizing my blog. Once I made my first $2,000 on Twins Mommy, I helped other moms make money blogging!
Now that you have thought about your skills, let's get down to business.
Here are four tactics that you can use to make money with your skills that cover such a wide range of skills and passions you are bound to find something to bring in that extra cash.
Content Writing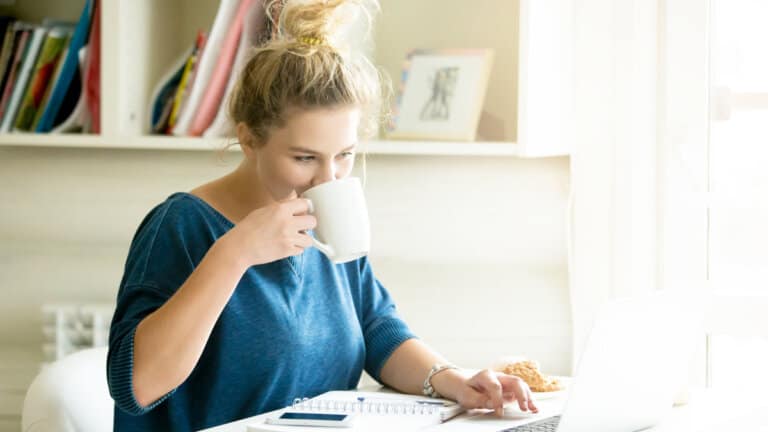 There are many people who enjoy writing but just don't do it anymore due to lack of time or they simply just don't know what to write about.
Writing online – also called content writing or content creation – has become incredibly simple and profitable either as a hobby or a side hustle.
Just think about all of the things that you read online.
You read blog articles, articles published on well known news sites, ebooks, how-to's, social media posts, and so many more things.
If you enjoy writing and are halfway good at it, you can make some extra income from your writing skills.
1. Start a Blog
It's no secret that I am a huge fan of blogging. I have 7+ blogs!
I love writing, I love being able to share my knowledge with others, and I love being able to connect with with other moms who read my content.
Now starting a blog is no simple feat and it can take awhile to get enough traffic to actually start making an income.
But let me tell you, it is totally worth it.
I started my first blog, when I was on maternity leave with my twins.
I wanted to be able to share my experience with other moms and it was a way for me to have some time for myself.
You can blog about literally anything.
From blogs about DIY home projects to finance and even pets, there is no shortage of things to write about on a blog.
If this is something you are interested in, then check out my post on how to start a blog.
It lays everything out and is simple enough even for non-tech savvy beginners.
2. Create Ebooks
Ebooks are another great way to make money from your writing skills.
Similar to blogging, you can write ebooks on just about any topic.
Been dreaming of publishing your short stories?
Always wanted to become a sultry romance novelist?
Or what about publishing books on positive mindset changes? There's a market for that!
If you aren't creative but want to teach, there are many books that teach you anything from how to start an Etsy store to how to create content so you don't burn out!
You can very easily publish ebooks on Amazon and other platforms to earn extra cash.
3. Work for Freelance Clients
Another way to make money with skills is writing for freelance clients.
This is something I have been doing for many years and was able to start making a full-time income writing part-time in just six months.
There are so many places to find freelance writing clients, you shouldn't have any issues as long as you are able to provide the potential clients with some samples of your work.
Don't have writing samples?
Simply write a few articles in the niche that you would like to get into and publish them on Medium or your own blog.
Coaching/Teaching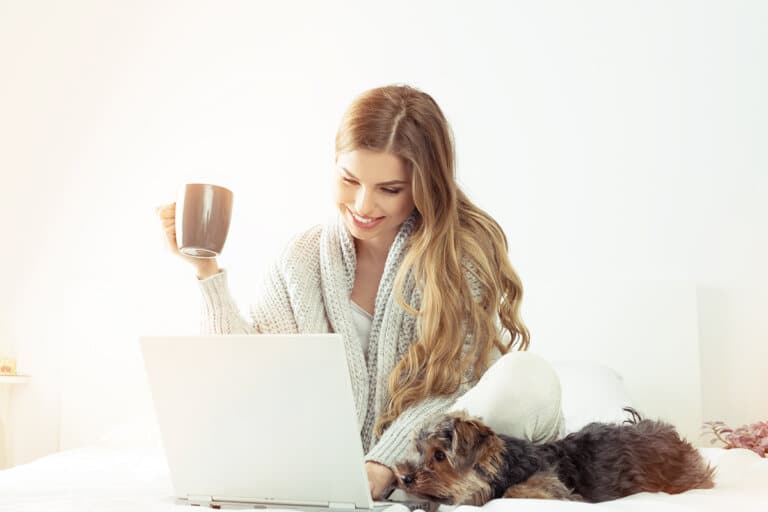 If you have any kind of skills you can coach or teach them to others.
Think of all the ads you see for online courses for everything from investing to dating.
Here are many things you can teach and coach online or in person to make some extra income.
4. Teach Music
If you are musically inclined, then perhaps you can teach music lessons.
This is something you can do both in person or online. There are plenty of online platforms that allow people to publish their courses (more on that in a minute).
One place to check out is LessonFace.
From piano to songwriting, you can list your skills on this site and start teaching lessons at a rate that you choose.
5. Teach English/Language
There is also a huge market for teaching English online, especially to children in China.
This has been a popular side hustle for teachers and moms alike via sites like VIP Kids. Just make sure to account for the time difference.
6. Start Life Coaching
While I could list out the thousands of different things you can coach people on, mindset, finances, and so on, life coaching seems like a good place to start.
Before I created an online course, I did coaching for freelancers.
It was a great gig but I found it became too time consuming when I had client work to do.
If there is something that you are good at and people ask you how to do it, then you can coach people on that and make money from it.
Online Course Creation
Online platforms, like Udemy, LearnWorlds, and Teachable offer a place for you to teach people your skills.
It's a great way to share your knowledge with the world without having to build up your own audience from scratch.
I host all my online courses on Teachable and love their platform. They have an amazing affiliate platform so that others can promote your courses and they can make money when others buy the course!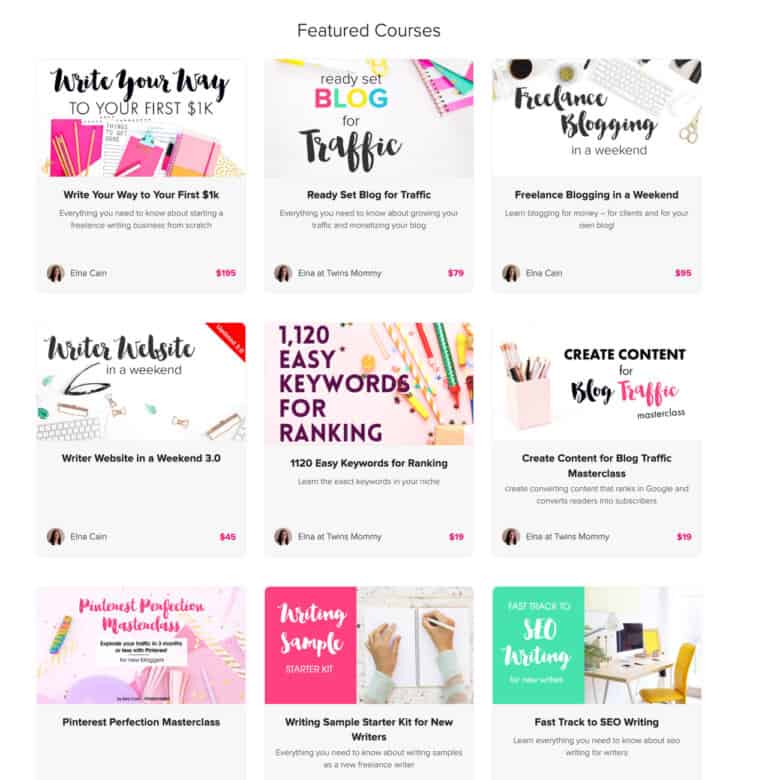 While it is helpful to advertise your courses online via social media, it's not required.
There are so many different things that you can offer courses in – meditation, healthy eating, starting a business, kid activities and more!
Just take a look at some of the sites above and you will quickly see the possibilities are limitless.
To get you started, let's look at popular online course ideas!
7. Crafting/Art
Do you love to do art or make adorable crafts out of upcycled materials?
From mason jar crafts, to printable crafts to painting crafts and more, the list is endless!
Showcase those skills in an online course.
8. Recipes/Food
Are you great at cooking? Do you know how to cook a particular type of cuisine very well?
There are many courses on developing good eating habits, losing weight, or learning how to cook.
Share that knowledge with an online audience.
9. Finance
Finances can be really difficult for people to understand sometimes.
If you have a knack for numbers and want to help people make better financial decisions, then consider creating a course around finance topics.
Social/Networking
Over the last decade or so, there has been a huge upswing in the use of social media.
Think about it, everyone is on their phones for hours per day, scrolling through their favorite social channels and connecting with others.
There are many different ways that you can make some extra money with social media and networking.
10. Affiliate Marketing
Affiliate marketing, MLM, network marketing, referrals, I am going to lump them all together in the same category here because realistically they all serve the same purpose: to get people to buy something based from someone else's suggestion.
If you have any kind of following or know how to create one, you can start affiliate marketing. Many new bloggers start with affiliate marketing and some do make lots of money – tens of thousands of dollars per month.
I make money with affiliate marketing, but it's not that much!
One creative way I have seen this done is through reviewing Amazon products on TikTok and then linking to each of the products through a "store" type page.
The basic premise is that you refer someone to a product or service and you get some type of commission.
This has also been termed "influencer marketing."
This just means if you have built a loyal following you can share your affiliates with them and generate income.
Aly of What Moms Love generates at least $20,000/month for promoting brands like Trader Joes and others on her Instagram feed.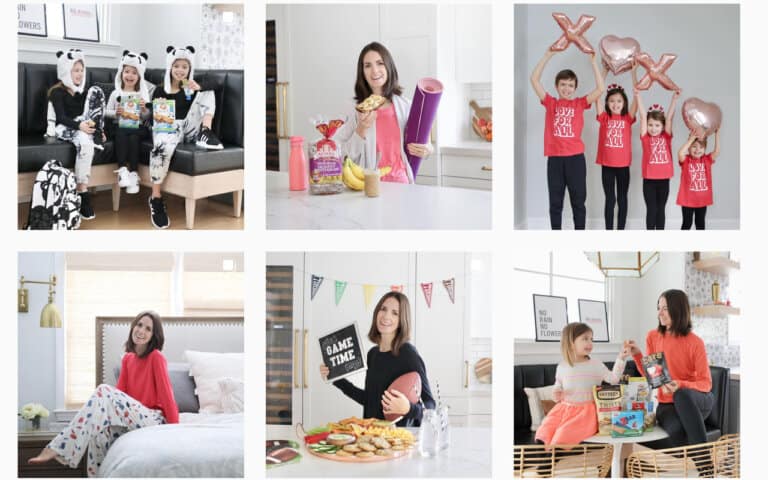 11. Podcast
Podcasts, similar to blogs, are a great way to make extra money but do take some time to get setup and start bringing in cash.
This is great if you prefer to talk rather than write.
Many bloggers eventually turn to video creation (Youtube) or podcasting like Simple Pin Media did.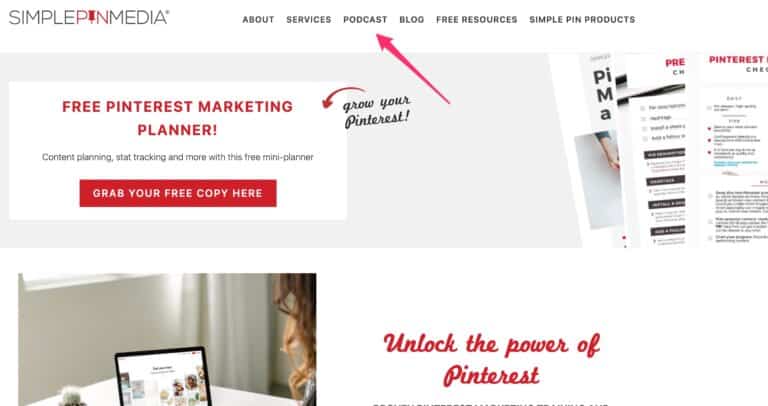 Not to mention, this is also a great way to meet other people and make connections.
With a podcast on a blog, it just opens your brand for more people to know you and to help you collaborate on other areas like sponsorships.
Make Money With Your Skills Mama!
There you have it, eleven insanely good tactics to make money with your skills.
Don't make it hard on yourself to start big with a course or a podcast.
Instead, find a skill you enjoy doing – crafting or making big dinners – and see how you can monetize that skill online!
Now, what will you choose?
Let me know in the comments below and don't forget to pin me!