Congrats!
You started a blog, found a great WordPress theme, figured out how to use WordPress and wrote your first post. That's a huge accomplishment mamas!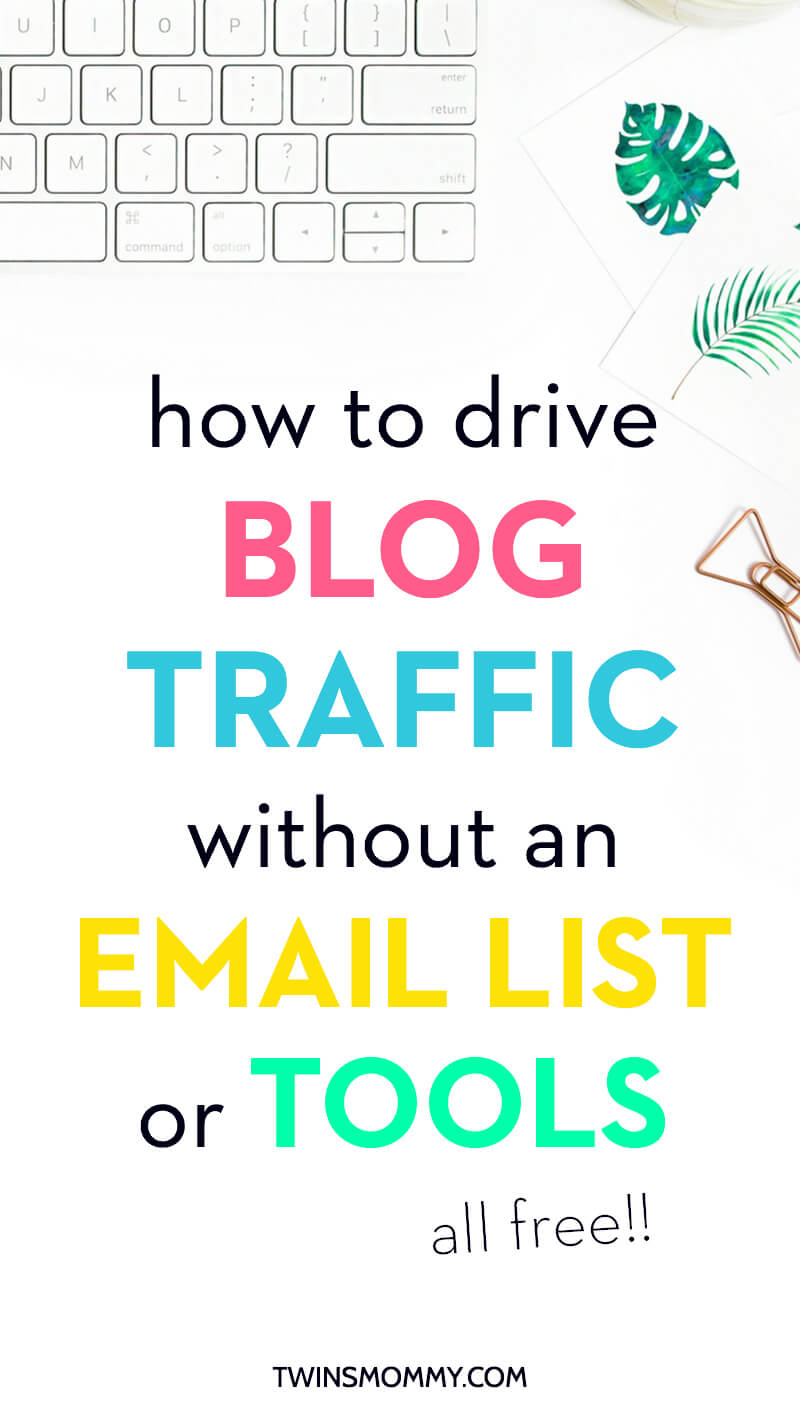 But, now that you did all that, what do you do next? What's the next step after you start a blog? For some bloggers, they focus on building their email list. Other bloggers want to grow their social media followers. While others stick to the traditional elements of SEO and keywords.
Is there a right answer? For me, I believe there is. I truly believe that the next best step you can take as a new blogger is to build your blog traffic and audience.
Why?
Because when your blog grows, other parts of your business grow – your email list, income, social media followers, and brand.
It's the first step to succeeding at blogging. Do you need a lot of traffic? Not necessarily, but like I say, the more traffic you have, the more income potential you can earn.
When my pageviews were less than 20k my blog made around $20. When my pageviews grew, it grew to $200, then $2k and now that my pageviews are nearing 40k, my blog is earning around $4k.
I'm not saying this to brag but giving you a metric about what happens when more eyes are on your blog.
As a new blogger, you might be pressured to use tools or build your email list prematurely in hopes of growing your blog traffic.
I've learned, though, that you don't need an email list nor paid tools to make an impact with your blog (and start getting traffic).
Here are 13 ways you can start growing your blog traffic without having to build an email list on the side or use expensive tools.
1. Create a Strong Platform for Your Blog
What does this mean? When you have a new blog, focus on the big picture and have a plan. You start to create the bricks to make a strong foundation for what you want your blog to be.
Strong elements include your blog content, the ease of navigating your blog, engaging with your readers, networking, and growing your brand.
One simple, yet effective way to start building your blog from the ground up is to serve your audience. You can do this on social media by offering help.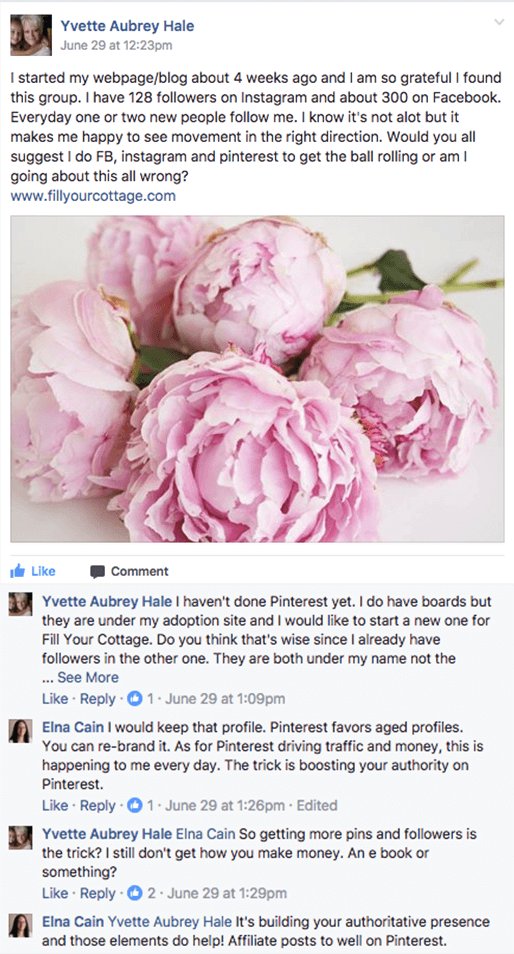 Over in my Mom to Mompreneur Facebook group, I try to answer as many questions as I can. I want to help other bloggers and if I know the answer, I'll help out. This also grows my brand and presence online, hopefully generating more traffic back to my site.
2. Use Facebook Groups to Promote Your Blog
Facebook for me has been the best driver for engagement. This means people on Facebook read my post, comment on my post, then comment on the Facebook thread telling me they left a comment and shared it!
Wow! I'm so humbled when I see these postings. Facebook groups are just a great way to promote your posts and network with others.
But, Facebook is also a way to drive traffic to your blog. How?
First, join relevant group boards that have promo threads. There are group boards that also have requirements when contributing to these promo threads. They may require you to comment on all the posts in that thread or share posts in that thread.
It's up to you if you want to use those threads to promote your latest blog post, but for me, I like to be in group boards that don't require a lot of steps when I promote my posts. Mom to Mompreneur lets people promote on the wall with no contingencies.
Once you find the group boards you enjoy, make sure to read the guidelines and only promote when its their day. When promoting on a thread, try to capture the curiosity from scanners to click on your blog post with a good blurb.

3. Use Pinterest to Promote Your Blog
Ahh, Pinterest. My BFF, my thing, my eye-candy.
Pinterest is an amazing social media platform. It's actually a search engine and people use Pinterest to find solutions to their problems. And your pin could be the #1 result!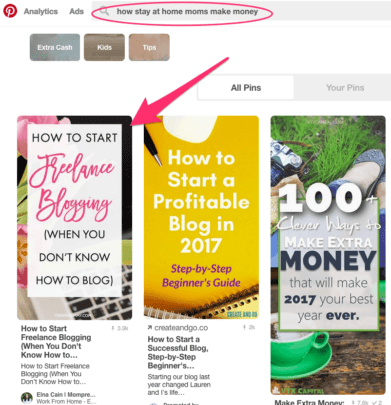 When pinners search and find your pins, guess what? They will click through to see your post. And, if you make a good impression (have a valuable written post, links to other posts, a freebie they can pick up) then they will become a subscriber and follower.
If you are new to Pinterest, include keywords in your descriptions and make some nice Pin graphics to stand out in the Smartfeed.
For more Pinterest tips, check out my 12 Days of Pinterest Tips!
4. Start Guest Posting
An easy way to grow your blog for free is to guest post. This means having your blog post on someone else's blog. You get to be shown to a new audience and hopefully capture these new readers into wanting to know more about you.
When I first started Twins Mommy, I invested in guest posting. One of my first guest posts was on Living for Naptime. I made sure to link to my website in my author bio (as well as in the guest post).

5. Create Awesome Blog Posts
Ok. So, I'm a freelance writer and writing is my passion. Especially blog posts. I love writing blog posts. They're engaging and fun to write.
As a new blogger, however, you may not have found your blogging voice. This is your brand and personality coming out in your post. You also have to decide what type of blogger you want to be. Do you want to be:
A teacher?
Inspirational?
A leader?
A friend?
Logical?
Informational?
Finding out what type of blogger you want to be can help you find your voice as well (and brand). For me, I believe I'm informational and also inspirational. My story seems to inspire other bloggers.
So, when creating your blog posts, be grounded in your voice and that will translate into an authentic blog.
6. Build Up Your Facebook Page
Do you have a Facebook page for your blog? You totally should! This is the place to be a bit more personal and really talk to your audience.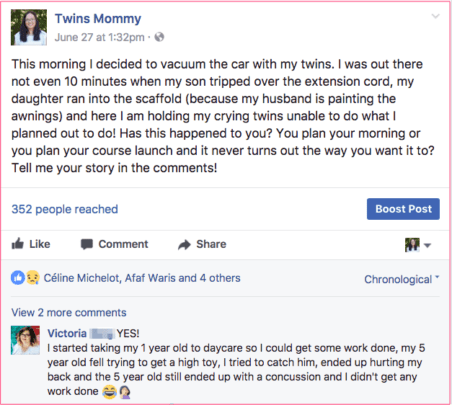 I've only had my Twins Mommy Facebook page since October and I've been working at growing my page.
One of the big drivers of Likes is to do native video posts. These are effectively called Facebook lives 🙂 And to be more specific, Lives without any links to outside content (like a lead magnet or your blog).
Doing these types of Facebook lives can help you grow your reach and generate more likes. I finally did my first Facebook live for my Twins Mommy page last week and I loved it! I'm going to do more!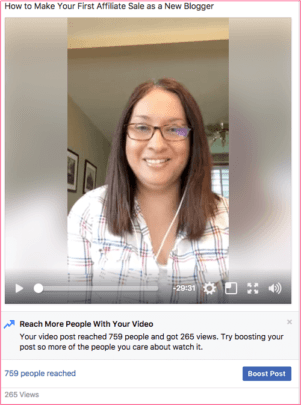 So why your Facebook page? Why not Twitter?
Well, for my Twins Mommy blog, since I get more engagement on Facebook, it only makes sense to focus my strategy on that platform. Twitter doesn't bring much traffic, if at all (it does for my Elna Cain site).
So, focus on what gives you the biggest ROI.
7. Use Google Analytics
Do you know how to setup Google Analytics for your blog? This enables tracking to show your traffic, sessions, pageviews, where your visitors are coming from and a whole bunch of other useful things.
But, how does this help you with generating traffic? You can find out which posts your visitors are going to the most. From there, you can create more content around that theme.
You can also see your top referral source for traffic. For Twins Mommy, here are my top 5: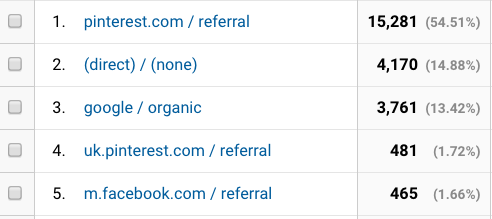 Pinterest is my first source for traffic. This makes sense since a big part of my strategy for growing this blog is to use Pinterest as a marketing tool.
The next one is direct – people are typing in "TwinsMommy.com" to find my blog. This was a nice surprise 🙂
And the third is organic traffic – or Google traffic. This tells me that people are searching on Google and finding my posts! Yay!
Since I know Pinterest is my #1 source of traffic, I'm going to focus most of my strategy on optimizing my Pinterest profile.
How do you do that:
Make it clear on your profile what you do and who you are
Have board topics that are relevant to your niche
Join group boards relevant to your niche
Grow your followers
Within a year I grew my Pinterest followers from 600 to 10,000. My impressions have grown as well as my repins. And this equates to over 50% of my traffic coming from Pinterest.
For you, find out your top referral for traffic and focus most of your strategy on that element.
8. Be Featured In a Roundup
Roundup posts are one of the best types of posts to have on your blog. A roundup is a post full of the best resources like this one.
You can also roundup other bloggers and get them to answer a question and then feature them on your blog like this post.
But, you can reach a new audience (and generate more traffic) when you are featured on other people's blogs.
How do you do this? By networking and getting to know your blogger friends. I love this part of blogging. When I started Twins Mommy, I did not know any mom bloggers except for a few work at home moms.
So I searched and found other mom bloggers and made sure to follow them and comment on their posts and email them.
Over time I was able to collaborate with them and feature them on my blog (and then I would be featured on their blog!).
For example, Jen of Women Winning Online featured me in her post about what top bloggers should focus on this year. I was featured along with some other awesome bloggers!
When the bloggers in that post share that on social media, there will be more eyes will be on Jen's blog.
9. Start a YouTube Channel
Video is sooo the new thing now! Didn't you know?? 🙂
For this introvert, it's been a challenge to be on video or do video lessons or FB lives. I'm still learning, but I'm not shying away from this medium.
If you want your blog to grow, you need to step out of the box and try new things. Video is an easy way to get started.
And YouTube is the place to hold your videos. I have a YouTube Channel and what I do is repurpose my Facebook Lives into YouTube videos.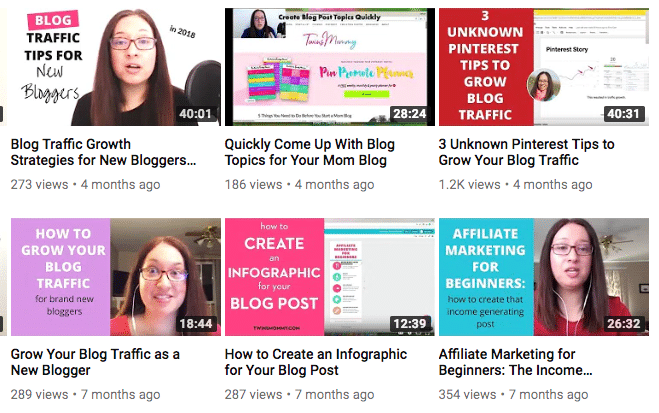 YouTube is owned by Google so Google favors video content and can help you grow your traffic. It's a long-term strategy, but why not get started now?
And a lot of bloggers are switching to video too. Abby from Just a Girl and Her Blog has a thriving blog, courses and books to help her audience and she recently pivoted her blogging strategy to do videos instead.
And you know what? I LOVE her videos! It perfectly fits her niche – organizing!
Allison Lindstrom also took to video last year. Her videos are filled with awesome tips for bloggers. I was a fan before she switched to video, but once she did, I loved her even more!
Both of these bloggers didn't stop blogging; instead, they use their blog to summarize their video content. Or they enhance their blog post with a video.
I like this approach and may start doing that once I have more time (i.e. twins go to school).
10. Repurpose Your Content
I love repurposing my blog posts. I can use the same ideas and turn them into something else. A classic example is turning a blog post into a Facebook live video.
I did a Facebook live in my Mom to Mompreneur Facebook group about growing your email list. Some of the tips I used were repurposed from a post I had on Twins Mommy.
You can also repurpose your content into lead magnets or content upgrades. Do you have a popular post? Why not turn that into a freebie?
My posts on free tools and planners and tribes etc.. turned into a lead magnet of 190+ free resources to grow your blog.
11. Comment on Other Blogs
When you comment on other blogs, you get to leave your link to your blog and/or a link to your blog post. This is a small, yet effective, way to get more eyes on your blog.
For new bloggers, I suggest you do this weekly! It helped me grow my connections and traffic.
12. Use LinkedIn to Publish Popular Posts
Depending on your niche, you can totally use LinkedIn to share your popular posts.
If you have a profile on LinkedIn, you can publish on their platform. Many bloggers post their popular posts and then add a: [click here to read the full article]…

This drives traffic back to your site if your post is juicy and they want to read more.
I'm starting to post my Twins Mommy posts on LinkedIn to see if I get any traffic from this platform. It's worth a try.
13. Use Quora to Answer Questions
Quora is a Q/A site where you can help people with their questions. You can get an idea of what your audience wants and answer their questions by sharing your posts.
I suggest you answer their question in detail on Quora and then causally mention, "if you want more tips, check out this post" and link to one of your posts.
This seems to be a good strategy for marketers and other bloggers that want to find a new audience.
I have used Quora in the past for my freelance writing site and I found I had to invest a lot of time on this platform to see any results.
If you have the time, and if you feel your audience is on Quora, then try using this platform to drive more traffic.
I would give it a month and if you see no results, move on.
Grow Your Traffic for Free
While having an email list is essential if you want to really make blogging your main hustle, it's not vital for traffic. Neither are paid tools.
That's why I created my course, Ready Set Blog for Traffic without using email as a strategy or paid tools. While I do talk about paid tools, it isn't necessary to use for my course or to see results from taking my course.
When you are ready to invest more heavily in your blog, I would invest in email and some scheduling tools for social media.
Over to you – which tip are you going to use first to grow your blog traffic?