The most successful bloggers make time for blogging.
On average, I spend 30 hours a week on all my blogs.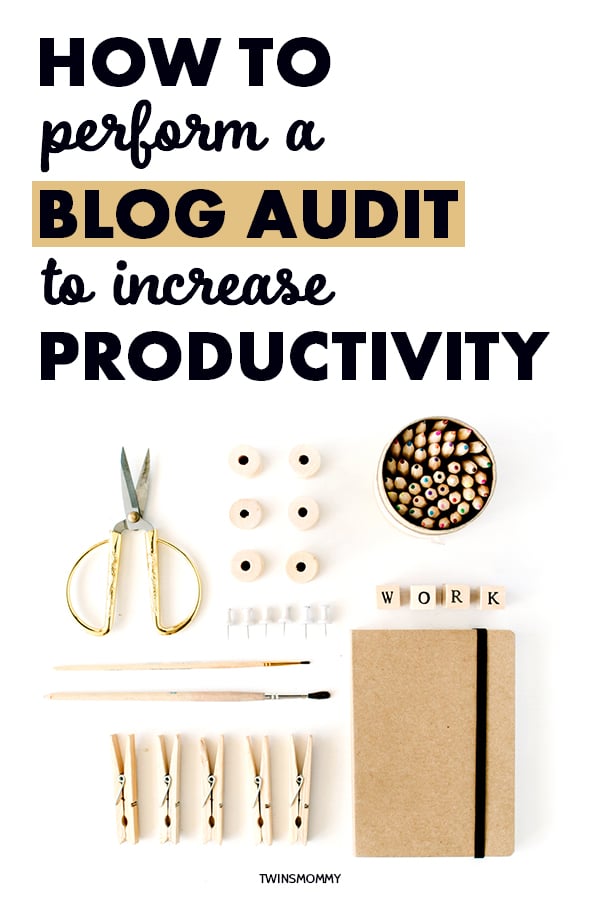 This is my second year as a full-time blogger, and I'm learning how to be more efficient and gain more productivity in my day as a mom blogger.
One thing that might help you as a new blogger is to perform a blog audit.
Specifically, a time audit where you look at where you are spending most of your time when you blog.
This might be an eye opener or you might shy away from this activity because you know you aren't always working on your blog when it's time to blog.
That's okay.
You can start a blog audit at any time!
If you really want blogging to be the way to make a living working from home, then you have to make each task you do count and give that task the time it needs.
So, let's go into how you can start a blog audit to find out where your time is going.
Questions To Answer for Your Blog Audit
Trying to figure out what to focus on as a blogger can be a challenge. Many bloggers tell you so many different things.
Well, let's flip that around and just focus on the core methods for building a successful blog:
What tasks/things/posts have given me the most results up until now?
Where do I spend most of my time when I sit down to blog?
What can I do to continue growing my blog but not spend more time doing it?
If you only focus on these three things, then you can build a strong blog plan.
What Tasks Have Given Me the Most Results Up Until Now?
Looking at your blogging history, what things did you do that gave you the biggest ROI?
For me, they are:
Networking/Outreach
Product creation
I know – for me – those core tasks have given me the most subscribers, income, and traffic.
Where Do I Spend Most of My Time When I Sit Down to Blog?
This question can open up a whole can of worms. I know I spend a lot of time:
Answering emails
Supporting students
Formatting guest posts/subcontractor posts
(Eek!) Social media
What Can I Do to Continue Growing My Blog But Not Spend More Time Doing It?
There are many things I do so that I'm not spending a lot of time on all the other parts of my business, like social media.
So, let's look at six ways you can continue to grow but not spend extra time doing it.
1. Automate Everything
If possible, automate as much as you can. This – for me – means automating a lot of my social media content.
I use Buffer for Facebook, Grum for Instagram, IFTTT for Twitter, and Tailwind for Pinterest.
Having these social media automation tools saves me hours a week on posting and scheduling.
2. Outsource and Delegate
If this is possible, consider outsourcing some of your blogging tasks to free up time to focus on the important things.
When I started more blogs, I had to have writers help me with my content.
When my business started growing, my husband joined, me and I delegated tasks for him like customer support and tech help.
Maybe outsourcing would help at home instead of in your business.
Hiring a babysitter or nanny to watch your child or children a few times a week can help you gain time for blogging.
3. Streamline Your Processes
Take a look at the tasks that takes a lot of time and see how you can streamline that task.
For example, I spend a lot of time answering emails. I found I was answering the same type of emails with the same type of answers. So, instead of manually typing out these answers, I created canned responses in Gmail.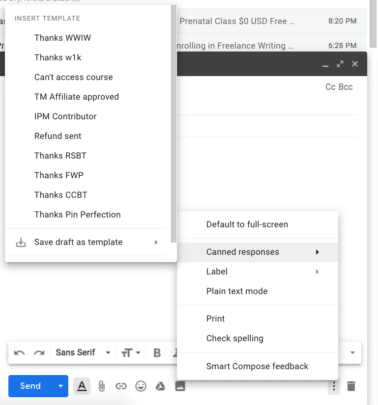 I also use spreadsheets for my Pinterest descriptions, a pitch checklist for when I pitch to clients, and a blog editorial calendar for my content.
Whether you use a Bullet Journal for your blog plan or a planner or digital tool, find a system that works for you.
4. Type Faster
It's a fact –
The faster you type, the faster you can whip out blog posts.
When I do a blog challenge to write a blog post every day, I know my sweet spot is around 1,000 words.
I can write that in about an hour, which makes it super easy to write a blog post every day in the morning.
To increase your typing speed, make sure you are typing the proper way and sitting at a desk – not your couch or kitchen table.
You can also take a typing test to improve the speed and accuracy of typing. My personal favorite is Key Hero, a free typing test program.

5. Repurpose
By far, the best time-saving task I use regularly is repurposing content.
By optimizing the time I spend at my computer, I can create up to six different types of content from one piece of content.
I can publish a blog post and then create a Facebook Live about the blog's topic.
From there, I can upload my Facebook Live video to YouTube to create a YouTube video. I can then use snippets of it to create an email newsletter and infographic for Pinterest.
Use parts of that blog post to create a subtopic in a blog post and open up the discussion from this blog post in a guest post.
There are many ways you can repurpose and recycle your content to extend its life and optimize your time blogging.
6. Time Yourself
It might be a good idea to time yourself doing various tasks.
How long does it take you to write an email? Create a Pin? Answer questions on Facebook?
Make a list of the daily tasks you do as a blogger and then time yourself.
Do this for a few days to get a good representation of how much time each task takes.
You can use this information to motivate you to do things quicker or see where you can streamline what you're doing.
Maybe creating new pins is taking too long for you. To cut the time, you can create a pin template and use that to create many new pins in half the time.
Create a New Blog Plan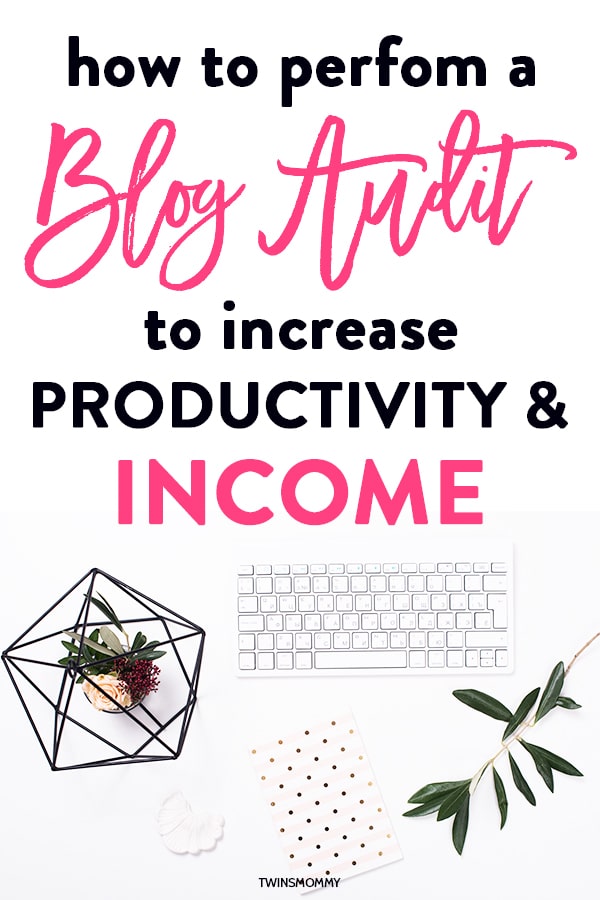 With the information you gathered from your blog audit, you can create new blogging goals for your blog plan.
For me, it's hard to remain highly focussed when I blog. I like to listen to music with I write, and this helps me with my creativity.
But, since writing is a very creative task after I've been writing for an hour, I do take "social" breaks to check out what's going on Facebook or on Pinterest.
I need these breaks to keep my creativity going and not give me blogger burn out!
Over to you –
What are the tasks that take the most time for you? How can you reduce that time? Share with me in the comments!
Please pin me!