One of the first things you hear about as a new blogger is this whole thing about SEO – search engine optimization. SEO for blogs as a new blogger seems soo confusing right?
Bloggers are saying you need to focus on SEO from day one and you need to SEO your blog posts and find keywords and longtail keywords so you can rank in Google.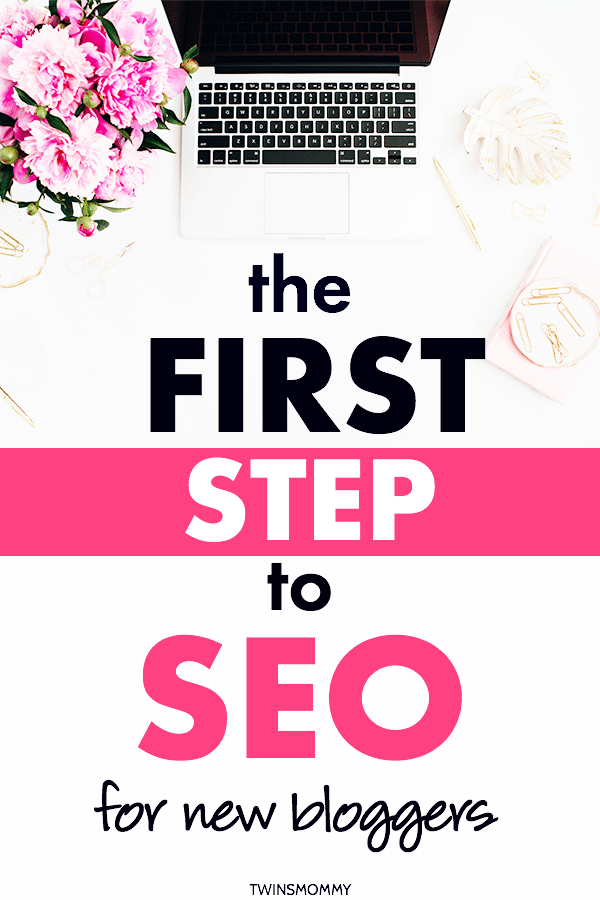 But, what is SEO and how does that help new bloggers?
I've been blogging for a few years and I have several blogs and the one thing I know about how to improve SEO is this –
SEO doesn't kick in until at least 6 months to a year or more after you started blogging.
That's why it's very important that once you start a blog, you start publishing content right away rather than sit on your blog for months before you launch it.
Do you need to "keyword" your blog posts when you launch? I don't think so.
I strongly feel that the first year of blogging should be spent on understanding how to blog, networking with other bloggers and figuring out what our audience needs from you so you can serve them better.
None of that is optimizing your content so you can rank #1 in Google.
But, there is a way to make sure that the blog posts you are writing from day one has the potential to rank in Google some day.
Now, before I get into the nitty gritty of this guide, I made a video on the first steps to SEO. So, if you don't have time to read this post, book mark it and watch the video! And don't forget to subscribe to my YouTube Channel!
What is SEO?
Part One – Core Foundational Tips for On-Page SEO
On-page SEO definition are the things we see and it's an important aspect to helping your blog rank in Google.
The idea behind SEO for bloggers is that when someone in Google searches for something – tips to keep kids busy – that your blog post is one of the first three results or at least on page one (or two) of Google.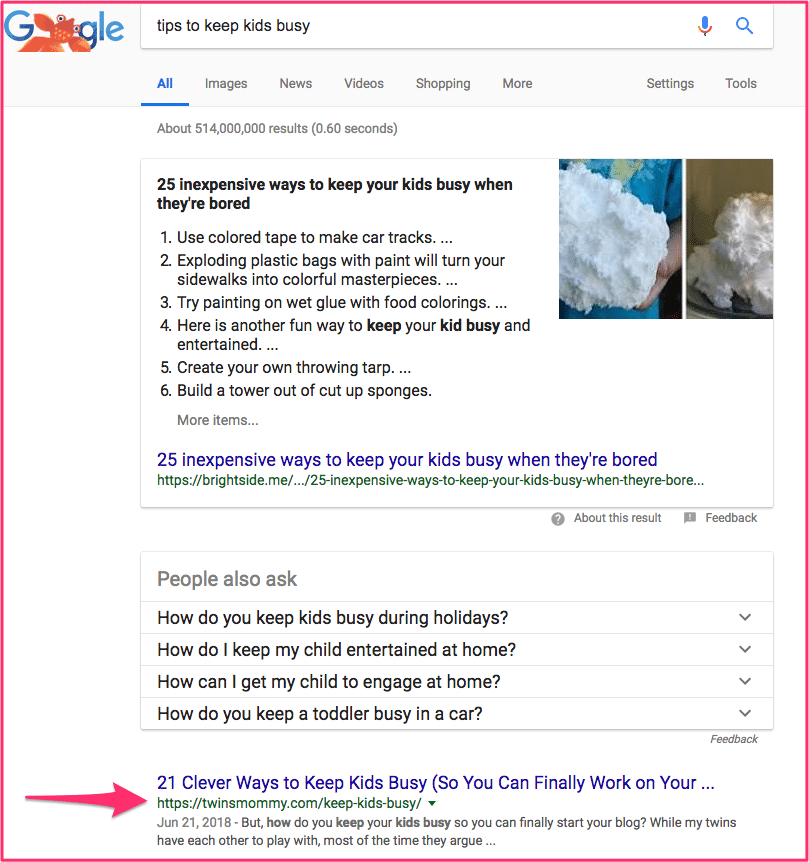 Another aspect to SEO is that the phrase or words you rank for are actual words/phrases that people search for.
For the term "keep kids busy" this gets searched around 140 times a month. This is low, but for new bloggers anything over 100 is something you can shoot for.
Finally, the last thing to realize when looking at keywords for SEO, is the relevant competition.
If a search term has 140 searches a month but the competition is high – i.e. the first page are results from huge blogs or magazines and other popular blogs – then it's unlikely that your blog will rank on page one or even on page two.
In saying all of this, as a brand new blogger, you DON'T need to worry about the nitty gritty of keywords RIGHT NOW (you can just use my 1120 Easy Keywords for Ranking guide to help you out).
I just wanted to get you an overview of using keywords for SEO.
There are other ways to use SEO for bloggers.
Let's go over four core foundation tips for your blog so that you can start ranking in Google.
1. Write For People
The biggest thing you can takeaway from all of this is that most of your blog content should be written for your audience and not for Google and ranking.
Google is smart and if you write in a natural way using natural keywords that relate to your blog post, it will start ranking for terms over time.
For example, if you want to write a post on 5 natural allergy remedies for children, when thinking of this blog post topic, what terms and words come to mind?
Seasonal allergies
Hay fever
Runny nose
Netti pot
Natural local honey
Antihistamines
Your post will be filled with "keywords" around allergy remedies. So, instead of taking hours trying to figure out which keyword or keywords to use, just use the ones that come natural with your blog post topic.
This is what I do for all my blogs in the first year of blogging. I write highly valuable blog posts that my audience can benefit and learn from.
One thing you can also start doing is writing long-form blog content. This is blog posts that are over 1,000 words (preferably 2,000 words and more).
Google likes long-form content because it shows value. A list post of 50 mom hacks will be more valuable than a post on 3 mom hacks, right?
So, try incorporating longer blog posts (if your niche allows it. For example, a craft blog may not need 2,000 words for each post).
2. Niche Down
Many mom blogs are lifestyle blogs. These are multi-topic with relatable topics. While you still can rank in Google by having a mult-topic blog, it's a bit harder. Google doesn't know what your blog is about if you blog about food, organizing and pregnancy tips.
For example, when I type in my blog URL in Google, I get this breakdown of my blog niche: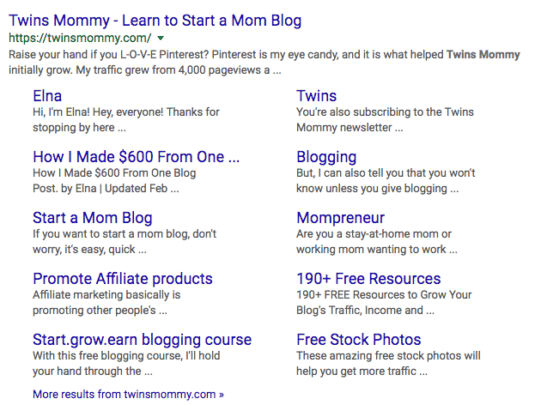 Google sees my blog as a Mompreneur blog about starting a blog and making money blogging.
This is great! I want Google to see that my blog covers blogging help and ways to make money online help.
While Twins Mommy does talk about more than one topic, I primarily talk about blogging tips and making money tips and Google is realizing that but you can see that I also have Twins and Free stock photos as topics under my URL.
I'm okay with this as it shows people that I do talk about my twins and I have free resources!
One thing to think about when niching down is that Google likes to show the best results from blogs that relate to the topic. For example if I search for how to raise twins the first year the results show popular sites like Parents.com but also Twin sites like Dads Guide To Twins.
So your blog name can help you niche down. But, if your blog name is a catch all or not relatable – Twins Mommy! – then make sure each piece of content is relatable on your blog.
3. Focus On Writing Content For The First 6 Months
It's overwhelming when you hear of all the things you need to do for your blog like start an email list, think of a freebie idea, start affiliate marketing, get on Instagram and start a YouTube channel etc..
Phew!
That's a lot mama!
Instead of trying to do it all, know that content rules. When you have valuable content on your blog, it will help you more than having 5,000 Instagram followers.
That's why it's important to build that foundation for your blog in the first six months. And one way is to consistently write.
When I started Twins Mommy I wrote 2 blog posts for 6 months. Then I dropped to once a week.
I sometimes even have set periods of time where I bulk my writing. For example, this month I am writing 3 or more blog posts a week. This helps boost your pageviews.
4. Check Your Google Console
Google Console is a tool that is free to use to help you maintain your blog's status online. It shows the keywords you are already ranking for.
Go to Search Traffic > Search Analytics to see what people are searching for in Google to find your blog.
For Smart Mom Ideas people are searching for:
Lactation recipes
Make ahead meals
Labor tips for moms
Make a head toddler meals
As you can see, people are finding Smart Mom Ides from my food content on Google. But, I know on Pinterest, people are finding my pregnancy and postpartum posts more than my food posts.
I'm in the process of pivoting this blog away from the food, organizing and frugal living content to more of a pregnancy and postpartum content blog.
Improve SEO
Part Two – Write With Keywords In Mind
Okay, I just spent a long time convincing you to write naturally and with no keywords in mind.
But, now I want you to!
After about 6 months to a year you can start strategically thinking of keywords. By this time you have information from using Google Console of the keywords people are finding you.
You can use that information to keep writing blog posts around those topics.
Let's look at three ways you can start using keywords in mind.
1. Use Pinterest
Pinterest will help you drive saves and clicks to your blog. There is a relationship to your popular pins and ranking in Google.
If you have a pin that becomes popular, Google gets those social signals as well as other signals and decides if your post is the best answer to the question around the topic of your pin/post.
If it is, you can be on page one of Google!
So, how do you make your pins popular then?
By using Pinterest SEO!
Pinterest is a search engine! People search on Pinterest for the best chocolate cookie recipe or how to make money blogging or how to get the perfect latch when breastfeeding.
More and more moms and people are using Pinterest to find answers to their problems. You can use this to your advantage by ensuring that each pin is optimized for search.
One easy way to start incorporating Pinterest SEO is by using keywords in your Pin descriptions. You can find these keywords on Pinterest by searching in your blog topic and seeing what comes up.
For example, let's say you write a post on C-section recovery tips. Type into Pinterest c-section and see what results they suggest. From there you can get more ideas from the tiles under the keyword.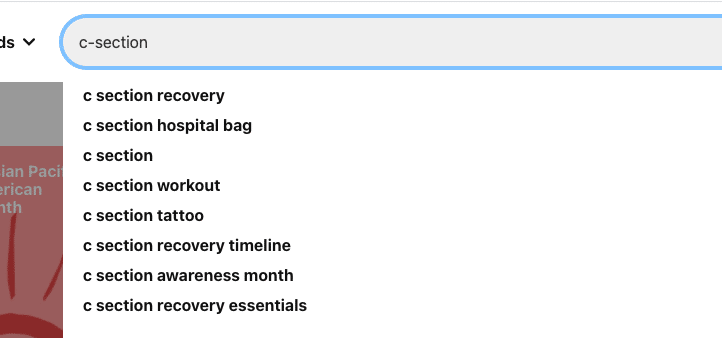 Those are the words you can use in your Pin description.
2. Get Keywords Surfer
Keywords Surfer is a Chrome Extension that works in the background. Once it's enabled you just go to Google and start typing a keyword you are interested in using for a blog post. This is what will help with blogging SEO if you're new.

This term – things for kids to do at home – is highly searched and has low competition. What's great about this Chrome Extension is that on the side, it lists related keywords.
3. Write Your Post
Now it's time to use the keywords you searched for and place them in your blog post. Some general guidelines to using keywords in your blog posts:
Use your keyword in your title (it's okay to also use it in your URL, but it's not necessary)
Use your keyword in your introduction
Use your keyword in a subheading
Use related keywords throughout the blog post
After you publish this blog post, it won't automatically start ranking. If the blogs on page one have a strong post with strong indicators, Google will keep those posts on page one.
But, over time, if you can get shares to your blog post and others share your blog post then Google will start to notice. But, this is a long process and it always doesn't pan out.
That's why I always suggest to write for people!
How to Use SEO for Bloggers
I hope this post was helpful! I strongly believe that you don't have to worry about keywords right off the bat. Write valuable content so that people share it and save it on Pinterest.
You want to grow that "social chatter" about your blog or blog posts. This will push your content to new people. All of this is signals telling Google that your post really is valuable. People are reading it and sharing it and linking to it.
Over time, your blog will start ranking!
In the comments, tell me how long you've been a blogger and if you starting using SEO!
Remember to pin me!