Have you recently started an email list?
Congrats on taking a step forward to turn your mom blog into a legit business that makes money! Oh, yea.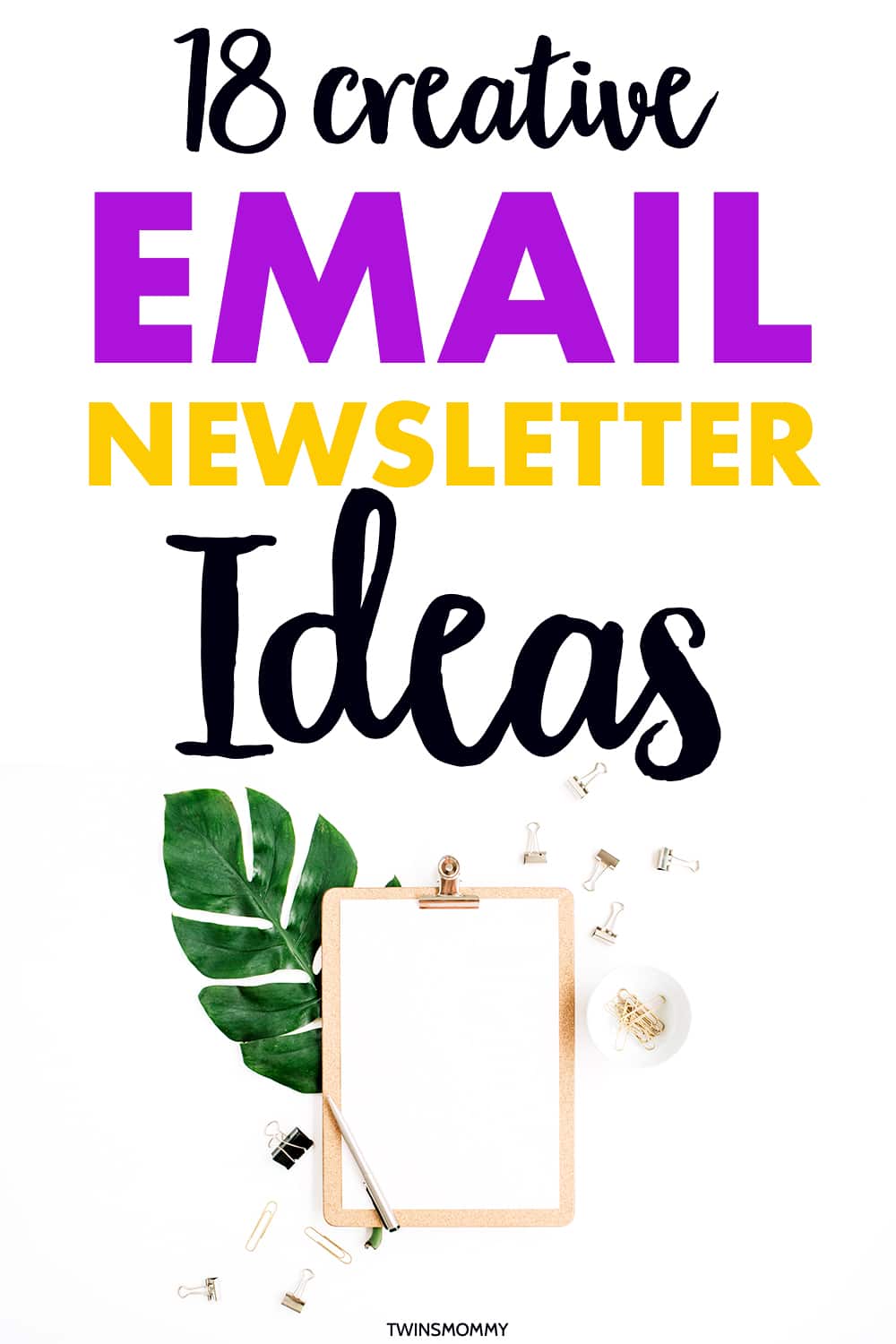 When I started Twins Mommy, one of the first things I did was start an email list.
It wasn't in the first month but in the second or third month of starting the blog.
I needed to blog first and find my audience before I decided to start an email list.
But once I did, it has helped me make a living as a blogger!
Do you want the same mama?
In this blog post, I'll go over some unique, fun, and easy email newsletter ideas for you.
You can use these as a welcome series if you want or as stand alone emails.
And to help you build your email list to your first 100 subscribers, make sure to take my list building challenge! It's totally FREE!
18 Email Newsletter Ideas
Many of these email newsletter ideas can be monetized easily.
Before you go putting your affiliate links in your email, make sure that the merchant or affiliate program lets you use links in email and if the email service provider has certain guidelines.
1. Behind the Scenes Email
A great way to nurture your email list is to invite them behind the scenes of your blog or business.
This works great for new bloggers and serial bloggers. For example, if you just started a blog, your "behind the scenes email" might be how you picked your website theme or worked with a graphic designer to get your website looking right.
Or, you can tell your story of why you wanted to start your blog in the first place and what that process looked like for you.
Anything you can give your subscribers that pulls the curtain will help them remember you and trust you soo much faster.
For my Twins Mommy subscribers, I often share my traffic of all my blogs or my Pinterest analytics.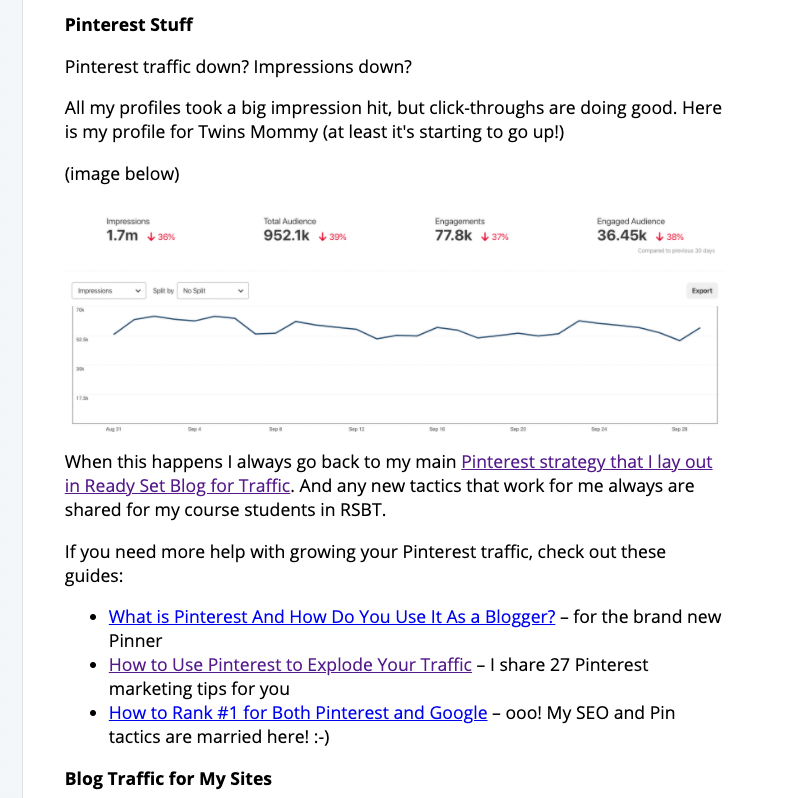 2. Update On Your Life or Product Idea Email
One way to pique your subscribers' curiosity is to tell them about something that's happening in your life or if you have a new product idea.
With the pandemic in full swing you can open up about what's going on with your family and provide updates in your email. With every email, I start out with a personal update of my family.
Since my twins are doing online school, I share their progress or whether or not my city is on lockdown.
Again, sharing this type of personal information helps your list trust you and makes you look authentic.
This is a great way to nurture your list by giving them an update with every new email you send out.
3. New Video
Did you recently do a Facebook live or Youtube video?
You can make your entire email focus on your latest video content. Since I email my list every week and I sometimes create up to three videos a week, I can summarize each video in my email to get my readers excited.
Even if you are new to blogging, you can still share a video – even it's not you doing the video! Why not share your favorite Youtubers or Ted talks in your niche?
Either way, you are thoughtful and personal when sharing a video to your email list!
4. Invite Your List to an AMA on Instagram
Are you on Instagram? You should be!
I revived my account for this year and am loving all the new Instagram features like Reels and Rooms!
For your audience, why not host a question thread on your Instagram stories and then email your list to go to your Instagram account and ask their questions!
I recently did this for my freelance writing business and had fun answering their questions!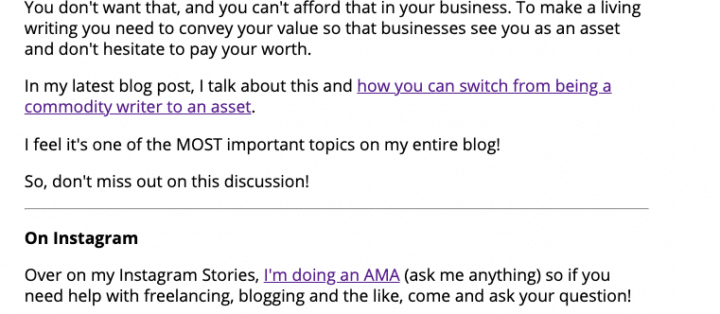 You can make your entire email this subject or talk about using Instagram and your intentions for using this platform and then go into your AMA.
This is a great way to grow your Instagram account and get your subscribers following you on social media!
5. Share an Affiliate Post Email
As I mentioned when starting this post, you can definitely make money with these email newsletter ideas, but make sure you follow the guidelines of your affiliate merchant or program and the email service provider.
But to easily get around this, you can just share a blog post that is affiliate-based.
For example, if I had an email list for my parenting blog Smart Mom Ideas, I would be eager to share my blog post for online birthing classes.
This is one of my top blog posts, and if I can get my subscribers interested in taking an online birthing class, then this post will help them decide which class is for them.
If you have a list affiliate-based blog post, you can share one or two products in your email (no affiliate links) and then provide the link to read the rest of your list. Doing it this way gives them only ONE option – to click through to your blog post with more affiliate links.
No matter what niche you're in – homesteading, breastfeeding, knitting, or tech – you can find affiliates for your niche and write a blog post to promote to your email list!
6. Share a New Freebie
When I create a new freebie or incentive to grow my email list, I always show it first to my email list.
This is a perk for them being on my list, and it should be for your subscribers, too!
And, it can help you get initial feedback and some testimonials you can add to your landing page to boost conversions.
7. Share Exclusive Tips
Every week on my Twins Mommy newsletter, I share exclusive blogging tips and Pinterest tips (and sometimes Instagram tips).
Again, it's one of the perks of being on my list. Remember, people aren't just going to give away their email addresses for nothing.
They want to feel that your list is exclusive and highly valuable.
Samar Owais, an email copywriter and freelancer friend of mine, tears down emails from companies for her subscribers! How fun!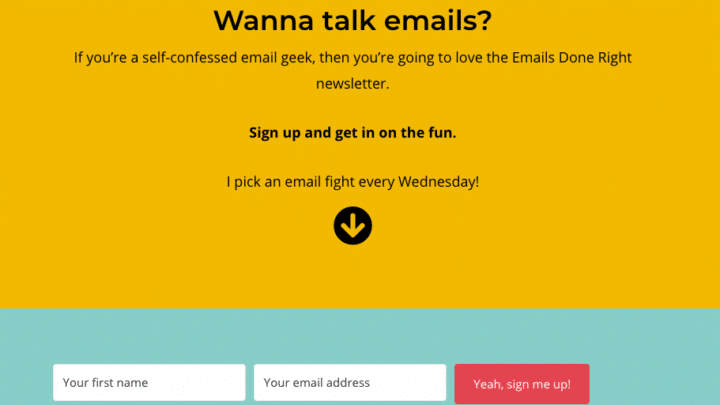 8. Repurpose An Old Blog Post Email
Shhh! I have a secret to tell you!
For a lot of my emails I repurpose old blog posts!
But Elna! You just told me you share exclusive tips that are JUST for your subscribers. So are you lying?
Well, no, I'm not.
My newsletters are in sections, and for the first part of my email, I share personal stories, exclusive tips, updates, and then I may go into teaching something quick.
This last part – teaching something quick – is derived from a blog post or a few blog posts of mine.
I do this mostly for my freelance writing list as I know this list enjoys "teaching emails" while my Twins Mommy list enjoys actionable insider tips and lifestyle content.
For example, in one email, I share my latest Youtube video and then go into how to boost your writing flow.
I provide three tips (repurposed from a blog post) and leave it at that. Other times I will share three tips from a blog post and link to the post to get subscribers to read the rest of the tips.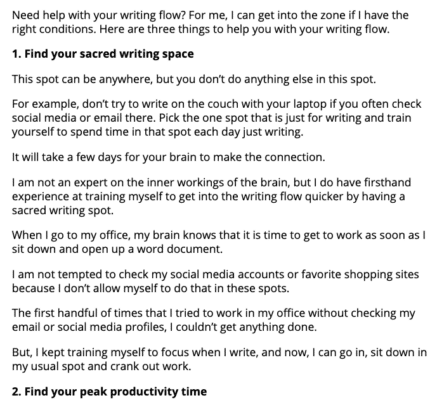 9. Share a Marketing Strategy
This email newsletter idea is great for bloggers that share marketing tips with their audience. So this could be social media coaches, bloggers blogging about blogging, brand strategists, and the like.
For my Twins Mommy list, I like to share any new blogging or Pinterest strategy since this is part of sharing insider knowledge and tips to my list. This helps me show my credibility in my blogging niche, makes me authentic and, above all, helpful.
10. Latest Blog Post
Before reading this blog post, I'm sure you thought that the only thing you can share in your newsletters is a latest blog post. But what if you don' t have a blog post? What can you share?
That's where this post comes in!
But, if you do have a new blog post, make sure to share it with your list! For me, whenever I do this, I get a boost in pageviews.
11. A Motivational Post
If you can't think of anything to send to your email list, maybe just sending a motivational post can do the trick.
Instead of promoting an affiliate product or one of your courses or eBooks, just write an authentic email that will motivate your list.
I often share the struggles I had when I first started blogging and freelance writing. I try to connect with my audience who are at that stage right now, and tell them that there is a way to move past this.
Emails like these often get read the most!
12. Share Something Shocking
It's fun to sometimes play with your email subject lines and email ideas. Oftentimes, something shocking in your email subject line will garner you high clicks.
I sent a segment of my list this email and got a lot of open rates and responses to that newsletter.
This generated a high open rate because of the title. Since I teach about Pinterest marketing to say something like not even paying attention to Pinterest anymore will get people curious about why I'm doing this.
When you create your next email, try thinking of something you normally do and flipping the switch or saying the opposite of that (if it's something you've done). Or, you can flip the script on general ideas in your niche.
For example, if moms read your emails, you can write an email on the idea of potty training. Maybe you have a completely different idea on potty training your child. This can be the topic of your next email.
13. Share a Product Discount Deal
One of my freelance clients has me write promotional emails almost on a weekly basis. This mompreneur has dozens and dozens of products, so she can run flash sales almost weekly.
Even if you don't have that many products (or no products), you can still draft an email for a flash sale or discount deal. I recently got an email from one of my affiliates saying they are running a deal on their product.
I can definitely mention this in my email and direct them to a blog post talking about this affiliate product.
14. Mistakes You Made
A juicy email newsletter idea is all the mistakes you made in your niche or as a blogger. This works well in a welcome series because it opens the doors into who you are as a person talking about your niche and can even build credibility.
I don't know about you, but I love reading about the successes of other bloggers but also their fails too. It shows they are real people just like me!
15. Answering Social Media Questions
If you created some social profiles for your blog or joined some Facebook groups, you will see some questions about your niche.
I want you to save these questions on a swipe file because you can use them for your emails for your subscribers.
You can create a whole email with just one question or answer a few of them. This is a great way to understand your audience as a new blogger so that you can create content just for them!
16. Share a Quick Hack
I like this email newsletter idea! Sometimes during the week I'll find a cool hack or idea that I know would help my audience. While I could create a blog post – like this one – I can also just create an email for my subscribers.
A quick hack is focussed on one thing making it easier to read and connect with your subscribers. This also makes the email shorter and not long-winded. If you can share the challenge or problem and then go into the solution with your hack, this will make it fun and enjoyable to read.
17. The Blogging Tools You Use
If your subscribers enjoy the behind the scenes of your blog and business, you can always create an email of all the blogging tools you use to grow your business.
These can be subscriptions, planners, services, or courses!
18. Share Any Collabs You Did
Over the years of blogging, I've done a lot of networking and collaborations.
Whenever I do a podcast or summit, I always let my subscribers know first.
It's always fun to share these types of collabs, and it can help grow your credibility in your niche too!
There Ya Go!
I hope you enjoyed this list of some email newsletter ideas you can use for your email list! Don't forget to sign up to my free list building challenge and grow your email list like wildfire!
Over to you – which email newsletter idea do you want to try out? Share in the comments below!
Remember to pin me!