Have you started an email list for your blog?
I started my list about a month after starting Twins Mommy. It was the best decision I ever made!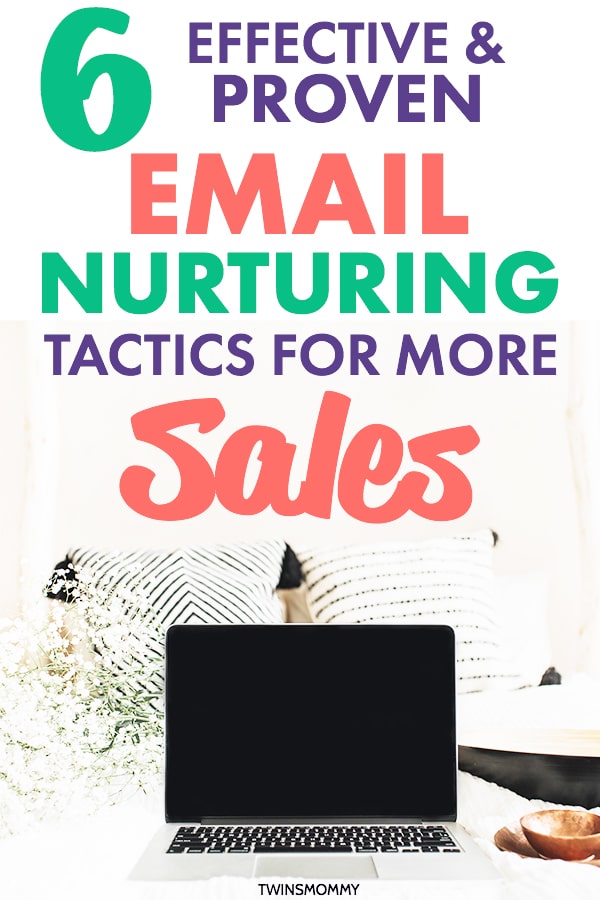 With over 13,000 subscribers now (plus a supportive and educational Facebook group of over 7,000 moms), I have a way to get to know my readers on a much deeper level.
When you understand your audience better, you can serve them better.
And this is how you can make more sales if you have a product or service.
So, what are the steps to nurturing your email list for more sales?
Let's assume that you created a freebie and are growing your email list.
Let's look at 6 nurturing tactics you can use in your email marketing to help you gain that trust with your subscribers.
Email Nurturing Tactics
Now that your email list is growing (or starting to), you're going to want to nurture your list to help you grow rabid fans, an engaged audience and upcoming income (if you want to create an eBook or course or other product for your audience).
But, how do you do that? The premise behind nurturing your list is to give more than you ask for.
You want to help your subscribers with their problems and you want to be there for them.
People don't follow blogs; they follow people and your email is the perfect platform to open up, share your experiences behind the scenes and offer top value.
And your email can help you with bridging that gap of people reading your blog posts to people knowing the blogger that wrote that post.
If you don't have time to read this email, make sure to check out the video and subscribe to my channel!
1. Ask a Question
One of the best ways to get to know your subscribers and start connecting with them is to ask them questions whenever you send an email.
It can be your standard email or an automated email from a series like an email course.
When you ask a question to your subscribers in your email:
Strengthens your email reputation (ConvertKit and other email service providers look at those replies to show that your emails are engaging and not rejected).

Helps you understand your subscribers more.

Gives you an opportunity to help your subscribers with their problems. This strengthens the connection with them.
In my emails, I usually end my email by asking my subscribers to share their blog (or product) or to tell me their challenges.
Some examples include:
It's your turn. Hit reply and tell me your biggest challenge with your blog.

Over to you – tell me your best way to get your toddler to eat their veggies.

Calling all moms – let me know what you do to organize your day.

Let me know why you haven't started a blog yet. I want to help.
This is the #1 way to strengthen your email marketing tactic. By opening up the conversation you'll increase your replies you get and also understand individual subscribers that follow your blog.
And when you take the time to read their reply – and reply back – you are suddenly turning a subscriber into an invested person.
2. Promptly Respond
After a person signs up to your email list and receives their freebie, you don't want to forget them and never email them again.
You have to warm your list to your emailing frequency as well as to who you are and what your blog is about.
I suggest you send a welcome email an hour later or earlier from when they received your freebie email.
This helps them connect with you more quickly than emailing them the next time in a week or more. Remember, a lot of your subscribers are subscribed to other email lists and get emails from bloggers all the time.
You can stand out in their inbox by emailing your list promptly.
In your welcome email you can let your new subscriber know:
More about who you are – take the time to share a story about you (or your struggles to connect with your subscribers)
More about who you serve – make sure the subscriber knows exactly who you serve on your blog
More about where to find you – link to your YouTube channel or Facebook page!
More about your blog content – share your popular posts in your welcome email!
3. Create a Welcome Email Series
To help strengthen the connection between you and your subscribers, create a welcome series. This is a collection of emails that introduces who you are and what your blog is about. And it provides value.
You can send an email every two days for a period of time to help warm up each subscriber.
You can frame this welcome series into a small sales funnel where you educate your subscribers about your topic, set up the problem and give the solution.
I've changed my welcome series often but I do know that I want to provide help, tips and suggestions while stating the problem – not growing their blog traffic.
4. Be Consistent With Your Emails
This can be the biggest challenge for a lot of bloggers. Not only do you have to be consistent with your blog, but also your email list.
You are essentially conditioning your list to hear from you. If they hear from you three times a week via email, they will expect that.
So, first create a frequency for your emails. For me, I like once a week for updates and recent content like a Facebook live or blog post.
Next, try to come up with some ideas for your emails. Not every email you send should be about your latest blog post.
Here are some ideas of email topics you can send your subscribers:
Your favorite tools

– create an email about the tools you use to run your blog or your home. You can share tools, courses, eBooks and even a Facebook group (if you have one).

Share a quick win

– did you find a new trick this week? Share it with your subscribers. It might be a hack or proven strategy you've been using that's related related to your niche.

Repurpose an old blog post

– shhh! Don't tell anyone! I kid. Not all of your subscribers read EVERY blog post you have. So why not revive old blog posts and turn them into a newsletter? Or you can use an old blog post and create a YouTube video and tell your subscribers about a new video you made!

Behind the scenes

– why not share what's happening behind the blog? Maybe you are creating an eBook. Why not share with your subscribers the steps you are doing or the challenges you are facing? This is authentic and people LOVE this about bloggers.

Reflect on what you wish you knew

– share an email of what you wished you knew before you became a blogger or before you became a parent or anything that relates to your niche.

Talk about your fails

– if you want to help you subscribers you have to also share what didn't work. Maybe you are trying to grow your blog traffic. Share the things that didn't work.

Share resources

– this is similar to a tools post but for this post it's niched down. So maybe share the free best themes for new bloggers or best books for toddlers.

Share your opinion

– see what people are talking about and share what you think about it. For example, Should you homeschool or not? Should you baby led wean or not?
5. Don't Be Too Salsey
In the beginning, you may not launch a product right away. But, if you do have a product, your subscribers don't want to know about it all the time.
There's a place and time for your sales emails. For example, if you created a blog post about your bullet journal, you can mention it in your welcome email and occasionally in your regular emails (at the end of your email).
Those types of affiliate marketing blog posts are useful and helpful, but don't push those posts to your subscribers frequently.
Some appropriate times to be salsey:
If you launched a product
During a deal (like Black Friday)
Special holiday (like you're birthday)
If your affiliate products have deals
In your welcome email
6. Offer Exclusive Freebies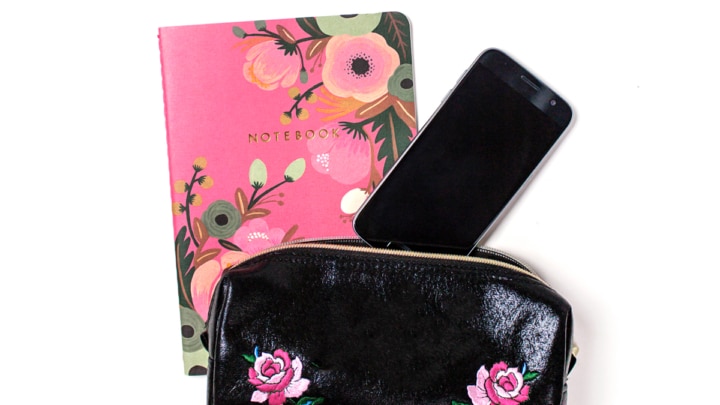 Everyone loves free things and surprises. What better than to surprise your subscribers for being an amazing group than with a freebie.
You may have created a video on using a tool. Why not share this with your subscribers first before you share it on social media or your blog?
Or, maybe you have an older freebie and you want to revive this. Go ahead and offer it to your subscribers.
Find a tip, solution, tool or strategy and create a little guide, video, mini course or eBook.
Or, what you can do is structure your entire email newsletters as exclusive tips.
I recently started doing this with my Twins Mommy emails and have gotten such great feedback from my readers!
I share blogging tips and Pinterest tips that I don't readily share on my blog! I also go behind-the-scenes and talk about my businesses.
Get More Sales
When you prime your email list by nurturing them, you will get more sales when you launch your next product or offer a discount deal! People buy from others they know, like and trust and you can create that with your email marketing!
I personally know many of my subscribers and Facebook group members because they replied to my email or bought my courses. If you want the same for your blog, try these 6 effective email nurturing examples!
Please remember to pin me!