Starting your blog can be one of the best things you can start!
As a mommy blogger with five-year-old twins, I've seen how my blog has grown my income, helped me meet amazing mompreneurs and above all, inspire and serve my readers.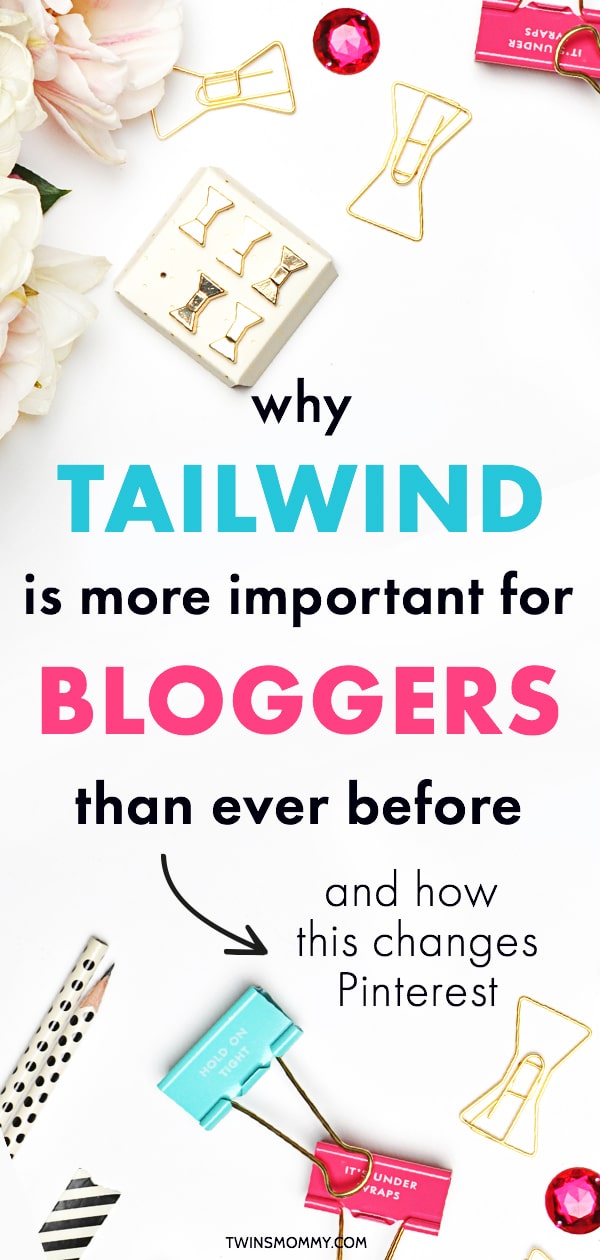 But, once you start a blog, the next biggest puzzle piece is promoting it. There are many different ways to increase blog traffic for your blog, but when I started Twins Mommy, I knew I had to rely on social media.
SEO for new bloggers doesn't come into play until six months to 1 year later.
But, I'm a mom. A mom blogger. A freelance writer too!
I had no time to share my latest blog post. I had to invest in an automated scheduling tool to do the work for me and help me grow my new blog.
And that's when Tailwind came into my life!
How Tailwind Helped Grow My Blog
For the past two years I've been using Tailwind to grow my blog and I know it has helped me get my first 4,000 pageviews in the first month of my blog! I was shocked by this since my other blog took months to get to 10,000 pageviews.
And then I started growing my income because of Tailwind. One of my pins became popular for a popular search term and that helped me make sales every single day.
But, that was then.
What about now?
Tailwind Is More Important Than Ever Right NOW
Pinterest is my main promotion strategy, but recently they have changed their platform. From a new look to new analtyics to new information about how to use keywords for our pins, it's been an eye-opener to say the least.
Here's my graphic on showing all the recent changes up to June 2018.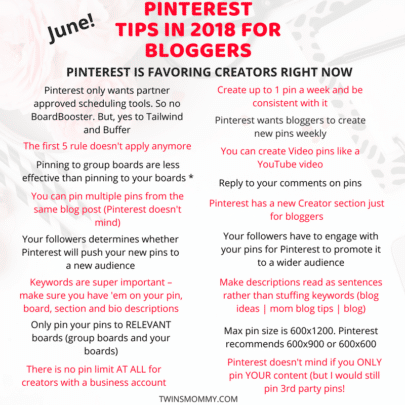 The biggest takeaway is that Pinterest favors fresh pins and content creators.
Let's dive into this:
Pinterest Has Stated that They Are Prioritizing Fresh Pins
What is a fresh pin?
This is a pin that has never been shared on Pinterest and comes from your blog.
So, these are your pins for your blog post, your blog and for your email freebies or landing pages.
You can look at it like this:
You create a blog post
You create pin for that blog post
You place the pin in your blog post
Publish your blog post
Pin that pin in your blog post to a board on your Pinterest profile
That is a fresh pin.
Pinterest Is Favoring Content Creators
Look – without us – content creators, bloggers – Pinterest wouldn't be that popular or even have pins on their platform.
As a blogger, we create these pins that get shared on Pinterest and Pinterest is finally recognizing how important we are to them.
So, they've been "loosening their grip" and sharing more about how content creators can use their platform as a way to grow their blog traffic.
With this new direction, content creators are free to pin as much as they want and create as many pins as they want!
Tailwind Can Help Push Your Pins Out
Did you know that every single pin that Tailwind schedules to Pinterest is considered a fresh pin to Pinterest?
It's true.
This is great for content creators and for their blog traffic! Oh, one other thing – Pinterest doesn't mind if you ONLY pin YOUR pins.
It's up to you if you want to do that – I do pin 3rd party pins strategically – but Pinterest has stated they actually want you to pin your pins more.
So, by scheduling your pins to Tailwind, you are sharing "brand new fresh pins" to Pinterest all day long (depending on your Tailwind schedule). How awesome is this?
As a busy mommy blogger, you need to focus on the optimized blogging tips to help you grow your blog quickly. And having to manual pin takes a lot of time. Don't get me wrong – I do manual pinning strategically too, but it's time consuming, especially when I have more than one blog!
Tailwind Is an Approved Pinterest Scheduler
It's come to light that Pinterest has stated Board Booster is NOT an approved scheduler and bloggers should not be using this schedule as their account will be deemed spam or suspicious.
I was using Board Booster too, but have since stopped for all my blogs' Pinterest accounts. So, if you're using Board Booster, it's time to switch to Tailwind!
Can You Schedule TOO Many Pins?
Yes, you can, but you have to play around with how many you schedule. The most I've scheduled was around 150 pins a day. But, I had over 100 group boards and personal boards, so my pins were dispersed across over 100 group boards.
I have since lowered my pin scheduling amount to around 30 pins a day.
One thing to note is pinning at the best time. You don't want to schedule your pins when your followers aren't on the platform or engaging with your pins during the time you schedule them.
How to Use Tailwind To Schedule Your Pins
So, how do you use Tailwind to schedule your pins across groups boards or personal boards?
I created a video on how I use Tailwind – Update: I have changed my strategy slightly to include more personal boards – that shows you exactly what I've been doing for the past two years.
Understanding Pinterest in 2018
Pinterest is rapidly changing and it's up to content creators to stay on top of that. Make sure to visit the Pinterest page just for creators and get on the Pinterest email list.
Just go to your profile settings on your Pinterest account and set the emails you want from Pinterest.

Also make sure to join the Mom to Mompreneur Facebook group for any up-to-date Pinterest news that I share and others share, like this Facebook Live from Christa of Pura Vida Moms.
Try Tailwind for Your Pinterest Marketing Strategy
Pinterest really is the best platform for mom bloggers. Did you know that 8 out of 10 pinners are moms? That's amazing for us!
More and more are using Pinterest to search for the latest health trend to how to cut expenses to be a stay at home mom and more.
People are making buying decisions from Pinterest and purchase from Pinterest.
If you started a blog, get Tailwind to schedule your pins and start increasing your blog traffic!
Over to you – have your tried Tailwind?