Interested in learning more about affiliate marketing?
If you recently started a mom blog then I'm sure you are thinking of a way to make money easily.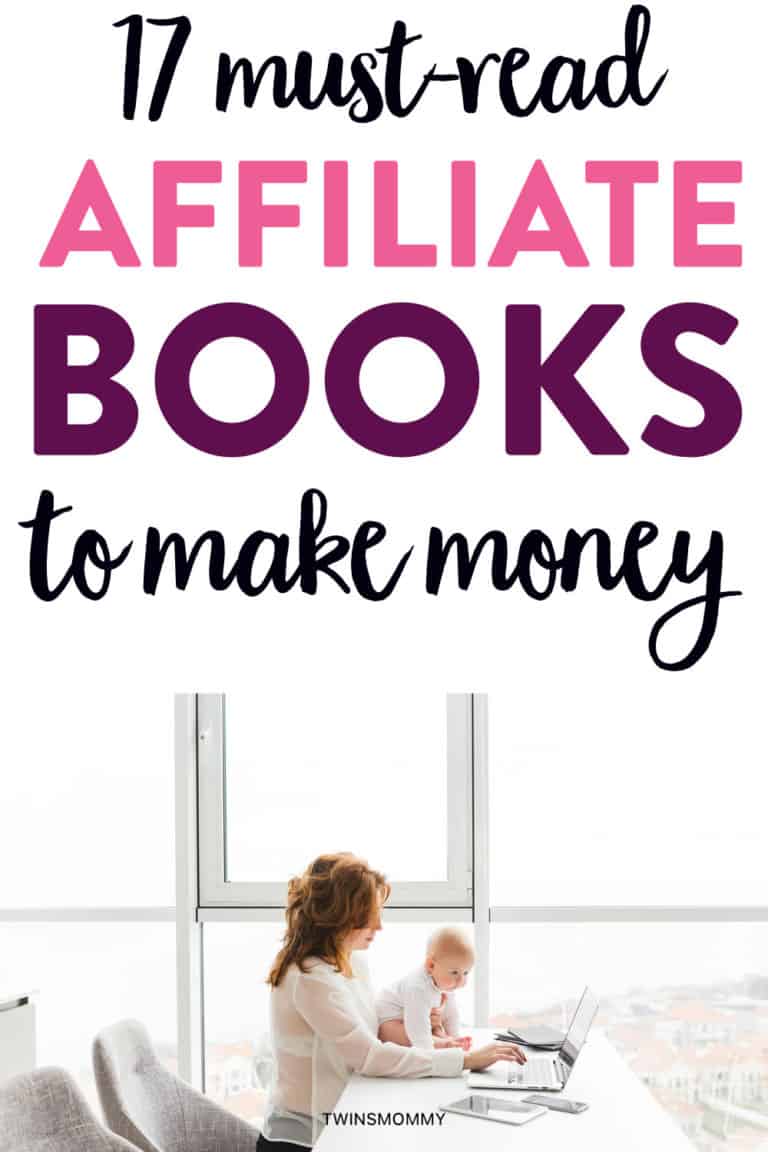 Well, what if I told you that affiliate marketing is the way to go?
In one year I made almost $70,000 just from affiliate marketing!
I know – it's crazy but true.
But, you don't have to be an expert to get started with affiliate marketing!
And there are lots of great books out there about affiliate marketing that can help get you started.
Affiliate marketing is such a great way to earn passive money from your blog.
Personally, diversifying my income stream with affiliate marketing helped me make an income every day from my blog.
These books will take you through everything from choosing a niche, getting started with your first product reviews and banner ads, growing your audience by creating a blog or podcast (or both), and much more.
Let's take a look at what affiliate marketing is and the best affiliate marketing books available today.
What is Affiliate Marketing?
As a blogger, you've probably heard of affiliate marketing.
But what is it? And how can you use it to make money online?
Affiliate marketing is a type of performance-based advertising that allows you to earn commissions by promoting other companies' products or services.
There are many different types of affiliate programs available, and each one has its own set of rules and regulations for participating in them.
Some require that you have your own website, while others do not; some require only that you sign up with them before promoting their products through social media channels such as Facebook or Twitter.
Others may require additional steps, such as creating a blog post about their product first, so readers know where they came from when making purchases later down the road.
It may seem complicated, but it's really easy for beginners to get started with affiliate marketing!
The Best Affiliate Marketing Books for 2023
If you're looking for a book that will help you grow your affiliate marketing business and make more money, look no further!
1. Affiliate Marketing: The Beginner's Step By Step Guide To Making Money Online With Affiliate Marketing
Kevin Ulaner's step-by-step guide to affiliate marketing will teach you the benefits of affiliate marketing, common mistakes made by affiliate marketers, and the fundamentals of affiliate marketing.
From start to finish, you'll learn everything you need to know in this affiliate marketing book!
2. Affiliate Marketing For Dummies
I love the Dummies series of books because they really lay out the information in easy-to-follow steps – perfect for beginners!
Did you know that 80% of brands have an affiliate program?
Affiliate Marketing for Dummies will help you choose the right affiliate product and programs and implement successful affiliate marketing strategies.
3. Affiliate Marketing: Proven Step By Step Guide To Make Passive Income With Affiliate Marketing
In this guide by Mark Smith, you'll learn what affiliate marketing is and how to make it work for you.
It will also walk you through how to create a website or blog and how to use social media to boost your affiliate sales.
4. Affiliate Marketing: Secrets – How to Start a Profitable Affiliate Marketing Business and Generate Passive Income Online, Even as a Complete Beginner
Affiliate Marketing Secrets is a great affiliate marketing book for beginners and goes over the very basics of affiliate marketing and the different types of programs you can choose from.
Learn how to establish an affiliate business and strategies, as well as ways to get your content noticed by a loyal audience.
5. Affiliate Marketing For Beginners: Build Your Own Six-Figure Business With Clickbank Products, Internet Marketing, And Affiliate Links (Earn Passive Income And Commissions Fast!!)
In Affiliate Marketing for Beginners, Mark Glazer walks you through how to promote anything without having to actually own it.
He goes over how to start an affiliate marketing business from scratch with no experience and how to find the perfect products for your niche.
(Psst: Nearly 25% of all affiliate programs are in the fashion industry, so it's a super popular niche!)
6. Blogging: Steps to Monetize Your Blog With Affiliate Marketing (Proven Strategies to Make Money Online While You Work From Home)
In this book by Charles Garcia, you'll learn how to build an audience, drive traffic to your content, and implement monetization methods with easy-to-follow steps.
He'll also help you find brand deals and sponsorships as well as how to price and sell services from your blog.
7. Affiliate Content Secrets: Proven Affiliate Marketing Tips & Strategies You Can Use to Maximize Your Earnings
Affiliate Content Secrets by Stephen Hockman will show you how to write compelling and persuasive content that will encourage readers to buy.
This book is an amazing affiliate marketing book when it comes to copywriting – which is super important when it comes to making money through affiliate marketing.
In fact, nearly 40% of affiliate income comes from blogs and articles!
8. Affiliate Marketing: Learn How to Become Your Own Boss, Stop Working for Someone Else
In Christie Williams' and Carlton Brand's affiliate marketing guide, you'll learn how to establish a brand and create a blog that will attract an audience to your affiliate products.
They go over SEO tips, social media tricks, and how to use platforms like YouTube, Amazon FBA, and Facebook to make money.
Knowing about SEO can be crucial in affiliate marketing success. The majority of affiliate marketers will tell you that SEO drives most of the traffic that converts into sales!
9. Passive Income Ideas: 18 Ways to Make $2,000+ per Month with Your Online Business and Gain Financial Freedom
If you're interested in passive income ideas beyond affiliate marketing, check out this book by Warren Graham.
In it, you'll learn different ways to earn money from home by using Amazon FBA, Amazon Kindle Publishing, and a variety of affiliate networks.
10. Affiliate Marketing: Made Simple: A Step-by-Step Guide
If you've never heard of Neil Patel, I'm surprised! He seems to be the internet guru when it comes to online marketing.
So, of course, he wrote a book all about affiliate marketing in an easy-to-follow step-by-step format that is perfect for beginners. Check it out here!
11. Affiliate Marketing And Amazon FBA (2 Books In 1): Learn Affiliate Marketing And Amazon FBA Business In 5 Days And Learn It Well
What's better than one affiliate marketing book? How about two?
In Affiliate Marketing and Amazon FBA, Michael Ezeanaka walks you through how to use these platforms to make a passive income from home.
12. Affiliate Marketing: Learn How To Generate $200 To $1,000 A Day On Autopilot (Complete Step-By-Step Blueprint)
This step-by-step blueprint for affiliate marketing will show you how to start your affiliate marketing business.
It also shares strategies on how to dramatically increase your income as an affiliate marketer.
13. Affiliate Marketing: Fastest Way to Make Money Online. Learn How to do Internet Marketing, Easy Step-by-Step
This book by Justin Gibbs is laid out for beginners and goes over what affiliate marketing is, as well as how to choose top-notch affiliate programs to maximize your earnings.
With a presentation-type format, Affiliate Marketing lays it all out without fluff content to help you understand how to get started as an affiliate marketer.
14. Affiliate Marketing: How to Make Money and Create an Income
In Affiliate Marketing by A. Anderson, you'll find tips, formulas, and shortcuts to becoming an affiliate marketer and making a passive income from home.
It will help you choose the right affiliate program, build web traffic, create ad campaigns, and get affiliate links.
15. How to Make Money on YouTube with Affiliate Marketing
The next three affiliate marketing books on this list are just quick little guides for specific social media platforms.
So you may need a foundational understanding of affiliate marketing to benefit from these ones!
This one will show you how to make money on YouTube with affiliate marketing by sharing 20 effective strategies.
16. How to Make Money on Facebook with Affiliate Marketing
If you're curious as to how affiliate marketing works on Facebook, this short guide will show you how to monetize your Facebook content and turn your presence into a profitable affiliate marketing business.
Even though a lot of affiliate income comes from blogs, many successful affiliate marketers also use social media to promote their commission-worthy products and services!
17. Make Money on Instagram with Affiliate Marketing
This is another short guide, but this one by Deepesh Singh explores how to make money through affiliate marketing by promoting products on Instagram and monetizing your Instagram account.
Strategies for Setting Up an Affiliate Program
Okay!
So, now that you have a list of great books about affiliate marketing, maybe you're thinking you should set up an affiliate program for your own blog.
If you have printables or digital products like eBooks or courses, then you can definately make money with affiliate marketing.
An affiliate program can be a great way to get more eyes on your products and services while also increasing your brand awareness.
But here's the thing—setting up an affiliate program isn't as easy as it seems.
You need to come up with a system of commission structures, choose the right products, and create partnerships and collaborations that will actually benefit your brand.
So, how do you do this? Here's your quick guide to getting started.
Choosing Appropriate Commission Structures and Products
The first step in setting up an effective affiliate program is deciding on the right commission structure and products.
Depending on what type of blog you have, there are a few different ways you can go about this.
The most common types of commission structures are flat fee per sale, percentage-based commissions, or even a combination of both.
For my affiliate program, I do a percent-based commission rate.
This is the most typical structure you'll use.
You'll also need to decide which products or services you want included in the program; if you have multiple products or services, make sure to pick the ones that will generate the most interest from potential affiliates.
For example, for many bloggers, being an affiliate for a blog hosting platform like Bluehost or Siteground can yield high commission sales since commissions are $65 per sign up.
Once you've decided on these two components of your program, it's time to move onto the next step.
Creating an Effective Network of Partnerships and Collaborations
Once you have determined which commission structure and products will be included in your affiliate program, it's time to reach out to potential partners and start building relationships with them.
This involves creating content specifically designed for affiliates—such as product reviews or tutorials.
Writing a review post on one of your affiliate products is a high converting method to making multiple sales every day.
I have review posts for Tailwind, Convertkit and Jasper AI and all of them do well for conversions.
The next way is reaching out directly through email or social media channels. You can reach out other bloggers that would benefit from promoting your products as an affiliate.
It's important to develop these relationships with potential affiliates so they feel like part of your team; after all, they're helping promote your brand!
Make sure to offer incentives like discounts or freebies when they hit certain milestones; this will keep them motivated and engaged with your brand long-term.
Get Started With Affiliate Marketing!
If you want to learn about affiliate marketing, there are many books available. These are just a few of the best ones!
If you have any questions about them or anything else related to this topic, please leave a comment below.