Are you looking for a way to make and sell a product from home?
I have great news for you!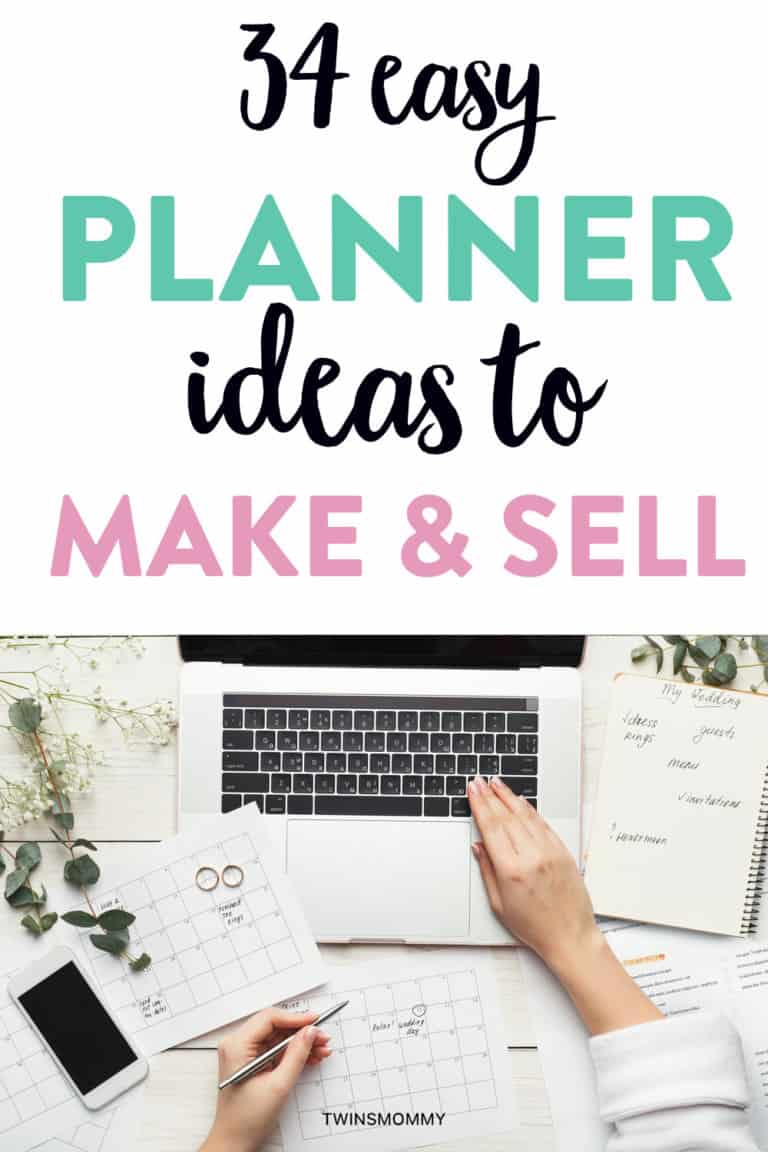 Making and selling planners is an amazing way for you to make money from home, work for yourself, and set your own hours.
There are so many opportunities out there when it comes to designing planners and so many planner ideas that will help you become successful.
Planners are in high demand right now, especially printable and digital planners that customers can buy and use right away.
And there are so many different types of planners you can make!
Are you ready to get started?
Let's look at some planner ideas as well as some tips for getting started.
Planner Ideas – Types of Planners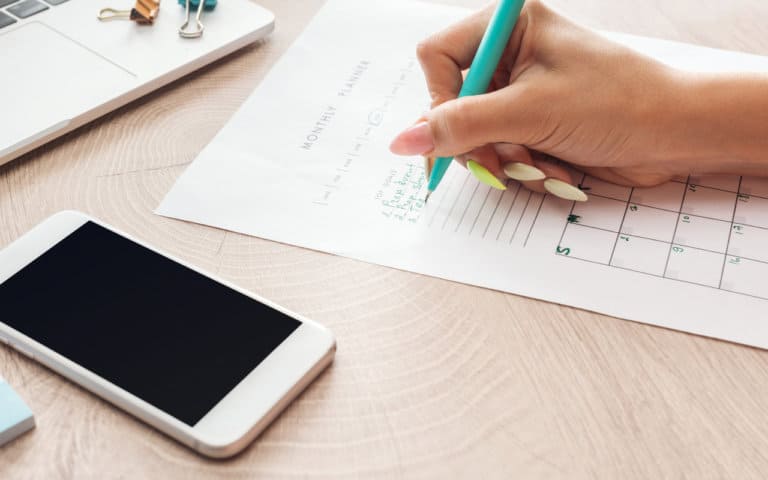 A planner can be so much more than a calendar to help people keep track of their schedules (although these are super handy and popular!).
You can make planners to track fitness goals, keep track of money, and more.
And you know what the easy part is?
You can create these wonderful planners to sell right on Canva!
So easy and fun to make!
Here are some of the different types of planners you can make and sell.
1. Personal Planner
A personal planner is any type of planner someone can use to keep their schedule organized. These are usually organized as either weekly planners or daily planners.
Some examples of personal planner ideas:
Personal growth (positive thinking, my motivation, goals)
Daily self-care challenge
All-in-one planner (track finances, monitor fitness, prep recipes)
ADHD daily life planner (lifestyle, health, fitness)
Sell on Etsy anywhere from $3 up to $15.
2. Financial Planner
Financial or budget planners are all about helping people keep track of their money. These planners include sections such as:
Financial Goals
Monthly Budget Worksheets
Transaction Tracker
Debt Repayment Plan
Savings Tracker
Wishlist
Yearly Summary
Sell on Etsy anywhere from $4 up to $40.
3. Fitness Planner
A fitness planner is organized to help people keep track of their fitness and health and includes the following sections:
Fitness Goals
Fitness and Calorie Log
Habit Tracker
Daily Food Log
Meal Planners and Grocery Lists
Measurement Tracker
Weight Loss Tracker
Water Intake Tracker
Sell on Etsy anywhere from $6 up to $40
4. Life Planner
Life planners take the idea of a weekly planner and combine planner ideas such as a financial planner and fitness planner.
For instance, a life planner allows someone to:
Keep track of their schedule
Follow a monthly budget
Incorporate fitness goals and workout logs
Sell on Etsy anywhere from $8 up to $20
5. Business Planner
For those who run their own business, business planners are a perfect way to keep track of goals, expenses, income, meetings, and more.
You can organize the planner so that each month includes a space to track these things or separate each element of running a business (meetings, finances, etc.) into its own section.
Sell on Etsy anywhere from $4 up to $60
6. Student Planner
Students definitely need a way to stay organized when it comes to classes, tests, projects, a social life, and more.
These types of planners cover many areas, such as daily planners for classes and weekly planners for due dates and other activities.
Sell on Etsy anywhere from $10 up to $25
7. Teacher Planner
The school year is also stressful for teachers!
A good teacher planner includes calendars and to-do lists to help teachers keep track of important tasks, such as projects, grading, and more.
Some ideas to get you started:
Special Needs Teacher Planner
Preschool Planner
IEP Meeting and Caseload Planner
Music Teacher Planner
Sell this on Etsy anywhere from $2 to $20
8. 100-Day Planner
These types of planners are super popular and are designed to help someone change their normal routine and create better habits.
It outlines the next 100 days and encourages people to focus on their goals.
For instance, it can encourage someone to save a certain amount of money each day for 100 days or practice a self-care activity every day.
Sell on Etsy anywhere from $2 up to $20
9. Gratitude Journal
While not necessarily a planner idea, gratitude journals are very popular and beneficial to physical and emotional health.
You can include journal prompts to help people practice gratitude in their lives.
Some ideas you can create:
Manifest Journal
Daily Affirmation Journal
Kids Gratitude Journal
Gratitude Journal Prompts
Sell on Etsy anywhere from $4 up to $18
10. Bullet Journal
Bullet journaling is also a crazy popular form of planning that allows people to be creative and design their own layout to track habits, stay on schedule, or reach goals.
These planners are typically blank, with a grid pattern on each page to make it easier to plan out schedules, habit trackers, doodles, and more.
You can sell digital pages or planners anywhere from $4 up to $25 on Etsy.
11. Challenge Journal
A planner or journal can be used to set up all kinds of challenges, from getting healthy to saving money.
Challenge journals include daily challenges that people can follow to help them reach their goals.
You can create a challenge journal for a specific goal, such as saving money, or you can create a blank journal so that people can fill in their own goals, potentially changing them month-to-month.
Some ideas to help you get started:
75 Soft Challenge
75 Hard Challenge
Reading Challenge
No Spend Challenge
Sell on Etsy from $2 up to $10
Planner Ideas – Features (12-19)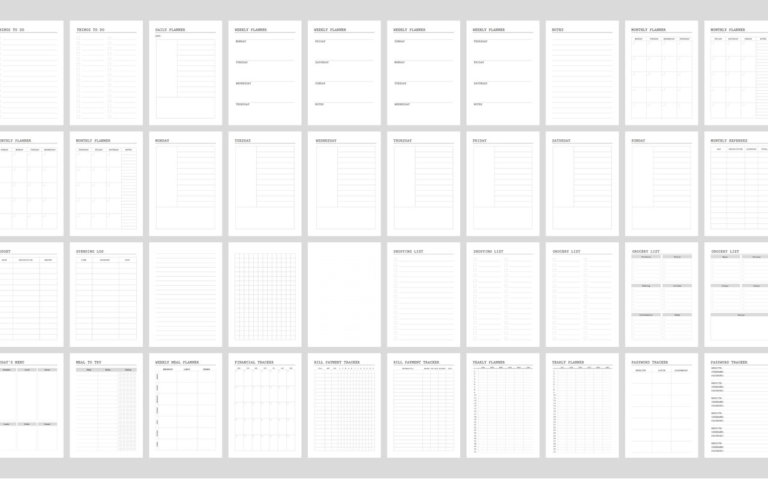 Now that you know the different types of planners you can make and sell, let's look at the different features you should include:
To-Do Lists: To-do lists can be added at the beginning of the month or as a sidebar on each page.
Monthly Planner: Provide an entire month view at the beginning of each month.
Weekly Planner: The weekly planner spreads out the days in either a vertical or horizontal layout (I'll talk about that soon!).
Daily Schedule: Each page can also represent a day and can be broken up into an hourly layout.
Priority List: Priority lists help people focus on important tasks. This can be included on the side of the page.
Habit Tracker: You can include a weekly or monthly habit tracker so people can work on creating better habits.
Note Taking Space: So important! You need to add some space where people can take notes to organize their thoughts.
Inspirational Quotes: A lot of planners include inspirational quotes, either once a month or once a week, to keep people motivated.
Planner Cover Ideas (20-26)
One of the biggest selling features of a planner is the cover! People want something nice to look at when they are organizing their lives.
Here are some planner cover ideas, from what to put on the cover to different background options:
Title and Year: If you plan on selling a dated planner, make sure you put the year on the cover. You can also include the type of planner (i.e., Fitness Planner 2023).
Inspirational Quote: Why not include an inspirational quote on the front as well? These look beautiful contrasted against a stunning background.
Abstract and Vector Art: Speaking of backgrounds, you can keep your cover simple by using abstract art or vector art.
Watercolor: Or, if you want something bolder, opt for a watercolor design.
Flowers and Botanicals: A popular planner cover idea is using flowers or other botanicals to adorn the front of your planner.
Marbled Texture: However, marbled texture as a background is super popular as well!
Create Your Own Cover: Popular planners like Happy Planner offer a way for people to implement their DIY planner ideas by designing their own covers. This is such a great idea for the planners you create and sell!
Layout Planner Ideas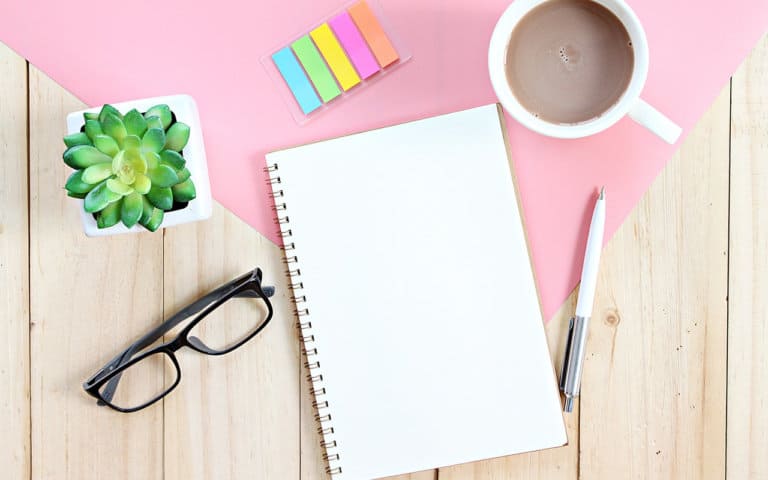 Okay, so we have the type of planner, features, and cover – now it's time to talk about layout planner ideas!
How you lay out these things will determine how easy your planner is to use and how visually pleasing it is to the eye.
You want to make sure you include enough features to make the planner useful but not too much that it feels crowded.
Here are some layout planner ideas you can use:
27. Vertical Layout
Vertical layouts are perfect for weekly planners, with each day of the week planned from top to bottom.
The days of the week are displayed from left to right across two pages, with Saturday and Sunday combined at the bottom.
This layout planner idea provides a full view and structure to help people visualize their schedules and goals.
28. Horizontal Layout
Horizontal layouts are popular for planners where each day is planned from left to right on one page.
You can see all of the days of the week across two pages, but the writing space is limited to a single page.
The horizontal layout planner idea tends to provide more space to write details about each day than the vertical layout.
29. Hourly Layout
The hourly layout is structured to provide space to write for each hour of the day – perfect for appointments or time management hacks like time blocking!
The entire week is spread across two pages, with the hours planned from top to bottom.
You can choose to block the time by hours or by the half-hour.
30. Sidebars
Don't forget that you can sidebars to all of these planner layout ideas!
Sidebars are an awesome way to include additional features, such as to-do lists, habit trackers, priority lists, inspirational quotes, and more.
Keep the sidebars narrow so that they don't take up space from the actual planner.
Planner Organization Ideas
While planners themselves are useful when it comes to staying organized, you can increase your planner's appeal by adding some planner organization ideas.
This is harder to do when it comes to digital planner ideas, but if you plan on selling physical copies of your planner, you can definitely include these accessories:
31. Organization Stickers
You can easily add accessories such as stickers to your planner!
Stickers are a great way to highlight important errands or add cute quotes to the page.
32. Planner Tabs
Monthly planner tabs are a great planner organization idea that can help people keep track of the months and find the current date easily.
33. Color Coding System
Including highlighters with your planners will provide a color coding system to create better organization when it comes to sorting and prioritizing tasks.
34. Envelopes
A popular trend when it comes to planners, especially financial or budget planners, is to add envelopes to help keep track of things like money and receipts.
How to Make and Sell a Planner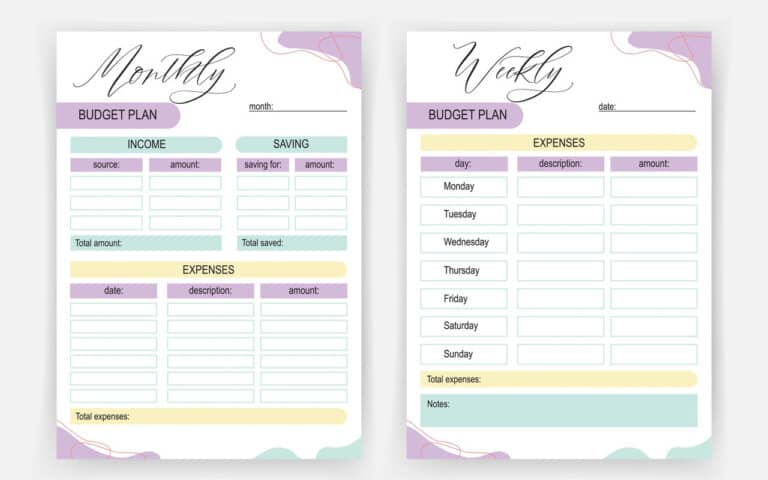 Now that you have some amazing planner ideas to get you started, how do you go about making and selling your planners?
Here are a few steps you can follow to make money at home selling planners:
Choose Your Niche
If you just want to make and sell planners of all kinds, you really don't have to choose a niche – your niche can be planners!
However, if you already have a blog and an audience, choosing a niche based on their interests and challenges will ensure that you already have buying customers.
For example, it wouldn't make sense for me to create a fitness planner for this blog.
But a blogging planner would be perfect for my audience!
Choose a Style
The sky is the limit when it comes to designing your planner.
You can choose to align the look with your brand or go for something completely new!
Just make sure your planner is easy on the eyes by sticking to a minimalistic design that is both decorative and easy to use.
Plan Out Your Planner
I wonder if there's a planner out there for planning planners. Hmmm…
Even if there isn't, you still need to choose your layout and features and figure out what that's going to look like.
Start by designing some basic pages until you find the perfect layout!
DIY Planner Ideas – Printable, Physical, or Digital?
Now, we need to figure out how you want to sell your planners.
Do you want to sell digital copies of printables or digital planners that can be used on a computer or phone?
Or do you want to sell physical copies?
Printable planners can be made using programs like Canva, Adobe Indesign, or WonderShare PDFelement.
If you're looking for digital planner ideas, you can create them using Google Sheets. So easy!
If you plan on selling physical copies of your planner, you may want to look into print-on-demand services so that you don't have to keep around a ton of stock.
Plus, the packaging and shipping are handled by the supplier!
Here are some print-on-demand companies you can check out:
How you decide to sell your planners will determine how they are designed and delivered to your customers.
You can also look at selling your planners on Etsy or use Gumroad or SendOwl for your blog.
Lots of Planner Ideas!
If you've ever thought about making and selling planners, these ideas are bound to get your creative juices flowing!
Making and selling planners is an amazing way to earn money while working from home on your own schedule.
And people are buying them up all the time! In this crazy and hectic world, planners are a lifesaver.
Now I want to know: What type of planner do you plan on making?
Which one would you find most useful in your life?
Let me know in the comments!