Hi there mamas!
I thought I'd do something fun and free for ya! When you have a new blog sometimes it's hard to get some engagement and shares on your blog eh?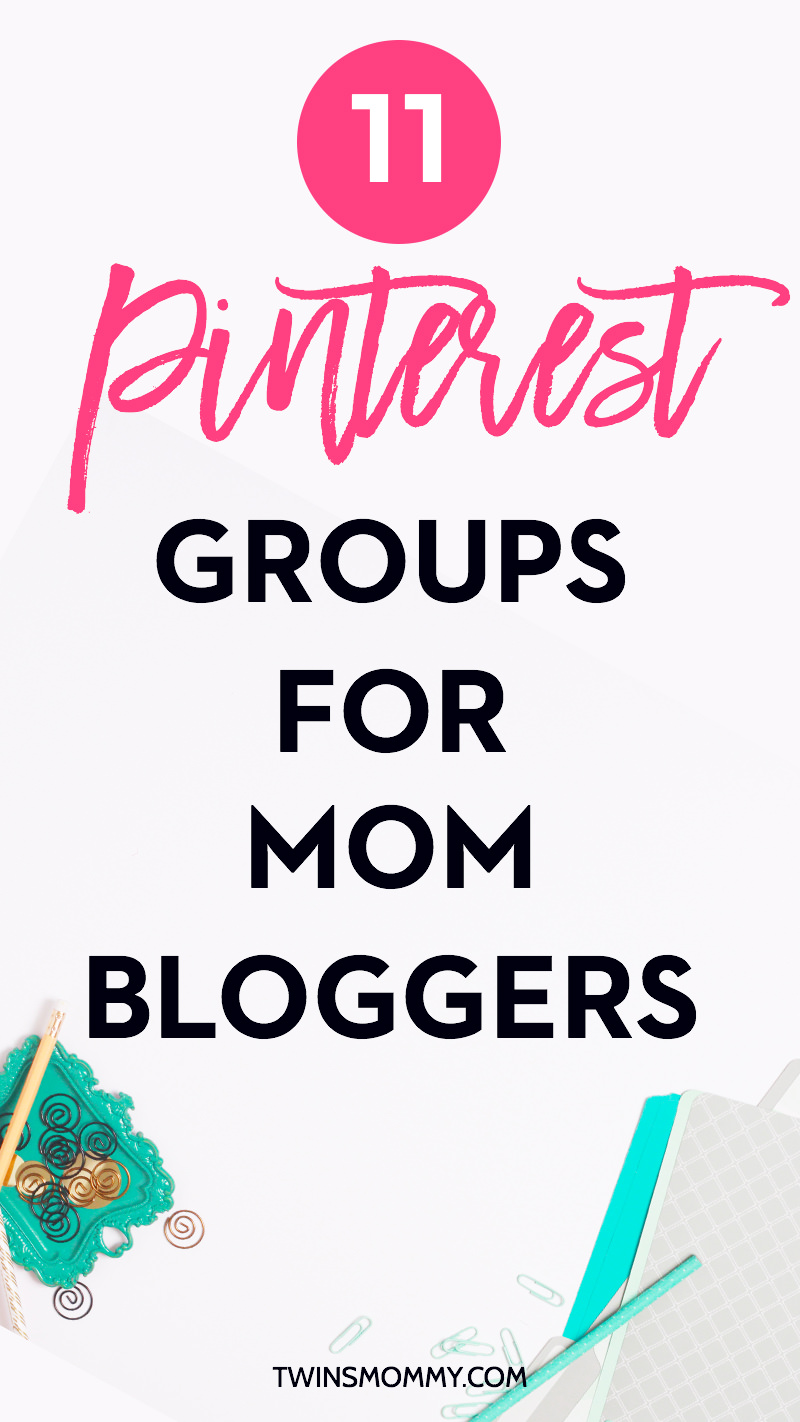 I should know. I have another blog and it took me a year or more to really generate any comments and shares.
It wasn't until this year that I finally figured how to get traffic, shares and comments on my blog posts!
It's all about Pinterest groups! Just to let you know, for more freebies, make sure to check out these awesome posts:
16 Awesome Podcasts for Mompreneurs
12 Happy Mom + Happy Home Freebies
14 Free Courses to Earn More Income as a Stay-at-Home Mom
11 Tailwind Tribes for Mom Bloggers
11 Free Calendars to Start 2017 Off on the Right Foot
11 YouTube Channels for Mompreneurs
16 Tools to Grow Your Blog Traffic
12 Planners to Help Your Grow Your Blog
14 Free eBooks to Grow Your Blog and Income
Okay.
Ah, Pinterest. Pinterest is my BFF, my distraction and my pleasure! Oh, and it has totally helped me triple my traffic too!
A big part of that growth is from joining Pinterest groups. I must be on 60+ groups by now and I know they are helping me reach more people and grow my brand.
So, I wanted to take 11 of my favorite Pinterest groups specifically for mom bloggers and share them today!
1. Mom to Mompreneur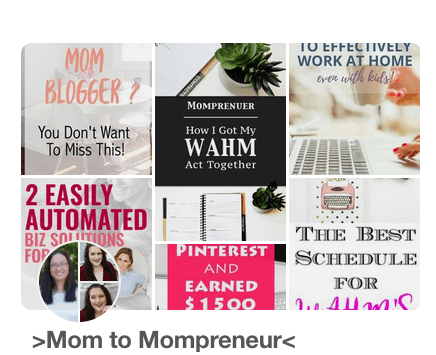 This is my new Pinterest group! Yay! This is for mom bloggers who want to work from home and start an online business. The pins should be growth tactics for your business (grow traffic, income, list) as well as ways to balance it all as a mom.
2. Blogging Boost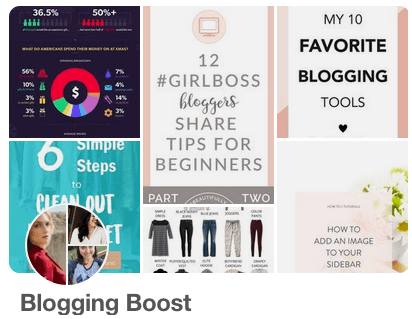 Blogging Boost is a place for bloggers to share their awesome posts. There are 230 people in this group.
3. Mommy Blogger Top Picks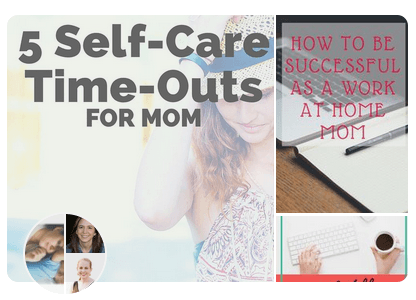 This is Nikki's group from Mommy My Way. Mommy Blogger Top Picks is about all things relating to parenting, education, organization, mom fashion, kid fashion and more.
4. Kids – Family – Home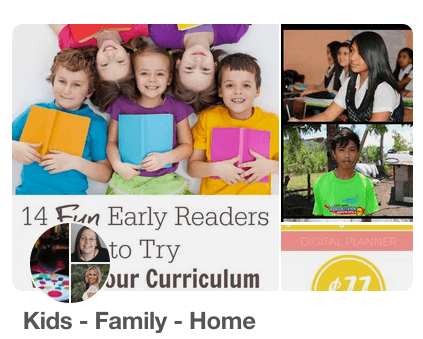 With over 1,000 members in this group, you can say this is a popular group. Kids – Family – Home talks about things that are educational, kids, family, parenting, and home.
5. Mama Entrepreneurs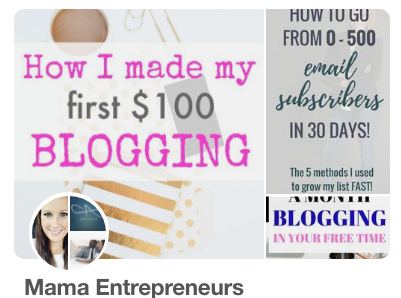 Sarah of The Frugal Millionaire created this group. Mama Entrepreneurs is created for all mama entrepreneurs – whether you are just starting your business or you've been in business for years! Pin tips and encouragement for mamas who work for themselves.
6. Best Pins for Moms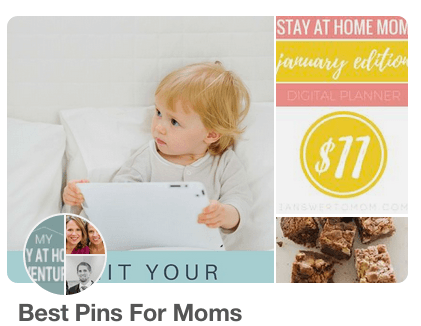 This Pinterest group is for your favorite pins for moms. You can pin recipes, DIY, finances, and how to make money from home.
7. Moms Make Money at Home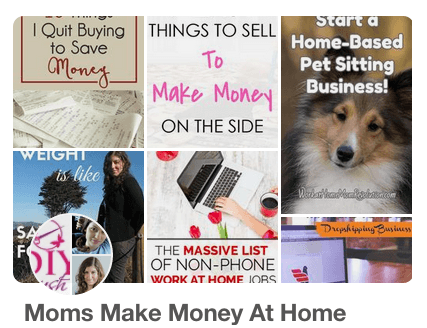 Moms Make Money at Home is a board about how to make money at home! You can pin freelancer services, making a product or just running your own home business.
8. Very Best WAHM Bloggers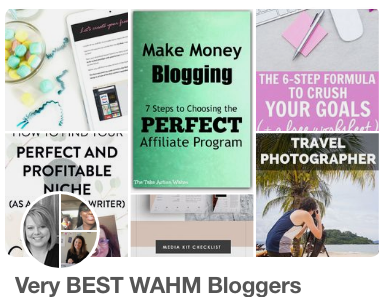 Very BEST WAHM Bloggers is a place for WAHM Bloggers to pin their content relevant to working at home, time management, blogging & writing. Pin as many pins per day as you would like.
9. Mom Blogger Roundup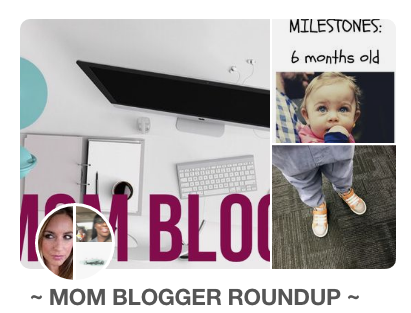 Mom Blogger Roundup is a roundup of the best mom bloggers and their top articles. Topics: motherhood, home, diy, crafts, fashion, recipes, beauty, organization, products, travel, fitness, blogging, family, fun!
10. Moms Helping Moms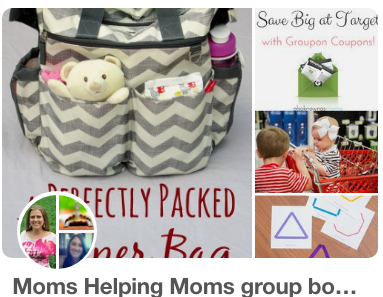 Moms Helping Moms group board is for any and all pins that might be helpful or encouraging for fellow mamas! Possible topics include: Motherhood, pregnancy, maternity clothes, labor and delivery, hospital bags, birth, diaper bags, infants and newborns, toddlers, preschoolers, kids, family, marriage, parenting, home organization, budget, easy recipes, cleaning tips, etc.
11. [O U R] Mama Blog Posts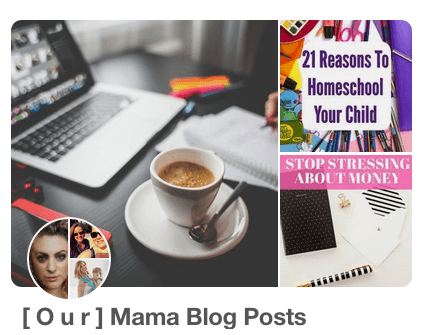 This group board is for moms and the posts you pin should be for other mamas.
Grow Your Blog Today
There ya go mamas! Look at these Pinterest boards and decide if you want to join them. Sometimes you have to follow the group board before requesting access.
Other times you have to follow the blogger. Most likely you email the blog owner to request access or – if there isn't an email – you can track their pin and comment on it asking to join.
Enjoy and let me know if these group boards are helping you grow your traffic!