The one thing after starting a blog and writing blog posts is getting website traffic.
Where is the blog traffic?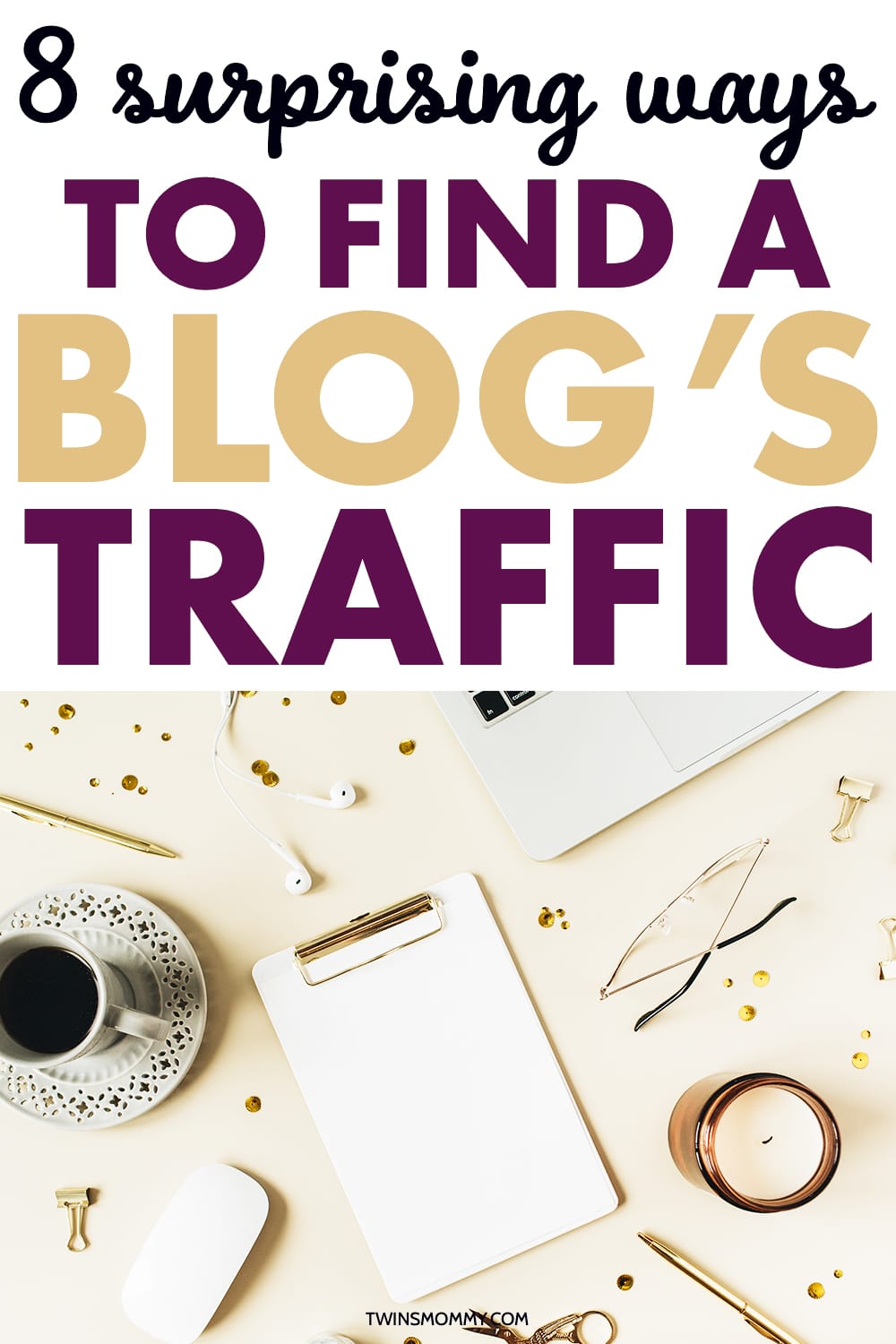 Why are other blogs in your niche seemingly getting hoards and hoards of blog traffic and your amazing blog isn't getting the same love?
The first year of Twins Mommy, I spent most of my time trying to grow my blog traffic.
I wanted more readers and more pageviews each month.
I knew how important it was to initially grow blog traffic.
See, if you just started a blog, the most important thing your blog needs is content.
If you have no content, no one will want to come to your blog and stay!
Having a coming soon page or a email sign up form isn't going to grow your traffic or get people wanting to invest in you as a blogger.
Right now there are 1.7 BILLION websites and about 600 million of those are blogs.
This means there's a lot of noise out there and a lot of things to distract your potential readers away from reading your blog.
That's why it's important to start your content library as soon as you launch your blog.
Right now, my traffic is sitting at around 100k pageviews, which is nice since I'm not posting as much or as frequently and not every post I create is intended for SEO purposes.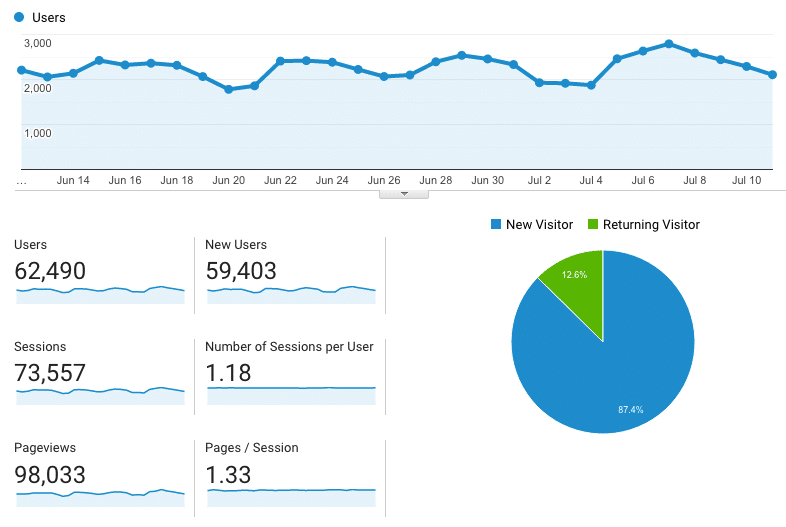 But, I still want to continue growing my blog traffic, even though Twins Mommy is no longer a new blog.
Why should I? Why is traffic important?
Why is Blog Traffic Important?
Blog traffic is the heartbeat of your blog.
This is my personal belief after six years of blogging and having over 8 blogs.
There is a big correlation to blog traffic and income potential.
Some people may disagree and say that email conversions is far superior to traffic conversions.
This part is true but think about it – where did the subscribers come from?
These people had to find you somewhere and most likely it was your Facebook post or Pin image or Instagram story that got them to your blog post or landing page.
In the end, it's your blog content that creates and nurtures a relationship with your readers.
Many people email me saying that they read my blog post about how I got started blogging or freelance writing and reference these old posts.
I'm able to share my story online and connect with soo many people, and it all started with growing blog traffic.
So, for me growing my blog traffic helps reach new moms or new freelancers interested in making money online and staying home for good.
While it is entirely possible to earn a living with your blog with very little traffic, it's a lot easier with traffic than without.
For me, blog traffic is important because:
I can share my story or journey and inspire others a new way of following your passions
I can help others
I can grow my email list and continue to develop a relationship with my readers on a more personal level
I can connect and collaborate with others in my industry and influencers as a way to grow my brand
Those are my main reasons on why I continue to grow my website traffic.
But, did you know that knowing other blogs' traffic can help you with your blog traffic?
Why Do You Want to Check Out Other Websites' Traffic?
Sometimes you will find an amazing blog and want to know more about the blog and owner.
When did this blog launch?
What are they doing to get all these shares and tribe of followers?
Sometimes you will see a new blog with ads on each blog post. How did that happen and are they making money?
Understanding another blog's traffic can help you form a better plan with your blog. You might see that a similar blog is doing really well with SEO or social shares.
If you understand another blog's traffic plan, then you can see how they might be making money blogging.
With this information you can:
grow your backlink strategy – something I share in Ready Set Blog for Traffic
target similar content ideas
leverage their audience and influence with collaborating on launches or webinars
There are many more reasons why you would want to check out another blogger's traffic, but the ones I mentioned are most relevant for new bloggers.
So, let's look at some ways to find traffic from other blogs.
1. Advertise Pages or Media Kits
Blogs who do sponsored content usually have a page on their blog that lists their website stats and demographic stats. This helps adversities decide if that blog fits their audience and products.
Other bloggers may have a media kit with similar information but that also has high-resolution branding images and social media links for publicity features.
The average blogger can check out advertise pages to get a quick look at the blog's health and see how successful that blogger is.
For example, The Savvy Couple has an "Advertise With Us Page" detailing their stats.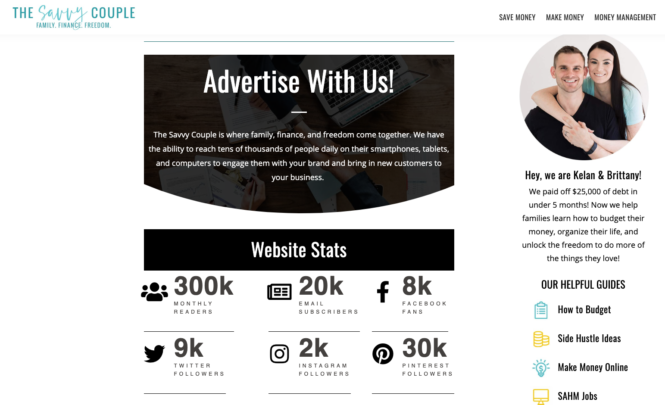 From this page you can see that The Savvy couple has a healthy blog with dedicated readers and a growing social media profile.
If you are a new blogger in the frugal living space you can check out Kelan and Brittany's blog to see that frugal living can be a viable niche.
A note of cation: many bloggers may not update their advertise page frequently, so many of these pages are slightly out of date.
2. Similar Web
A popular website I visit often is Similar Web. Similar Web provides a robust estimate of website traffic, traffic sources, referral sources, some organic keywords that site is ranking for, social traffic, display ads (if the blog has them), audience interests and competitor sites.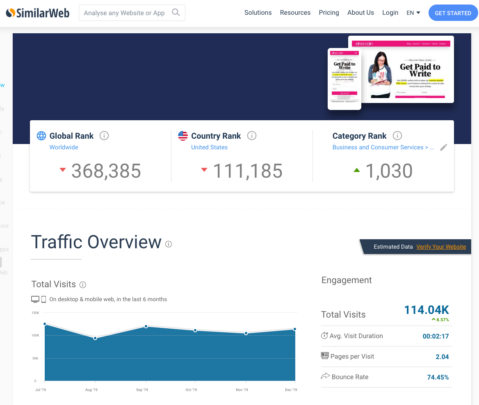 I like using Similar Web for guest posting opportunities or networking opportunities.
By looking at another blog's traffic numbers I can decide if I should invest in guest posting or collaborating with that blog.
You can also use Similar Web to check blogs in your niche to see where they get most of their traffic.
Not all sites will show the total traffic number, but other information will be available.
For example, Smart Mom Ideas doesn't show the traffic overview, but it does show traffic source: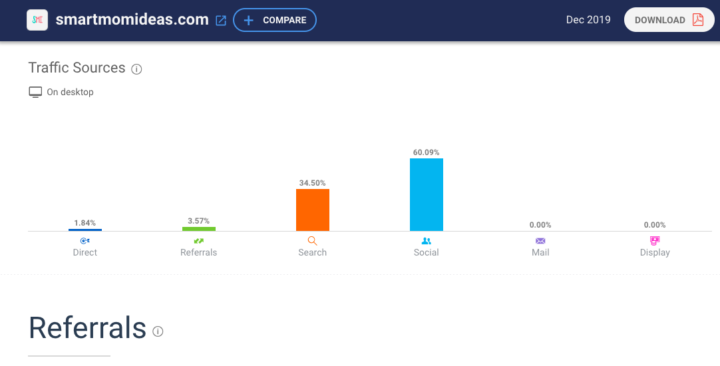 As you can see, SMI gets most of its traffic via social – Pinterest. You might notice another blogger getting most of its traffic via search or even mail.
Again, this information can be helpful for your blog traffic recipe.
3. Ubersuggest
Ubersuggest is an SEO keyword tool, but it does show other information like blog traffic.
However, Ubersuggest only shows your Google traffic from your top ranking keywords, but this can help you figure out if this blog is popular in search or social.
So, for my freelance writing site, I tend to get primarily Google traffic and very little social traffic.

From this you can see that this blog gets SEO traffic and you can use that to your advantage for your own blog if you want SEO traffic too.
4. Success on Social Media
Sometimes you can look at a persons social media profile to see how successful they are.
A lot of influencers are on Instagram or YouTube and knowing how many followers or subscribers they have can indicate if they are making money and if their blog is helping them.
For example, Dana's blog The Minimalist Baker has a large following on Instagram with over 1M followers.

You can use a free or paid tool to check out Dana's traffic to see if her blog is also successful.
Taking a look at Ahrefs paid SEO tool I can see that she gets over 2M people to her blog from Google.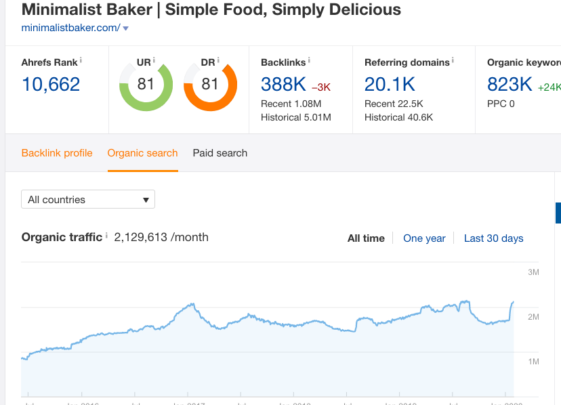 So, you can see, if you are in the food or recipe niche, you can look at her blog and brand and see what you can do to stand out in this saturated blog niche.
Sometimes, though, doing this doesn't equate to blog traffic, but it's a start.
Catherine's YouTube channel is exploding with subscribers.

Her blog, though, isn't exploding. But this isn't to say that over time it will. Since Catherine's channel all of a sudden picked up, I suspect her blog traffic will follow.
But, as you can see, I'm using this information of her YouTube channel growth to inquire about her blog's growth and success.
5. Case Studies/Interviews/Podcasts
If you read marketing or entrepreneur blogs you will see many successful case studies or interviews of other bloggers.
For example, Alex and Lauren of Create and Go are getting a lot of publicity because of their success with making money online.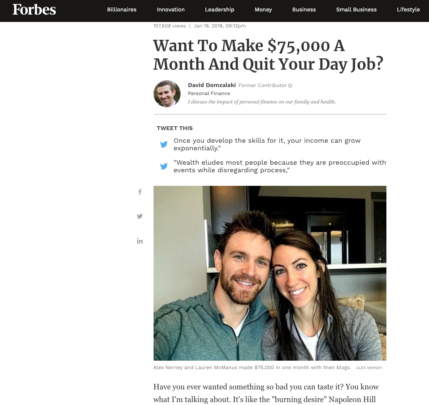 You can even listen to podcasts of interviews to gain information about how successful a particular blog or blogger is.
All of this is useful to the new blogger and it can not only inspire you to keep blogging, but also help you find the right path for you.
6. Semrush
Semrush is a paid SEO tool but you can use it for free to look at a domain's profile.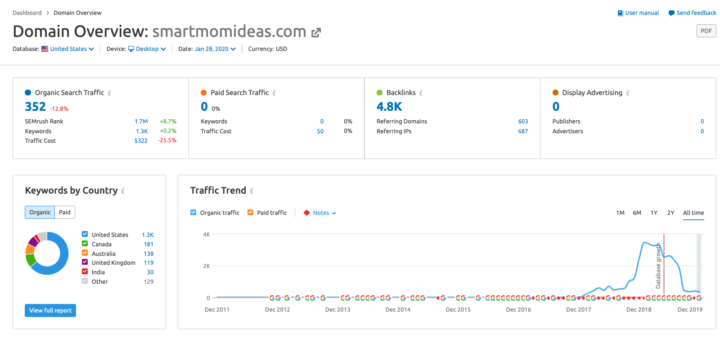 Semrush gives you information on Google traffic, keywords, number of backlinks, and competitor sites.
Before I started using Ahrefs I was using Semrush and enjoyed using the tool to check out other competitors and finding relevant keywords.
7. Traffic Reports
Many new bloggers and established bloggers post traffic and income reports.
I used to do this when I started Twins Mommy and it can give new bloggers a good idea of how long it takes to grow or how long it takes to make money blogging.
This, of course, isn't always the case and many reports aren't always accurate, but it's still an easy way to figure out a blog's traffic.
For example, VA Miranda Nahmias posts her income reports, but in her reports she gives stats on her website traffic and social media profiles.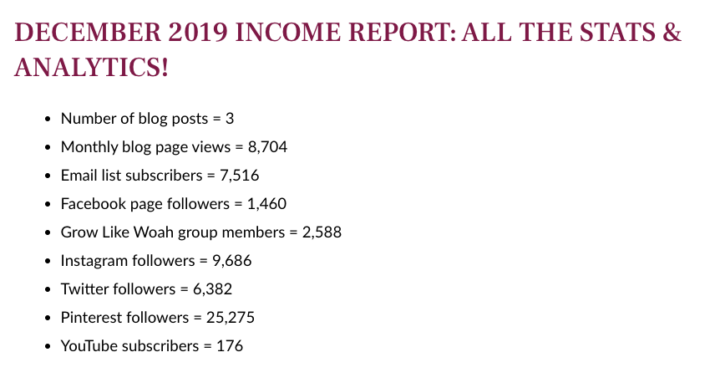 8. Find Sites that Offer Guest Posting
A lot of big sites like Thrive Global, Pop Sugar or Scary Mommy offer guest posting to bloggers.
When you see this, it's probably a good indication that the guest blog is getting traffic.
Why?
Well, if this site offers free guest posting opportunities, then the only main incentive this site can give to guest writers is viewership, or blog traffic.
For example, Lifehack mentions that your writing will be shared globally to over a million readers.

So, if you find a site that offers guest posts, you have a good idea that it's getting a lot of traffic or at least has a large email list.
Blog Traffic is the Heartbeat of Your Entire Strategy
When you know and understand other blogs' traffic information, you can gain more content ideas as a way to attract a larger audience.
You can also gather some monetization strategies. You might notice a big blog about planners gets the most income – not from their planners – but from teaching others to create planners.
This can help you decide if you want to go that route.
Finally, knowing a blog's traffic numbers can help you see the different traffic distribution channels, helping you target your strategy for a particular traffic source.
There are some considerations though.
Traffic reports and advertise pages aren't always accurate and many free tools to check a blog's traffic aren't alway represented accurately.
So, use these methods as a general look into other blog's strategy to help you ramp up yours.
Over to You
Did you find this helpful?
Share in the comments any questions you have or any other ways you can find out a blog's traffic!
Please remember to pin me!