*Updated 2022*
It's a new year, and that means it's time to focus on your blog, right?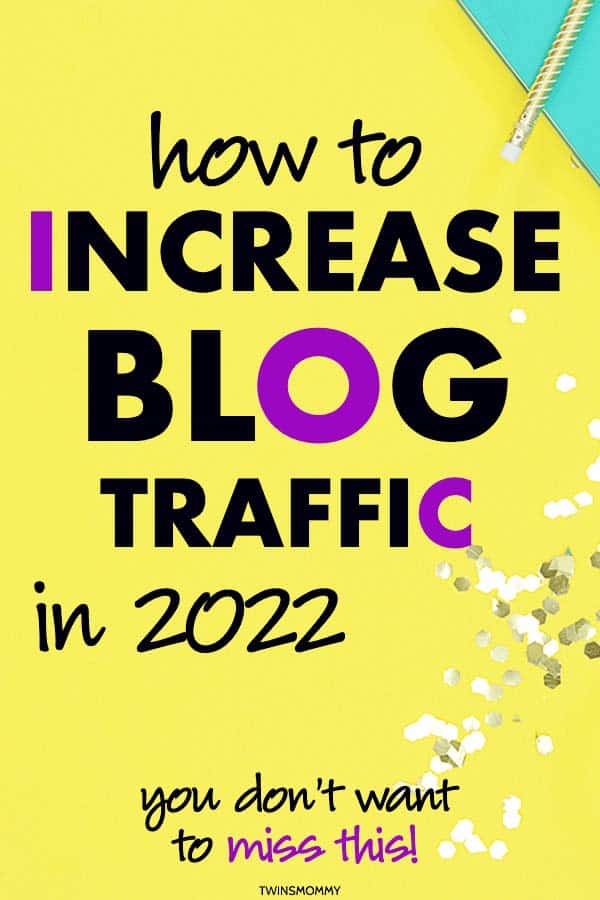 I don't know about you, but when I start a new year, I am filled with amazing new ideas.
It's not too late to start changing what you are doing to get blog traffic for your new blog.
Increasing blog traffic whether you're a new blogger or seasoned blogger is still on everyone's mind.
It is on my mind! I have several blogs that I'm juggling (barely!), and each one has their own blog traffic strategy and tactics.
But, when you think about it, since I started Twins Mommy, a lot has changed regarding traffic growth tips. Pinterest has changed their platforms in the last year with adding hashtags, sections and a follower tab.

Facebook has changed too. Organic reach for your Facebook page is decreasing with every new update. They are emphasizing different things like personal connections and valuable posts rather than promotional posts.
This means that Facebook groups are a contender for growing your blog traffic.
These two platforms have helped me immensely grow my traffic to over 62,000 (*now 120,000 as of Feb 2021) pageviews. So, what can a new blogger start doing in 2021to see traffic growth sooner rather than later?
If you need some quick blog traffic tips and have no time to read this post, check out my video on growing your blog traffic. And I would love it if you subscribed to my YouTube Channel.
The One Thing to Focus on for 2021 – If You're New
It's optimizing your content.
Okay.
So you recently started a blog, and you have some blog posts up. That's great. This is your start, and I want you to continue to create content. But, if you plan on monetizing your blog in the future, you're going to have to change slightly what you're doing right now.
Start focussing on creating optimized content to drive traffic. This is a type of content that is share-worthy.
How do you create share-worthy blog posts?
1. Content That Solves a Problem
Think of your blog as a way to help others with what you know. Share your advice and helpful tips to your audience. Personally, I only visit blogs if there's something for me.
Will I learn something new?
Will this improve my (fill in the blank: blog, business, my twins from fighting) right now?
Can this inspire me to change what I'm doing?
So, when coming up with a blog post idea, think about how you can turn what you know into helpful advice. Let's go through an example.
You homeschool and have three children. You've learned over time how you can balance nurturing your children, teaching your children and reserving time for yourself.
You want to share this tip with your audience on your blog. You can do this by first tailoring your headline to attract your audience. You have to make it worth it to click on your blog post title.
Then you create an outline that focuses on your reader. You share the challenges of finding time for yourself while homeschooling or having three children under 4.
Then you provide the advice that is helping you find time for self-care.
This is a helpful outline that will help a reader.
So, when coming up with a topic and writing your blog post:
Ask, what's in it for my reader?
Am I helping my reader?
Will this change how my reader will do things?
2. In-Depth Long Form Evergreen Content
It's a fact that evergreen posts that are in-depth (and long) provide immense value over a longer period than a shorter post that's seasonal.
You've seen it on Pinterest when a seasonal post picks up during that time of the season but doesn't generate traffic outside of that season.
While it's okay to create seasonal content on your blog, you need to fill your blog mostly with evergreen content. These are blog posts that can stand the test of time.
Moz reviewed over 1 million articles and found that the majority of blogs are less than 1,000 words. But, you know what?
Blog posts that are over 3,000 words get the MOST shares.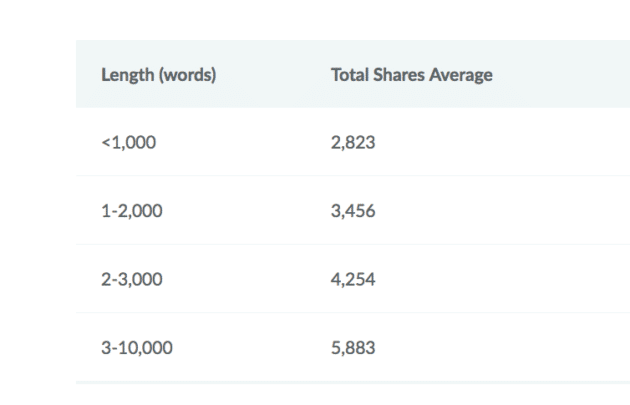 Why is that?
Longer blog posts just have more value. It's unlikely that a longer blog post is filled with fluff information. It is helpful, actionable and can even be data-driven.
My freelance writing niche is in digital marketing, so I deal with this type of content and my clients ask me to write 4,000-word blog posts all the time. These posts do take me a long time – especially for my client work, it can take me over 10 hours to create – but I know the value these posts can have with:
Social shares
Blog comments
Ranking ability
Generating income
So, if you're new to blogging, how can you do this?
Set a Goal For Yourself
First, set a goal of creating 1-2 in-depth guides based on your blog niche. These are posts that are like a mini tutorial, a How-To, or list post. Now, don't get hung up on doing this if your niche doesn't allow it.
Can every niche create big in-depth blog posts? No, but many can.
For example, let's look at the DIY jewelry niche.
You can create a valuable blog post to help someone get started with DIY jewelry making.
This can be a post outlining the materials needed, certain skills you need, quick basic tutorials on pre-steps to jewelry making, and then how to sell your jewelry. Then guess what?
Then you can create another guide to selling your jewelry on Etsy. This can be an in-depth guide.
Consolidate Your Blog Posts
If you have a lot of blog posts that are similar in topics, then create an ultimate guide. For example, I have a lot of blog posts on Pinterest. I can create a beefed up 10,000-word guide on getting started with Pinterest.
If you have a parenting blog filled with a ton of newborn tips, why not create the ultimate guide on the first month home with your baby?
Look at your blog posts and see if you can consolidate them into one big guide.
Give Yourself Time
Creating these types of guides takes time. If your blog is barley three months old, give yourself more time before you publish your guide. You need to learn about blogging, promotional strategies and more when you're new.
While you can launch your blog with 3 or more flagship blog posts, it isn't necessary. When you're ready, make that a project for your blog.
2. In 2021 Test and Try New Things
Okay, let's get back to the original post idea 🙂 This is about blog traffic tips for 2021.
The next tip after focusing on optimizing your content is to test and try new things. As a new blogger, you are reading and absorbing as much information as possible, right?
So, you know what's going on, but you may be hesitant to do that for yourself. I know. I was the same.
I knew for years that video was the way to go. But, I dared not try! I'm an introvert and awkward. Who would want to hear and see me?
But, I knew that if I wanted to grow as a blogger and learn new skills for my business, I had to try new things. So I started doing Facebook Lives.
At first, I was terrible. My lighting was terrible, I didn't talk loud, and you could tell I was nervous.
But, I DID IT! And, the more I did it, the better I got. I'm not a professional video person. I'm still nervous and mess up a lot, but that's okay. I guess that's part of my overall brand.
Other things I tried on Twins Mommy that I never tried before:
Giveaways – I did a giveaway of some amazing courses to help me grow my email list (Note: learning this new skill also helped me make money by offering these topics to my freelance writing clients)
Content Upgrades – I hadn't tried content upgrades for my other blogs and felt that this was my main way to increase my email subscribers for Twins Mommy.
Using Pinterest – before I started Twins Mommy, I didn't really use Pinterest as a marketing platform. I was on Pinterest and marketing my freelance writing blog, but it was organic and not automated.
Tried Social Media Automation Tools – I started using Tailwind to help me promote my new and old blogs.
Started Using Teachable – Although I had a course out, I never hosted it on a course platform.
Here are some new things I'm trying for this year:
More Tripwire products
YouTube
Niche sites
New products
Influencer networking
So, in 2021, it's your time to step out of the comfort of your blog and start trying new things. They don't have to be huge either! Here is a short list of new things you can start doing to help grow your blog:
Guest post
Be interviewed on a podcast
Feature other bloggers
Write longer blog posts!
3. Incorporate More Video
Yikes! Yes! In 2021, it's now a thing.
To grow your brand and business, start using video. It's scary for sure, but it can be done for the new blogger. Last year and this year I've created more Facebook Lives than I did when I first started Twins Mommy.
And I will continue to create video.
You can do Facebook Live, YouTube video, Instagram Stories and who knows another platform that will explode?
For us – the blogger – I would focus on those platforms for video marketing. To help you understand more about video, make sure to check out Jessica Stansberry!
And if you want to start doing Facebook Lives, make sure to check out my guide!
If you don't feel comfortable with doing this, you can get started with video by doing a free course or a paid one too!
Teachable allows you to get started with for free and you can create a free video course that can be used as a freebie to grow your email list.
There Ya Go!
Phew! 2021 is the year to increase blog traffic for you! Focus on optimizing your content, and you should be good! Then from there, start incorporating video and, you should skyrocket!
Oh, yea!
Please tell me your blog traffic plan for 2021! I want to hear it!
Please share!