When I was pregnant with my twins I had time to knit.
I knit hats and scarves and I realized there's a whole world of moms starting businesses.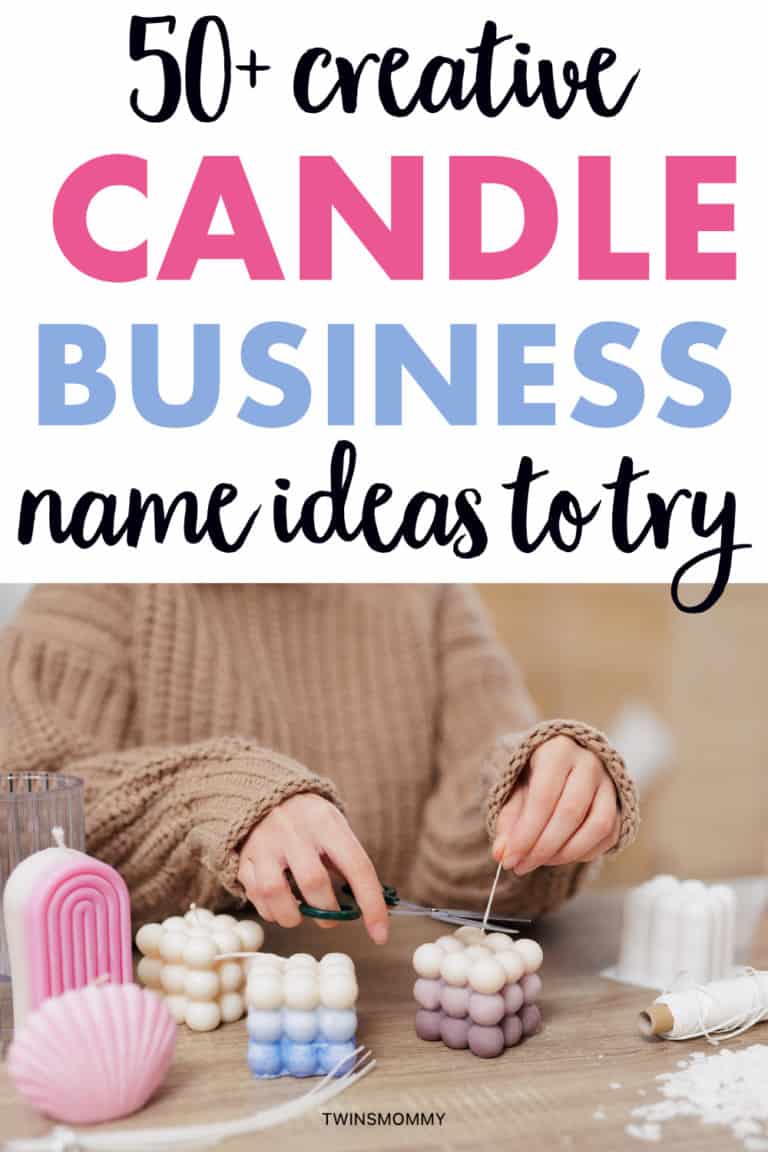 A popular business idea is making candles!
I remember going online to find a local candle making business for my grandfather's birthday one year.
When he got it, he was impressed with the shape, smell and size of it!
The candle industry has grown steadily over the years, with a wide variety of scents, shapes, and sizes available to consumers.
And that means your business will take off.
From teacher gift ideas to mother's day and birthdays, candles are enjoyed by everyone!
So let's get started on what it takes to come up with the perfect candle business name idea (and some tips on starting your candle business!).
Types of Candle Business Names
When starting a candle business, one of the most important decisions you'll make is choosing a name for your brand.
Your business name is the first thing potential customers will see and hear, so it's crucial to make a good impression.
Your business name needs to reflect your brand's values, style, and uniqueness.
Let's take a look at different types of names for candle businesses in more detail, and I'll give you some examples of successful brands in each category:
1. Descriptive Names
A descriptive business name is one that clearly describes what the business does or sells.
In the candle industry, a descriptive name might include words like "candles," "scents," or "fragrances."
These names are straightforward and easy to understand, which can be helpful for new businesses that are trying to establish themselves.
Here are some examples:
Yankee Candle: This iconic candle brand has been around since the 1960s and is known for its wide variety of candle scents and styles. The name "Yankee Candle" clearly indicates that the business sells candles and is rooted in American culture.
Bath & Body Works: While this business sells more than just candles, their name still clearly indicates that they offer fragrances and body care products. The name is straightforward and easy to remember, which has contributed to the brand's success.
2. Creative Names
A creative business name is one that is unique and memorable, often using wordplay or clever references.
These candle company names can be more fun and playful than descriptive names, and they can help businesses stand out from the crowd.
However, creative names can also be more difficult to understand or remember, which can be a drawback for some businesses.
Here are some successful candle businesses with creative names:
Voluspa: This high-end candle brand was founded in 1999 and offers luxurious scents and elegant packaging. The name "Voluspa" comes from an ancient Norse poem and adds a sense of mystery and sophistication to the brand.
Paddywax: This trendy candle brand was founded in 1996 and offers a wide variety of unique scents and stylish packaging. The name "Paddywax" adds a sense of playfulness and whimsy to the brand, making it stand out in a crowded market.
3. Personal Names
A personal business name is one that includes the name of the founder or owner of the business.
This type of name can be particularly effective for small businesses or sole proprietors, as it adds a personal touch and can help establish a connection with customers.
However, personal names can also be limiting if the business owner ever decides to sell the business or expand beyond their personal brand.
Here are some candle companies that use a personal name:
Jo Malone: This luxury fragrance and candle brand was founded by Jo Malone in 1983. The brand's name is simply the founder's name, adding a personal touch and making it easy to remember.
Capri Blue: This trendy candle and fragrance brand was founded in 1991 by Aspen Bay Candles. The brand's name comes from the blue waters of Capri, Italy, but it also includes a personal touch by referencing the founder's dog, Capri.
Tips for Choosing a Candle Business Name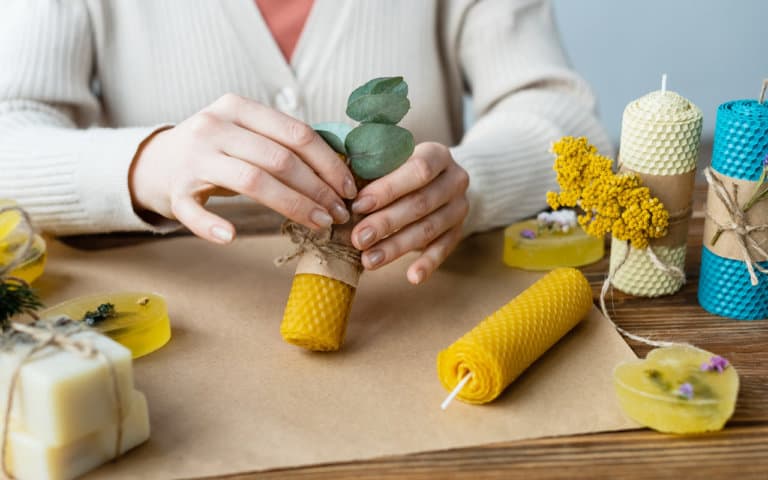 No matter what type of business name you choose, here are a few tips to keep in mind to ensure that your name is effective and memorable.
Think about choosing a name that is easy to spell and pronounce, unique and memorable, and relevant to your brand's values and products.
You should also consider the length and domain availability of your chosen name.
Keep these tips in mind and you can create a business name that grabs the attention of your target audience and sets your brand apart from the competition!
1. Consider Your Target Market
Think about who your ideal customer is and what kind of name would stand out to them.
For example, if you're targeting a younger, trendier audience, a creative name might be more effective than a descriptive name.
On the other hand, if you're targeting a more mature, luxury-oriented audience, a descriptive name that emphasizes the high-quality ingredients and craftsmanship of your candles might be more effective.
By considering your target audience and their preferences, you can choose a business name that resonates with them and helps you stand out in a crowded market.
2. Keep It Simple and Easy to Remember
A simple and memorable business name can help your small candle business name idea stand out from the competition and increase brand recognition.
It's important to avoid using uncommon or difficult words, acronyms, or numbers that might confuse potential customers.
Remember, the goal is to create a name that customers can easily associate with your candle business and remember for future purchases.
3. Avoid Using Obscure References
It's important to consider the broader cultural and social context when choosing your business name.
Avoid using candle company names or references that could be perceived as offensive, insensitive, or culturally appropriative.
Your business name should reflect your values and the image you want to portray to your customers.
By choosing a clear and inclusive name, you can create a welcoming and inviting brand that resonates with a wide audience.
4. Make Sure the Name is Not Already in Use
Before you settle on a name for your candle business, make sure that it's not already taken by another business.
You can do a quick Google search or search for trademarks to ensure that your name is unique and legally available.
To search for trademarks, you can use the United States Patent and Trademark Office's (USPTO) Trademark Electronic Search System (TESS), which allows you to search for existing trademarks and pending applications.
5. Consider the Domain Name Availability
Nowadays, having a website is crucial for any business. Before you settle on a business name, check to see if the domain name (your website URL) is available for your website.
You can easily check domain availability using domain name registrars such as GoDaddy or Namecheap.
If the domain name is not available, you may need to consider a different name or get creative with your domain name.
If not, you may need to consider a different name or get creative with your domain name.
Candle Business Name Ideas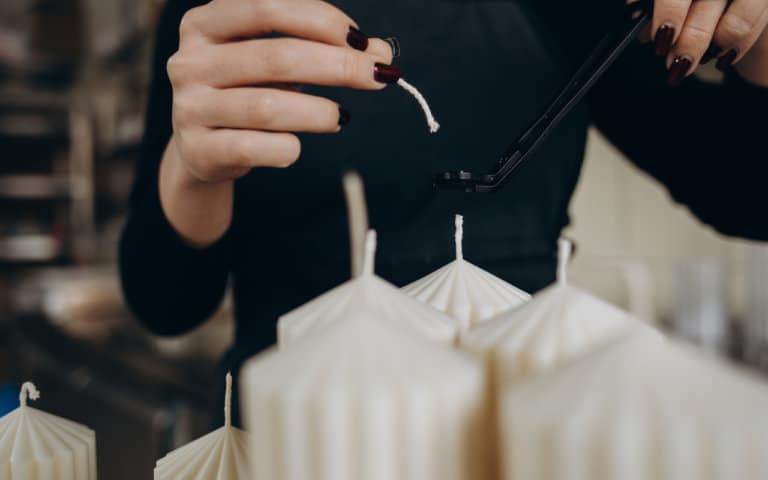 Okay, here we go!
Whether you're starting a new candle business or rebranding an existing one, choosing the perfect name is key to creating a successful brand.
A great business name should be unique, memorable, and reflective of your brand's values and offerings.
To help get your creative juices flowing, here's a list of candle business name ideas to inspire you.
1. Name Ideas for a Candle Business
Luminous Lather
Flame & Flourish
Wick & Whimsy
Ambrosia Aromas
Lighten Up Candles
Radiant Remedy
Illuminated Indulgence
Flicker & Fly
Wick'd Scents
The Scented Society
2. Homemade Candle Business Name Ideas
Handcrafted Candles Co.
The Candle Artisan
Homemade Hues
Crafted Candle Co.
The Candle Atelier
Artisanal Aromas
Hand-Poured Candles
The Candlemaker's Workshop
Rustic Flames
The Candle Craftsmen
3. Candle and Wax Melt Business Name Ideas
Waxing Nostalgic
Melt Me Softly
Wickedly Good Scents
Candle Crush
Melting Pot Candles
Scented Wax Works
Wax Whimsy
The Melted Candle Co.
Waxy Wonders
The Melted Moment
4. Luxury Candle Business Name Ideas
Opulent Aura
Elysian Essence
Luxuria Candles
Elite Ember
Plushy Plumes
Regal Radiance
Sumptuous Scents
Refined Flames
Grandiose Glow
Imperial Illumination
5. Unique Candle Business Name Ideas
Luminary Lane
Scents and Serenity
Candle Cadence
Wax and Wonder
Flame Fusion
The Scented Sentinel
Candle Constellation
Light Your Way Candles
Spark the Senses
The Illumination Station
6. Soy Candle Business Name Ideas
Soyful Scents
Natural Nectar
Soy Good Candles
Earthy Essentials
Purely Poured
Soy Sensations
Clean & Cozy Candles
The Soy Solution
Serene Soy Candles
Fresh & Fragrant Soy
7. Name Ideas for Little Girls Candle Business
Princess Candles
Sweet Scentsations
Glitter & Glow
Unicorn Wishes Candles
Mermaid Melts
Fairy Flames
Rainbow Radiance
Sparkle & Shine Candles
Tutu Scents
Enchanted Emporium
How to Start a Homemade Candle Business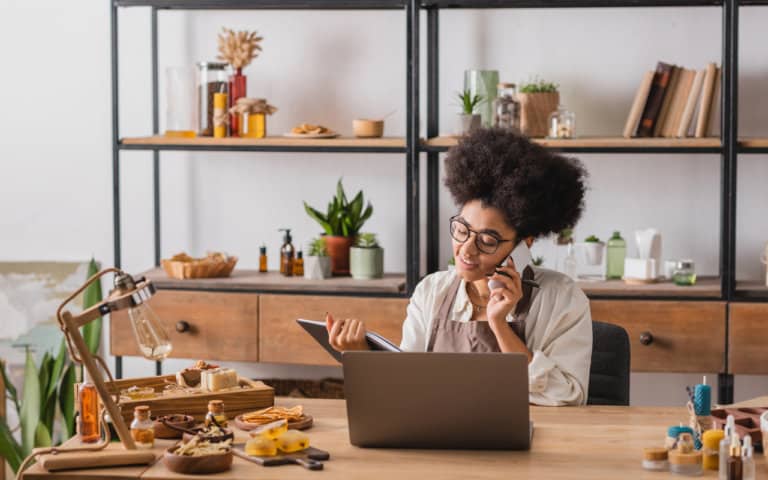 Starting a homemade candle business can be a fulfilling and rewarding venture.
With the rise in popularity of candles and their many uses, there has never been a better time to start your own business.
Here are some tips to help you get started:
1. Develop a Business Plan
A business plan is essential to any successful venture.
This plan should include a detailed description of your business, your target market, your competitors, and your financial projections.
It should also outline your marketing strategies, production methods, and pricing.
If you need help, make sure to grab my free Ultimate Blog Plan to start your blog and business.
2. Choose Your Candle-Making Method
There are several ways to make candles, including hand-pouring, dipping, and molding.
Choose the method that best fits your skills and resources.
3. Select Your Materials
To make high-quality candles, you'll need to select the best materials available.
This includes high-quality waxes, fragrances, wicks, and containers.
Consider working with a reputable supplier to ensure that you have access to the best materials at a reasonable price.
4. Develop Your Candle-Making Skills
Practice, practice, practice!
The more you make candles, the better you'll become.
Attend workshops, take classes, and watch videos online to improve your skills.
5. Register Your Business
Before you start selling your candles, make sure that your business is registered with your local government.
This will help you avoid legal troubles down the road.
6. Set Up Your Workspace
You'll need a dedicated space to make your candles.
This space should be clean, well-ventilated, and free from distractions.
7. Create Your Brand
Your brand is what sets you apart from the competition.
Develop a logo, a website, and packaging that reflects your unique style and values.
8. Market Your Candles
Once you have your candles made and your brand established, it's time to start marketing.
Use social media, local markets, and events to get the word out about your business.
9. Open an Online Shop & Blog
In addition to selling your candles at local markets or events, consider opening an online shop to reach a wider audience.
You can use platforms like Etsy or Shopify to create an e-commerce store for your business.
Go ahead and start a blog for your candle making ideas!
People love visiting blogs to read about new ideas and from this you will gain a solid audience interested in your candle making!
Make sure to include clear and attractive photos of your candles, detailed product descriptions, and easy-to-use checkout options.
10. Keep Accurate Records
Keeping accurate records of your sales, expenses, and profits is essential to running a successful business.
Use accounting software or hire a professional to help you keep track of your finances.
Starting a homemade candle business takes time, dedication, and hard work.
However, with the right planning and execution, it can be a fulfilling and profitable venture.
By following these tips, you'll be well on your way to creating a successful candle-making business.
Light Up Your Business with These Candle Making Business Name Ideas!
Naming your candle business is an important decision that can have a big impact on its success.
By considering the type of business name that best suits your brand, doing your research to ensure it's unique and legally available, and keeping it simple and easy to remember, you can set your business up for success.
Whether you opt for a descriptive name, a creative name, or a personal name, make sure it resonates with your target audience and accurately represents your brand.
Remember to have fun with the naming process!
With a great name, you can make your candle business stand out from the crowd and attract loyal customers for years to come!
Need more business ideas? How about other crafts you can make and sell?
Check out these posts!