Are you struggling at a mundane job and feel like you're going nowhere?
Or are you a mom who wants to step out of the workforce?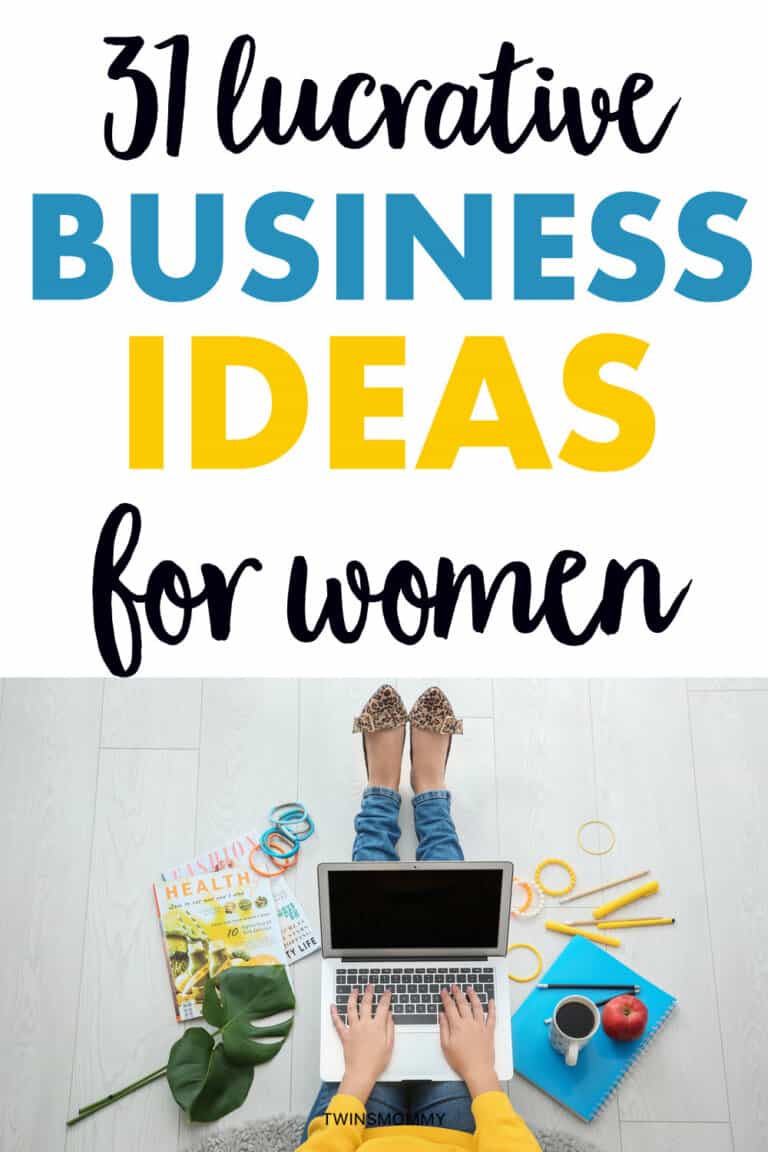 No matter your reason, it is possible for you to start your own business as a woman!
The first step in starting your own business is coming up with a business idea.
Luckily, I have the ultimate list of business ideas for women to get you going.
Whether you want to work online or offline, there is definitely a way you can take your skills and passions and translate them into a business idea that will grow and earn you a livable income.
Don't believe me?
I probably wouldn't have believed myself years ago when I decided I didn't want to go back to work after my twins were born.
But I took a chance and have since built a wonderful business by tapping into the things I know and love.
And you can too!
Are you ready to get started?
Online Business Ideas for Women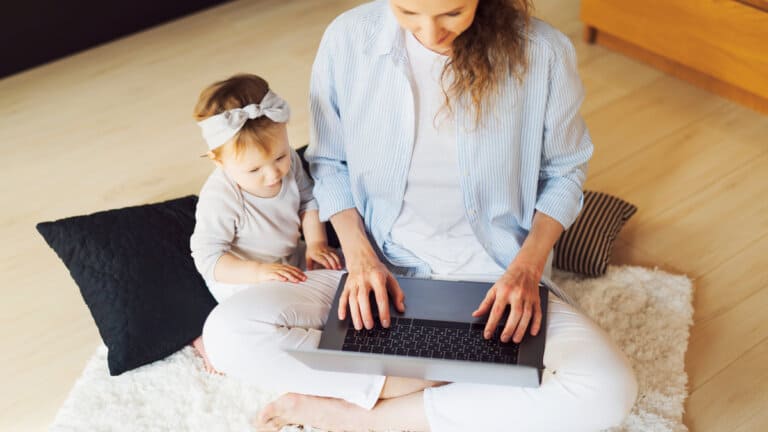 When it comes to the best business ideas for women, most of what you will find exists online. And this is because working at home has amazing benefits, especially if you have children!
Check out these online business ideas for women.
1. Tutoring
If you're knowledgeable in an academic field, you can start a business as an online tutor. You can even run this business offline and tutor people in your community.
From tutoring English to math to piano lessons and more, there is a way to make money tutoring at home.
2. Creating Online Courses
You don't need advanced education to create and sell courses online!
As long as you can teach someone how to do something or reach a goal, you can create a course using presentations, videos, documents, and more.
But, yes, this way to start a business does take some time to set up. Typically, people start a blog, gain an audience and create a course around their audiences pain points.
3. Coaching Services
In the same vein as creating courses, you can also work one-on-one with people to help them achieve their goals.
Is this a good business idea for women? Absolutely! You can offer coaching services for anything from financial coaching to life coaching and fitness coaching.
4. Web Design
Are you handy with building websites? You can start a business and build up a clientele of people who need someone to design and launch their websites.
5. Graphic Design
You can start a graphic design business by selling designs for logos, Pinterest images, business cards, and anything that requires visual elements.
6. Virtual Assistant
With more and more businesses operating online, many will look for someone to handle administrative tasks such as answering emails, updating content, sending out newsletters, and overseeing schedules.
7. Social Media Management
Businesses also use social media to market their products and services but rely on social media managers to take care of posting content, creating social media graphics, and replying to comments.
This is a good business idea for women at home if you know you're way around major social media platforms.
8. Bookkeeping
If you're good with numbers and finances, you can start your own business as a bookkeeper. This involves tracking a business's income and expenses as well as creating budgets, invoicing, and more.
9. Sell Digital Products
Selling digital products is definitely a good idea for women! Digital products can include printables like worksheets and planners as well as Canva templates and digital art.
You can learn more about how to make and sell digital products in my post here!
10. App Development
For those who are tech-savvy, you can start a business developing apps for websites and companies or creating ones for yourself.
You can even learn some coding skills for free online and create an app for women related to the challenges women face such as safety, making friends, organization, etc.
11. Freelance Writing
One of my favorite business ideas for women at home (and maybe I'm biased because this is what I do!) is freelance writing and blogging.
Freelance writing is a service you can offer where you write content for clients, which can include blog posts, white papers, newsletters, eBooks, and more.
You can check out my post here on freelance writing.
12. Editing and Proofreading
If you're not one for writing but have a solid handle on spelling, grammar, and punctuation, you can start a business as an editor or proofreader and fix other people's written content.
Proofreading involves correcting writing errors while editing is a bit more in-depth and can include rewriting sections for clarity and flow.
Offline Business Ideas for Women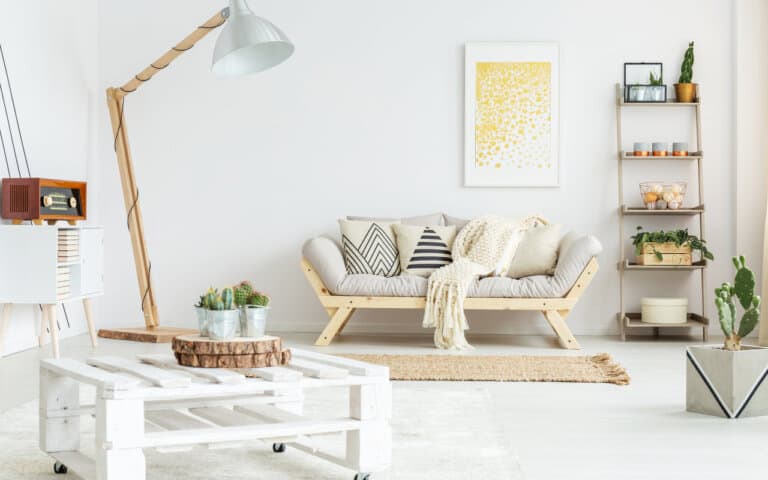 Not all of the best business ideas for women have to happen online. If you are interested in starting a business and getting out of the house, check out these ideas:
13. Fitness Trainer
If you're a fitness buff, you can start a business training people to help them get in shape! You can have clients come to your home or visit them to demonstrate your workout moves.
14. Teach a Skill
Can you paint? Do nails? Cook delicious meals? No matter your skill, as long as you can teach others how to do it, you can hold classes and start a business!
When I was first married I wanted to sew pajamas for my husband for a gift and had some sewing lessons from a woman down the street from my house!
If you are creative or knowledgable about a topic then you can teach it at home or in your community.
15. Home Organization
Many of us lead busy lives and struggle to find the time to clean our homes, let alone organize them.
If you have organization skills, this small business idea for women is for you!
You can visit your client's homes and help them organize not only their belongings but their lives as well.
This is what Cass of Clutterbug did when her children were small. She went to people's homes and helped them organize their rooms.
16. House Cleaning
Alternatively, you can start a small business cleaning homes.
This is not a hard business to start up – you just need some supplies and cleaning equipment and you're on your way!
17. Personal Shopper
As a personal shopper, you can run a business picking up people's groceries and other necessities. You can also offer to meal plan and make their grocery lists as an added service.
18. Interior Design
If you have an eye for design, why not start a business as an interior designer?
You can work for private clients or network with real estate agents to stage homes that are going on the market.
19. Event Planning
From birthdays to weddings, it's always easier to have someone else take care of the planning.
If you are organized, creative, and price-savvy, you can offer your services to a wide range of clientele!
20. Childcare
One of the most popular home business ideas for women is to run a daycare and offer childcare services – especially if you have little ones at home!
This was a business idea that was floating in my head when I was pregnant with my twins!
Be sure to check with your local regulations to ensure you have the proper space, set up, and licensing.
21. Pet Care
You can also start a business pet sitting in your home.
Doggy daycares are growing in popularity, especially as more and more people are returning to the office.
If you can't accommodate a doggy daycare but want to work with animals, you can also start a dog walking service.
22. Catering
You don't need to be a master chef to start a catering business!
As long as you have some stellar skills in the kitchen, you can offer your services to cater small parties, birthdays, weddings, and more.
23. Food Truck
While running a food truck does involve an upfront investment, you can enjoy the perks of cooking up some amazing food while traveling around!
24. Photography
If you're good with a camera and know how to edit photos, you can start a business as a photographer.
Post your services on social media and offer to photograph events such as weddings and graduations.
Having this skill is definitely profitable for online entrepreneurs. Many need desktop pictures and business pictures and you can supply that right at home!
Home Business Ideas for Women: Make and Sell Products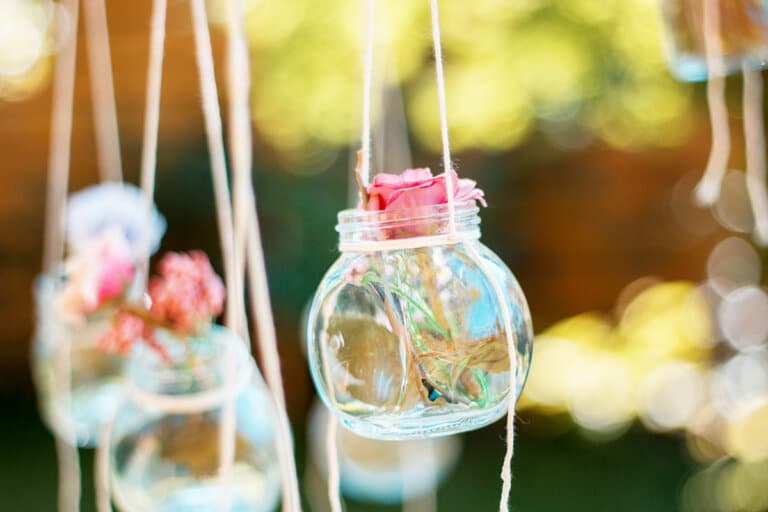 For those who love to work with their hands and use their creativity, here are some product ideas you can make and sell to start your own business:
25. Skincare and Beauty Products
Nowadays, people are gravitating toward handmade and natural products – especially when it comes to their skin.
With the right ingredients, you can make some amazing skincare and beauty products that you can sell locally or online.
26. Candles
We all know how popular companies like Scentsy are – so why not take advantage of this market?
You can easily create high-quality candles and wax melts using natural ingredients such as soy wax and compete against bigger candle companies!
27. Customized Items
Cricuts are an amazing tool that you can use to create custom vinyl decals and customize just about anything!
From tumblers to car decals and keychains, people love unique items that feature their name, favorite animal, and more.
28. Crafts
I wrote a post all about the types of crafts you can make and sell for money – there are so many!
If you're creative and crafty, this can be a wonderful home business idea for women that will exercise your imagination and earn you an income.
29. Soaps
Again, people love natural products and when you make your own soaps you can offer a wide range of unique scents that customers will go nuts over!
Plus, you can get really creative with soap shapes by creating novelty soaps that look like food, for example.
30. Clothing
Handy with a sewing machine? You can start a business making clothes for other people, either by following a pattern or creating your own unique designs.
You can also offer tailoring services!
31. Crocheted or Knitted Products
Back in the day, I used to crochet and sell products such as hats to make a little extra income.
Here are some hats I knitted for my twins!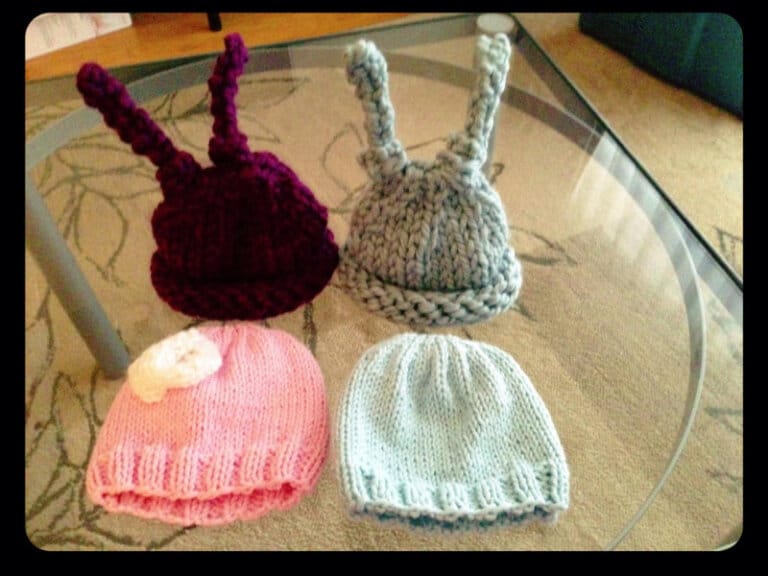 However, you can start an entire business by creating these products.
And, the more unique, the better!
Amazing Business Ideas for Women in 2022
Is this the year that you're going to start your own business? I really hope so!
With all of these amazing ideas, there's no reason you can't get started on becoming your own boss and earning an income.
Is there an idea here that makes you excited to get started? Have you already started your own business? Let me know in the comments.
And don't forget to pin!